Looking for Instagrammable destinations to amaze kids and boost your feed? Here are 20 of the world's most Instagrammable places right now.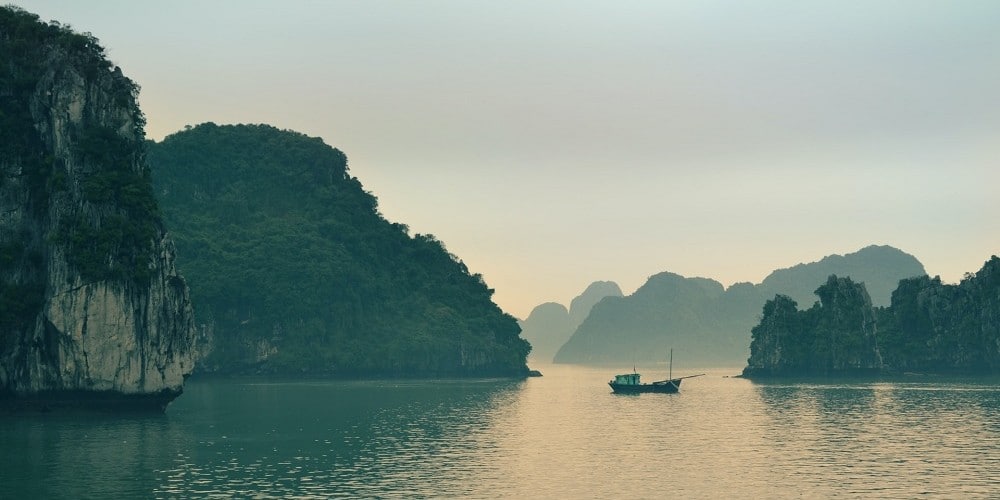 20/20

Ha Long Bay in Vietnam – one of earth's most Instagrammable destinations

Ha Long Bay isn't just one of the world's most Instagrammable destinations, it's one of the New Seven Natural Wonders of the World. It's also a World Heritage. Put it on your family travel wish list for kayaking round limestone karsts with kids and sleepovers on vintage Junks #halongbay
19/20
Palawan Island in the endlessly photogenic Philippines
Palawan in the Philippines is regularly named 'Most Beautiful Island in the World'. It's also home to El Nido which is on every loveliest beach list. So no surprise to find it's one of the top Instagramable destinations too. Go for Honda Bay snorkelling. Sail the world's longest underground river at Puerto Princesa Subterranean River National Park. #palawan
18/20

Prague, Czech Republic

When location scouts want 18th century Paris (or unspoiled medieval Europe), they head to Prague. It's the city for cobbled streets, quaint houses, gothic churches and mighty bridges. Turns out what works in movies, also works on Instagram. Take kids to see the Astronomical Clock. Don't miss the poignant Jewish Cemetery. And catch the Church of Our Lady Before Týn. #prague
17/20

Santorini, most romantic of Instagrammable destinations in Greece

The Greek island of Santorini is a world-beating romantic. It's surrounded by the Aegean. Set on the edge of an enormous caldera. And dotted with bleached white towns and villages tumbling down to the sea. Naturally it gets plenty love on Instagram. Take kids horse riding in the volcanic interior. #santorini
16/20

Cartagena, one of the most Instagrammable destinations in Colombia

Cartagena is almost more Caribbean than Colombian which gives it major Instagram appeal. It's also helps ridiculously charming, colourful, historic and loaded with character. A walk round the enormous city walls is a must-do. Don't miss the World Heritage Cartagena old town. Umbrella Street should be high on your to-do list too. And definitely day-sail to Islas Rosario. #cartagena
15/20

Edinburgh, one of the most beautiful cities in the world

Edinburgh as good as holds a permanent position in the top five when it comes to world's most beautiful cities. And the combination of its atmospheric Old Town and graceful Georgian New Town proves irresistible on Instagram too. Visit Edinburgh Castle with kids. Leave time for the excellent National Museum of Scotland. Then walk up to Arthur's Seat for the view. #edinburgh
14/20

Rio de Janeiro, one of Brazil's many Instagrammable destinations

Rio de Janeiro's packed from end-to-end with icons. It even has a New Wonder of the World in play. And doesn't have a cut-off when it comes to legendary beaches. Take a cable car up Sugar Loaf Mountain. Then hop on the train to see Christ The Redeemer – at 38m high, you can see the statue from just about anywhere in Rio. Surfing or football at the beach is a rite-of-passage for kids. And the restored docklands are where to catch Rio's culture #riodejaneiro
13/20

Lake Tekapo, South Island, New Zealand

New Zealand is the land of wild adventuring. So nobody's shocked to find Lake Tekapo, deep in the heart of South Island, is a huge Instagram star. Iconic mountains and vast views make for dramatic. And there are many. Take kids for a safe-taste of wilderness in spring or summer. Hang around for nightfall to witness the spectacular stars. Lake Tekapo is one of New Zealand's greatest Dark Skies Reserves. #laketekapo
12/20

Toronto is Canada's most Instagrammable city

Toronto is an Instagram icon. It's Canada's largest city. The skyline's instantly recognisable. Not many indie film festivals have Toronto Film Festival's clout. And the city's now #1 location of choice for just about any urban-based TV show. Kids will like Canada's Wonderland theme park. Take them round Toronto Islands. Catch Scarborough Bluffs and the hair-raising CN Tower. Then drive to Niagara to see Canada's side of the falls. #toronto
11/20

Paris, the French capital is top of the country's Instagrammable destinations

Paris has more historical monuments than any other city in the world. It's also home to the Louvre. And it does a nice line in gorgeous shops and restaurants, food markets and ice cool Parisians. Plus it practically invented the pavement café. So no surprise it's one of Europe's most Instagrammable destinations. Take kids to look at the Eiffel Tower – the view from Sacré-Cœur is better, and free. Visit the Tuileries. Wander round the Latin Quarter and Le Marais for atmosphere. Then go do Disneyland (another Instagram icon). #paris
10/20

Amsterdam, Instagram capital of the Netherlands

Amsterdam is another extremely Instagram-friendly European capital. Here quirk comes naturally courtesy of canals, skinny houses and stuff locals get up to on bikes. Visit with kids for Artis Zoo and pancake breakfasts. Book ahead for the Anne Frank House. Then visit Vondelpark and the phenomenal Rijksmuseum. #amsterdam
9/20

Dubrovnik, one of the most filmed cities in Croatia

Dubrovnik in Croatia is a seaside city like no other. And Instagram can't get enough of it. Just about every inch of the city was used in Game of Thrones which gives it extra Insta appeal. Plus there are gorgeous beaches and Adriatic island hopping is an amazing summer adventure. #dubrovnik
8/20

Rome, one of the most historic and Instagrammable destinations in Italy

If you want true Instagram obsession, look to Rome. The Coliseum alone stacks up millions of posts. There's endless passion for pizza, pasta and gelato. Centro Storico is a top performer. And districts like Trastevere and Monti warrant have their own tags. Hike up Janiculum Hill and take it from there. Kids love Rome almost as much as Instagram does. #rome
7/20

Maldives one of the Indian Ocean's most Instagrammable destinations

Tropical paradise islands, luxury resorts and deserted beaches make the Maldives an Instagram natural. Just add the Indian Ocean colour palette. Looking at images of overwater villas and bendy palm trees never seems to get old. And happily this heavenly archipelago is amazing for family holidays. And one of the best places on earth for kids' diving lessons. #maldives
6/20

Jaipur, capital of Rajasthan and one of India's most Instagrammable destinations

The Pink City of Jaipur and apparently painted this rosy colour to impress Prince Albert in the 19th century. Switch it up to the 21st and turns out Instagram's equally taken with colourful Jaipur too. If you want to impress kids, the city's immense forts and palaces should do the trick. #jaipur
5/20

London, top of the UK's Instagrammable destinations

Street markets, royal parks, art galleries and museums, street-style, palaces and terraces, pubs, people and even pigeons are just a hint of London on Instagram. It's a brilliant city for oddities and tucked away places. Great fun to explore with kids. And remember to stop for tea. London afternoon teas are Insta gold. #london
4/20

Lisbon, one of the most iconic and Instagrammable destinations in Europe

Lovely Lisbon shines on Instagram. It's a riot of colour rom scarlet-roofed Alfama to bright yellow trams. There's no shortage of history or beautiful Atlantic beaches. What you don't get on Instagram is warmth and friendliness. And that's what really makes Lisbon the European capital to visit with kids. #lisbon
3/20

New York City, leads Instagrammable destinations in the US

New York has always been top of the most Instagrammed lists. Amazingly photogenic, it's also a great big show-off in the best kind of way. So even the most dedicated never run short of material. #newyork
2/20

Dubai, one of the world's most Instagrammable cities

Dubai is extraordinary. It gets exactly the kind of Instagram attention you'd expect. As far as great posts go, skies here are perpetually clear. And the sun almost never stops shining. Now you know why Dubai's now a winter sun favourite for UK families. #dubai
1/20

Sydney, top of Australia's Instagrammable destinations

Sydney sneaks in first. Thanks as much to the sensational harbour as its beaches. Waterfront restaurants and intriguing historic districts attract lots of likes too. But best loved of all is Bondi. Australia really earns the title 'dream destination'. And if the entire country is on your family bucket list, Sydney's a good place to start. #sydney

Looking for Instagrammable destinations closer to home? Check out the 20 most beautiful places in the UK to visit with kids. And don't forget to follow Family Traveller Instagram and Facebook for more travel ideas – or just to say, hi.