Sponsored Content
If you feel like stretching your legs this summer, head to the Czech Republic. With  over 40,000 kilometres of well-marked and glorious walking routes, it's now one of the loveliest and safest countries in Europe for family hiking holidays.
But where to begin with so much choice? The Czech Republic may not be large, but it's big on diversity, home to some of the world's most enchanting national parks, stunning natural wonders, rock cities, primal forests, and enthralling adventures for kids of all ages.
Have a look at 10 great family hikes handpicked by the experts at Czech Tourism to make sure you all get off on the right foot whatever your ages, stages or fitness levels.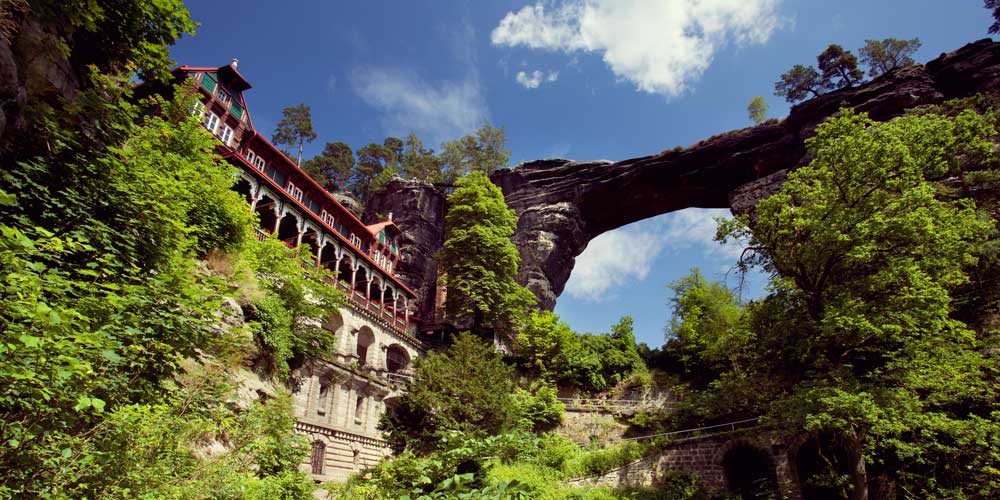 photo credit: Vaclav Sojka
1/10

  Hike to see Europe's tallest stone arch
It's easy to understand why Hans Christian Andersen was a big fan of Bohemian Switzerland back in the day. Between the robber barons' castles and vast forests, quaint little villages, mysterious labyrinths and immense river gorges, there's barely a bit of this beautiful national park that couldn't work its way into a classic fairy tale.
Test out the enchantment with a visit to Pravčická brána: the tallest natural stone arch in Europe, and by far the most famous landmark in Bohemian Switzerland. It's a wonder you can only see on foot, but the well-marked four kilometre route from Hřensko village is a favourite family hike, and more than manageable with over-eights.
Hiking hints
Hřensko sits on the River Elbe, close to the German border. 

The four kilometre hike to

Pravčická brána takes about 90 minutes.

Leave time to visit Falcon's Nest, the pretty 19

th

century lodge built into the rockface next to

Pravčická brána. The restaurant is open in summer and there's an exhibition about the local area here too.
Hřensko is two hour's drive north of Prague, so a day out hiking from the city is very doable. If you plan to stay longer the village has a choice of small hotels and family guesthouses.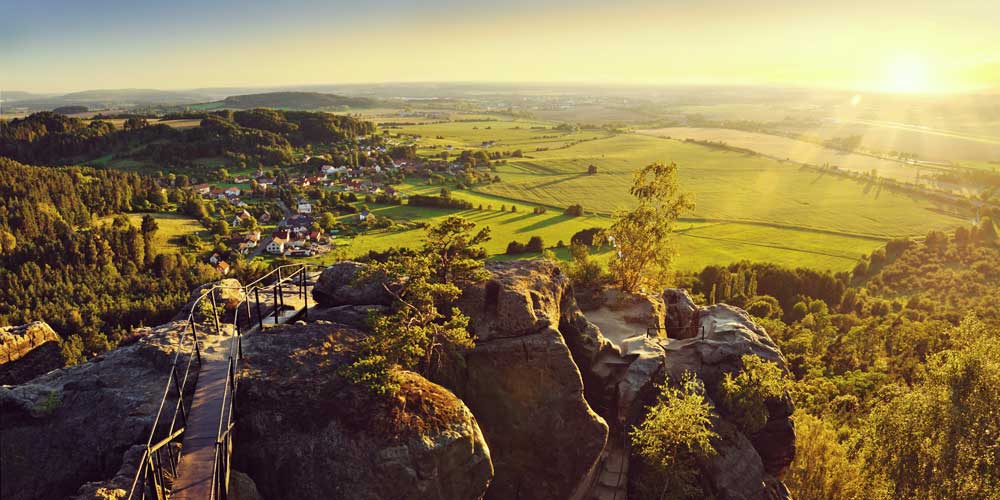 photo credit: Ladislav Renner
2/10 

Take a round tour of Bohemian Paradise
Just over an hour's drive from Prague, Bohemian Paradise is heavenly for family hiking and a good place to start with younger kids. It's the land of otherworldly rock formations, romantic castles, quaint towns and enormous forests, so even short walks reveal incredible wonders. If you're trekking with teens in tow it's also a fantastic area for more challenging guided hikes.
Test the area out on the round route from pretty Hrubá Skála to Valdštejn Castle. You'll see the dramatic stone pillars of Marian on the way there, and get an eyeful of more spiralling rock towers at Vyhlídka u Lvíčka on your return. Don't forget to make time to admire Bukovina Arboretum, before the grand finale of Zámecká vyhlídka – the views here are worth a hike all by themselves.   
Hiking hints
The round hike from Hrubá Skála is nine kilometres, and takes just over two hours.

Zámecká vyhlídka (Castle View) is an easy 20 minute walk from Hrubá Skála for younger kids.

13

th

century Valdštejn is the oldest castle in Bohemian Paradise, it's beautifully restored and has guided tours during spring and summer.
Hrubá Skála is an hour and 20 minutes north of Prague. The village has plenty of parking and there are several good hotels, family guesthouses and restaurants in the local area.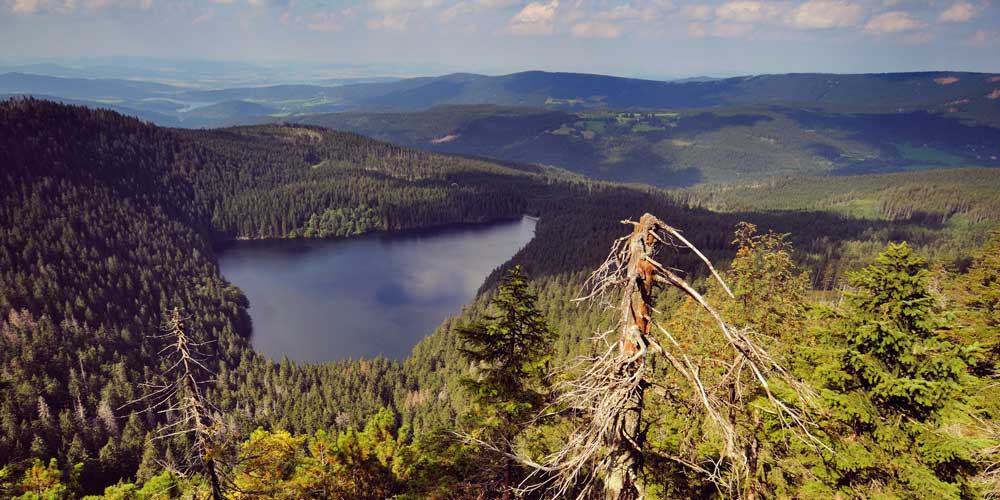 photo credit: Pavel Ourednik
3/10

  Go walking with wolves in 
Šumava National Park
The combination of gentle woodland walks and a chance to spy on wolves, should put Sumava National Park high on the wish list for family hikers. Start at the excellent information centre in Srni where kids can learn about the magnificent creatures who once roamed Bohemia's forests, but are now extinct in the wild. Then it's off into the woods on a two kilometre hike to the observation point and, hopefully, a sighting of the resident wolves in their specially designed – near natural – environment.
Hiking hints
Boubín Forest on the south east edge of Sumava National Park is the largest area of primal forest in Central Europe, and great for kid-friendly hiking trails.

Ambitious teens might be up for the challenge of hiking to Sumava's Black Lake. It's the largest in the Czech Republic and the Yellow Route from

Špičácké sedlo, in the north of the park, takes about an hour.
Srni is right in the heart of Šumava National Park which lies two hours and 35 minutes south west of Prague. The park has a range of hotels and guesthouses within easy distance of the wolf centre, and several close to Špičácké sedlo and the lakes.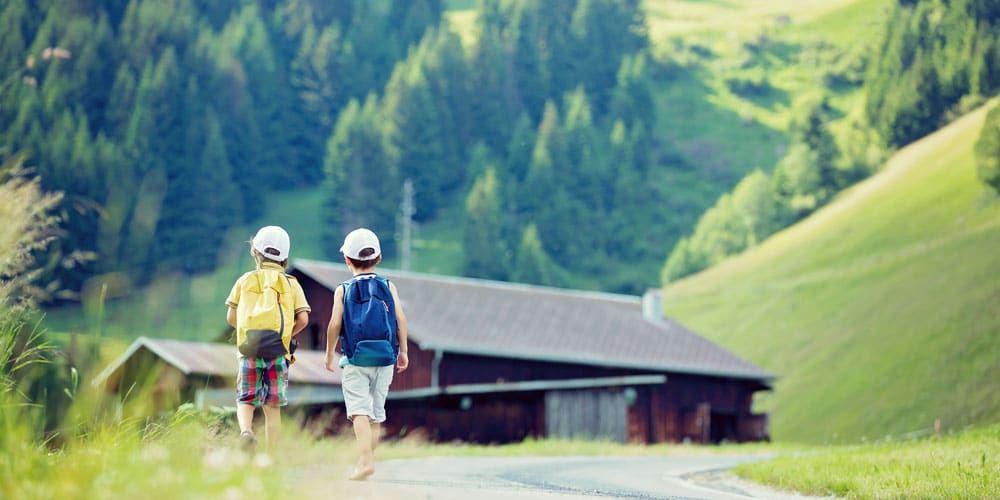 4/10 

Little legs love the Zemská Braná Nature Trail
There are hundreds of hiking routes in the Czech Republic that are ideal for kids, but few compare to the Zemská Braná Nature Trail for its mixture of fun, adventure, and plenty of rests for the littlest of legs.
It might only be three kilometres long, but since it runs through one of the country's loveliest nature reserves, there's a lot packed into a short distance.  The official number of places worth stopping at is given as 22. But take your time and you can probably add quite a few more to the count. Older kids might not find the walking too challenging, but they'll like the historic hunting lodges, smuggler's bridges and secret caves along the way.
Hiking hints
Zemská Braná is in the Orlické Mountains on the border of Poland.

It's a well marked blue trail starting at Kamenný Most and running for three kilometres along the Divoká Orlice River.

Look out for Pašerácká lávka, Smugglers Bridge; Lusthaus Hunting Lodge and Ledříčková Cave.
Zemská Braná is two hours and 25 minutes drive east of Prague. The Divoké Orlice Valley is a good area for family guesthouses and farm stays.
Find out more about family hikes near Zemská Braná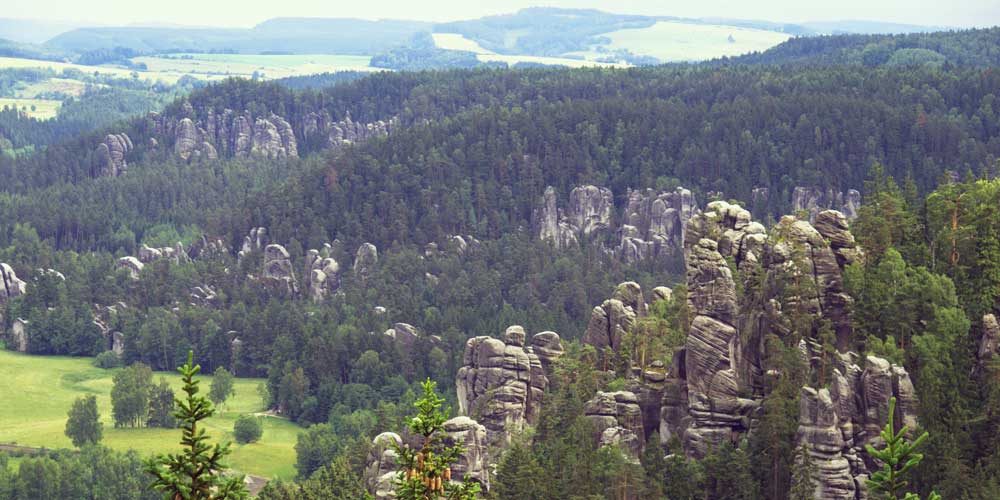 5/10 

The legendary 'rock city' of Teplické Skály
Follow the blue trail through astonishing Teplické Skály with kids and they'll be hiking converts for life, although very few places will ever come close to the Czech Republic's most famous 'rock city' in terms of grandeur.
The round loop is just under six kilometres but the variety of experiences cover everything from snaking between 10 metre high cliff walls to scooting up ladders, dropping in under vast stone archways to being ferried over rivers by Czech gondoliers. The entire route is quite strenuous, but over-eights will manage it easily enough and there's no rush: three hours is just a guideline, so go at your own pace.
Hiking hints
Teplické Skály is one of the most hiked routes in the Czech Republic, so it's best to go early in the day during summer.

There's an entrance fee for hiking through Teplické skály, and guided tours are also available.

Almost all the rock formations have names and backstories detailed on excellent information boards along the route.
Teplické Skály is two hours and 25 minutes drive north east of Prague. It's a very popular tourist destination and the surrounding area has a wide range of family hotels and guesthouses.
Find out more about family hikes in Teplické Skály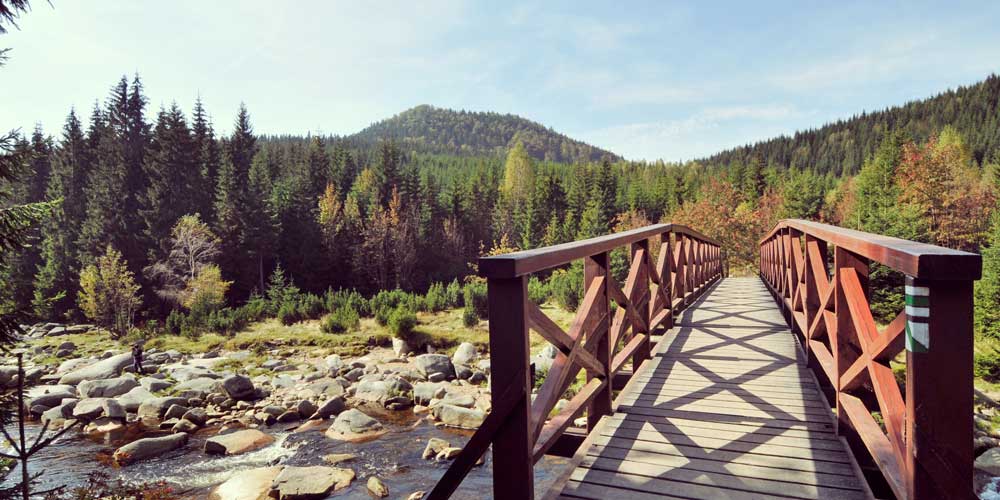 photo credit: Milan Drahonovsky
6/10

  Two historic tracks in the Jizera Mountains
The cog railway from Tanvald to Harrachov is unique in the Czech Republic, and although it runs for a mere 12km, it manages to pack in several tunnels and bridges along the way, including the massive 26m high bridge over the beautiful River Jizera.
Family hikers want to hop off at Kořenov Station, have a quick look at the cute rail museum, then lace up their boots for a fun trek up to one of the country's most famous landmarks, Štěpánka Lookout. The oldest of many lookouts in this area, it's known as Queen of the Jizera Mountains, and the views from the top are spectacular.
Hiking hints
Kořenov Station is half-way between Tanvald and Harrachov just to the north east of Krknoše National Park.

Harrachov ski resort is packed with family activities during summer, and another great base for hiking in the Jizera Mountains.
Tanvald is an hour and 30 minutes drive north east of Prague, Harrachov is a year-round resort with a good range of family-friendly hotels, chalets and campsites.
Find out more about family hikes in the Jizera Mountains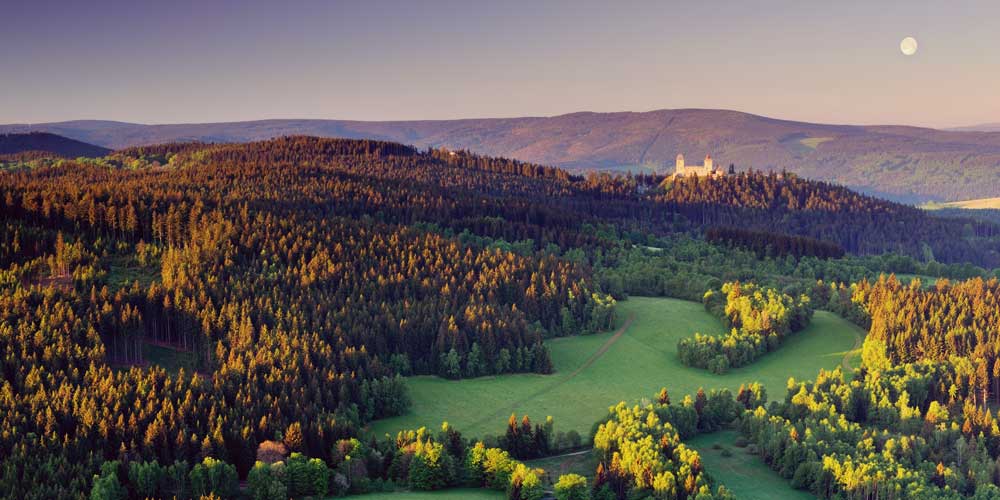 photo credit: Pavel Ourednik
7/10 

Buggy-friendly hikes in Šumava National Park
Šumava National Park is where to find the Czech Republic's largest lake and quite a few of its most strenuous walks. But it's also a great place for gentle toddler-perfect strolls and buggy-friendly hikes.
The riverside route along the Vydra from Antýgl to Modrava is an easy four kilometres for littler legs and more than doable for most wheels.
Hiking hints
Vydra translates as 'otter', so keep your eyes peeled for wildlife on this hike.

Several forest trails along the way let you take a detour from the surfaced route with older kids.

If you're up for more of a challenge, the hiking route to Kvilda Mountain Village (one of the highest in the Czech Republic) is marked from the information centre in Modrava.
Antýgl is in the heart of Šumava, two hours and 30 minutes south west of Prague. There are several family hotels and guesthouses in the national park, and one hotel in Antýgl.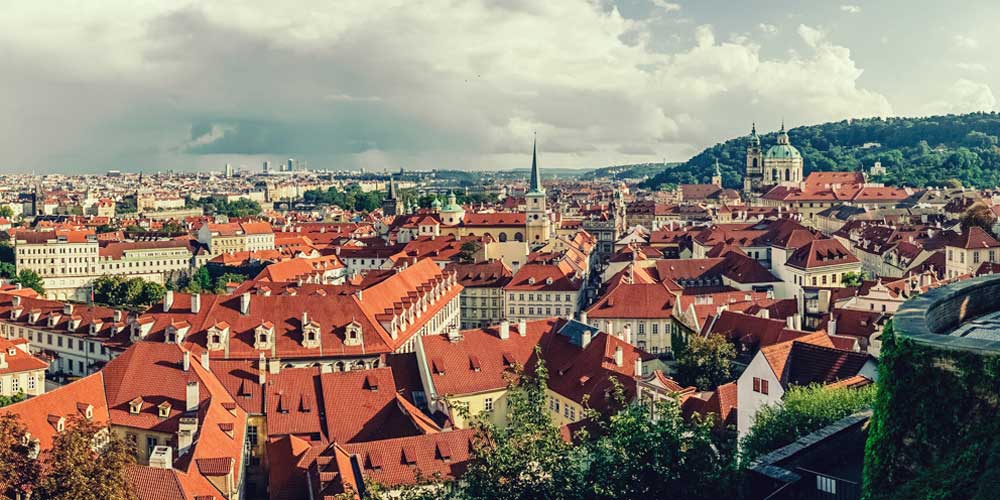 photo credit: Bobo and Chichi
8/10 

Take kids hiking in the heart of Prague
When most cities say 'walkable', they mean footsore slogging round crowded streets. Prague on the other hand, makes the promise and gives you gorgeous Petřin as a reward for your legwork. 
A 40 minute hike from the Old Town Square, this fabulous green hill looks out across the Czech Republic's capital city from ground level, and then invites you to climb a further 299 steps to the top of the marvellous Petřn Lookout for a Prague panorama that will take your breath away. 
Hiking hints
Plan to spend a few hours in Petřin, it's home to the city's planetarium as well as a great viewpoint over Prague Castle.

If kids are too tired to walk back down, the Petřin Funicular is a fun alternative.
Petřin is three kilometres east of the Old Town Square and about 40 minutes walking time with kids.
Find out more about family hikes in Prague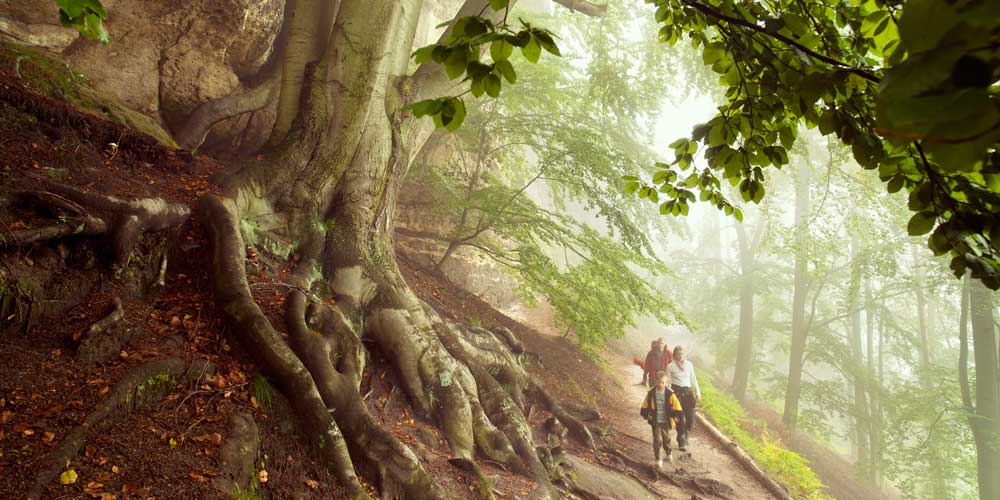 photo credit: Vaclav Sojka
9/10

  Walk the way of Bohemia's robber barons
Beat device devoted kids at their own game, with a fantasy hike to the perilously perched robber baron's castle of Šaunštejn in Bohemian Switzerland.
The infamous Wartenburg family made their home here in the 15th century, launching raids on the Old Bohemian trading routes and generally wreaking havoc from this crag-bound lair. The castle's impressive ruins are bigger on views than terror these days but they haven't lost any of their spine-tingling atmosphere, not least of all because you have to climb ladders to reach them.
Hiking hints
Šaunštejn is a six kilometre hike from

Jetřichovice village on the northern edge of Bohemian Switzerland National Park.

It's an easy going hike for kids and takes about two hours, there and back. 

Jetřichovice has a good information centre, and makes a great base for hiking in the park.

Under eights might prefer the easier 20 minute walk from Jetřichovice to

Falkenštejn Castle. Another fantastic spot for views of the park.
Jetřichovice is an hour and 40 minutes north of Prague. It's the main gateway to Bohemian Switzerland National Park and good for family guesthouses, hotels and restaurants.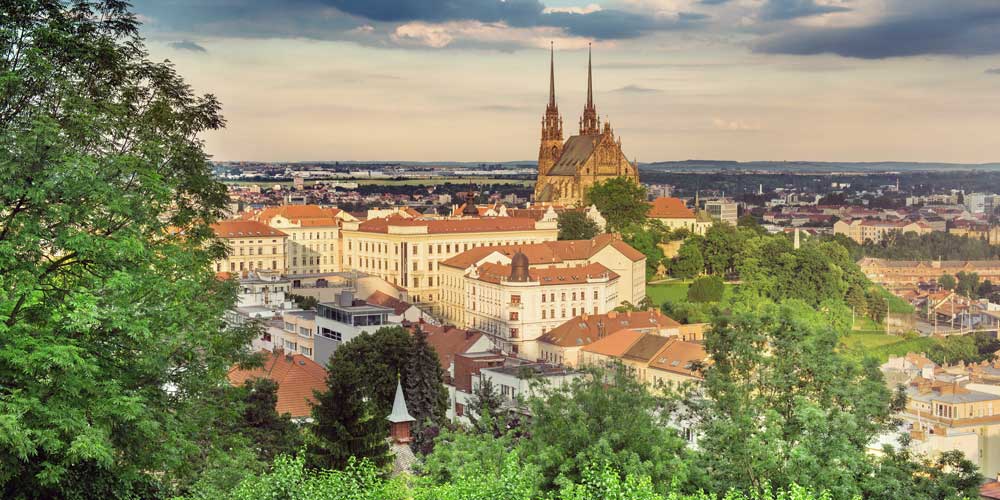 photo credit: Ales Motejl
10/10

  Hike the history round about Brno
Brno sometimes gets overlooked in the rush to Prague, but it's a great fun city to visit with kids, fascinating to explore, surrounded by gorgeous countryside, and just as up for hiking as the rest of the Czech Republic.
Take the tram from the city centre to Brno Zoo, and follow the marked walking trail in the direction of Veveří Castle. Almost submerged in the dramatic density of Podkomorské Woods, this historic royal hunting lodge has fabulous guided tours at the weekend from April to October, but is worth the walk just to gaze on from the outside.
Hiking hints
Veveři is an easy-going 10km walk from Brno Zoo, and suitable for kids of all ages.

The woods are good fun to ramble round in summer, and look out for special events at the castle during July and August.
Brno Zoo is 25 minutes by tram from the city centre, and Veveři Castle is 10km walk, north east of the zoo.
Find out more about family hikes in Brno
Naturally with over 40,000 kilometres of walking trails, this is just a hint of where to hike in the Czech Republic. So if you don't see your perfect family trek here, check out several thousand more

Czech Tourism

can highly recommend.