Dubai winter sun breaks are back. The weather's properly warm. And direct UK flights take from seven hours. Tempted? Here's our district-by-district guide to Dubai. Where to go, what to see and where to stay for every budget. We even found good value family resorts on Palm Jumeirah. Take a look.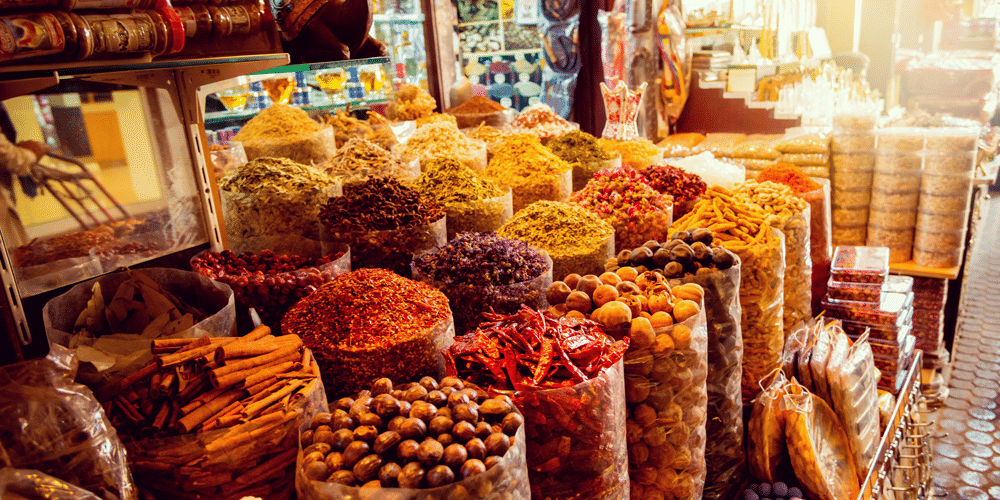 1/6

 Deira – add souks and bazaars to Dubai winter sun breaks 
Deira stretches east from the banks of Dubai Creek. It's one of the city's oldest districts, the place for traditional souks, graceful dhows and historic architecture. Authentic culture is part of everyday life here. So it's an interesting district to explore for insight into Dubai's complex heritage.
Deira highlights
The Gold Souk in Deira is estimated to hold upwards of 10 tons of gold on any given day. It's one of the most celebrated in the world, famous for skilled goldsmiths, exquisite jewellery and heated trading.
While you're in the area, visit the Spice Souk and Perfume Souk too. Very different experiences from the Gold Souk, they're just as exciting and smell amazing.
Deira's Al Ahmadiya School & Heritage House is an oasis of calm close to hectic souks. The traditional museum building's charming and houses everything you'll ever need to know about Dubai's pearl fishing industry.
Where to stay in Deira
Deira's good for five-star family hotels on Dubai Creek. Travel a few streets east for mid-range family hotels and aparthotels. Many have free beach shuttles, rooftop pools and great views.
Luxury: Jumeirah Creekside Hotel, 5-star. Family suites; two pools; discount rates for Dubai family attractions.
Good value: Best Western Plus Pearl Creek, 4-star. Rooftop pool; river and city views; spa.
Great value: Star Metro Deira Hotel Apartments, 3-star. Family studios; rooftop pool; city views.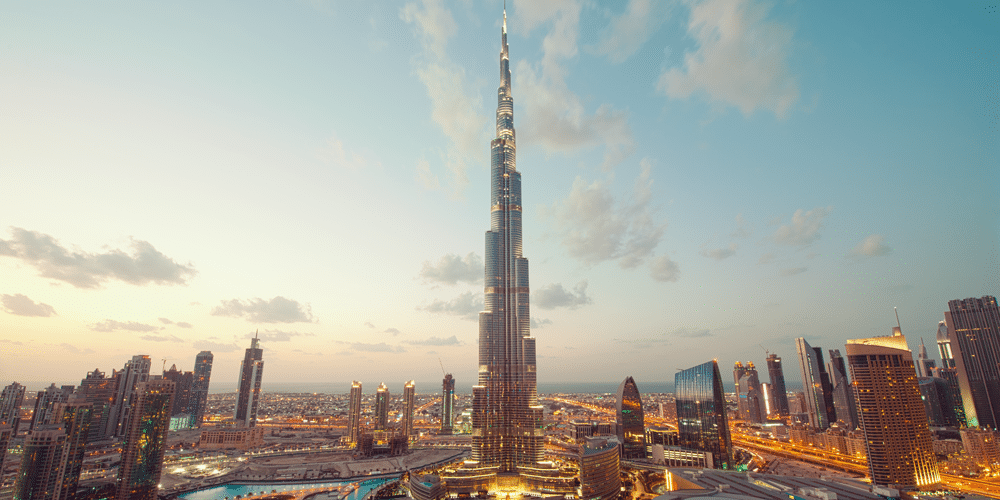 2/6

 Downtown Dubai – heart of the iconic skyline
Downtown is the heartland of Dubai's instantly recognisable skyline. And Burj Khalifa is just one of several extraordinary landmarks here. However, the area's pretty parks, fountains, and waterways might surprise you more. It's one of the top district for international restaurants and also where you'll find Dubai Aquarium and Dubai Mall.
Downtown highlights
At 828 metres high, Burj Khalifa is currently the tallest tower in the world. It soars above the city and the views from the upper-level observation deck are spectacular.
Dubai Fountain is in Downtown and performs spectacularly every 30 minutes in the evening. If you want a crowd free look, quite a few nearby restaurants offer clear views of the fountains.
Dubai Mall dominates Downtown's eastern side. It's the largest shopping complex on earth. And, apart from hundreds of stores, it's also home to Dubai Aquarium & Underwater Zoo.
Where to stay downtown
Downtown is total immersion in Dubai's 21st century experience. Most families choose resorts in neighbouring districts. But if you can't resist an urban landscape, this is where to stay.
Luxury: Address Downtown, 5-star. Family residences; rooftop infinity pool overlooking Burj Khalifa.
Good value: Ramada Downtown Dubai, 4-star. Family suites; Burj Khalifa views; shuttle to Jumeirah Beach Park.
Great value: Rove Downtown, 3-star. Family rooms; outdoor pool; city views; onsite cinema.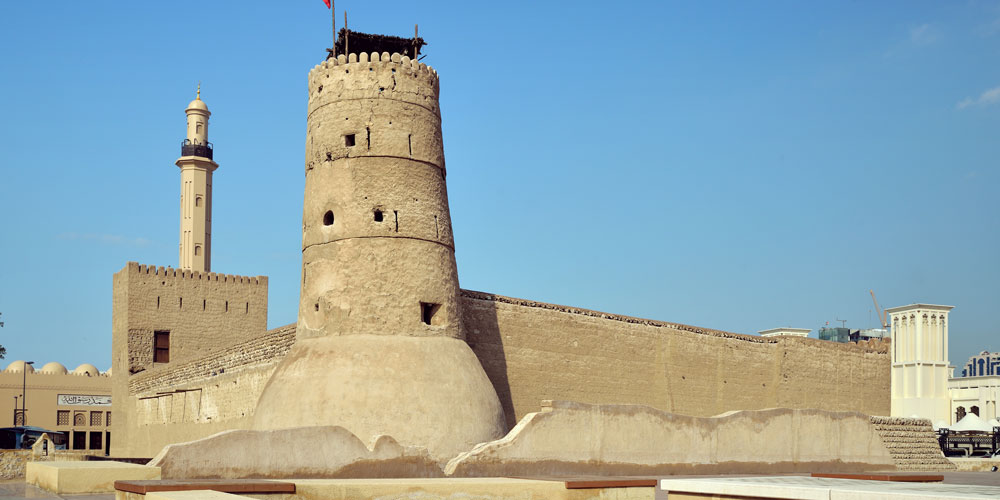 3/6

 Bur Dubai – the ancient historic quarter
Dubai's oldest district, Bur Dubai sits on the west bank of Dubai Creek. It's authentic, off-beat, creative and very atmospheric. Traditional restaurants, private  galleries, lively streets and local shops make it a must-visit. But it's also an interesting district to stay in, especially with teenagers.
Bur Dubai highlights
Al Fahidi Fort is the magnificent 18th century home of Dubai Museum. Go early in the morning before the crowds. Then head to Bur Dubai Souk to see fabulous textiles.
Leave several hours to stroll around the ancient Shindagha quarter on the edge of Dubai Creek. The coral houses are lovely and it's the best area for local cooking. Don't miss the gorgeous Sheikh Saeed Al Maktoum Residence.
Where to stay in Bur Dubai
Bur Dubai's the district for good value family hotels. And you won't pay extra for views of Dubai Creek or the Arabian Gulf.
Luxury: Raffles Dubai, 5-star. Family suites; outdoor pool; close to Khan Murjan Souk.
Good value: Mövenpick Hotel & Apartments, 5-star. Large family rooms; outdoor pool; K-Korean Spa.
Great value: Park Hotel Apartments, 3-star. Family studios and one bedroom apartments; pool complex; free shuttle service.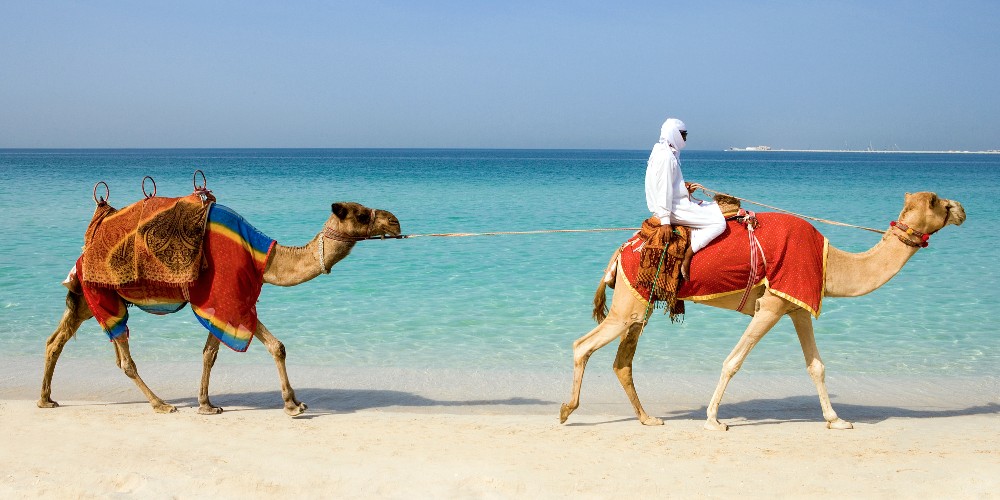 4/6  

Jumeirah – beachfront Dubai winter sun breaks
Jumeirah is probably the most valuable stretch of coast in the UAE. It's also the district for exceptional family resorts, water sports, private beaches and the type of lux experiences almost nowhere does as well as Dubai.
Jumeirah highlights
Kite Beach is perfect for active families who want to dabble in paddle boarding or kite surfing.
Next to the beach is Wire World Adventure Park, a series of incredible high rope courses made for bold kids.
Malls are second only to the seaside in this district. They might not be as massive as Dubai Mall, but the likes of Galleria and Mercato combine character with luxury shopping.
Where to stay in Jumeirah
There are some inexpensive hotels in Jumeirah, but most families don't choose to stay in this area for good value.
Luxury: Jumeirah Mina A'Salam, 5-star. Family suites; private beach; 40 restaurants; pools; water sports.
Good value: Jumeirah Beach Hotel, 5-star. Family suites; 5 pools; private beach; 10 restaurants.
Great value: Rove City Walk, 3-star. Interconnected family rooms; large swimming pool; games room.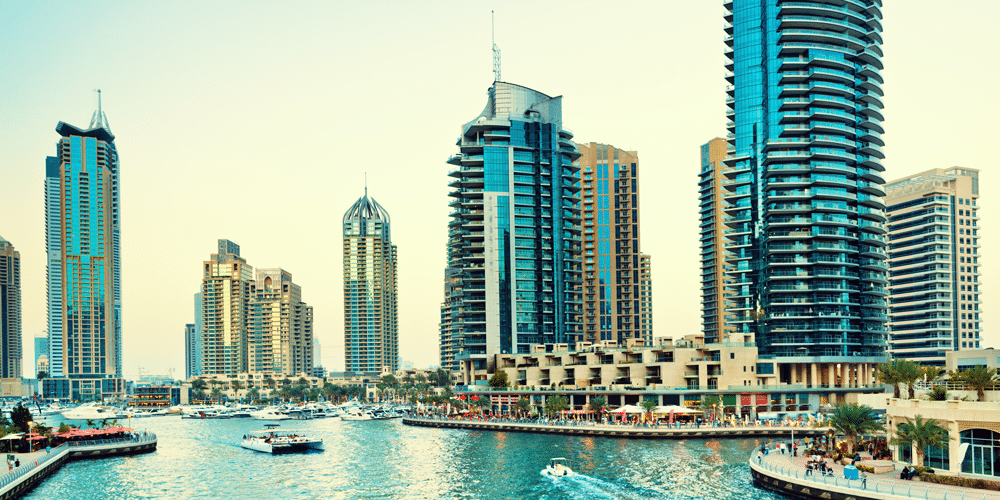 5/6

 Dubai Marina – the teen-friendly district for JBR Beach 
Dubai Marina is where gleaming towers gaze at a seascape of super-yachts. Every week a new restaurant springs up on an exclusive rooftop. Even the swimming pools here seem bluer and brighter. It's teen heaven, but not the best district for Dubai winter sun breaks with younger kids.
Dubai Marina highlights
If you take a night off parenting, have dinner at Dubai Marina. All the city's leading chefs want to cook here, and only sea views compete with the food.
Kids will love JBR Beach for swimming, dozens of cafés, outdoor and indoor activities, and camel rides along the sand – best in the city.
This is also the district for sailing, whether you want to escape on a traditional dhow, zip across the Gulf on a speedboat or take a tourist cruise.
Where to stay in Dubai Marina
Some of Dubai's most expensive property is in Dubai Marina, so it's not big on resort bargains. But if you want sleek, contemporary luxury, nowhere else comes close.
Luxury: Ritz Carlton Dubai, 5-star. Family suites; private beach; Ritz Kids; swimming pools.
Good value: Sofitel Dubai Jumeirah Beach, 5-star. Large family rooms; on JBR Beach Walk; swimming pools; restaurants.
Great value: Wyndham Dubai Marina, 4-star. Family rooms; swimming pools; shuttle to beach.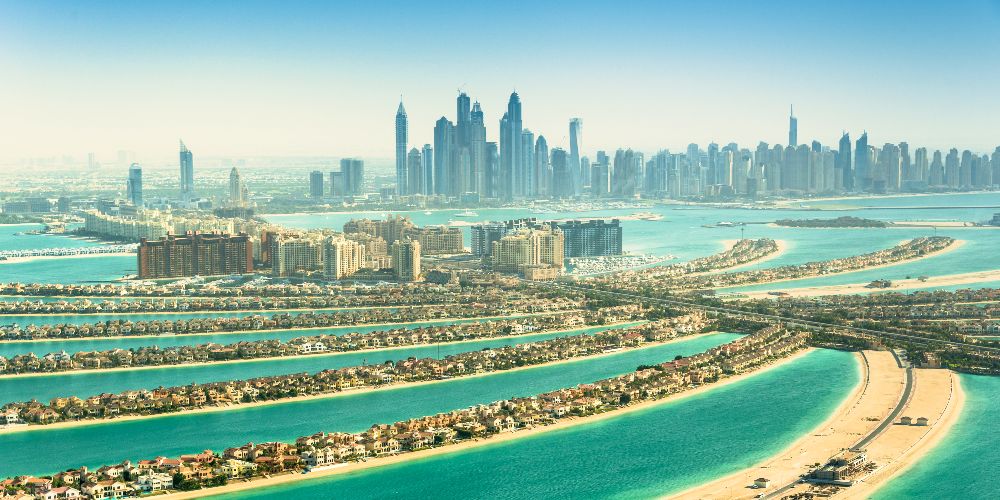 6/6  

Palm Jumeirah – the family friendly island for Dubai winter sun breaks
One of the world's most famous manmade islands, Palm Jumeirah floats in the Arabian Gulf. Almost the entire island's given over to resorts. This is a fantastic base for family holidays, resorts are attractions in themselves, and Dubai's a 20 minute drive away.
Palm Jumeirah highlights
Palm Jumeirah wasn't designed with kids in mind, but it might as well have been. This is where you'll find The Lost Chambers Aquarium, Dolphin Bay and Aquaventure Beach: all part Atlantis The Palm, but open to non-guests.
Some of the city's best water sports' operators are on Palm Jumeirah.
It's Dubai, so naturally you can drive everywhere, but the Palm Jumeirah monorail is the most fun way to get to JBR Beach.
Where to stay in Palm Jumeirah
The closer you are to the outer branches of The Palm, the more expensive the resorts.
Luxury: Atlantis The Palm, 5-star. Range of family rooms and suites; waterpark; aquarium; private beach; pools.
Good value: Fairmont The Palm, 5-star. Family rooms and suites; 11 restaurants; 8 pools; private beach.
Great Value: Royal Central Hotel The Palm, 5-star. Family suites; 2 swimming pools; private beach.
This article contains affiliate links. We may earn commission when you click on them. This does not influence our editorial standards. We only recommend products and services we believe will enhance your family travel experience.