Sponsored Content
Dubai is best known as a futuristic metropolis with dazzling, vertiginous skyscrapers shooting like rockets into a laser-blue sky. But venture outside of the city limits and discover craggy mountain ranges, ancient villages and vast wildlife sanctuaries in the Arabian Desert.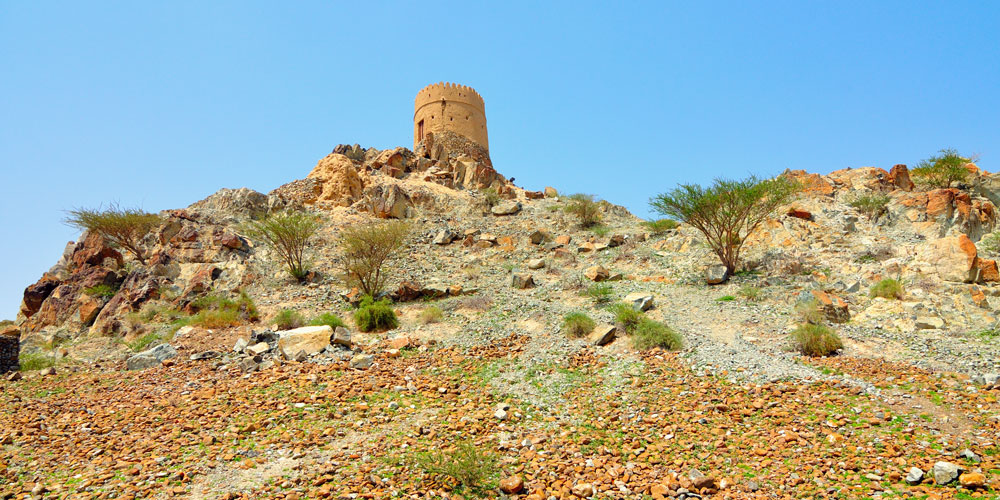 1/5  

Say hi to Hatta, one of Dubai's heritage villages
In the foothills of the Hajar Mountains on the border of Oman is the heritage village of Hatta. With origins dating back more than two thousand years, Hatta is the complete antithesis of modern Dubai and is a fascinating day out for all the family.
Explore its beautiful sandstone fort and duo of crumbling stone castles, or peek inside traditional barasti houses made from mud and palm leaves. Kids can dress up in traditional robes and learn about ancient craftwork such as textile dyeing, and making tools and utensils out of palm fronds. If you want to get active there are official hiking routes to explore or visit the Hatta Mountain Bike Trail Centre to find out about the different cycling trails.
The heritage village of Hatta is an hour's drive southeast of Dubai on the border of Oman, so don't forget your passport. Entry is free.
Find out more about the Heritage village of Hatta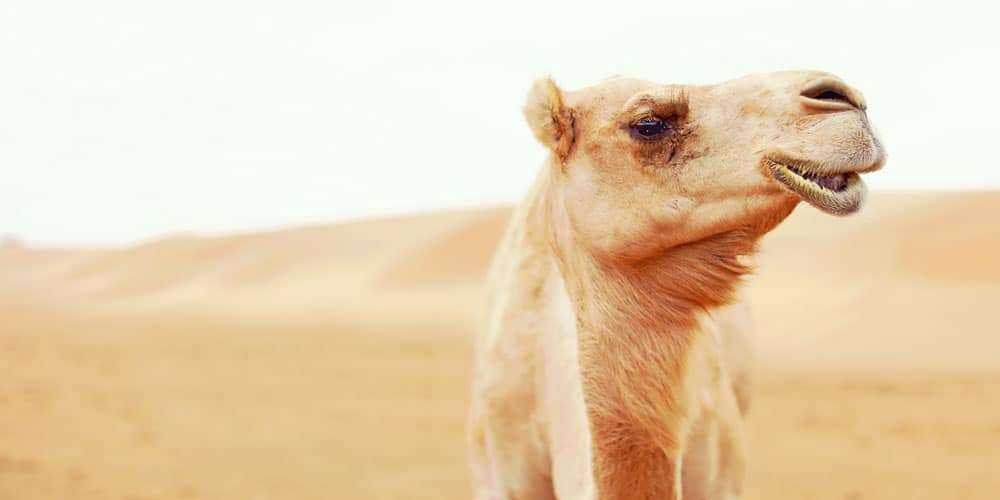 2/5

  Al Lisaili's camel market
Known as the ships of the desert, camels are an Arabian icon. Kids can learn more about these beautiful rubber lipped beasts on a trip to the desert town of Al Lisaili, the camel breeding and racing capital of Dubai. Al Lisaili is 40 miles from Dubai and is centred around the Al Marmoum race track, where prize camels can reach speeds of up to an incredible 55mph.
In the past owners would use children to jockey the camels, but in 21st century Dubai the sport has gone hi-tech and robot jockeys are controlled by camel 'gamers' at the side of the track. The camel racing season runs between October and March, however, the camel market is a year-round affair. The noisy, chaotic marketplace offers a real taste of traditional Emirati life. Aside from thousands of camels for sale, there are 160 stalls flogging handmade trinkets and colourful camel blankets, but maybe leave the four-legged souvenirs for the locals.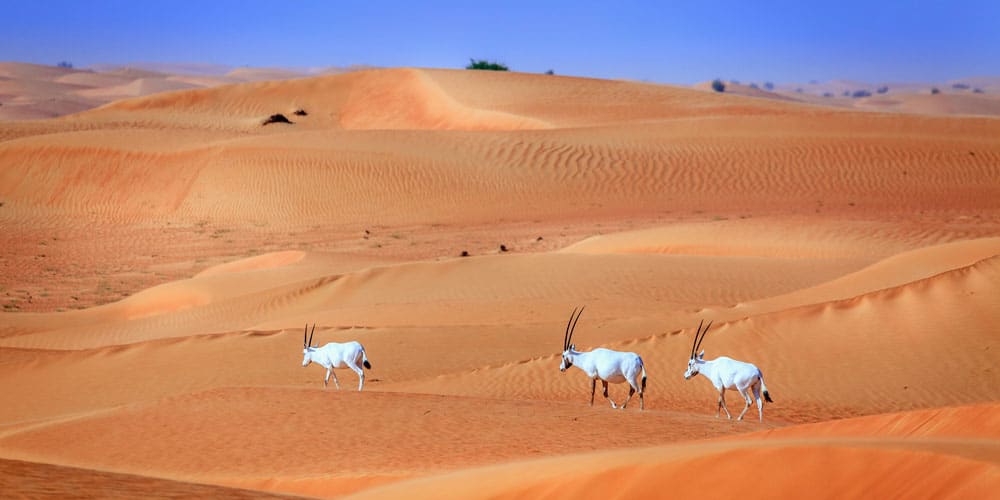 3/5

  For desert dreams head to Dubai's national park
No holiday to Dubai is complete until you've experienced the Arabian Desert. An hour from Downtown Dubai is the Dubai Desert Conservation Reserve (DDCR), the country's first national park. DDCR was created to protect the pristine desert landscape of Dubai. With an area of 225 square kilometres it equals 4.7% of Dubai's total land area.
Only four tour operators are allowed access into the reserve, which makes a trip here one of the more unique desert experiences on offer. Book a one-or-two night trip and conquer its mountainous sand dunes in a 4X4, learn falconry and explore the vast reserve on a camel trek, before bedding down under a blanket of stars in a traditional Bedouin camp.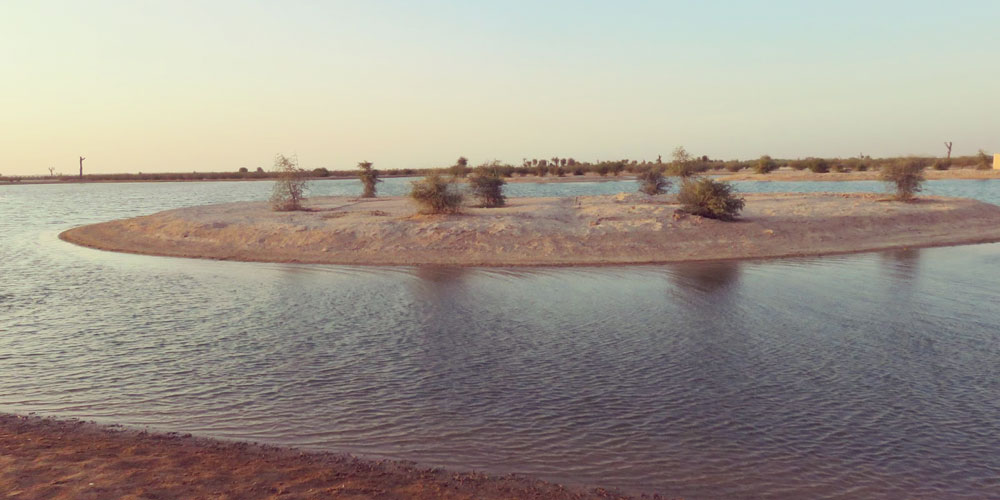 4/5  

Discover a desert oasis at Al Qudra Lake
It's not a mirage, Al Qudra Lake is a real oasis in the Saih Al Salam Desert. A 30-minute drive from hustle and bustle of Dubai, Al Qudra Lake is a popular desert day trip for locals. Covering an area roughly the size of 10 rugby fields, this man-made lake surrounded by desert dunes and shrubs is home to over 170 different species of birdlife.
Witness fleeting flocks of powder pink flamingoes and gracious black swan, as well as desert birds of prey such as falcons and the rare Steppe eagle. Settle down for a lakeside picnic and you may be joined by Arabian oryx or gazelle creeping down to the shore for a cooling drink. There are no official facilities at Al Qudra, so pack a full picnic and your binoculars and enjoy the peace and solitude of this a desert oasis.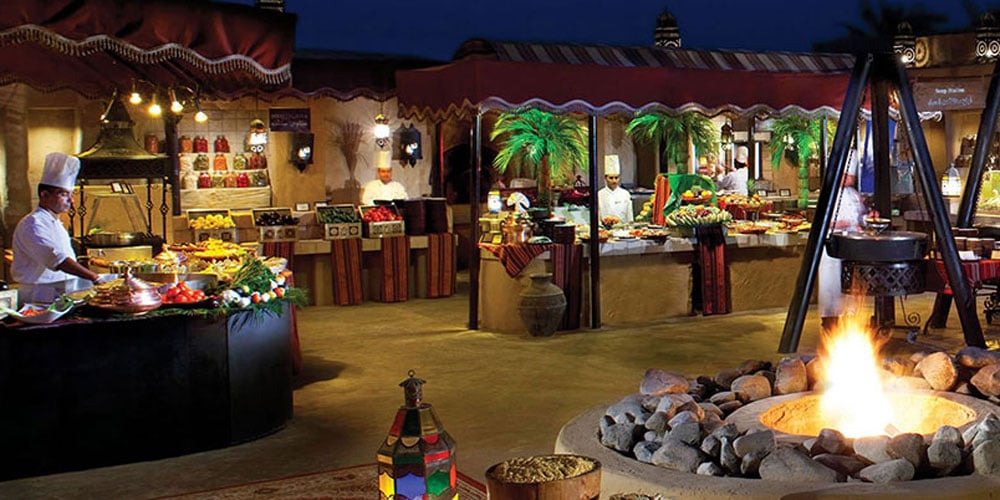 5/5

 Enjoy authentic Middle Eastern cuisine at Bab Al Shams Desert Resort & Spa

Al Hadheerah is one of eight restaurants at Bab Al Shams Desert Resort & Spa and it's like walking into a scene out of a fairy tale. With traditional Middle Eastern dishes and lively entertainment, this restaurant is perfect for families. Try the 1001 Nights dining experience and kids between the ages of five and 12 get 50% discount.

Bab Al Shams Resort is a 40 minute drive from Dubai and offers plenty of family friendly activities such as camel riding, desert safari, horse riding, archery and falconry.