If Atlantis The Palm had a motto it would have to be, 'start as you mean to go on'. When the 1539 room, 23 floor, 93m high hotel launched in 2008, it went with fireworks, of course. 100,000 fireworks to be precise. That's roughly seven times the number used at the opening of the Beijing Olympics earlier in the same year. It takes a lot of nerve to best China on pyrotechnic extravagance and world-eyes have been trained on Atlantis ever since, just waiting for a misstep or even a tiny, little shred of disappointment.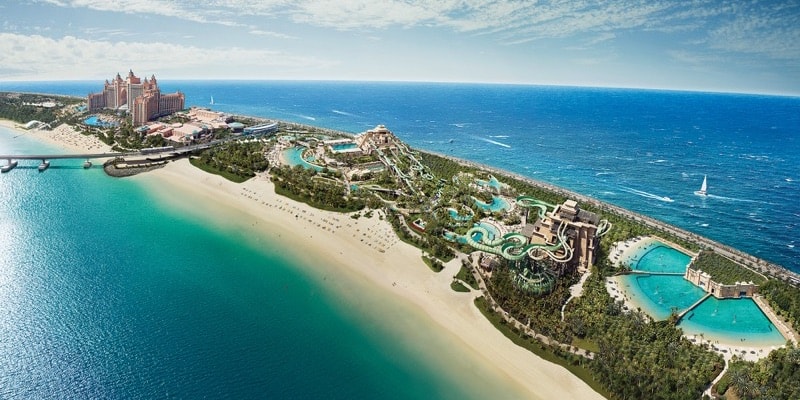 Happily, the grandest landmark on the world's most famous man-made island, more than lives up to the promise of 2008's splashy launch.
But getting it right is a bit of a talent for the Atlantis brand. Atlantis Paradise Island, is the Bahamas' top holiday resort and its little sister now has much the same standing in Dubai – not an emirate short on fabulous hotels. So what can a family with high-expectations look forward to when they roll up the trunk of The Palm, suspend belief and enter the wonderful world of Atlantis?
Aquaparks, aquariums, dolphins and water everywhere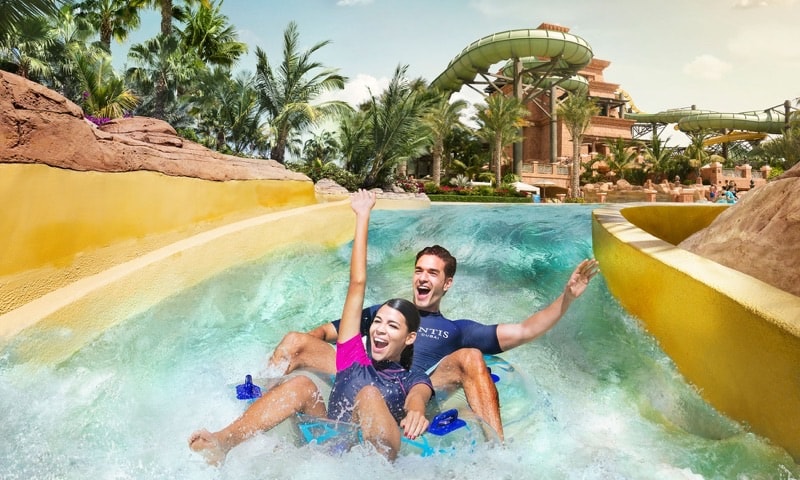 Most Dubai hotels have swimming pools, but the Atlantis works water on an entirely different level. Not only is the resort surrounded by the Arabian Gulf, it has Dubai's biggest, wettest and wildest waterpark, a resident pod of Bottlenose Dolphins and a colony of Sea Lions, one of the city's largest aquariums, an on-site diving school and almost 2km of flawless, white sand beach. Naturally, there are a few sizeable swimming pools too.
The resort's Aquaventure waterpark is so close to the hotel building, kids can almost roll out of bed, swap PJs for swimmies and be careening about on the likes of Poseidon's Revenge and Leap of Faith before they're even properly awake.
A bit more wide-eyed attention is demanded by the wild inhabitants of Dolphin Bay and Sea Lion Point. But swimming or snorkelling with them is every bit as exciting as daredevil water rides. If conservation's a concern, rest easy: high-profile Atlantis has an outstanding record, the marine habitat is one of the world's finest and the qualified team are always happy to answer questions – yours or the kids.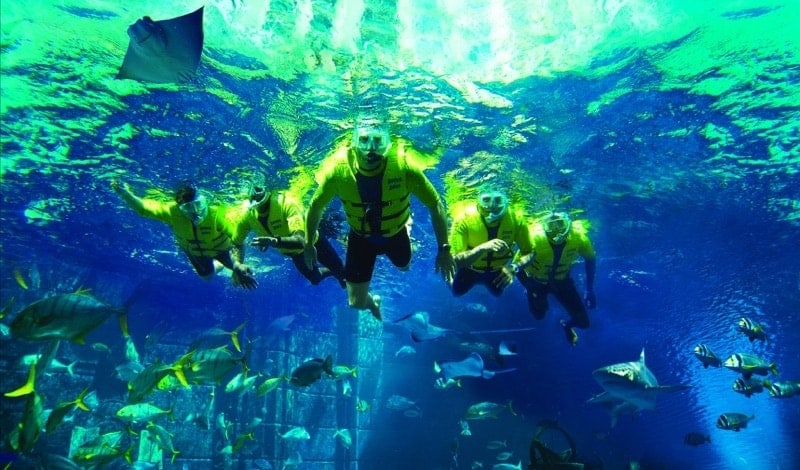 If the thought of white-knuckle is too much first thing, try yoga in The Lost Chambers Aquarium to ease you into the day instead. It's a surprisingly soothing experience considering the gigantic, glass tanks contain 65,000 sea creatures – including several of the most fearsome known to man. Once you're fully serene you can take an aquarium Myth Tour with the kids for a totally different perspective.
The kids clubs, kids would design for themselves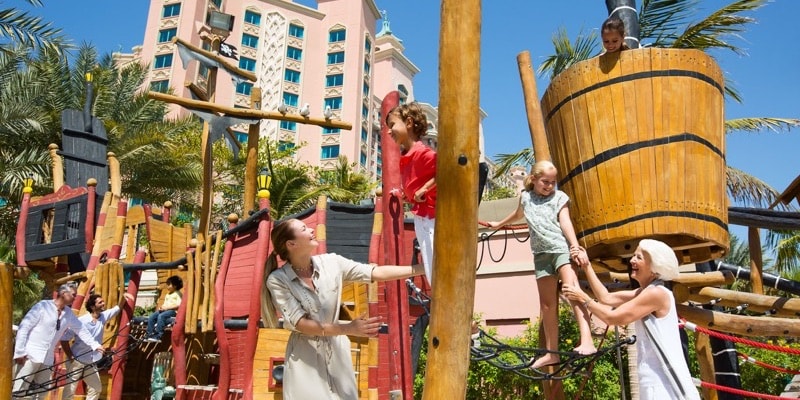 Kids clubs can make or break a family holiday and Atlantis have a lot of experience in getting the right mix in the right space for the right age group.
3-12 year olds have their own bold and colourful den with plenty of room to get boisterous, nooks for quiet moments, learning activities, guided play and the type of gadgetry designed to satisfy the sky-high standards of most mini-technophiles. And if all that fails, The Zone fills in with dozens of full-motion simulators, banks of novelty games and all that's new in the land of arcade excess.
Forget authority bloggers, mystery critics and incognito reviewers, the guests every resort wants to make happy are the pickiest of all: teenagers. Atlantis doesn't need to worry on that score, Club Rush is now the most popular hang-out for under 18s in Dubai. It's famous for DJ club nights, the screen-packed Internet Café, zones for chilling and gaming and snacking, celebrity events and a mocktail bar, where the only thing louder than the neon-coloured soft drinks is the music.
Self-indulgent downtime for precious parents
Atlantis understands most families have at least one adult in the equation, so not everything's geared to 18 and under. Once the kids are safely tucked away in waterpark or club land, the choice of grown-up indulgences borders on overload. The resort has a total of five different spas covering the spectrum of pampering from Japanese ritual massage to customised facials. There's a Shuqui fitness centre. And, if the sun doesn't pin you to the sand, you can try just about any sport imaginable on the beach.
Dubai's a shopping icon so it won't be too much of surprise to find even Atlantis has its own mall. Granted it's not nearly the size of the city centre behemoths but its mix of luxury stores and cute street stalls gives you more than enough to browse for a few hours. And, just like everywhere else in the resort, the staff are faultlessly charming and nothing is too much trouble.
Atlantis also has 19 restaurants including Nobu, Gordon Ramsay's Bread Street, Ronda Locatelli and Ayanma – said to be the best Lebanese cooking in the UAE. It seems almost ungrateful not to take a night off, book a babysitter and go eat in at least one of them. Fortunately, the resort's childcare is superb and so friendly and warm, chances are the kids won't even notice you're gone. Don't take it to heart, just give the food your full attention, it's very deserving.
And Dubai itself is just a palm trunk away
It's all too easy to get swept up in the world of Atlantis and forget anywhere else exists, which is kind of the point. But Dubai's only 20 minutes away. It's an incredible city and has one thing no resort can make or do: history.
Take the kids to roam souks, visit museums, sail round the old port, see different beaches, explore the desert or spend the night stargazing and feasting at a traditional Bedouin camp. You'll be glad you tore yourself away for a little even if only to enjoy the spectacular view of Atlantis on the drive back up The Palm.

Tempted to enter the extraordinary world of Atlantis? Here's even more to look forward to on a family holiday in Dubai.