The Islands of Tahiti are where the sky meets the sea (or the land of Moana to your kids). Laura Begley Bloom and her family discover the long flight to the French Polynesian paradise is worth every moment.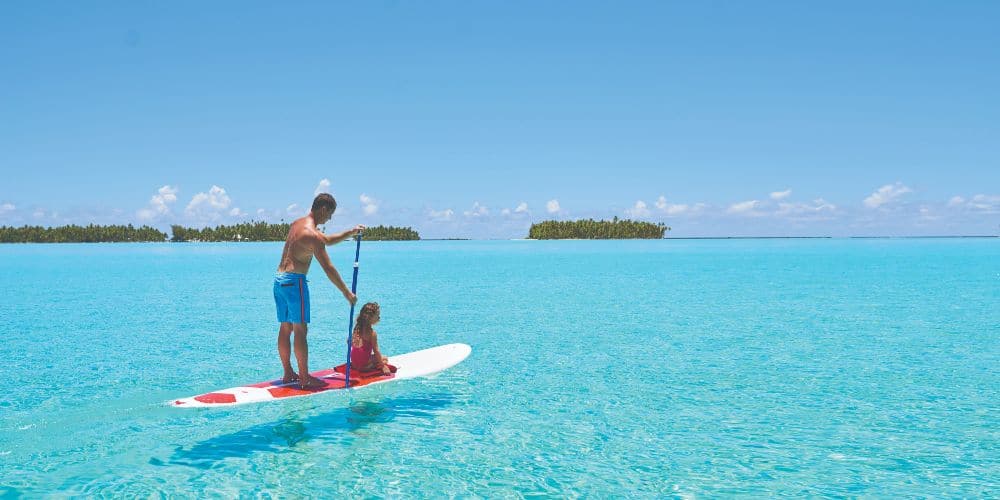 When you think about the Islands of Tahiti, visions of overwater bungalows and honeymooning couples spring to mind. These exotic, far-flung islands have been on my own personal bucket list as a romantic escape ever since I worked at Bride's magazine, reporting on honeymoons around the world. But now that I'm the mother of a seven-year-old, I've been viewing the world in a whole new way, introducing my daughter to diverse cultures and immersive experiences. And while there are plenty of honeymooners here, I can't think of a place that's more enriching for kids than the Islands of Tahiti.
Your children will be able to have close-ups with some of the most magnificent animals on earth, immerse themselves in a rich Polynesian culture, have a blast with high-octane adventures and slow down and appreciate what life in paradise really means. Best of all, taking a holiday in the Islands of Tahiti means you'll have time as a family to connect and bond in ways you never thought possible.
Then there's the Moana effect. The sumptuously animated Disney movie has brought the little-known Islands of Tahiti to the screens of millions of children, who now know the significance of a conch shell, or how islanders discovered new lands by following the stars. Suddenly the time difference and potentially epic journey time aren't such big obstacles when you can tell your child they're about to meet Maui in real life. You're welcome!
The best of the best Islands of Tahiti for family holidays
The first stop on any trip is the main island of Tahiti. Home to the international airport, all travellers pass through this island, and it's one of the best for families, from the buzzing capital city of Papeete to the rugged landscapes beyond. I've heard some critics claim that you should spend as little time here as possible and just use it as a jumping-off point to get to the rest of the Islands of Tahiti, but I disagree. Families can easily spend an entire week exploring the largest island in French Polynesia. I loved visiting the local markets and hunting for black pearls.  Though not all Tahitian pearls are actually black, a more accurate term would be 'Tahitian cultured pearls', as they come in a rainbow of hues. Other highlights include dining on the range of cuisines at roulottes (food trucks) in the centre of Papeete and seeing the enchanting Polynesian show at the InterContinental Tahiti. A day trip to the sacred waterfalls in the Papeno'o Valley is a must, too. My advice? Rent yourself a Tahiti Homes villa to get into the local spirit and experience the islands at your own pace.
On the other side of the main island is little Tahiti Iti, where you can visit Teahupoo — a spot for one of the most famous waves in the surfing world. It's worth the journey – we rented bikes and pedalled around the area, stopping in at a local church where the town mayor welcomed us and we were serenaded by a choir wearing elaborate floral crowns.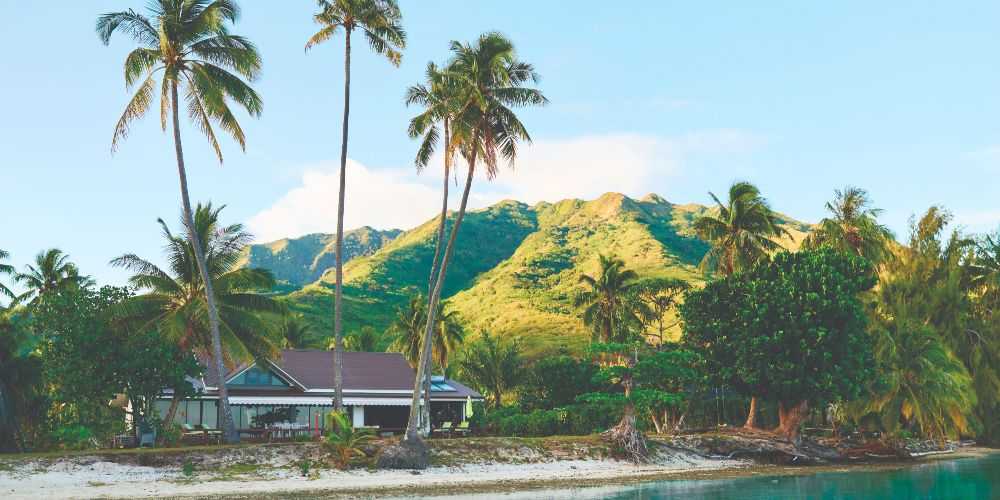 Rent a villa and discover the Islands of Tahiti at your own pace
A short ferry ride from the main island of Tahiti, Moorea makes quite the impression with its dramatic mountain skyline. This is the only island accessible from the main island by ferry, making it ideal for families since you don't need to take a flight to get here. We stayed in a huge oceanfront villa rented from Tahiti Homes, which was equipped with kayaks to canoe through the lagoon and a massive kitchen, where we prepared meals using fresh ingredients from the local markets and fruit from roadside stands. Moorea is best appreciated in motion, and when you're ready to get out and explore, you'll find plenty of activities such as all-terrain vehicle tours and swimming with humpback whales. The island is also home to the Coral Gardeners, a group that teaches kids about the ecosystem and helps save the reefs by showing visitors how to plant their own coral.
Taha'a is one of the most perfectly relaxed Islands of Tahiti
If you're looking for a more relaxed holiday, Taha'a is a small island made for families who want to take things slow. It has that laid-back local vibe, but that doesn't mean there isn't plenty to do. You'll find a lagoon full of colourful coral in your front garden, as well as pearl farms and vanilla plantations where kids can have hands-on learning experiences and adults can do a little souvenir shopping.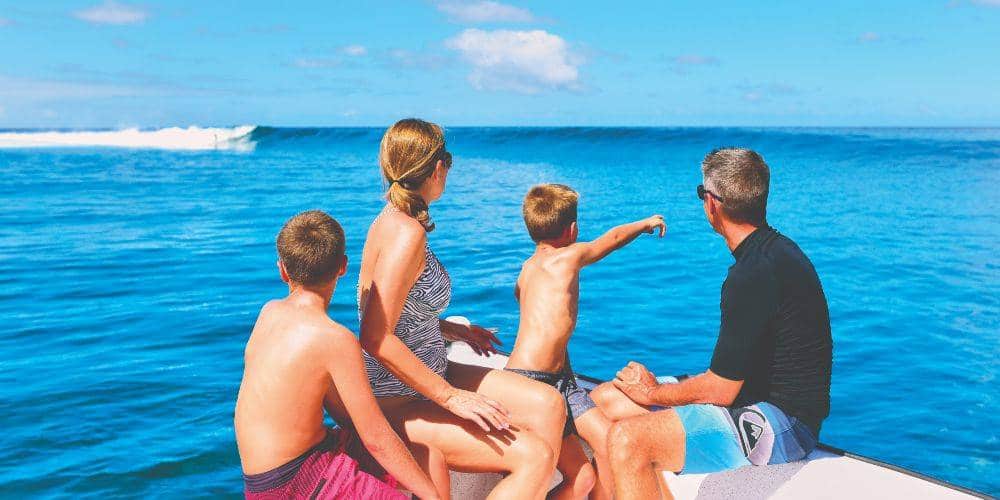 Bora Bora lives up to its legendary reputation
And then there's Bora Bora, the Islands of Tahiti legend. Bora Bora provides families with their pick of resorts scattered throughout its spectacular lagoon, as well as a handful of more affordable villas and hotels closer to the mainland. With its overwater bungalows and sprawling villas, the Four Seasons Bora Bora is pure perfection. Plus, it has an excellent kids' club and programmes to teach everyone in the family about the local environment and culture. You'll also find luxury boutiques, pearl markets and unique destinations like Coqui Coqui, a beautifully designed perfumery and spa on Matira Beach. And then there's the wildlife and nature. You can go snorkelling with stingrays and blacktip reef sharks, then follow it up with a picnic on your own private motu (a tiny Tahitian island). For a truly bucket-list experience, there's no better place on the planet to take a helicopter tour than Bora Bora.
Secreat Raiatea Island is home to daily rainbows
There are also remote locations in Tahiti where you can experience the wild side of the South Pacific. Though it's the second most populated island in French Polynesia, Raiatea is one of the most underrated. Home to rare flowers and almost daily rainbows, this sacred island is considered the cradle of Polynesian culture. A trip here is an opportunity to hear stories of the ancient Polynesians who travelled as far as Hawaii and New Zealand in canoes. There are mountains to hike, towering waterfalls to discover and a translucent lagoon to explore.
Tuamotu: for the off-grid Islands of Tahiti experience
The Tuamotu Islands are just a short flight from the main island of Tahiti, but they are totally off the grid. With calm bays and white-sand beaches, life is peaceful and serene — especially on the island of Tikehau. For families looking for space to stretch out, consider spending some time at Ninamu Resort, a rustic private island retreat with only 10 bungalows that are sustainably clad in coral. You can spend the day snorkelling on what will essentially be your own private beach, since the island has so few visitors.
Huahine: our secret favourite of the Islands of Tahiti
One of my favorite discoveries was Huahine, which is so under the radar of most travellers that it's often called the Secret Isle. Its other nickname is the Garden Isle, thanks to its vanilla plantations and banana fields. Kids will love visiting the ancient marae (temples) on the island, some of which date to 700AD. And then there are the sacred blue-eyed eels. If you're feeling brave, you can stand in the water with these slithery creatures. Beyond its rich history, Huahine is known for its surfing waves and stunning beaches. Beauty and history — it's the ultimate combination, and it's just that allure that make the Islands of Tahiti so special.
How to get to Tahiti
There are flights to Tahiti year round from London, Manchester and Edinburgh.
Flight time from 22 hours, 35 minutes with stopover in Los Angeles (LAX)
Inspired by the Islands of Tahiti? Don't forget to follow Family Traveller on Instagram and Facebook for more family holiday ideas.