Planning an easy half term break with kids ? Find out why travel writer and mum, Kim Jones, thinks Skipton in Yorkshire might be just what you have in mind this year.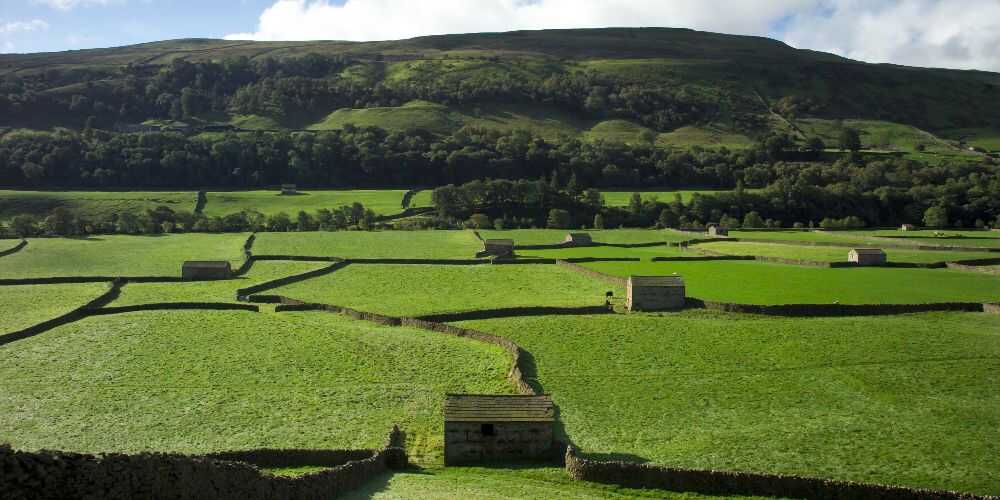 With the long days of summer almost a distant memory, and a distinct feel of autumn in the air. It's always nice to escape away for a few days to set yourself up for the winter ahead.
We recently skipped off to Skipton on the edge of the beautiful Yorkshire Dales. It's a friendly, historic market town, perfect for walking shopping and even canal cruising. And a great choice for a half term break with kids this October – or a break any time.
Here are six of the best things to do in Skipton, whenever you decide to go.

Cruise the Leeds and Liverpool Canal with kids
The 127 mile Leeds and Liverpool Canal runs through Skipton. So it's  almost be silly not to climb aboard a narrowboat to see the sights drift by from this unique angle.
There are plenty of boat companies in Skipton that offer everything from short skippered barge tours and fish and chip trips to afternoon tea on board. There are even Santa trips round about Christmas.
You could also have a go at sailing yourself, on a self-drive day boat. You get full training before they let you loose on the water.
If you prefer to keep your feet on dry land, a walk along the canal's a must. Once you've had your fill of the peace, feeding the ducks and waving at passing barges, branch out.
The Millennium Walk's a heritage trail which starts at the canal side and tours round historic landmarks like Skipton Castle and High Corn Mill.
Snoop around Skipton Castle on a half term break
Standing watch over the town at the very top of Skipton High Street is the Gatehouse of 900 year old medieval Skipton Castle. It's well worth a wander.
Pick up a free tour sheet. Delve into the depths of the castle dungeon.  Climb to the heights of the watchtower. And check out the chapel. Cast your eye over pretty Conduit Court bathed in shade by a 350-year old Yew. Then be extra nosey. Peer into the bedchamber, banqueting hall, privy and kitchen. The castle has a picnic area or you can treat yourself at the Clifford Tea Room.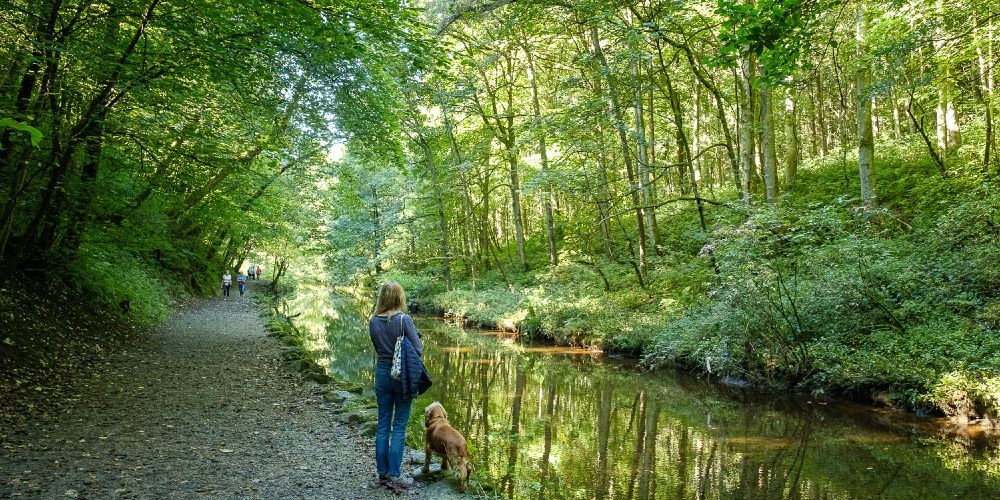 Take kids for a walk in Skipton Castle Woods
Head behind the castle and take a walk in Skipton Castle Woods.
The woods lie in a river valley with upper and lower circular walks, covering just over two miles. You can reach upper wood walk straight from Skipton High Street. Then just saunter along shaded footpaths with  beautiful views over the farmland alongside.
There's a pretty circular walk following the river. It has a few steep slopes and you get to it via The Old Sawmill entrance.
These woodland wanders are a great fit for a half term break. Visit the Woodland Trust to find things for kids to do as you walk. There's a Nature Spotter Sheet – look out for woodpeckers and maybe catch sight of a kingfisher too. There's also a History Cache Trail where keen adventurers have the task of hunting out six hidden boxes named after people who lived and worked around Skipton Castle Woods. And watch for the beautiful willow sculptures of a horse and medieval huntress.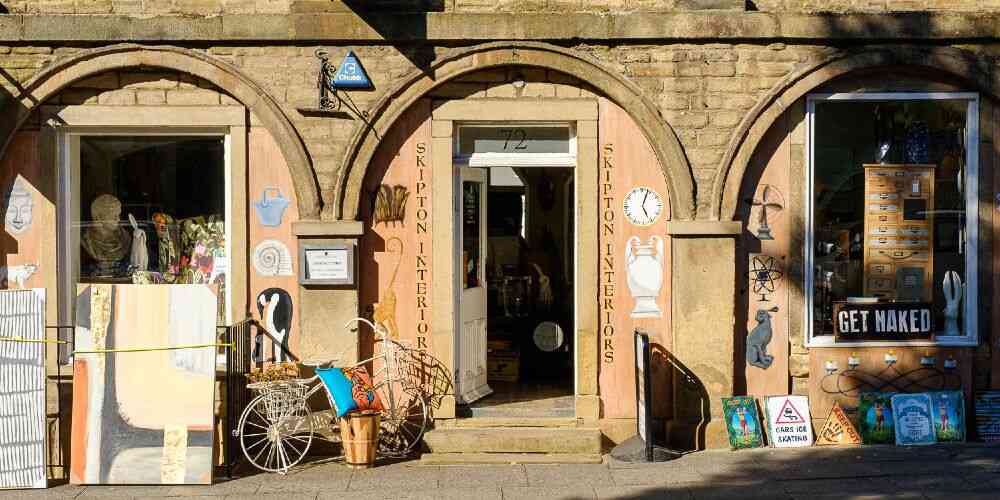 Add a colourful town market into your half term break
Market Days on Skipton High Street are officially Wednesdays, Fridays and Saturdays. Though we were there on Monday and plenty of stalls were set up.
Expect a bustle of good-natured business, lots of bargains and quite a bit of banter. Traders set up their stalls on a cobbled area between the pavement and road known as 'the setts'. And you'll find everything here from clothes and food to local crafts and traditional Yorkshire blankets on sale.
Skipton town centre also has a good range of independent shops, pubs and coffee shops too. More good reasons to linger here for a while.

Catch The Embsay and Bolton Abbey Steam Railway
This is the rail journey to take you back in time. Right back to the days  when trains really did go 'puff puff' and 'Choo Choo'. Much to the delight of just about every kid.
An hour's ride around the pretty Yorkshire Dales in a vintage Edwardian carriage is £12 for adults and £6 for children aged 3-15 (family tickets are also available for £30). The trains operated can vary. So when you're booking check the type of train in use that day.
And look out seasonal events such as The Wizard Express around Halloween and Santa Specials.
Make this the half term break to see Bolton Abbey
At the Bolton Abbey Estate you can visit the Priory Church and Ruins of an Augustinian Priory. The riverside setting's beautiful.
If you dare, cross the river over 60 stepping stones – you can also take the bridge. There's a beach area for sandcastle building and paddling. And it's another good spot for wooded walks. Follow colour coded trails through Strid Wood. Try the buggy friendly green trail. Or let kids get messy on the 'welly walk' – an 'assault course' that includes dry stepping stones, a scramble up nets and fun slides.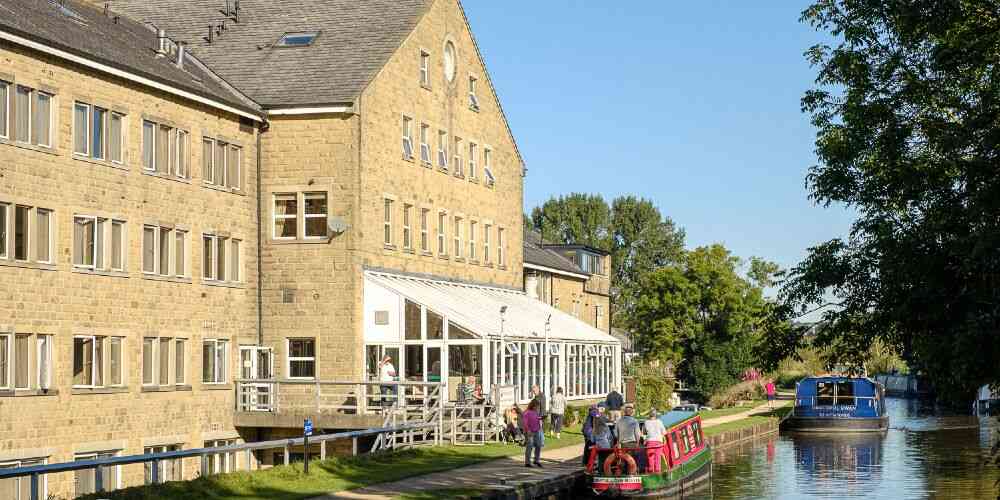 Spend a half term break at Hotel Rendezvous
We stayed at the Hotel Rendezvous in Skipton. This award-winning 96 bedroom hotel spreads across five floors and stands right on the banks of the Leeds Liverpool Canal.
Each of its 10 spacious family rooms contains a double bed and, either one or two, single beds. Foldaway beds and cots are also available.
The hotel restaurant has lovely views onto the  canal and over the Yorkshire Dales' foothills. Plus, there's also a small swimming pool and gym.
Excellent location for a family break, it's a 20 minute traffic-free walk along the canal footpath into Skipton.
Looking for more half term break inspiration? Find out where's sunny and easy to go right now. Don't forget to follow Family Traveller on Instagram and Facebook  for more travel news and ideas – or just to say hi.
Images copyright of Alistair Heap and Welcome to Yorkshire