Always looking for a family friendly museum? Try Bailiffgate Museum & Gallery in Alnwick Northumberland. It's just been awarded the national Kids in Museums Family Friendly Museum Award 2021.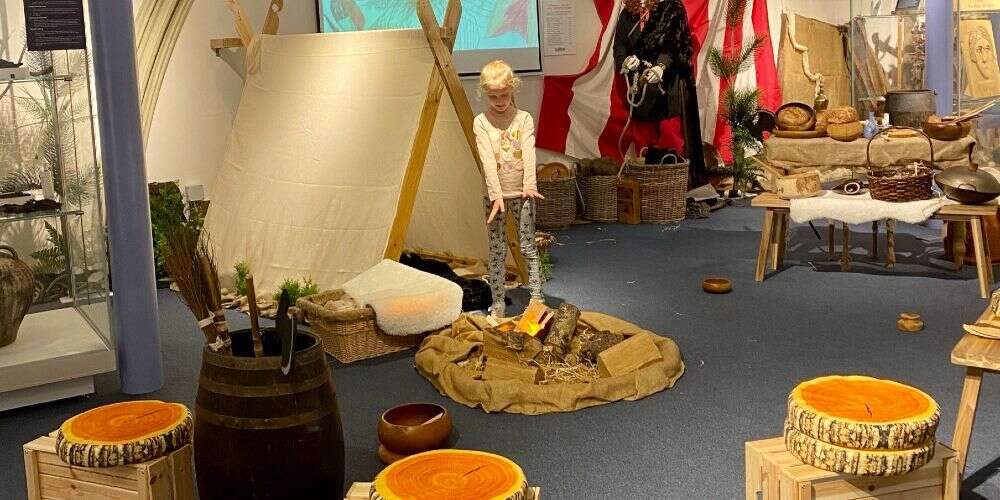 This is an incredible achievement for Baliffgate. It's quite a small museum, volunteer run and saw off some stiff competition for the top prize, including several London museums and big hitters from other major UK cities.
What makes Bailiffgate the UK's most family friendly museum?
For a start the Kids in Museums' award is voted for by the public. And you don't have to search far to find out what the public thinks of Bailiffgate. Look at comments like, 'We loved how relaxed it felt'. Or 'we had to drag the kids away for lunch'. Or 'children were actively encouraged to touch and play with exhibits'. And you've a hint of how in touch Bailiffgate is with families.
The museum mouse trail – where kids hunt for hidden mice – is an inspired way to engage younger kids. And couldn't be further from a stuffy museum experience. Getting hands on at the Viking Camp gives older children a vibrant sense of time and place. And bringing history alive might sound like a cliché, but it's not easy get it right and actually excite at the same time. Bailiffgate does both. And if it's on a mission to create a lifelong passion for museums in kids, it's definitely going about it the right way.
As Philip Mould, President of Kids in Museums, said, 'Bailiffgate Museum & Gallery has exceled in allowing families to feel free to be themselves and to have fun and to engage with history.'

Visit Bailiffgate for year round family friendly museum fun
If your search for a family friendly museum leads you to Alnwick, you'll find Bailiffgate Museum & Gallery in the Alnwick Castle Quarter.
It covers three floors and as well as being an award winning museum, it also hosts local groups ranging from Historical Societies to choirs. And it's right at the heart of the community, so if it's happening in Alnwick chances are Bailiffgate will be taking part.
The museum's open Tuesday to Sunday and Bank Holiday Mondays year round from 10am to 4pm.
And just to emphasise what great company Bailiffgate now keeps. Previous winners of the Family Friendly Museum Award include Leeds City Museum; People's History Museum Manchester and London's Horniman Museum and Gardens.
How to plan a visit to Bailiffgate Museum & Gallery
Where is it
Alnwick Castle Quarter, Alnwick, Northumberland
How to get there
Alnwick is 45 minutes' drive north of Newcastle on the A1.
When to go
Bailiffgate Museum & Gallery is open year round.
Tuesday to Sunday from 10am to 4pm, and on Bank Holiday Mondays.
Looking for pretty places to visit this half-term? See 12 amazing fairy tale European destinations. Don't forget to follow Family Traveller on Instagram and Facebook for more travel inspiration.