Family Traveller reader and father of one, Robert Lidster, looks back fondly on the Ferrycarrig Hotel in Wexford, the last stop on their road trip of Ireland.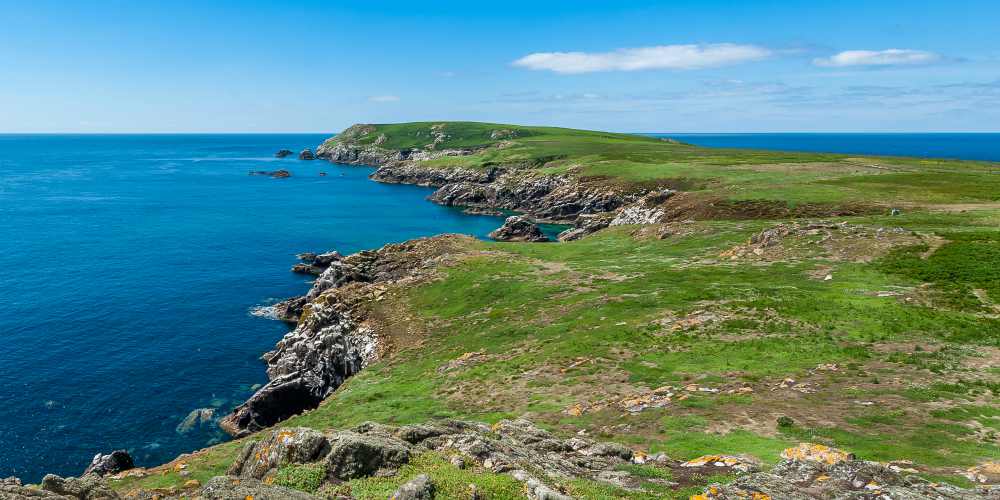 My family and I were coming to the end of our seven-day road trip around Ireland. We had driven some 646 miles since arriving in Belfast in Northern Ireland from Cairnryan in Scotland. Along the way we had visited Bushmill and the Giant's Causeway, Letterkenny, Galway, Gort, Limerick and Cork, and even got to kiss the Blarney Stone. We would end our Irish road trip in Rosslare in Southern Ireland, where we would catch the ferry to Fishguard in Wales before continuing our journey home to the east coast of England.
After such a whirlwind tour of Ireland, visiting some wonderful places and staying at some of Ireland's best hotels, we were looking for somewhere we could spend a relaxing and comfortable night at our final port of call, somewhere to chill out before our journey home. I think we found it in the Ferrycarrig Hotel.
Ferrycarrig Hotel is a large hotel complex with 102 bedrooms spread across four floors. With views over the beautiful River Slaney estuary and perfectly located for our needs, close to Wexford and just a short distance to Rosslare, the hotel proved a great choice and a perfect way to end our Irish road trip.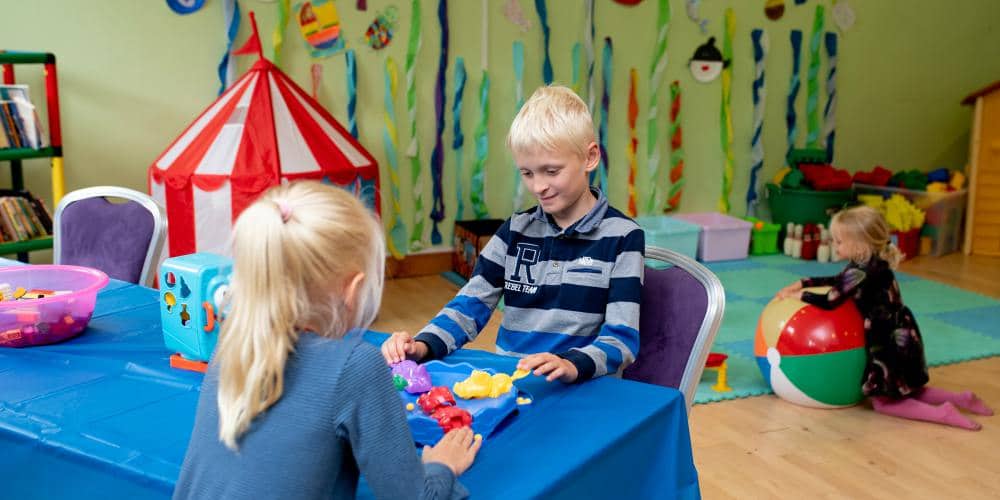 There are three grades of guest room: Standard, Superior, and Deluxe, as well as Junior and Executive Suites, large Family Rooms and Interconnecting Rooms. All rooms of Superior grade and above feature either balconies or French doors. There is an entire floor reserved for adults only with Standard rooms featuring French doors.
Facilities at the hotel are extremely comprehensive with something for everyone. Crazy Clubbers, the kids' club that runs throughout all the main school holidays and bank holidays, is open from 10am to 1pm, and again from 7pm to 10pm. Here, young children fill the hours with face painting, dancing, board games, drawing, arts and crafts, football and the resident clown Giggles.
For adult guests, there is the Ferrycarrig Active Club, featuring a state of the art gym, 20m pool area, sauna, steam room and jacuzzi. There is also a children's pool with water jets and fountain. Instructor led fitness classes are available and there are a number of treatment rooms.
After all that exercise, you may wish to unwind with a drink in the Dry Dock Bar. Here you can partake in casual dinning including light lunches or a full evening meal. The bar has stunning views of the river and it is possible to dine inside or out, dependent on the weather. The Snug Area is exclusively for adults only, but children are very much welcomed in the main restaurant.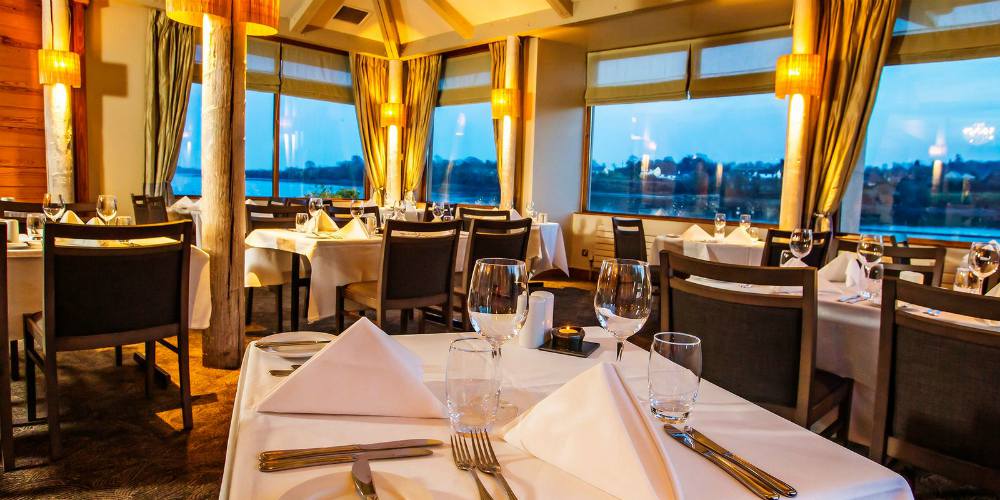 Reeds Restaurant is a wonderfully relaxed bistro-styled restaurant, and has been named 'best hotel restaurant in Wexford' for two years running. The restaurant is renowned for using local produce in its recipes and produces some excellent dishes. A three-course meal, including coffee, can be ordered from the Table d'hote menu for around £40.
We arrived at the hotel around 5:30pm, having driven from Cork where we had stayed the previous night, visiting Waterford along the way. The car park is built on two levels and we parked on the higher level, conveniently close to the steps that would take us to the lower level and the entrance to the hotel. We were greeted at reception by a very friendly member of staff who checked us in and gave us all the information we needed, in addition to making a reservation at Reeds Restaurant.
We used the lift to take our luggage to our room and settle in before dinner. The room was of a good size and was comfortably furnished with everything you would expect from a four-star hotel. Our room featured French doors, complete with safety rails, which opened inwards allowing some fantastic views of the river. As we admired the views, we were joined by a family of swallows who had made their nest just four to four feet from where we stood. They were clearly not shy and obviously used to being up close to people. They provided us with great enjoyment as we watched their skilful aerial acrobatics while busily flying in and out of their nest.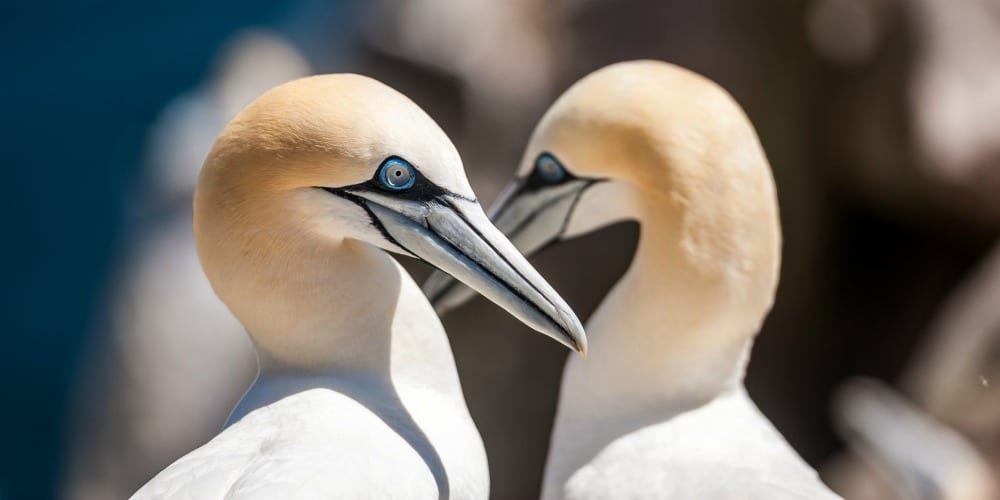 After snapping a few photos of our new found feathered friends, we made our way down to the restaurant for dinner, exploring the hotel along the way. There were plenty of interesting, well-furnished public areas for guests to sit and relax. Although a large hotel, it still managed to feel intimate and welcoming. We were warmly greeted on entry to the restaurant by our waiter, who showed us to our table by the window, and presented us with the choice of two menus. As we were dining early, we could choose between the usual menu or the Early Bird menu which, at £24 for three courses, represented excellent value for money.
The food was delicious, the service excellent, and my glass of Merlot went down a treat, complementing my meal perfectly. Unfortunately, plans to take an evening stroll after dinner had to be abandoned as the weather had taken a turn for the worse with strong winds and rain; not a good omen for our sea crossing the next day.
After a good nights' sleep we returned to Reeds Restaurant for breakfast. A comprehensive array of hot and cold food greeted us and we had a very fulfilling meal. Once again, we sat near the window, this time watching with interest the wading birds as we relaxed and enjoyed our meal. After breakfast we explored the hotel some more, the weather had improved enough to explore outdoors, and visit the excellent children's play area, before spending some much needed relaxation time in the excellent Spa.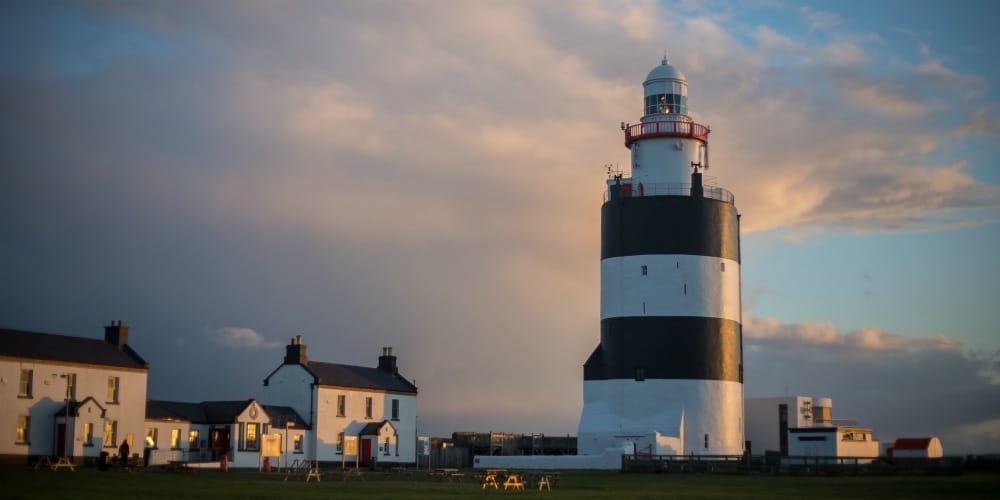 We checked out of the hotel at just after midday, by which time the weather, thankfully, had begun to improve and the sun was struggling through the clouds. We then drove a very short distance – half a mile or so – to the fabulous Irish National Heritage Park, a must if you are ever in the area. From there we made the short journey to Rosslare in time for our evening ferry crossing to Fishguard. We had experienced some wonderful times and met some lovely people during our tour of Ireland, and our final stay at the Ferrycarrig Hotel was the perfect finale to our trip.
There are a wealth of family-friendly places to visit in the Wexford area, among them are Wells House, Johnstown Castle Gardens, Selskar Abbey, The Saltee Islands, Hook Lighthouse, but by far my favourite is the Irish National Heritage Park, which is fantastic for children of all ages, with guided tours by experts who know how to interact with children.
About the author
Robert is the father of one and is now living with his wife in Germany, having previously lived on the Essex coast. They have enjoyed many family holidays over the years, both in the UK and abroad, and have stayed in everything from two-man tents to five-star hotels. Although their son is now grown up, he is still happy to go on holiday with them, and their best holiday together was driving to Lake Garda in 2018 to celebrate their 40th wedding anniversary.
Want to become a PAID writer? Contribute an article to Family Traveller by submitting your work through the readers' travel notes section of the website. Don't forget to add images and include a short bio.