Sponsored Content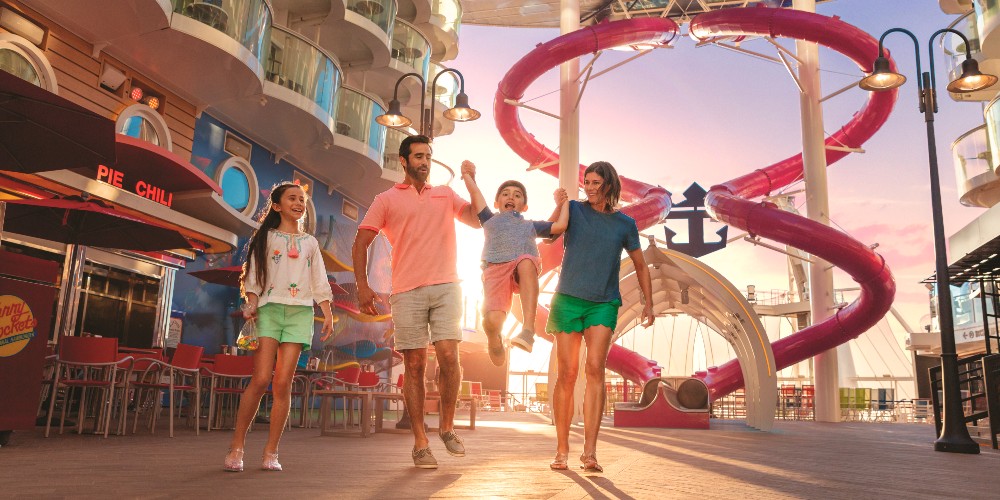 The best family cruise holidays are big adventures and adventurous cruises are what Royal Caribbean do like no other cruise line. So if getting together for all out fun is something you've all been missing, now is the moment to discover the family cruise holidays worth waiting for. Take a look.
Meet your match: Choose your perfect family cruise holiday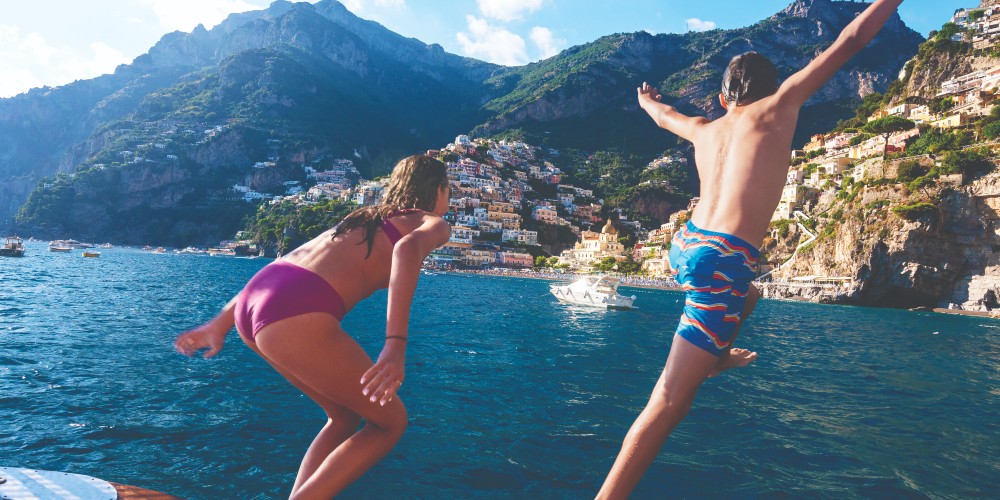 Want to crack the curriculum? Explore Croatia on Brilliance of the Seas
The backdrop for Game of Thrones, with its 16th-century walls, Dubrovnik is known as the Pearl of the Adriatic. Take an exhilarating cable car to the top of Mount Srđ or walk Pile Gate's drawbridge and visit St Luke's Tower, keeping watch over the harbour.

Want to tick off TikTok icons? Try the Western Med on new Wonder of the Seas
Wonder of the Seas is a brand new addition to the Royal Caribbean fleet. Launching for the first time in March 2022 and sailing from Rome and Barcelona, this spectacular ship has all the Royal Caribbean favourites on-board, plus lots of amazing new features. So families can look forward to incredible entertainment with stunning views the side at AquaTheatre. There are eight different neighbourhoods to explore. And kids will love all-new Playscape: an underwater world packed with slides, climbing walls and games.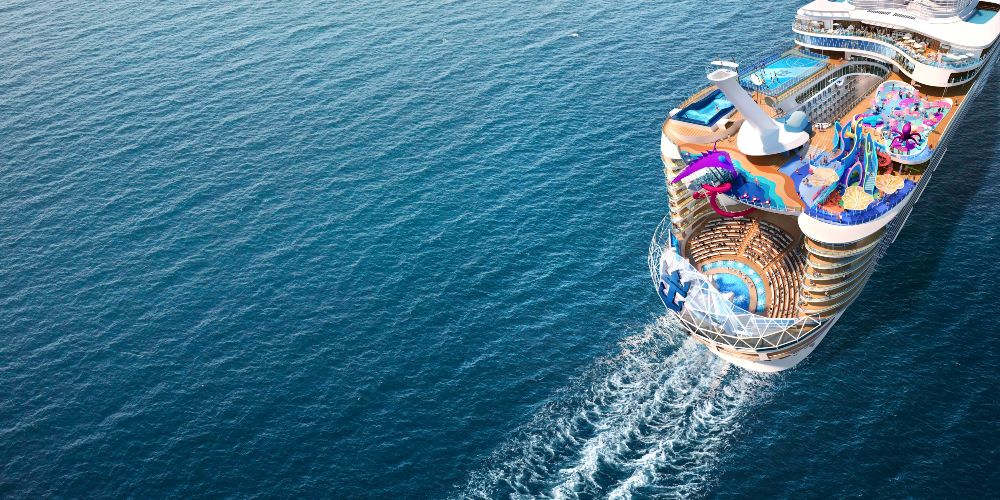 As befits such a stunning new ship, the Western Med on Wonder of the Seas is an all-round family adventure in a league of its own. Hike up Mount Vesuvius before discovering Pompeii, the city that was frozen in time when the volcano erupted in 79AD. Take a selfie at the top of the volcano's still active crater – posing backwards over the edge. Then 'catch' the leaning tower of Pisa, and devour the most Instgrammable pizza in the world in a narrow back street of Naples. Join the Italian glitterati on the sun-soaked isle of Capri (influencer central) before indulging in some retail therapy along Rome's Via Condotti and grabbing an espresso at Piazza di Spagna near the Spanish Steps. Imagine gladiators fighting in the Colosseum, the largest amphitheatre ever built.
Other must-sees include St Peter's Square in Vatican City, and the Sistine Chapel. Expect queues but it's worth every minute spent waiting for a glimpse at that ceiling.

Want to try a taster? Sail the Weekend Getaway on Anthem
Fancy a brief encounter with cruising? Why not try a weekend in Paris? Kids will love climbing the Eiffel Tower – and the crepes on sale beneath it. Adults can people watch from a café on a tree-lined boulevard then take the family under the city into its fascinating catacombes. Normandy is also within travelling distance of Le Havre, a UNESCO World Heritage site – see where Joan of Arc was burned at the stake in Rouen.
Little wonders: Get your kids on board with water slides and surf simulators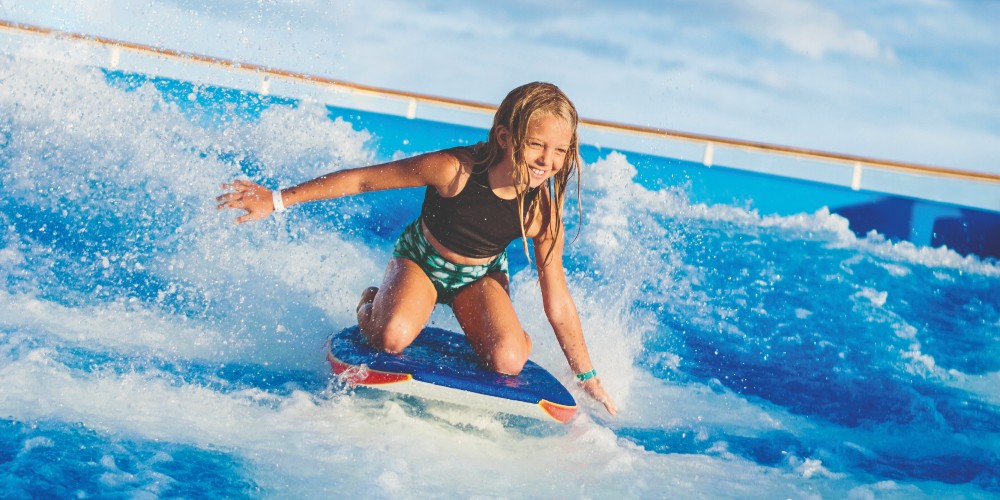 "I didn't really think I'd like a cruise, before I went on one." Cameron aged 9
"'I didn't really think I'd like a cruise before I went on one. Now I'm addicted. My first cruise was on Explorer of the Seas, sailing from Southampton, to Norway, Denmark, Russia, Sweden; all through the Baltics. I know, lucky me.
The best bit was the activities: FlowRider was amazing; all the pools, the hot tubs, the kids' club. And the food – oh my God!
'The only bad bit was the pain in my legs – my feet were absolutely killing me each day. If you want to fill your day with activities, by the end you're shattered. That's why you need to get a good sleep kids!"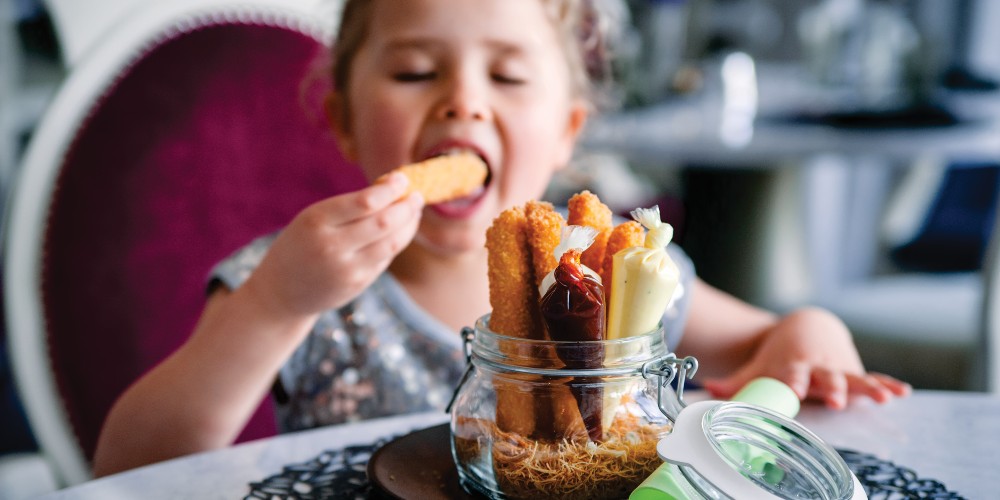 "The best bit was the food and the kids' club." Emily aged 11
''The best bit was the food and the kids' club. The worst bit was having to go to sleep!"
"I went on my first cruise when I was nine weeks old." Anais aged 7
"I went on my first cruise when I was nine weeks old and have been around Europe, the Caribbean and the Middle East. My favourite place is Barcelona. I loved going to Camp Nou stadium. My dad bought me and my brother Barcelona football shirts but I preferred the Spanish flamenco dress we bought at the cruise terminal. I wanted to wear it for the rest of the holiday.
'The best thing on the last ship we were on, Anthem of the Seas, was the pizza at Sorrento's. It was open late so I'd get a slice after the shows. It was yummy."

More reasons why kids love Royal Caribbean family cruises
For even more high-wire action, Harmony, Oasis, Wonder and Allure of the Seas have been decked out with the first-ever Zip Line at sea, suspended nine decks above the Boardwalk. Stop to pose for a selfie 25m across the centre of the ship – just don't look down! Or why not let them have an out-of-this-world experience on Sky Pad, a bungee trampoline where kids strap on a virtual reality headset and get transported to another time, place or even planet while they spring into action?
Back on terra ferma, there's all the fun of the fair with bumper cars in SeaPlex, the largest indoor active space at sea. Along with a basketball court, there's also a circus school with a flying trapeze on Anthem of the Seas, as well as laser tag and an ice rink on Symphony of the Seas, which also features an escape room.
Children can make new friends – and try exciting activities – in the complimentary Adventure Ocean
kids' club. In addition to a nursery for babies aged six months and above, Aquanauts aged 3-5 years will have fun conducting cool experiments, while Explorers, aged 6-8 can enjoy sports, games and themed parties. There are clubs for teens and tweens, as well as a brilliant art studio, high-tech science lab, and a theatre.
After a family dinner, parents can even catch a show or enjoy a cocktail while the children can have fun at the Late Night Party Zone (an hourly fee applies after 10pm). Features vary by ship.
All in it together: A cruise that's unforgettable for everyone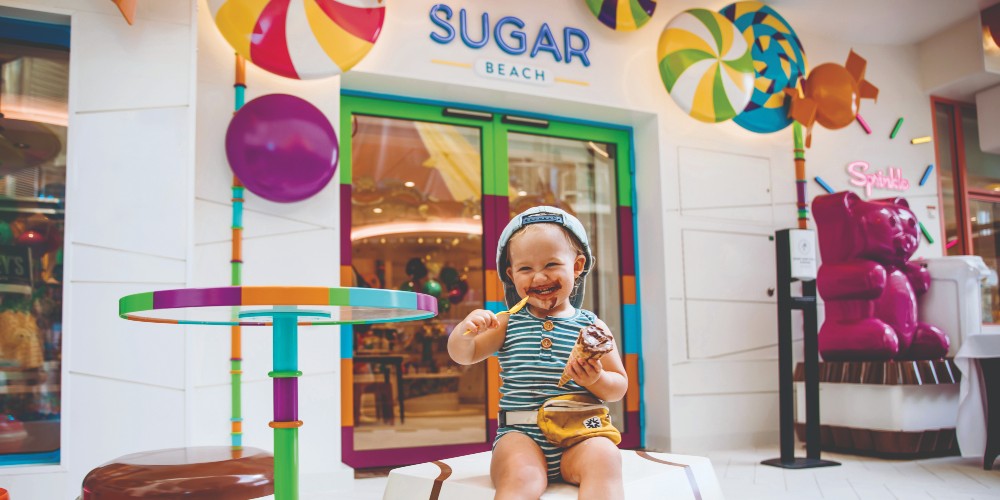 With world-class cuisine, award-winning shows and thrill-filled itineraries, Royal Caribbean really offers the best family cruise holidays for everyone from baby boomers, gen-Y to Zoomers will enjoy.
Whether you want to visit multiple destinations without having to unpack more than once, or just relax in the sun, having fun on a cruise is plain sailing.
Children of all ages can look forward to high-octane activities on board, while parents can book time in the gym, spa – or bar – and grandparents can enjoy special time with the family or get away to the adults-only Solarium with its ocean-view whirlpools.
The family fun can start almost immediately with myriad cruises departing from Southampton, so there's no busy airport to navigate, long-haul flight or jet lag to get over at the other end.
There's plenty of opportunity to dress up onboard, too, and with no luggage limit that means packing all your favourite outfits and shoes.
For extra special occasions you can even upgrade to Royal Suite Class. As well as spacious, luxury accommodation – the two-storey Ultimate Family Suite has a slide from the kids' bedroom to the living room, a climbing wall, and hot tub on the balcony – VIP guests can enjoy premium benefits and exclusive access to dinner at Coastal Kitchen. Those splashing out on the top Star tier get their very own sun deck and a Royal Genie to make all their wishes onboard come true.
That might include a trip on North Star, a glass-enclosed pod that soars 91m above sea level on Royal Caribbean's Quantum-class ships. Or it could mean dining at one of the speciality restaurants, including American diner Johnny Rockets, Jamie's Italian or fine-dining extravaganza Wonderland. Serving up dishes 'beyond your wildest imagination' this is an eatery for the culinary curious in an Alice in Wonderland-inspired setting. Blank menus magically reveal dishes such as vanishing noodles, liquid olives and key lime lollipops.
After dinner, why not catch a show? From We Will Rock You, to Cats, Mamma Mia! and Grease, Royal Caribbean brings the best of the West End to the stage. There's still time after the final bow to order a cocktail mixed by a pair of robotic bartenders at the Bionic Bar.
As well as exploring the ship, you'll all enjoy heading ashore to discover new destinations or unearth hidden gems in favourite cities. From a winter-sun adventure to the Canaries, or sailing further afield to the gorgeous Caribbean islands, or even into Alaska for an ice escapade, there's always somewhere new on the horizon everyone will love.
Perfect day: Royal Caribbean's own private Caribbean island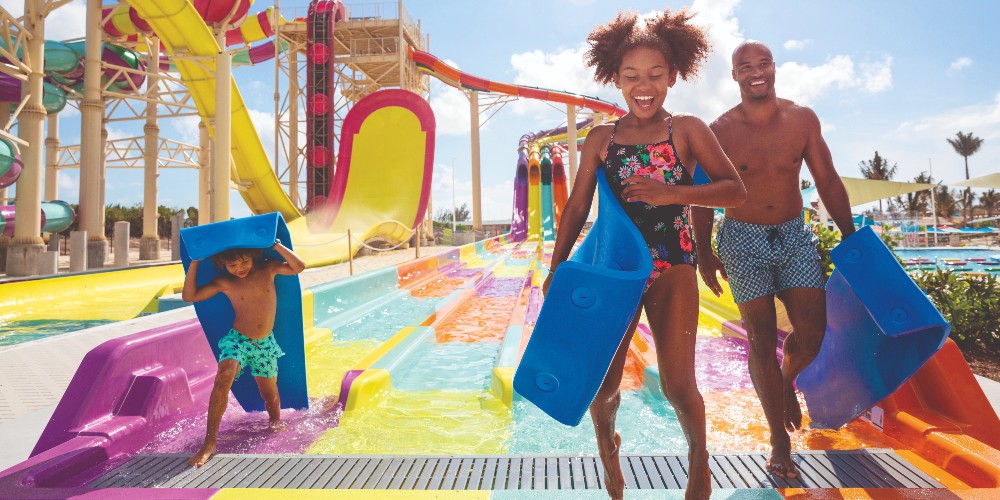 Nestled in the Berry Islands, near Nassau in the Bahamas, is Royal Caribbean's own private island – Perfect Day at CocoCay, where every day is a perfect day. Exclusively for Royal Caribbean cruisers, this is the ultimate shore excursion for fun in the sun.
Ever imagined how the perfect paradise island for all the family would look? Children would ask for the tallest waterslide in North America which takes just 35 seconds to plunge 41m at speeds of up to 29km per hour.
Maybe they'd like to go Up, Up and Away in a helium balloon soaring 137m high. A pirate boat with 16 water cannons would keep little ones entertained for hours while Splash Summit is twice the height of the Golden Gate Bridge and double the fun.
A swim-up bar is a must for adults. So is a floating cabana and freshwater pool the size of a football pitch. Sprinkle in white powdery beaches and sunshine all year round, and the island couldn't be any more idyllic.
Luckily this isn't the stuff of dreams. Refurbished in 2019, Perfect Day at CocoCay also has Zip Line, a private beach club, wave pool and even a secret menu at Snack Shack (spoiler alert: ask for the chicken parmigiana sandwich). There's even a complimentary solar-powered tram to take you round the island. Visit on a short Caribbean sailing from Fort Lauderdale, Miami, Port Canaverale, or Cape Liberty on a selection of incredible ships. Perfect for families who want to add something special to their Orlando holiday.
From kicking back on Chill Island with an ice-cold cocktail and a cabana, to making a splash when the clock hits zero and the Caribbean's biggest ever wave pool unleashes its power, there's never a dull moment on this island.
Little ones can have buckets of fun in the sun with pools, fountains, five waterslides and two giant drench buckets while all the family can soar above Perfect Day at CocoCay to the harbour on a thrilling 1,600ft ride on Zip Line. The height of excitement!
Explore Europe: best family cruise holidays from Iceland to the islands of Greece
Greek Isles: best family cruise holidays with something for everyone
Home to ancient ruins, idyllic beaches, and villages preserved in ash, Greece has so much to offer. Here, families can step back in time in the ancient citadel of Acropolis in Athens, pore over Minoan treasures, Indiana Jones-style, in Crete, and marvel at the cliff-clinging houses above the black-pebble beaches of Santorini. Once little ones have worked up an appetite, you can treat them to speciality dining at Johnny Rockets back on board before dropping them off at the kids' club. Then it's grown-up time, with a cocktail at the Bionic Bar.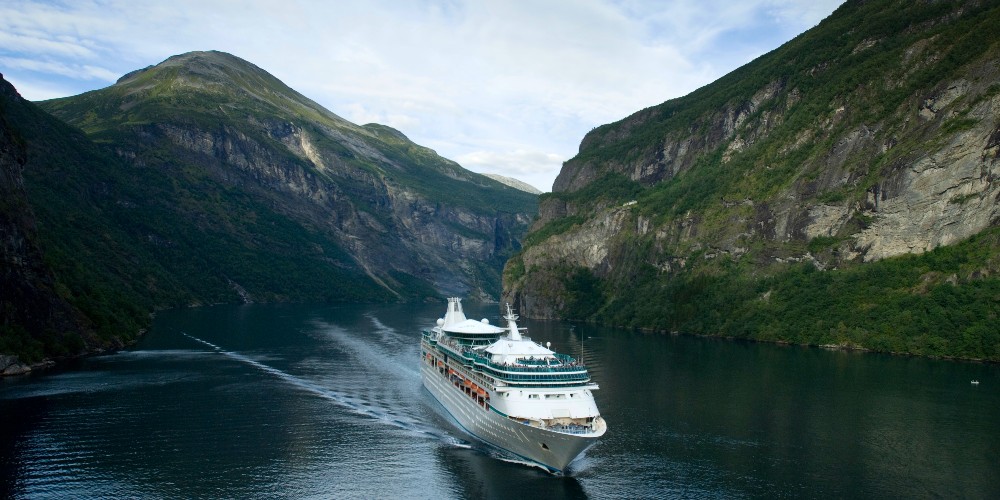 Norwegian Fjords: best family cruise holidays for adventure seekers
The best family cruise holidays are packed with spectacular sights, and nowhere does spectacle quite like Norway.  With glaciers snaking their way down valleys to icy fjords, it's no wonder the land of Vikings is a popular backdrop for Mission: Impossible and James Bond movies.
Watch your kids' delight as you sail into Stavanger where pastel-coloured wooden homes hug the coastline. It's here adventure-seekers of all ages can climb Pulpit Rock. Known in Norway as Preikestolen, it's one of the country's most famous landmarks. If it looks familiar, it's because Tom Cruise dangled off its side – 2,000ft above Lysefjord – to get a perfect shot for Mission: Impossible – Fallout.
Next, take the Waterfall Walk into the heart of the cascade at Geiranger, which was made a UNESCO World Heritage site in 2005. For the more adventurous, brave a bus ride along Eagle Road for a white-knuckle trip along the 11 hairpin turns, 620m above sea level.
Back on ship, there's plenty more to keep kids entertained – from Ripcord by iFly to hanging out with newly-made friends and doing science experiments and treasure hunts in the kids' clubs.
France and Italy: best family cruises holidays to mix culture with fun
When it comes to la dolce vita, Italy has it all. From great gastronomy to iconic architecture and stunning masterpieces, Italy leaves most other European countries in its wake. See where gladiators fought tigers, lions and bears in the Colosseum, Michelangelo's frescoes in the Sistine Chapel and Botticelli's Birth of Venus in Florence. Or see what's under the sea at Genoa's aquarium where children can get up close to stingrays, sharks and jellyfish as well as an array of colourful fish.
Only France can be a contender for the cultural crown, with its world-class art, food, and famous landmarks. Head to the glamorous French Riviera city of Cannes, home to the Film Festival. After all that excitement, let the kids practise their surf moves on FlowRider, the only thrill like it on board a ship.
Iceland and Ireland: best family cruise holidays for bucket list ticking
A constant at the top of bucket lists, the raw and powerful beauty of Iceland rivals the breath-taking landscape and warmth of the people in the Emerald Isle – and is the perfect combination for a family cruise. Warm up in the steaming Akureyri thermal pool as you gaze at snow-covered Icelandic mountains; then stop in Reykjavik, home to a 10th-century longhouse and the Blue Lagoon. Next to Ireland to take in the bustling cities of Belfast and Cork. Back on board, head to the 10-storey glass Centrum, which plays host to extraordinary shows.
Spain and Portugal: explore Europe's sun drenched and cultured cities
Whether it's a glimpse of one of Mark Rothko's colourful 'Untitled' paintings at Bilbao's titanium-shrouded Guggenheim Museum, or a stroll past 19th-century glass balconies reflecting the glittering Atlantic, Spain and Portugal offer so much more than just guaranteed summer sun and great food.
Ride a tram through Bilbao's medieval quarter, or meander through the miradouros – terrace viewpoints scattered across Lisbon's hilltops – that offer stunning views to ancient castles and all the way down to the glittering sea.
In Seville, experience the thrill of a live flamenco show complete with the cacophony of castanets at a local tablao. Catch a totally different kind of show back on board Anthem at Spectra's Cabaret, and watch the West End show We Will Rock You – fun for all the family.
All prices and itineraries correct at time of print. Subject to change and availability.
The world awaits: best family cruise holidays beyond Europe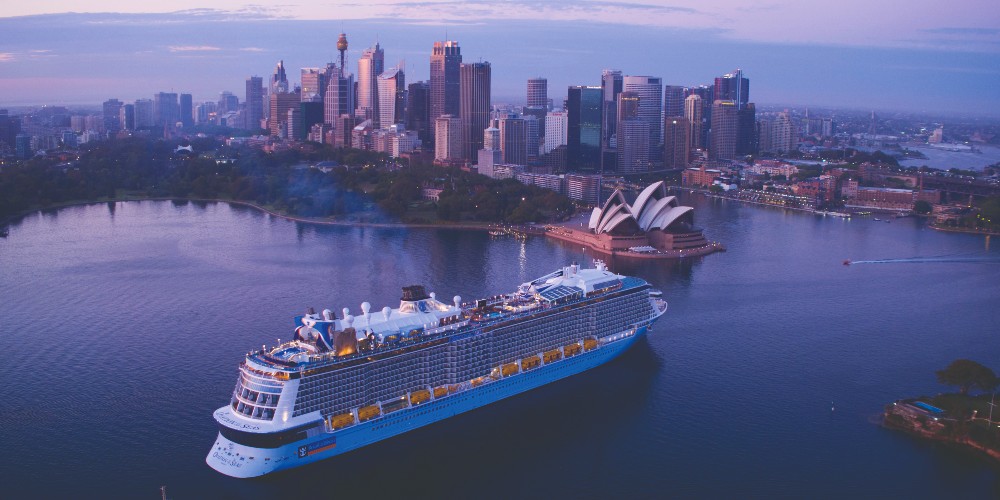 American philosopher Ralph Waldo Emerson famously said that 'life is a journey, not a destination,' and the same can be said for the best family cruise holidays. Who needs to hurry between continents or to a new city when the voyage is just as exciting as the place you're travelling to? Time together is precious, as the pandemic has taught us.
The best family cruise holidays bring the world closer. After stepping on deck, there's an ever-changing view from your stateroom window. It means you'll never get bored on board, and you can visit as many countries on one cruise as your itinerary – and budget – allow.
With more than 250 destinations on offer, Royal Caribbean make it possible to travel to every corner of the globe. From European weekend city breaks to chasing the winter sun in the Canaries, or watching the northern lights close to the Arctic Circle, cruising has really put far-flung family holidays on the map.
Exotic locations from Japan, China to Australia, the Caribbean, Middle East and beyond are now within reach. Go transatlantic, transpacific from Sydney to the US, and up the Panama Canal knowing adventure is on the horizon.
Snorkel in the crystal clear waters off Kaanapali Beach in Maui, on a Hawaiian Cruise from Canada on Quantum of the Seas. Billed as America's best beach, in winter you can watch humpback whales breaching off the coast. Visit Pearl Harbor in Honolulu or carve like a pro in the surfer's paradise Waikiki.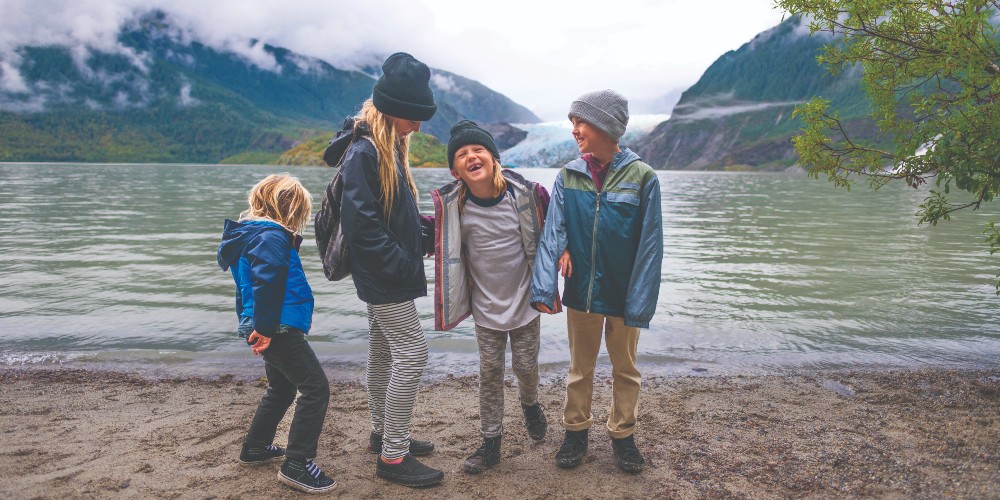 Take a frozen adventure on an Alaska Glacier cruise. Glimpse bald eagles, white spirit bears, and salmon sharks, along with stunning scenery, as you sail British Columbia's Inside Passage. Kayak in Sitka, then listen to tribal stories handed down through generations beneath a midnight sun. Tundra trek over Mendenhall Glacier in remote Juneau, watch blue icebergs float by in Tracy Arm fjord or go panning for gold in Last Chance Basin. Once a route for the Klondike gold rushers, glimpse a thousand coastal islands that act as a shelter for smooth sailing in the Alaskan waters.
Ready to get together for some all-out fun on one of the best family cruise holidays ever? Visit Royal Caribbean to explore adventurous, family-friendly itineraries worldwide for 2022.