St George's
The easterly town of St George's was the original island capital (it's now Hamilton) and is a UNESCO world heritage site. For children, there's a living history lesson among its pretty streets dating back to the 1600s. Discover how the oldest British colony was formed and its relationship with the new world by exploring St Peter's Church, Somers Gardens, the Bermuda Perfumery and St George's Historical Society Museum on the wonderfully named Featherbed Alley. This  charming bijou museum gives a good insight into 400 years of the island's history, with a 10-minute film downstairs and artefacts upstairs. Teens will get a good sense of the dual nature of the island, with its treacherous reefs and hospitable shores, and the way it was caught between loyalty to the British and trade with the US during the American Civil War. St George's has a tourist information centre at the harbour, which can give walking tour advice and a map. If you're there at midday, don't miss the re-enactment of 'wench dunking'.
Seymour's Pond Nature Reserve
Tucked away in Southampton Parish and home to a healthy population of endemic Bermuda killifish and ducks, kingfishers, herons and egrets, which all feed at the pond, this is a great spot for bird lovers. Moorhens, coots and pied-billed grebes use the area as a breeding ground.

Cooper's Island Nature Reserve
Take a personalised guided tour of one of Bermuda's most pristine nature reserves, host to nest sites for the native pelagic seabird affectionately known as the Bermuda Longtail. The island was a US military base during the Cold War, when there was a Russian submarine parked off the coast of Bermuda, keeping an eye on the Americans. Call (441) 799 8888 to book a tour.
Harbour Nights, Hamilton
Head to Hamilton's Front Street on Wednesday evenings for 'Harbour Nights', a street-party style celebration of local culture. Gombey dancers kick off proceedings in their colourful embroidered costumes, masks and tall feather headdresses, spinning and leaping while the crowd throw coins. Teens will love wandering by stalls selling pink sand jewellery, handbags made from recycled jeans and candles adorned with shells. There's a zipwire down the main street (£8), and bouncy castles for little ones. Take time out sitting on the dock, watching the ferries and the moonlight on the water.
Gombey Dancers
Make sure to catch the island's flamboyant Gombey dancers. Gombey in the Park takes place in Queen Elizabeth Park, on Queen Street, in Hamilton, every Saturday from April to October. Bermuda Gombey Review takes place in Pier Six Terminal on Front Street in Hamilton, every Tuesday from November to March.

Live Like a Local
Bermuda Explorer has just launched a range of experiences, enabling visitors to spend time with local families and enjoy a taste of authentic island life. Children will adore the 'Catch and Cook BBQ with a local' with a family that lives by Harrington Sound. After meeting Jose and Zakia and their daughter Rihanna at their home and taking a fishing trip with them to try to catch your own dinner, head back to their home and learn to descale, gut, and cook your fish, and prepare local dishes such as fish chowder, macaroni cheese, BBQ chicken, peas and rice, grilled red snapper, not forgetting a rum swizzle, before setting the table to enjoy a home-cooked meal and chat about life on Bermuda. From £88 per person.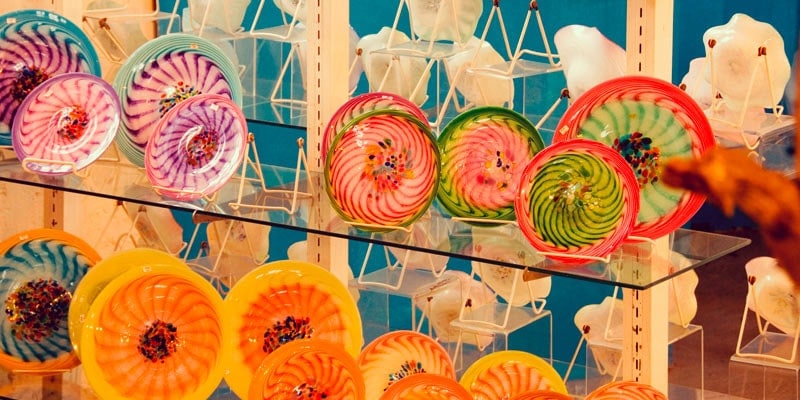 Royal Naval Dockyard tours & markets
On the far north-western tip of Bermuda, the Royal Naval Dockyard was built to protect British interests in the island, and its early-1800s architecture reflects the British empire style. The sweep of history is all around you in the fine stone buildings, wharves and fortifications, reminiscent of a time when Britannia ruled the waves. Visit the National Museum of Bermuda, set within the Keep of the Royal Naval Dockyard, a sprawling six-acre fortress. Eight historic buildings, including munitions warehouses and the newly restored Commissioner's House, contain a variety of exhibitions on the history of Bermuda. Check out Bermuda Craft Market at Royal Dockyard, with local art, cedar work, jewellery, and culinary favourites such as pepper jams, rum cakes and locally brewed beer. There are plenty of cool knick-knacks for kids to take home for their friends. And head on to Bermuda Clayworks, where local artisans and potters are hard at work making floral patterned vases and dishes featuring local motifs such as hibiscus and dolphins. Don't miss a tour of Dockyard Glassworks and Bermuda Rum Cake Company. Kids get an idea of the heat of the furnace and watch the artists demonstrate glass blowing and flame-working.
John Lennon
2015 marked 35 years since the former Beatle landed on Bermuda after a treacherous journey by yacht from Newport, Rhode Island. He rented a home in Fairylands and the songs he wrote on the island in collaboration with wife Yoko Ono became his final album, Double Fantasy, including 'Woman'. You can see a sculpture at the entrance to Masterworks Museum of Bermuda Art in the Botanical Gardens, dedicated to Lennon.

Smallest drawbridge in the world
Somerset Bridge is a drawbridge that is just 22 inches wide, which was enough to guide the mast of a sailboat through. You can cycle over it and may also see turtles swimming around here.
Friendly locals
Bermuda prides itself on being an ultra-friendly island. Johnny Barnes is one of the most overtly happy and welcoming locals. Aged 92, Johnny greets commuters every morning from 4am to 10am from a grassy verge beside the roundabout on Corkscrew Hill near Hamilton. He's more than happy to have visitors join him on his bench for a chat.
By Jane Anderson, Family Traveller Editor