Gibbs Hill Lighthouse
In the early 1800s, there was a signal station at Gibbs Hill in Southampton Parish, which communicated with stations at Mount Hill Pembroke and Fort George. The impressive white Gibbs Hill lighthouse that still stands today was built in 1846 and is made of cast iron, with 185 steps, which families are invited to climb for panoramic island views over the entire island (but, in particular, the Great Sound). Ships as far as 40 miles away can see the light, and its flash can be seen by planes up to 120 miles away. The nearby Railway Trail is great for cycling, hiking and walking. £1.60 per person, under-fives go free.
Walking the South Shore beach trail
Rise early and walk the beach trails of the South Shore to the iconic Horseshoe Bay, twin coves of Chaplin Bay and Stonehole Bay, the lovely swimming hole of Jobson's Cove and on to the stunning half-mile long Warwick Long Bay. Free South Shore Eco Walking Tours are available from the parking lot of Warwick Long Bay and Jobson's Cove.
Forts
For teens and parents who love military history, Bermuda is a treasure trove of historic forts. Owing to its strategic Atlantic location, en route from Europe to America, the island was a naval centre for most of its history and played an important part in a number of wars. Fort St Catherine is the largest on the island, towering above pink sand beaches and originally constructed in 1614.
Walking tours
There are a whole host of themed walking tours around the island. Kids will love the new Haunted History tour, which explores the curving alleys of the olde ghost towne of St George's. Meet in King's Square at 7pm on Wednesdays. Tickets cost £20 adults, £16 children.
The Botanical Gardens
Low-key and utterly lovely, the Bermuda Botanical Gardens are free to stroll around, and highlights include a palm garden with native palmetto trees, a subtropical fruit garden, a greenhouse with orchids, impressive bromeliads and a miniature forest. Meet at the visitor's centre on Sundays at 9am for a new Bermuda Hibiscus Gardens Trail.
Masterworks Museum of Bermuda Art
This bijou art gallery in the grounds of the Botanical Gardens will charm any teen that drags their feet when it comes to art. The current 'Mythology, Mayhem, Mystery & Marketing' exhibition takes a fascinating look at Bermuda's mythological schizophrenia, asking, is it a benevolent isle of sweet airs or a treacherous place of wicked reefs and disease? There's a great shop for prints, and the cute Homer's Café serves tasty lunches and snacks, too. Over-12s, £3. Under-12s, free.
Crystal & Fantasy Caves
The subterranean cave systems of Bermuda are incredible, and a trip to the Crystal and Fantasy Caves in Hamilton Parish are guaranteed to wow your kids. Thought to be at least 30 million years old, both these vast caverns were discovered by chance in 1907. As you descend into the earth, you'll be amazed to see underground lakes as well as mighty chandelier clusters, stalactites and other mind-bending limestone formations. To visit both caves, tickets cost £20 adults and £8 children.Golf
Bermuda is well known as a golfers' paradise. Rosewood Tucker's Point offers a Junior Golf School from age five, and Port Royal Golf Bermuda a beautiful rolling links, has junior clinics with teaching pro Kim Swan.
Hidden Bermuda
Bermuda offers more wild experiences than you might think. Tree-swinging, jungle-trekking and cave-swimming are all suitable for children over 12, with Hidden Gems of Bermuda, an excursion company that offers all-inclusive interactive island eco tours. Winter excursions take you into Bermuda's one and only jungle, which sits on top of an underground caving system and nearby banyan grove. Five-hour tours from £66 per person.
Horse Riding on the Beach Trails
Explore the Railway Trail and hidden coves of Bermuda's south shore on horseback. Teens and parents will love this hosted one-hour scenic ride along the trails and sand dunes of beautiful, untouched coves such as Warwick Long Bay, Jobson's Cove and Chaplin Bay. From £63 per person. Available for 13 years and above.
Bermuda Perfumery
Housed in the imposing Stewart Hall, with its white exterior and black shutters, on Queen Street in St George's, The Bermuda Perfumery dates back to 1928, and is free for anyone to browse. Linger over jasmine, frangipani, oleander and Easter lily scents, all deliciously wafting from rectangular bottles or creamy white slabs of soap. In the rear of the boutique is a little room of historic objects showing how perfume has been made for hundreds of years, and wooden boxes asking you to guess the scent. Workshops are available for older teens and adults every Tuesday and Thursday. £180 per person.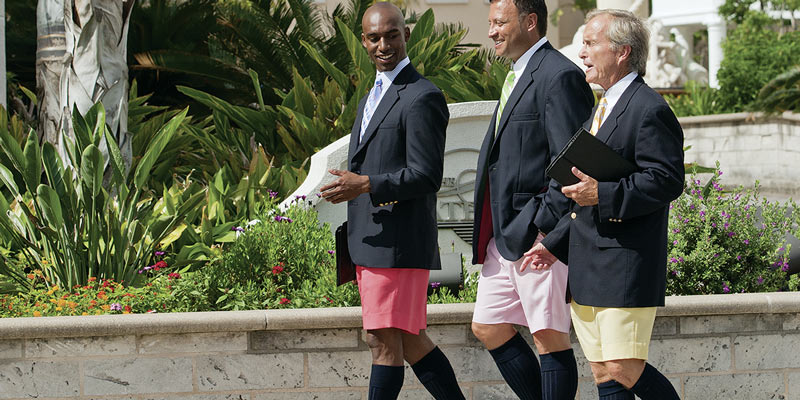 Bermuda shorts
Dads can buy authentic Bermuda shorts at AS Cooper & Sons on Front Street, Hamilton. Don't forget: the way to wear them is with a shirt and tie, blazer, knee-high socks and brogues!
By Jane Anderson, Family Traveller Editor