Jane Anderson and her kids take to boat, bicycle, train and water buffalo on their adventures through northern and central Vietnam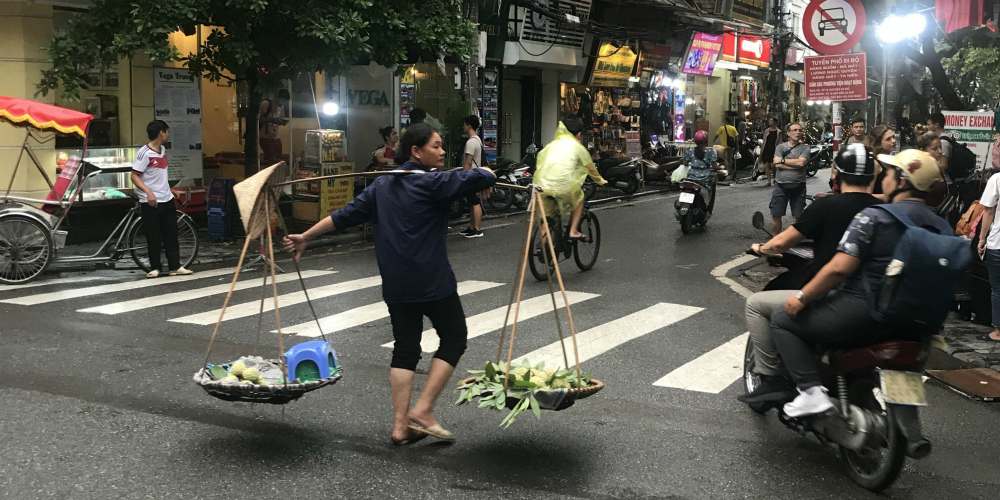 As we dodge flip-flop-clad families of five perched precariously on mopeds, skimming the corners off the pavements of a drizzly Bladerunner-esque Hanoi, my kids and I are fascinated by the little fire pits that seem to be tucked in every other doorway of the Ancient Quarter. Locals squatting down, burning what look like hundred-dollar notes. Later, we ask our gentle guide, Quynh, about it, and he tells us that on the first and 15th of the lunar month, people burn counterfeit cash to remember loved ones who have passed away.
They also throw small origami creations, such as cars, mopeds (of course), mobile phones and rice cookers into the fire to send on to their ancestors in case they need them in the next life.
It touches me that in the city maelstrom, home to 8 million people and 6 million mopeds (real ones, not paper), there are quiet, personal ceremonies going on left, right and centre. It's also poignant for us, as my kids have lost all four grandparents over the past three years. I wish we believed we had such direct access to our ancestors. I ask Scarlett, 15, and Fin, 12, what they would send my mum and dad in paper form. Scarlett says flowers for Grandma. Fin reckons Granddad would be happy with the cash.
In Vietnam, people burn counterfeit cash to remember the passing of loved ones
We're here in Vietnam on a Rickshaw Travel family itinerary, a happy combination of guided and free time so that, as a mum travelling solo with her kids, it feels like a proper adventure, safe in the In spirits knowledge it's been carefully orchestrated and help is at hand should we need it.
Before we left the UK, Rickshaw offered much 'know before you go' advice, including the fact that Vietnam operates a dual currency of US dollar and Vietnamese dong. My kids are intrigued to learn that US$50 is the equivalent of a million dong. And, at a Hanoi hole in the wall, we realise we are dong millionaires and ponder on how weird money is.
We first rendezvous with Quynh next to the dinky Buddha shrine in the reception of our accommodation, the Hanoi Paradise Boutique Hotel. We've purposely not eaten much as we're heading on a food tour, an authentic intro to old Hanoi.
Quynh guides us past the Hoan Kiem Lake, with its famous Turtle Tower celebrating a legend similar to our own Excalibur. We head past the Lotus Water Puppet Theatre and take a look in the imposing Saint Joseph Cathedral, built by the colonising French in 1886.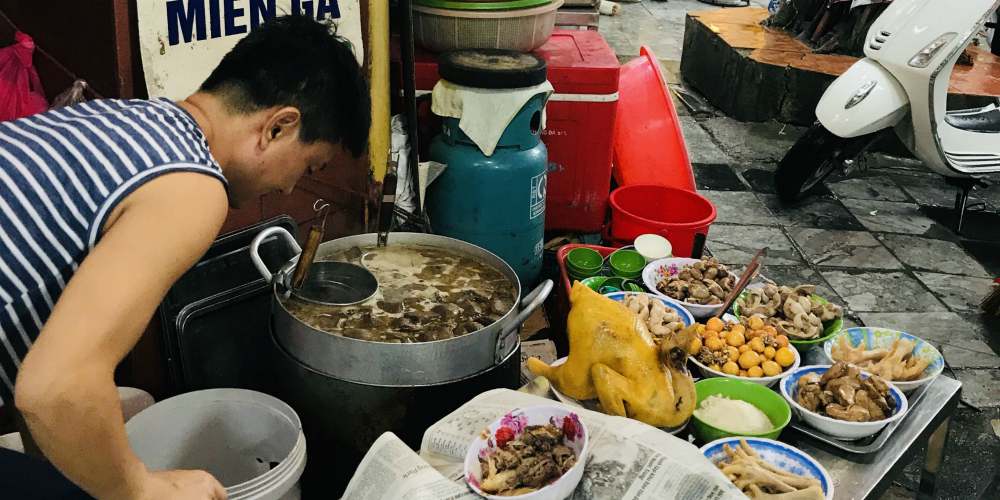 Nearby, we're led past women in conical hats cooking over massive bubbling pots in a kitchen that's practically on the pavement. This is Quan Goc Da, where we head into the strip-lit back room and tuck into awesome banh goi, pillow-shaped crispy dumplings, served with a delicate fish sauce, beef and coriander rolls, sticky rice and mung beans. It's clear the street-food revolution arrived here centuries ago.
Soon we're on the move again, darting down a dark alley I would never have had the confidence to explore, and up to the first floor of an old 'tube house', what they call the tall, narrow, buildings here. Sitting on tiny blue plastic stools at a blue plastic table, the kids tuck into bun thang (noodle soup) by the legendary Madam Duc. Fin makes light work of his bowl of round rice noodles with pork, dried beetroot, fragrant mushrooms and fried egg. Humble surroundings, powerful food.
Next we loop back 'round past Hang Ngang street, where they're setting up for the night market, and into Banh My Lan Ong, a sliver of a restaurant that celebrates the city's French influences with thin baguettes stuffed with thick paté. By the time we reach Tien Thinh, a stand equally stuffed with a rainbow variety of o mai – salted or sugared dried fruits – we're full to the brim. Who knew the candied skin of a grapefruit could taste so good? Just beware the sour apricot salted with ginseng.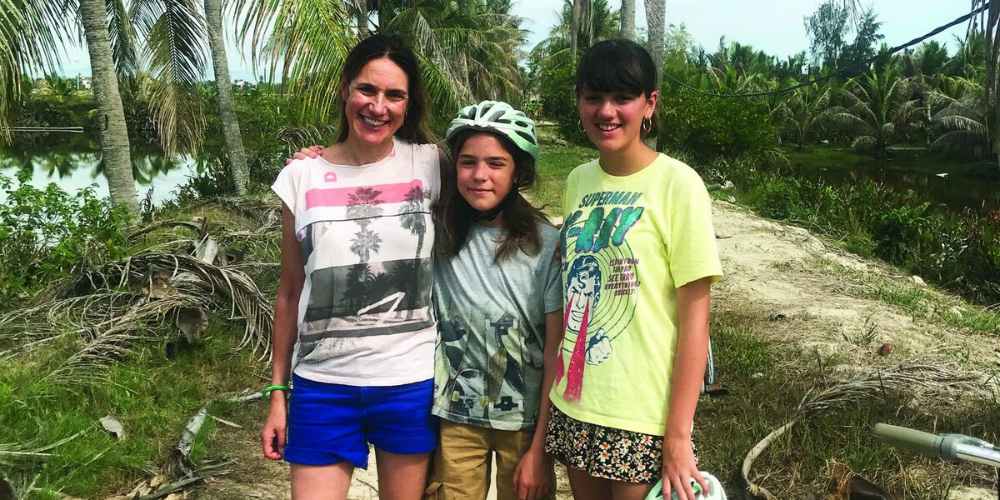 The next morning we head out through the Hanoi sprawl en route to the mountainous northwest. It's an area still farmed by the region's ethnic people and where we're going to spend the night. It's torrential rain as we reach Thuyet Nhung Homestay in Mai Hich, a hamlet of 600 people, but that just makes the jade rice fields zing more brightly against the misty mountain backdrop. We explore our raised bunkroom in our stilted house, designed for eight to bed down on the floor on mattresses swathed in mosquito nets. It's surprisingly private and very authentic.
Quynh guides us on a soggy bike ride, essentially a whistle-stop tour of village life. We pass a funeral with men in head to toe white and buffalo in their pens under houses. We learn it takes these farmers a hundred days to grow rice, that each seed is planted individually and gives a thousand grains. There are two crops in the wet season (May to September) and in the dry season they grow sweet potatoes. We also spot papaya, banana and tapioca, while huge black butterflies flap nonchalantly past.
Next on our packed itinerary is Hoa Lu and its ancient temples dedicated to King Dinh and King Le, the two founding dynasties that made this land the capital of Dai Co Viet (968-1010), the former name of Vietnam. The karst-filled landscape reminds the children of a Studio Ghibli film called Laputa, which has floating castles in the sky and feels at that moment like such a foreign place. Quynh tells us how Vietnam is still a Communist one-party state, but not so rigid as China, and that prosperity has come from car manufacturing, electronics and textiles. It's also the world's second-biggest coffee producer after Brazil.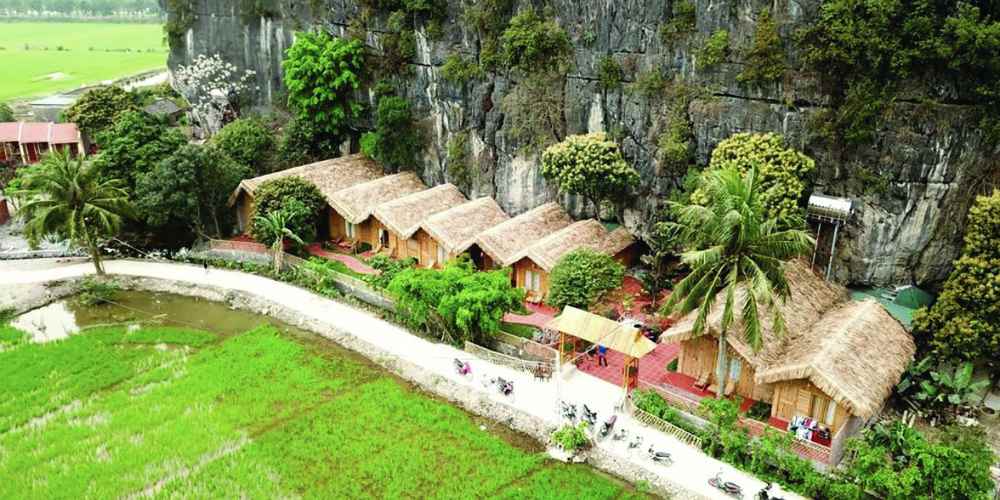 That night we stay in Tam Coc Horizon Bungalow in Ninh Binh, an extraordinary hotel of bamboo–clad cottages with a pool and restaurant set into a limestone cave. Its neon décor gives it a bizarre feel of Palm Springs, but we're brought right back to Vietnamese culture with our evening foot baths of ginger, green tea, lemongrass and cinnamon.
We rise early the next morning for a cycle ride to a small dock, where we're invited to climb aboard a squarish rowing boat. We're all impressed by the foot rowing technique of the women who power these sightseeing vessels and we glide past locals gutting fish on their steps, pink lotus flowers and towering limestone karsts reflected in the mirror-like water.
We veer off down a pretty waterway and rather unnervingly, as it's high tide, head beneath low hanging rock. We lie flat in the boat in the partial darkness dodging the pointy limestone above our heads, until we emerge in a cave and further on to a lagoon totally surrounded by mountains. We can only gaze in wonder at this 25- million-year-old limestone as egrets and storks fly overhead like spirits.
The trolley service offers sticky rice in banana leaves
After the drive back to Hanoi, and a few hours to pick up some bargains (a 'North Face' coat, US$20; lacquered placemats, US$2 each and cool comic posters, US$5), we pack up our gear and head to the train station for what has to be the best overnight rail journey ever, departing 10.20pm, heading south to Dnang to arrive 15 hours later.
When we enter our four-berth cabin the kids have a burst of excitement, climbing all over it, bumping their heads, waving out the window at mopeds running parallel through Hanoi's moonlit urban sprawl. The trolley service offers sticky rice in banana leaves and boiled eggs. Much healthier than at home. And, once it hits midnight, my two are snug in their bunks. Maybe it's the comforting roll of the train, but they're out for 10 hours solid, whereas I sleep fitfully. This does mean I get to peep through the curtains at the gorgeous sunrise over misty mountains and spy on tiny village stations. Who knows where we are?
I hand over 20,000 dong (one dollar) in the morning for a sweet coffee with condensed milk. Scarlett and Fin emerge for the spectacular approach into Dnang, where the train hugs the tropical coastline and we spy arcs of white sand and, eventually, the funky tower blocks of Dnang.
We're here to see the much-lauded nearby town of Hoi An, a picture-postcard version of an old Vietnamese river port with 17th-century Japanese merchant houses and Chinese temples. We're staying out by the beach at the Palm Garden Resort, a full on five-star with Japanese display restaurant and spa. The sun is out for just about the first time on our trip and it's a joy to have a swim in the incredibly warm sea.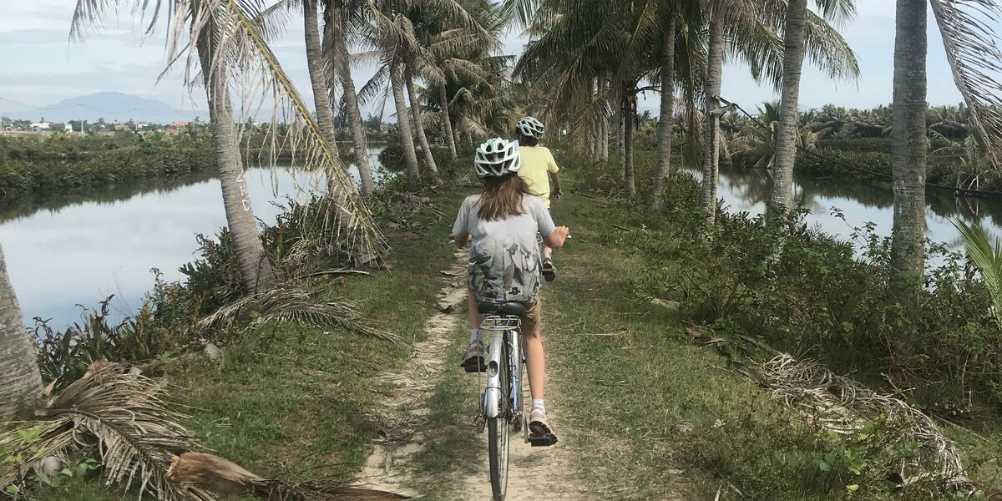 The hot weather continues as we meet our new guide, Work (his real name). He escorts us on a bike ride of the surrounding countryside, past shrimp farms and impressive shared allotments fecund with pomelos, herbs, papaya, spring onions and sweet potato using traditional farming methods, including double watering cans suspended over each shoulder.
An unexpected highlight is meeting Luck the water buffalo, strolling along the path with his owner. Work is very keen we ride him and as the kids feel too self-conscious, I find myself climbing up onto his warm, muscly back and understand immediately how these beasts have the strength to plough up fields.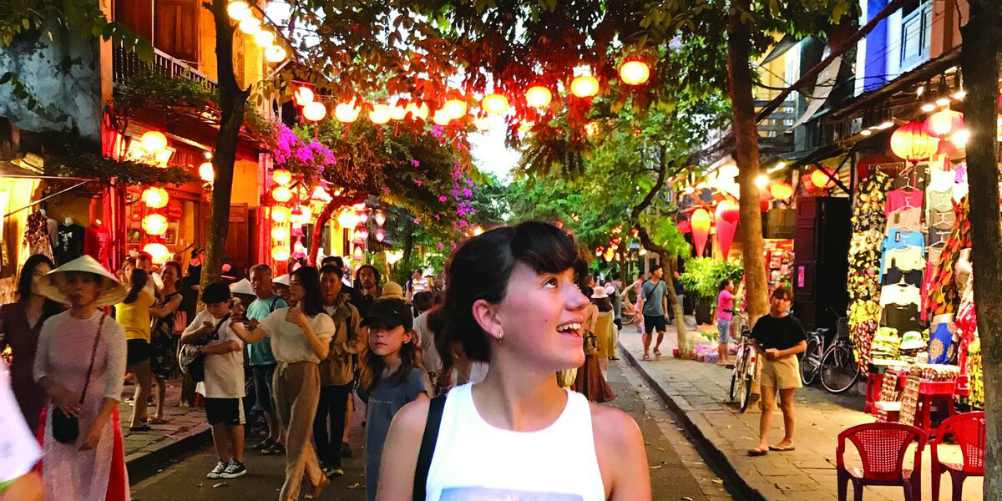 On our final day we head into Hoi An to explore on our own. The streets feel like a Disney film set. No wonder this is a UNESCO World Heritage site. We see the many tailor shops where silk suits are rustled up in hours, but Hoi An is also famous for its intricate carpentry, evident everywhere.
As we walk the atmospheric streets, suddenly the sky darkens, the air shimmers and the heavens open. There's a torrential downpour and everyone shelters in old doorways and coffee shops. As the rain subsides and evening falls, Hoi An explodes in a rainbow of lanterns.
There's a dazzling pink and turquoise sunset by the Song Thu river delta, as the sightseeing boats line up. I wonder what Scarlett and Fin's grandparents would have made of Vietnam. We fold up a 20,000 dong note into a little boat shape and set it sail in the river to remember them. Our own little adaptation of an offering to the spirits.
The lowdown
How to get there
Vietnam Airlines out to Hanoi and return from Dnang costs £959 per adult, £699 per child.
How to book
Rickshaw Travel's 12-night Journeys from Cities to Coast family trip of Vietnam, visiting Hanoi, Bai Tu Long Bay, Ninh Binh, Phong Nha, Hue and Hoi An Beach costs from £1,545 adult and £1,265 child, based on two adults and two children sharing one room, including accommodation with breakfast, transfers and excursions.
Best time to go for this itinerary
Easter or summer holidays