With a vaccine on the horizon and thoughts turning to next year's holidays, Amy Hopkins reflects on her pre-pandemic stay at Crossroads in the Maldives, where a luxury family holiday includes lessons in marine conservation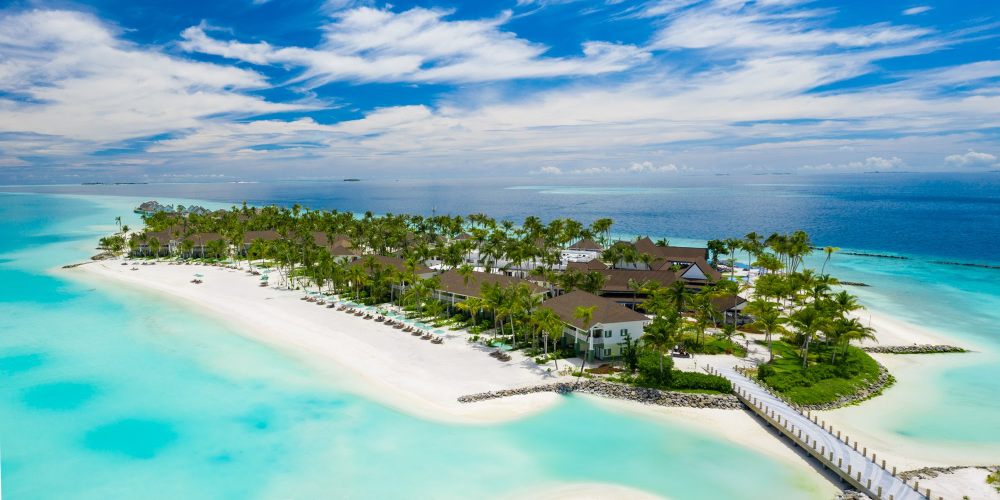 'Humans are the best and worst animal on the planet', says marine biologist Aladin Pakbara. 'We built the world up and now we're destroying it from the top down'. Aladin is head of the Sustainable Development Team at Crossroads, a new multi-island resort in the Maldives. We are standing in the resort's Coral Conservation Centre. I nod gravely and peer into the fish tank in front of me, where a solitary piece of palm-sized coral sits below the water. The coral should be bright orange, but rising sea temperatures have bleached it white. 'Sixty per cent of the Maldives' reefs are now in the red zone', Aladin tells me. 'The coral here is seriously stressed'.
So am I, when I think about my carbon footprint, having taken two flights to get here from London. The Maldives is a low-lying archipelago and, if sea levels continue to rise at the current rate, by 2100 the whole country will likely be underwater. When I heard about Crossroads, an ambitious project to build 11 hotels on nine artificial islands connected by overwater walkways, it sounded like more bad news for the already stressed marine ecosystem. However, I'm somewhat consoled to learn that this megaproject has had conservation at its heart from day one. Through the design process, developers worked closely with marine biologists like Aladin to ensure that Crossroads doesn't damage its natural environment. When sea turtles were unexpectedly discovered living in a coral reef near the construction site, the project was halted and plans redrawn.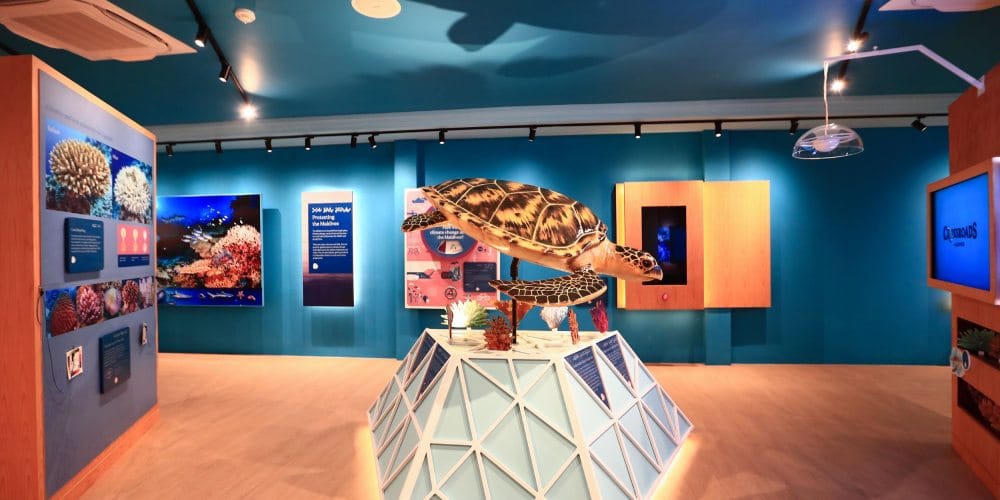 Aladin is kind enough not to mention my long-haul flight, the CO2-spewing elephant in the room. Instead, he smiles kindly and explains, 'I want everyone who comes here to become a conservation ambassador'. The aim is for all Crossroads' guests, big and small, to get stuck in (literally) with conservation efforts. Under Aladin's tutelage, I take part in coral propagation, which is a scientific way of saying that I use glue to stick pea-sized pieces of coral to a section of reef in a fish tank. With an apron around my neck and glue congealing on my fingers, I feel like I'm doing crafts with my toddler, but this stick-and-paste mission couldn't be more serious. The section of reef I'm handling will eventually be reintroduced to the ocean, where coral is in decline. 
My education continues at Crossroads' Marine Discovery Centre, an interactive museum created to teach visitors about the Maldives' natural environment and the overwhelming challenges it faces. It could be deeply depressing, but the museum's interactive displays are fun and there's plenty to keep little hands busy. Little ones lift large wooden flaps on a display to reveal how long different pieces of plastic take to biodegrade, or push buttons on a video screen to ignite a ferocious storm over the Maldives. Refreshingly, the Centre's focus is on what we can do. Children learn, through play, how they can reduce carbon emissions at home and push for global action.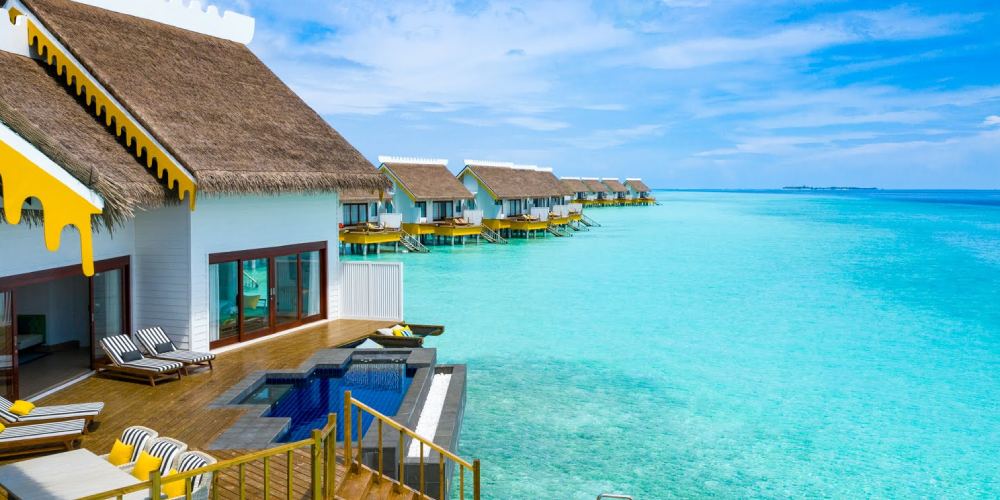 So far, two out of the 11 planned hotels have been built; Hard Rock Hotel and Saii Lagoon Maldives, Curio by Hilton. The duo sit on man-made islands and share a marina with a cluster of shops and restaurants. Crossroads is only just getting started, but already it's a very different beast to the typical Maldives model of one-island-one-hotel that has seduced generations of honeymooners. 
The brains behind Hard Rock know their stuff when it comes to rolling out a slick and exciting experience to entice families. I find the brand's distinctly offbeat touches everywhere; Lady Gaga's flamboyant dress in the lobby, Fender electric guitars delivered to guests' rooms (for free), and a one-of-a-kind musical massage on the menu in the Rock Spa. At the hotel's Hard Rock Cafe, kids are sure to think the burgers, topped with gold leaf, are pretty cool. As a parent, I find it even cooler that kids under 11 eat free.
I've traipsed around dozens of interchangeable kids clubs in hotels all over the world (occupational hazard), so I'm pleasantly surprised when I find something truly unique at Roxity, Hard Rock's club for kids aged three to 11. As well as the usual collection of toys and video games, there are instruments, DJ decks and performance stages. This is like no kids club I've ever seen. A beaming Australian girl introduces herself as one of the Roxstars (kids' club staff) and talks me through the programme for that week, a rip-roaring menu of air-guitar shows, lip-sync battles, yoga and art, as well as lessons in guitar, percussion, keyboards and DJing.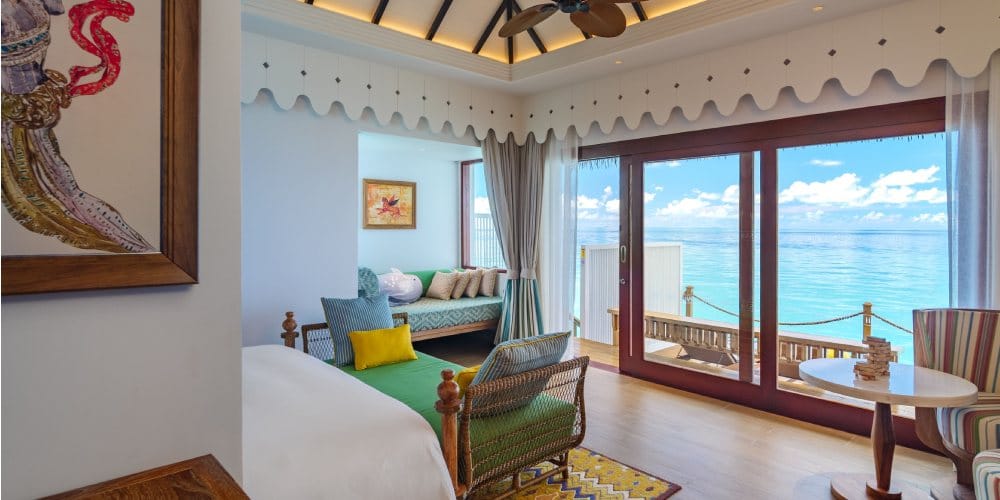 The vibe is noticeably more relaxed over at Saii Lagoon's Junior Beach Club, for kids aged four to 15. Outside, children play on floor cushions in the shade of a tipi tent while inside, there's a whole room dedicated to chilling out. I stay in one of Saii Lagoon's overwater villas. The style here is sunny and bohemian, a subtle change from the tropical architecture and modern designs at Hard Rock. My villa is decked out in a cheerful palette of marine-inspired greens, blues and yellows. On the sofa sits a pillow in the shape of Crossroad's mascot, Emma the turtle, and on the table there's a handmade wooden puzzle.
Naturally, though, the best bits are outside. I start my days by walking down the wooden steps from my terrace to take easy dips in the warm ocean. Lying in the outdoors bath under pink clouds, I watch silver flying fish leap from the water while, overhead, white-crested terns glide a few metres above the surface, preparing to plunge. With a view like this, there's no more powerful reminder of what is at stake.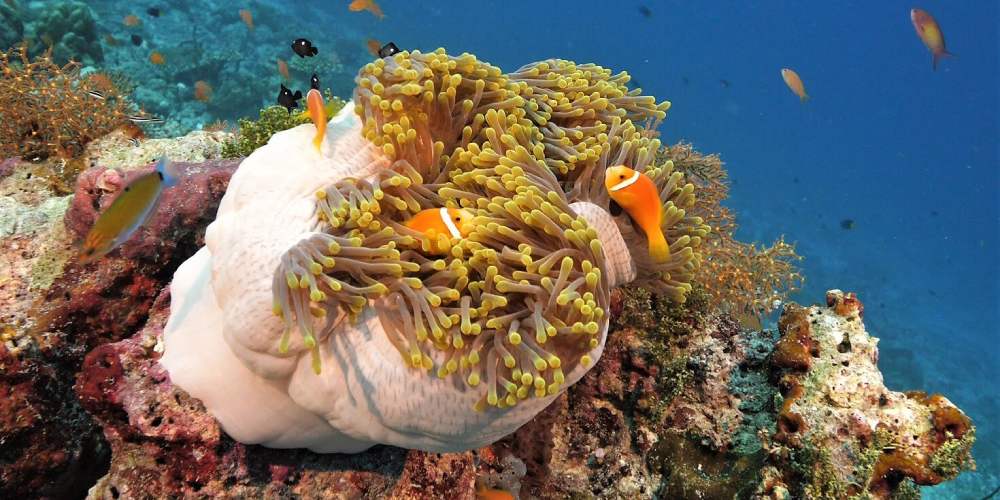 For families who want more from their holiday than lounging barefoot on hammocks, there's no end to the activities you can find (or indeed the amount of money you can spend) at Crossroads. Borrow watersports equipment, sail on a sunset cruise, or take workshops in jam making, rock painting or Brazilian Jiu Jitzu. All this is eclipsed, though, by the natural splendour. When I reflect on my time in the Maldives, as I have done several times during lockdown, inevitably it's the simple pleasures that remain lodged in my heart; a walk on the beach at sunset, the childlike wonder of seeing a stingray for the first time. Children lucky enough to visit the Indian Ocean will experience the natural world at its most splendid and most fragile. At Crossroads, they'll learn how they can play a part in protecting it. 
The lowdown
Getting there
Flights from London to the Maldives take approximately 11 hours. Crossroads is a 15-minute speedboat ride from Velana International Airport on Hulhulé Island
Price 
At both Saii Lagoon and Hard Rock Hotel, rooms start at £114 a night. Overwater villas start at £278 a night.