Equally exciting and daunting, your first holiday with a baby is a time to make special memories, share quality time as a family and hopefully relax a little. We've put together our 11 tips for your first holiday with a baby to make your trip memorable for all the right reasons.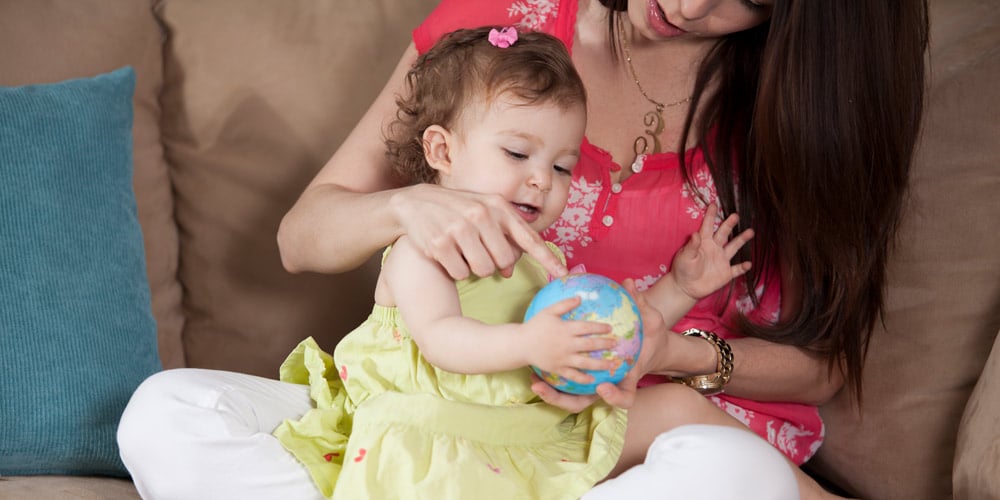 1/11

Pick your destination carefully

A week in the tropical paradise of Bali or Bora Bora might sound appealing after the physical stress of having a newborn (tired, anyone?) but be realistic about what will be comfortable for you and your baby. Younger babies might be easy to care for on a plane (most carriers have bassinets for sleeping) but crawling babies are much more challenging and will want to explore every inch of the plane (including whatever is on the floor!)

If a long travel day or long-haul flight is going to be stressful, opt for somewhere where you can enjoy similar weather and activities nearby; the Canary islands have gorgeous beaches and good weather pretty much year-round, and are just a short flight away.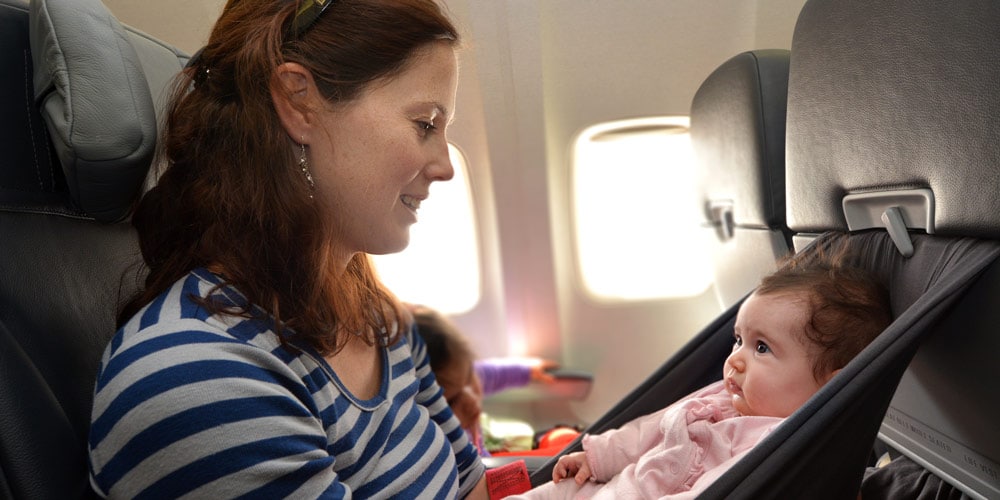 2/11

Purchase an extra aeroplane seat

Airlines are increasingly allowing families to purchase an 'extra' seat at reduced cost; a great option if your baby is under two years old. You can't technically purchase a seat for an infant but if you buy an extra seat you have more space to spread out, making it easier for little ones to stretch out, stand up and nap. If you purchase a middle seat as your 'extra' it allows you privacy and peace of mind as you won't have a stranger sat next to you. It also gives you an extra seatbelt – what baby doesn't love playing with the open-shut buckle on an aeroplane belt?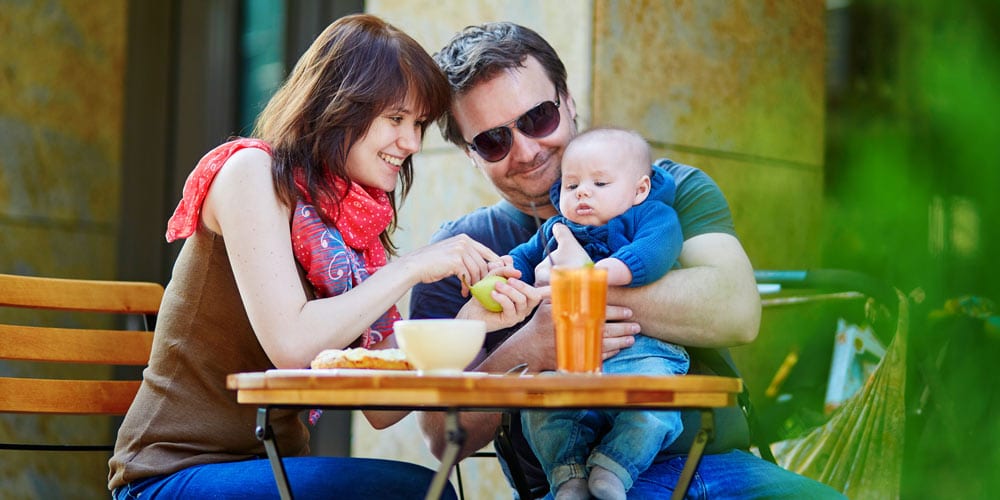 3/11

Eat early

Trying the local cuisine at new restaurants is one of the best parts of holiday, but can be a bit daunting if you have a baby. If you're worried about comforting a fussy baby in a restaurant full of other holidaymakers at 8pm, try have a late lunch or early dinner at between 3-5.30pm. Restaurants will generally be emptier at this time, giving your baby more space and freedom to move around and make a bit of noise. This will help your baby have a positive introduction into eating at restaurants and you'll also get your food quicker as the kitchens and servers won't be so busy. Win-win!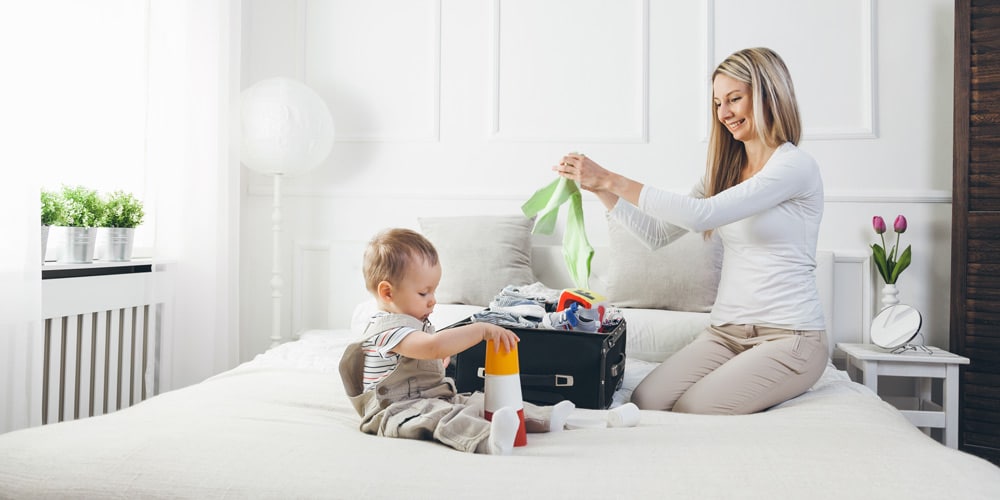 4/11

Keep packing simple

There are few places in the world where you can't buy baby essentials. Whether it's nappies, wipes or clothes, if you forget something the likelihood is that you will be able to pick it up at your destination. Two outfits per day (one to wear and one spare) will be sufficient for baby, along with a few of their favourite toys.

You will probably find that baby is far more interested in exploring their new environment than in playing with toys from home, so keep it to their absolute favourites; a wooden spoon and saucepan from your holiday kitchen, or a remote control with the batteries removed, will give them hours of new fun! When it comes to clothes, long-sleeved shirts in very light fabric and long harem pants are a great option as they protect babies from the sun as well as being loose and comfy.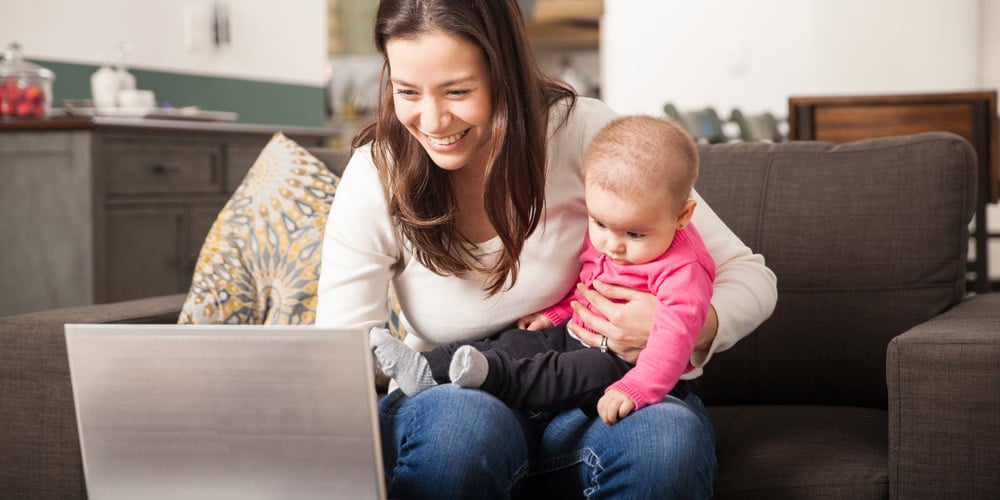 5/11

Check the weather

Destinations that are pleasantly warm during some seasons can be unbearably hot in others; Egypt for example can experience spring-like temperatures over Christmas before soaring to 40 degrees in the summer. Although you might have enjoyed super-hot weather pre-baby, strong sun will make babies sticky, uncomfortable and fussy, and will likely disturb their sleep patterns (they are also at increased risk of heat rashes, sunburn and heat stroke). You don't want to spend your entire holiday hiding in a hotel room from the sun so make sure you check the weather to ensure that it will be a suitable temperature for your little one.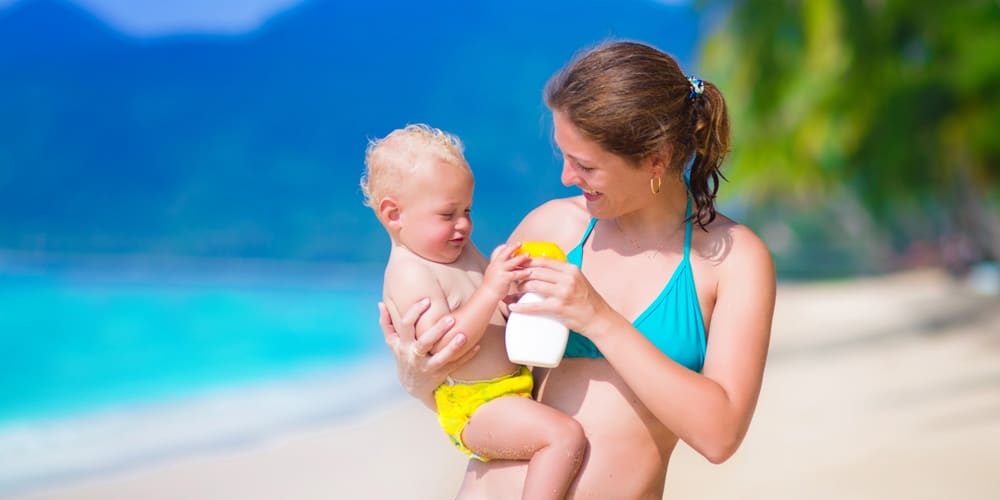 6/11

Bring adequate sun protection

After you've picked your perfect holiday spot, gather items that will make it easy for you to protect baby from the sun. A UV shade with high air circulation such as the SnoozeShade is useful as it allows your little one to sleep in their pushchair while being protected from UV rays and bright sunlight. A rashie swimsuit that covers all of baby's skin (plus a swim hat) is also essential if they will be spending time in the pool; babies' skin is much thinner than adults and will burn very quickly.

When it comes to sun cream there are several brands that offer protection without harsh chemicals; a favourite is Badger Organic, which is made with a blend of natural organic oils and beeswax, and Green People's Organic Sun Lotion, a scent-free, naturally water-repellent blend made with aloe vera and avocado for sensitive skin. A hand-held battery operated fan with soft blades is also a great idea to keep baby cool and it doubles up as a fun toy!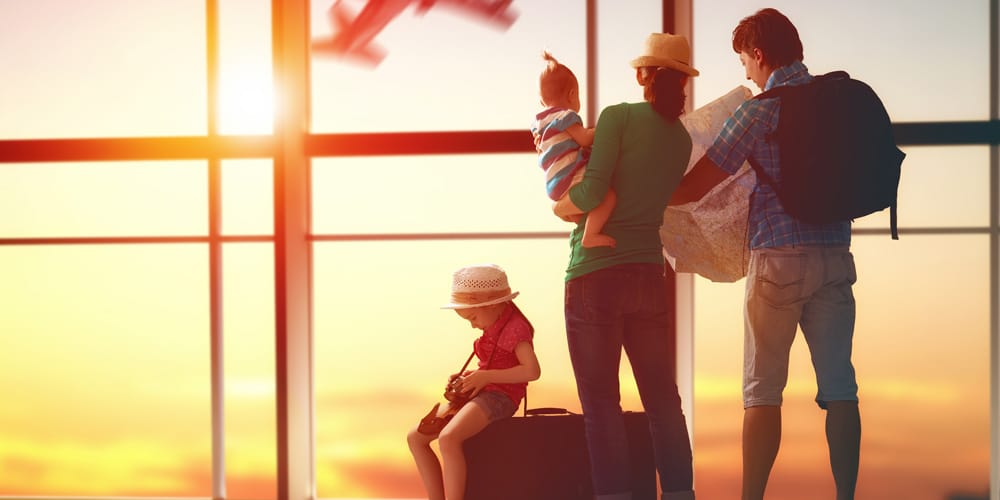 7/11

Get on the plane last

You might want to get settled in your seats as soon as possible but if you have a little one on the move it is best for them to board last, not first. This is so that you have as much time as possible to wear them out before they have to sit still for takeoff (babies have to wear seatbelts on an adult's lap). Your stroller will be left at the door of the plane to be placed with the hold luggage and baby bags can be placed underneath the seat in front of you, so don't worry about the overhead cabins getting full.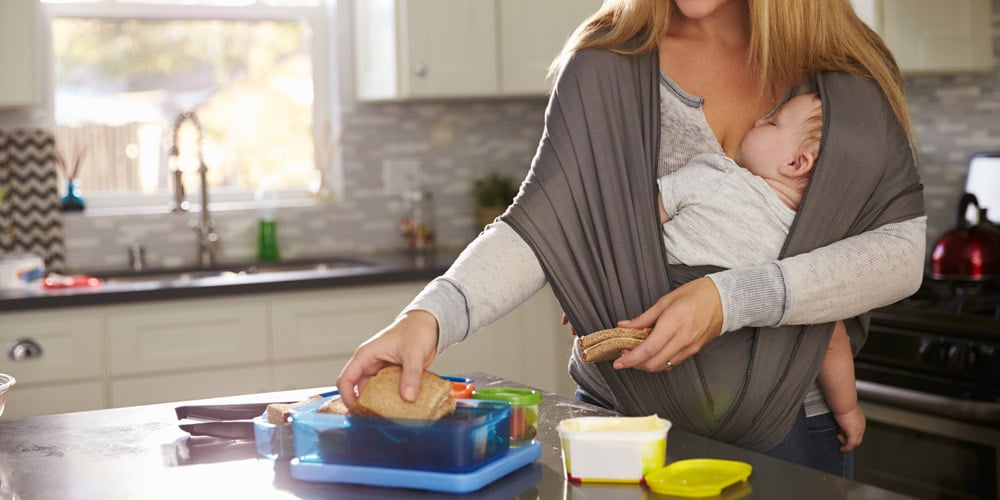 8/11

Bring familiar food & snacks

If your baby is used to a certain brand of formula or has some favourite non-perishable snacks, bring them along with you. On holiday everything is new and this can be overwhelming for little ones; the novel sights, smells, sounds and people can be scary as well as exciting. Having familiar snacks is a comfort for little ones and gives you peace of mind that there will be something baby will eat while getting used to new foods. If they have a favourite bowl or cutlery that they are used to eating off, bring this too for the familiarity factor.

Think of the snacks as an extra activity that will help baby to help pass the time on a plane, train or car journey. Some ideas of tasty snacks that take a long time to eat include Cheerios threaded on a string (toddlers love this too) little boxes of tiny raisins or dried berries and any dried fruit snack such as the all-natural Bear 'sweets'.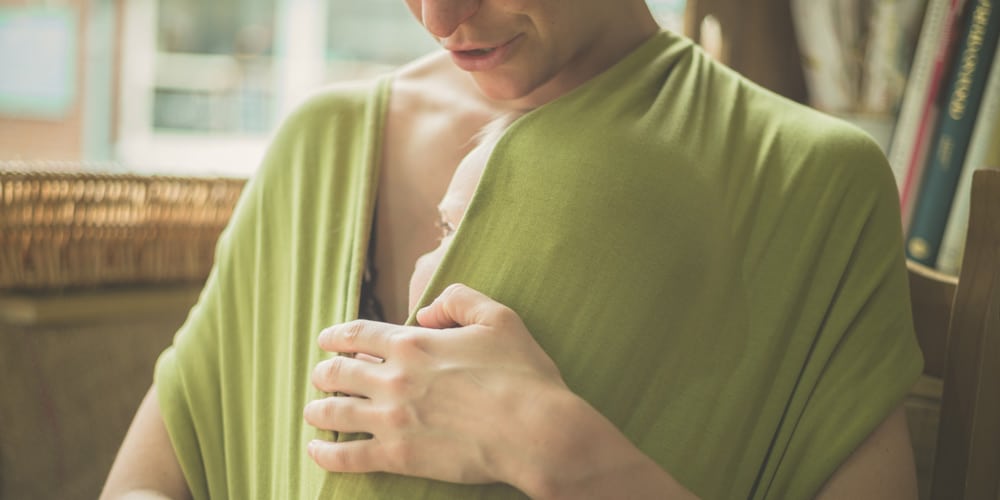 9/11

Relax about routine

Routine is helpful for little ones and parents, but don't let the fear of 'losing' the routine ruin your holiday. If you are enjoying a day out let baby nap in their pram or in an air-conditioned cafe instead of rushing back to your hotel or villa to put them in their cot. Heat often makes babies sleepy so be prepared for little ones to take longer naps in the day and be a bit more active in the evening. Routines will slot back into place when you return home so try and relax and make the most of your family adventure.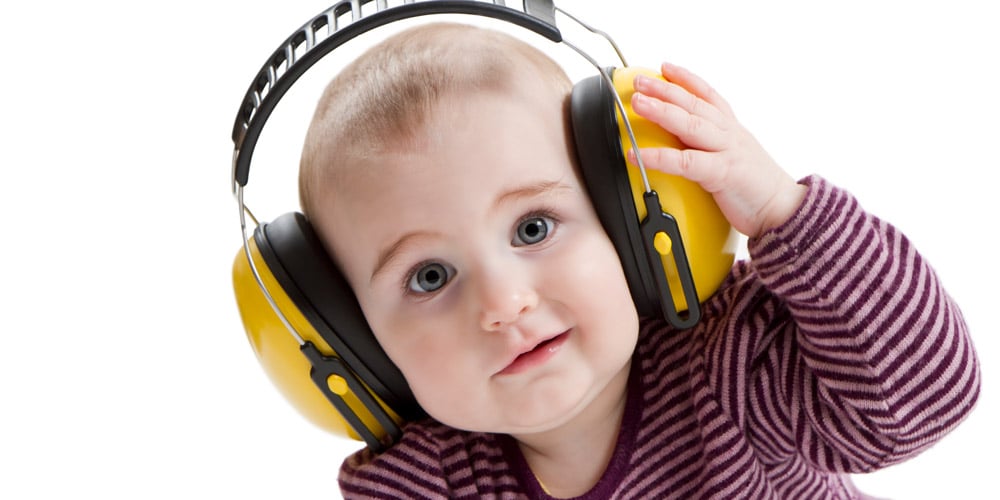 10/11

Bring something for baby's ears

If you are taking a flight, bring something to balance the pressure in baby's ears on takeoff and landing. If you are breastfeeding, feed baby as you take off and land, and if you use bottles or dummies offer this to baby. Aeroplanes can also be quite loud so if you think this will be overwhelming for baby try a pair of soft baby earmuffs.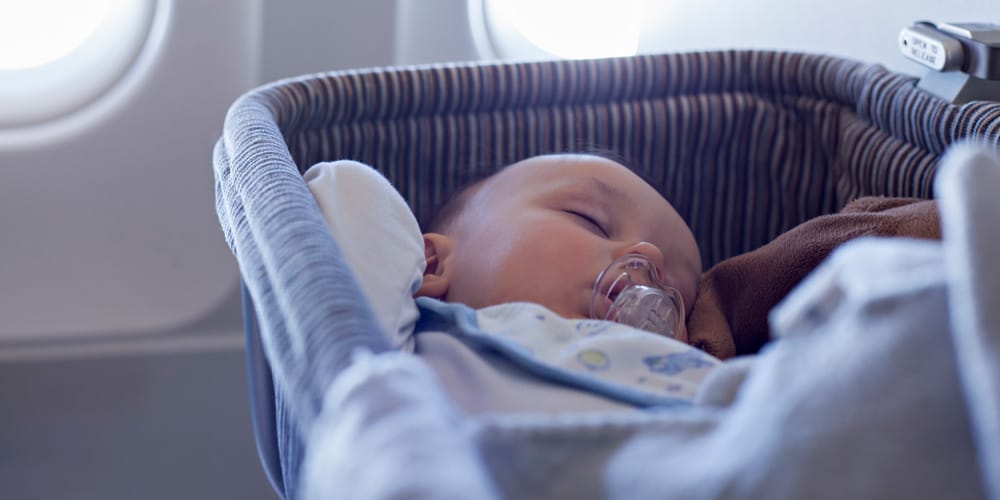 11/11

Travel during sleep times

Whether you are travelling by car, boat or aeroplane (or all three!), try and arrange travelling time for when your baby is likely to sleep. If it's a couple of hours in the car aim for the post-lunch nap, or for long-haul flights fly at night (you may even get to sleep too). A sleeping baby is the easiest baby to entertain, so time your journeys to coincide with sleep times and get your holiday off to a great start.