We've found the most fun family hotels in London. They're all perfect for long weekends or half term breaks with kids. Ready to fall in love with London all over again? Now's your chance. Take a look.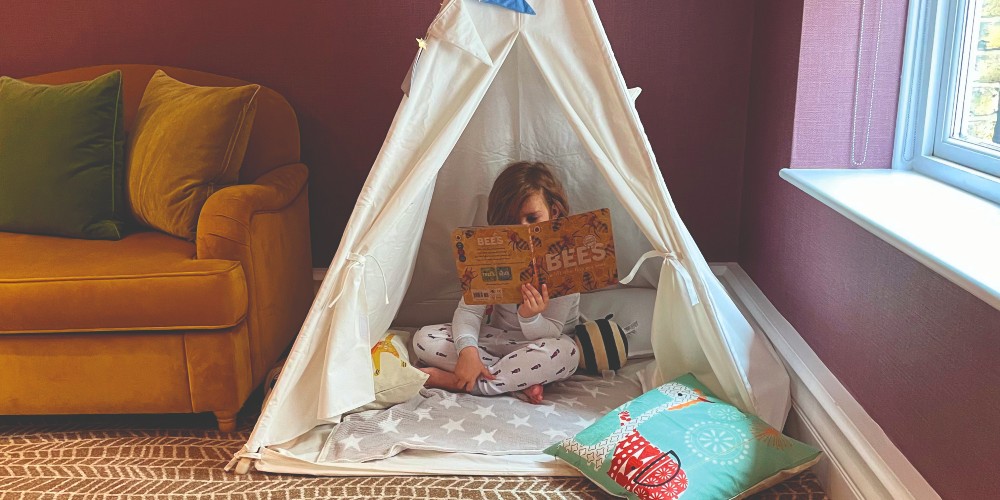 St. Ermin's Hotel: one of the best family hotels in London for curious kids
St. Ermin's Hotel is brilliant because the easiest way to teach inquisitive kids is by stealth. Children who check in to St Ermin's today learn all about the hotel's espionage links by being sent a Secret Agent pack to their room or by cracking codes on display in the lobby -real examples from Bletchley Park. So they feel just like the real spies who used to work at St Ermin's when it was HQ of the Special Operations Executive and MI6 during WWII. So,
Younger children discover urban wildlife by visiting the hotel's rooftop bee hive, and a free squishy bee toy on their bed makes sure the learning sticks. There's also a bedtime story in every family room, and all kids are offered a mocktail in the Caxton Bar. On weekends and during school holidays, the hotel serves children's afternoon tea in the historic Tea Lounge.
Great central location for exploring London
Apart from all the goodies (did we mention the KitKats in the minibar?), St. Ermin's Hotel has a great location. It's close to Victoria station if you arrive by train, but also walking distance from Westminster Cathedral, Buckingham Palace, Green Park and several London theatres.
For best value, choose a Family Suite with two king-size beds, a double sofa bed and cot on request. If you ask, you can even get a kid's teepee for the room.

Haymarket Hotel: kids will love the underground pool and cinema
Haymarket Hotel is one of our favourite family hotels in London for subterranean swimming pools. No ordinary pool, this one has a cinema screen at one end, a bar at the other and kids can watch movies from inflatable doughnuts.
On top of all the underground excitement, each child at Haymarket Hotel receives a toy on check-in. There's milk and cookies at bedtime too, as well as board games, books and mini bathrobes – perfect for wandering down to the pool.
Great choice for a multi-gen London break
If you have a larger than average brood or want to treat Granny and Grandad to a city break, think about a Haymarket Hotel townhouse. This historic four-storey home has its own private entrance on a gorgeous SW1 street, minutes' walk from Piccadilly Circus, Trafalgar Square and shopping on Regent Street.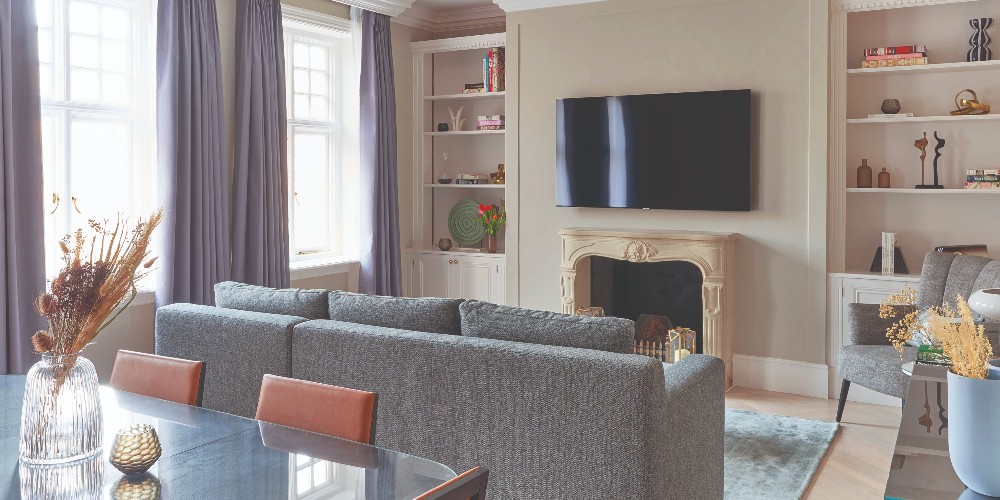 The Apartments by 11 Cadogan: easy for independent families
The Apartments by 11 Cadogan are ideal when only self-catering will do. Perhaps you have two under two or your little ones are picky eaters, restless sleepers or just their own sweet selves. Whatever makes you crave independence, having a full kitchen and your own front door always helps. And how would you like the key to one of London's private garden squares? That's what you get when you stay at these brand new flats just off Sloane Square.
Your own space in one of the most luxurious family hotels in London
The Apartments are owned by iconic 11 Cadogan Gardens Hotel, so you can pick and choose the bits of hotel life you want. Have breakfast at the Hans Bar and Grill with its sunny street-side tables on Pavilion Road. Or order room service in your apartment for relaxed family meal times. Picture windows, leafy views, giant TV screens, squidgy sofas and fireplace all come as standard is these home sweet homes.

Bankside: one of the best family hotels in London for parents
Bankside is the Southbank stay which suits parents who don't just define see themselves as parents. So if you shudder at the sight of plastic cutlery and aren't quite ready to step into sensible shoes and wipe-clean clothes, this is the place for you. It's one of the best family hotels in London, but doesn't shout it from the rooftops. So you still have a trendy bar scene and designer furniture in the reading lounge. The location is more Tate Modern than toy shops. And it's a short walk from Shakespeare's Globe.
Bankside manages to be child-focused too. For starters, the rates are very family-friendly. Kids love the riverside location. And Thames water taxis, the London Eye, Southbank skate park and Jubilee Gardens playground are all within easy reach.
A parent-friendly hotel that loves kids and pets
Bankside is all about the details. There are plenty of thoughtful touches families will really love, like a dogs-welcome policy – Bankside even has a dog concierge. And a vending machine on every floor means you can eat crisps, or drink Champagne, at 10pm without walking to a convenience store in your PJs.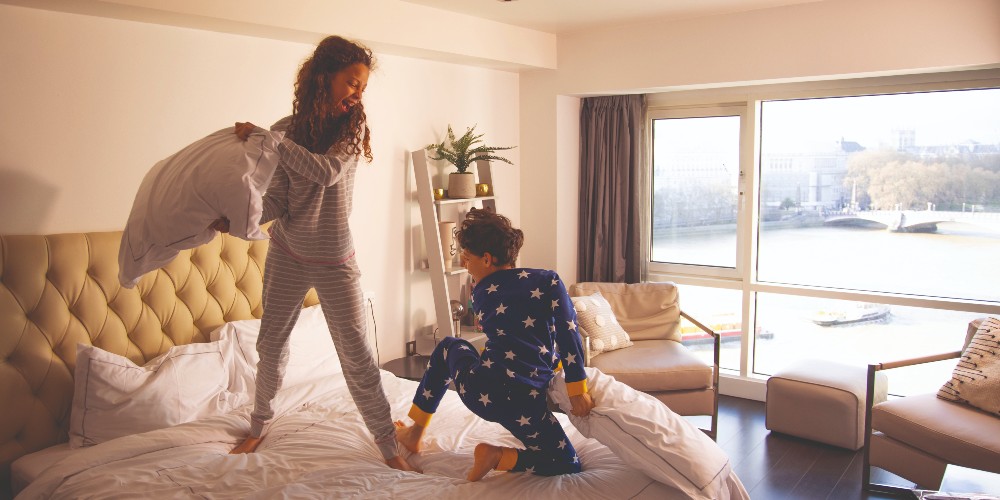 Park Plaza Riverbank: home of the Ultimate Family Suite
Park Plaza Riverbank loves families so much, it asked parents – and kids – to design their Ultimate Family Suite. That translated to bunk beds, chalk board walls, bath toys, shower radios, bean bags and separate rooms for children and grown-ups. There are also toy trunks and treat trolleys, not to mention choose-able 'themes' based on your children's interests. Will they opt for Enchanted Forest, Superhero or Dream Big?
Even before the new Ultimate Family Suite rocked up, Park Plaza was all about under-16s.  So younger guests have always loved its indoor swimming pool, check-in goodie bags, and kids-eat-free policy. Chino Latino restaurant dishes up children's favourites and if it's not on the menu, just ask – they may well whip it up for you as everything is cooked from scratch.
One of the best located family hotels in London
Park Plaza Riverbank is right on the river, with views of Big Ben and the Houses of Parliament from some rooms. Plus, you're a hop, skip and a jump from Sea Life London Aquarium, the Imperial War Museum and London Eye.
This article contains affiliate links. We may earn commission when you click on them. This does not influence our editorial standards. We only recommend products and services we believe will enhance your family travel experience.