lIn late 2017, Rough Guides announced Scotland was the 'World's Most Beautiful Country'. Naturally there were quite a few contrary opinions, but not many arguments from folks who'd actually toured around a bit, headed off the beaten track, or ventured along the North Coast 500 (one of the world's top five most scenic coastal routes). Bonny Scotland may not be the bonniest of all, but few countries are quite as spectacular when it comes to road trips, or as spectacularly demanding of cars.
Which means you can take it for granted that the new Vauxhall Insignia Grand Sport was more than put through its paces before being named Family Car of the Year at the Scottish Car of the Year Awards 2017. And Scotland isn't alone in feeling the love: Auto Express listed the Insignia Grand Sport in its top three 'Best Family Cars 2017', and The Telegraph drove it from Lands End to John O'Groats on a single tank of diesel, and pronounced its performance, 'sparkling'.
So what is it about Vauxhall's newest family member that makes it one of the best cars for families right now?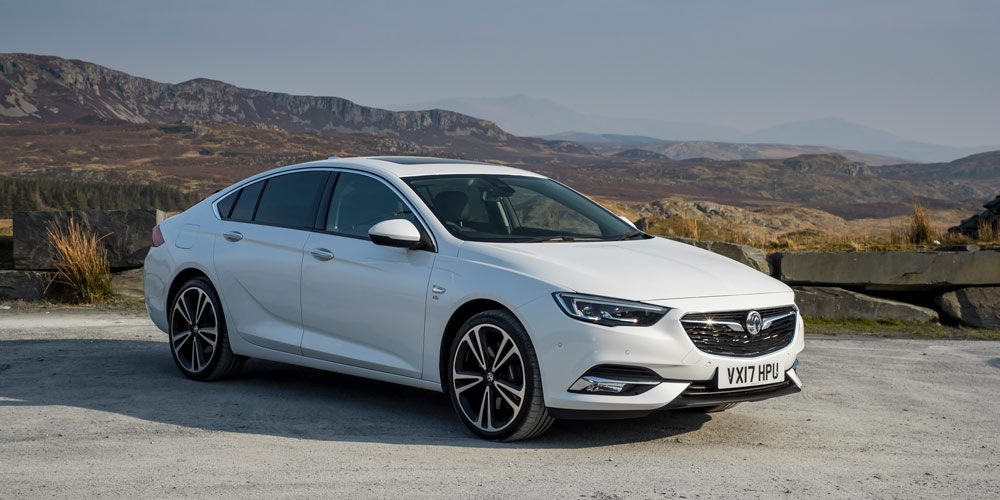 Insignia Grand Sport suits you from the start
It might seem counter-intuitive to go straight to appearance in a family car, but the Insignia Grand Sport bucks the kids-equals-boring trend so beautifully in terms of luxe design, its looks definitely deserve top billing.
This is the car that lets you invent your own exterior paint colour: literally any colour you want. The interior's pretty broad spectrum in terms of customisation too, with a choice of leather or cloth seats in shades ranging from jet black through to Arctic white – a bold pick, with kids in the car, but it's there if you want it. Alloys are another Grand Sport decision you make yourself and, as a finishing touch, you can even design the personalised marque for your customised mirror covers.
Of course, looks aren't top priority in a family car, but since the Grand Sport scores so well on safety, economy, value and reliability; indulging in some superficial fantasies about cute paint colours and wheel trims won't make you a less responsible parent.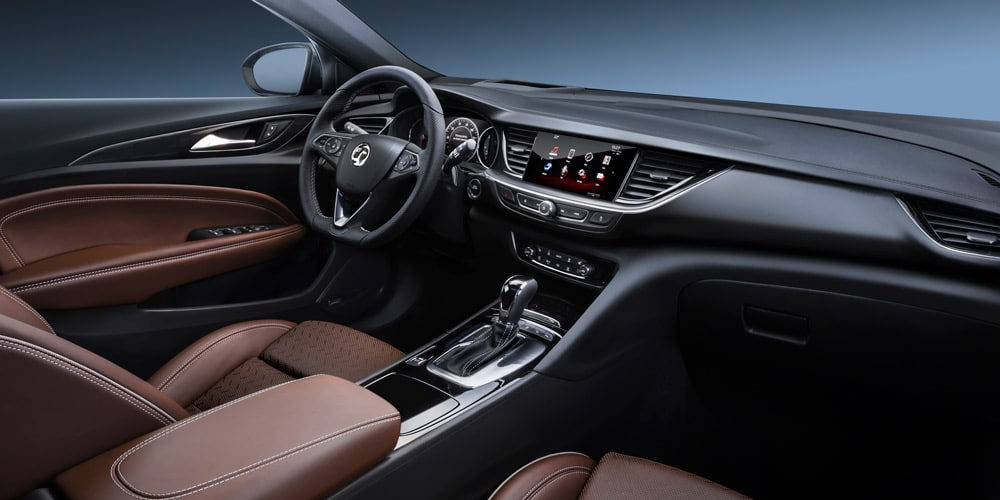 Top Euro NCAP Five-Star safety score goes to Insignia Grand Sport
High-impact tests are probably the last thing you want to talk about when you're buying a new car, so here's what you need to know about Insignia Grand Sport without asking: it achieved the highest possible score of five-stars in its Euro NCAP crash tests, and scored 93% overall for adult occupant crash protection, and 85% for child-protection.
But, understandably, there's a sharp focus on prevention rather than protective technologies in this safe family car. So as well as a whole raft of standard safety features, it also includes an autonomous emergency breaking (AEB) system designed to detect potential collisions, even at low urban speeds; good news considering over 75% of accidents happen at 25mph or less.
Plus, Grand Sport automatic cruise control responsively maintains safe driving distances from other cars. On longer journeys, lane position auto-alert gently lets you know if you inadvertently start to drift. And Vauxhall OnStar is standard on all models too; so in the event of an accident where an airbag's deployed, OnStar advisers are automatically contacted and emergency services called to assist, if necessary.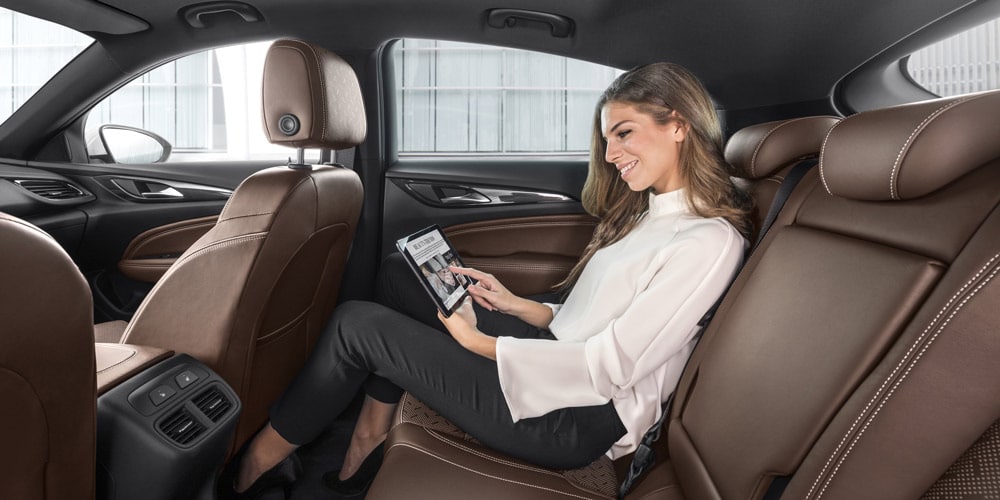 Roomy and relaxed from school runs to family road trips
If kicking your seat is one of your kids' favourite games, they'll be disappointed by the massive amount of leg room in the back of the new Insignia Grand Sport. But the car's Intellilink Infotainment technology, crisp Bose sound system, and super-comfy rear seats, should go a long way to soothe any lingering sense of deprivation.
Great interior storage is another big plus for families. As well as giant door bins, central cup holder ports and a good-size glove box; there are also a couple of handy built-in and lidded spaces perfectly designed for all the stuff that mysteriously accumulates on any family car journey longer than 30 minutes.
The 490L boot is plenty spacious enough for ambitious adventures, holiday luggage, any amount of school kit and serious shopping, but extends into an enormous 1540L spread when the rear seats are folded down.
And even if you don't always feel like the most important person in the car, the new Insignia cockpit is there to remind you. Seats are designed for a relaxed and comfortable driving position. The dashboard layout is big on visibility. Touchscreen technology makes in-car entertainment sensationally fuss-free. And you can even choose a preferred driving style from normal, sport or tour; which should easily cover all your needs from school runs to road trips.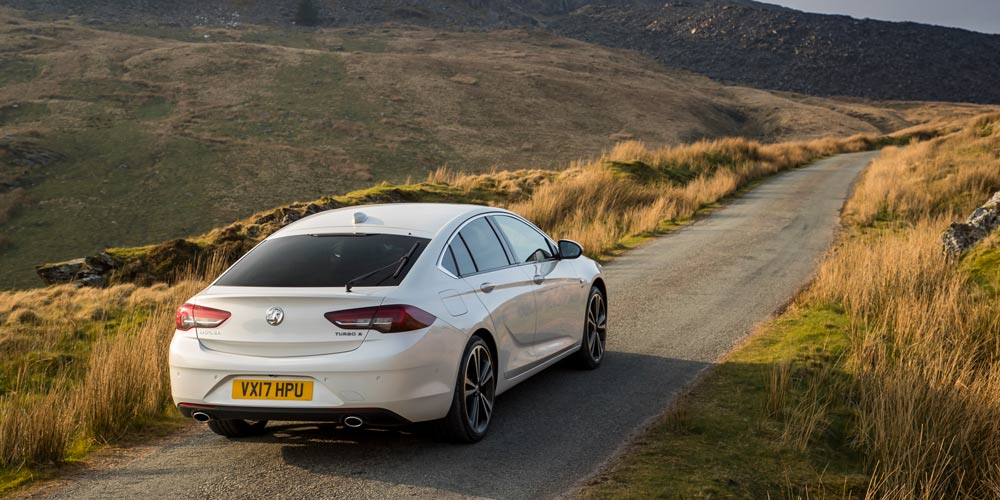 And, as an added bonus, it's great to drive
Vauxhall are keen for you to test drive the Insignia Grand Sport, and with good reason. A relatively low centre of gravity means less body-lean, more fluid suspension and an incredibly smooth and forgiving driving experience, even on demanding road surfaces. Almost total silence is its cruising soundtrack and, if driver engagement is your thing; according to those in the know, this is the car to give you a satisfying sense of that too. 
Lowdown on Vauxhall Insignia Grand Sport Design
Price: from £12, 708 OTR
Key exterior features: automatic lighting control | LED daytime running lights and tail lights | Electronic Stability Programme (ESP) | Remote control ultra-sonic security alarm system
Key interior features: Keyless entry and start | Six airbags | Cruise control with speed limiter | Intellilink touchscreen Infotainment system | Seven speakers | Vauxhall OnStar
Loadspace: 450L with seats up | 1450L with seats down
Engine & transmission: Petrol | 47.6 mpg | CO2 emissions: 133g/km
The new Vauxhall Insignia Grand Sport is available in six different models and infinite colour variations, but are the experts right when they say it's one of the UK's top five best family cars? There's only one way to find out; get behind the wheel and try it for yourself.