The Peugeot 2008 is billed as a compact SUV, so Steve Tooze and his kids put it to the test in muddy woodland
First impressions can make or break a budding young relationship, especially on a blind date set up by an enthusiastic third party. 'You'll love this one, trust me,' they heartily reassure. 'Just your type.'
That was pretty much the score with me and the next Peugeot 2008. Not being a hard-core motoring journalist with an encyclopedic knowledge of every new four-wheeled launch, I'd remained in blissful ignorance of her very existence. So when a nice public relations woman called to suggest that we get together for a few days to see if there was any sort of spark between us, I was caught between excited interest and that familiar blind date wariness.
She's good-looking, compact and quite nifty, my matchmaker assured me. Perfect for someone like you with youngish kids who still likes a bit of off-road adventure. What can I say? I'm shallow and I was sold on the strength of that spicy little description. Two days later, a phone call told me that she'd been delivered to my front door and I braced myself for that 'first impressions' moment.
Upon laying eyes on her, dull red and gleaming saucily at the side of the road, my Initial stream of consciousness thought was: she's a Mini Cooper on steroids. And I mean that in a good way. Imagine a Mini Cooper that's decided to lose the last remnants of her flighty 60s chick around town heritage in favour of some serious toning and bulking at the gym.
So, still possessed of a rounded, pleasingly organic design ethos, but more buff and with a bit more heft, suggesting she can be fun, while reserving the right to be able to handle herself in a tough non-urban corner or two.
'Sort of big and sort of small at the same time,' opined my son Fin, nine. 'Wonder if we can drive her through a wood?' Not, in case you were wondering, a completely random kid question, as it turns out. Driving her through a wood was exactly what we were planning to do, having decided to take all the talk of the Peugeot 2008 being a compact SUV at face value.
The very next morning, Fin, my wife Jane, my daughter Scarlett, 12, and I attempted to load her up with all the adventure necessities for an overnight camping stay in a wood in the back of beyond in rural Essex.
Our friends, the wood's owners, were staging a two-day family micro-festival-cum-birthday party and the Great British June weather being as it currently is, we needed to be prepared for everything between scorching heat and Biblical downpour.
This was the only moment when the 'compact' part of the 2008's nature made itself felt. It's not a Range Rover, therefore the boot is not going to contain enough camping gear to facilitate survival in the Australian Outback for a month. So we reigned in our packing expectations a bit and still fitted in three suitcases, umpteen sleeping bags, Wellies, duvets, pillows, a rounders set, golfing umbrellas, summer and winter coats, and a frankly stupidly large packed lunch.
Inside, the 2008 has a bit of the Tardis about her. 'Bigger than I expected' said Scarlett, approvingly. 'And comfy.' She sniffed the air, suspiciously, then wrinkled her nose and hurriedly wound down the window: 'But it does smell disgustingly new!' She has a thing about that distinctive 'new car on a warm day' smell that kicks off her tendency to car sickness, and I often wish motor manufacturers would find a way to cancel it out.
My own bete noire is the sat nav/in-car entertainment system that normally has me swearing like a trooper 30 seconds after starting the engine. Not in the 2008, however. The sat nav is Intuitive and easy to program and follow. My only minor moan is that I would have preferred its verbal instructions to sound more like Scarlett Johannson than a grumpy version of my high school English teacher. But that's something I can talk to my therapist about.
On-road driving was smooth and effortless, unremarkable on the speed and acceleration front, but with responsive steering and a light six speed manual gearbox making the inevitable tailback-infested trek out through South London and under the Dartford tunnel less painful than it might have been.
The true test came a half a mile from our woodland destination. Before us lay a deeply rutted, mud and gravel track, rendered mushy and treacherous by a week of heavy rain. 'Into woods!' cheered Fin. I might have bottled out in a normal saloon. But I gritted my teeth, gingerly goosed the accelerator, and the 2008 did the rest, sailing along without hitch as if we were still on the tarmac.
The car was equally impressive the next morning, when we all emerged, happy, rumpled and pickled in bonfire smoke, to find the back wheels had sunk several inches into the mud thanks to a spot of over-night rain. Again, she reversed smoothly out and away with a 'so what?' air.
Our little trip into the woods had left me with warm feelings about my blind date. But it was a couple of days later that she finally sealed her place in my affections as an adventure buddy of choice. Fin was camping overnight in a field with his mate Eddie's family when a truly epic thunderstorm rolled in from the Channel and deluged the place. 'Uh, could you come and take me home, Dad?' he asked on the phone, just about keeping the fear out of his voice.
By the time I got there, the car park looked like the battle of the Somme, pitch black, inches deep in mud, with cars churning their back wheels everywhere trying to get out. The 2008 made her calm way through the carnage, sliding and fishtailing occasionally, but never really struggling. I loaded a relieved Fin in the back, and we smoothly exited with no real drama.
I tried my best not to smile at the sight of a bloke trying to drive away in a hulking great full-size SUV with two of his mates pushing from behind.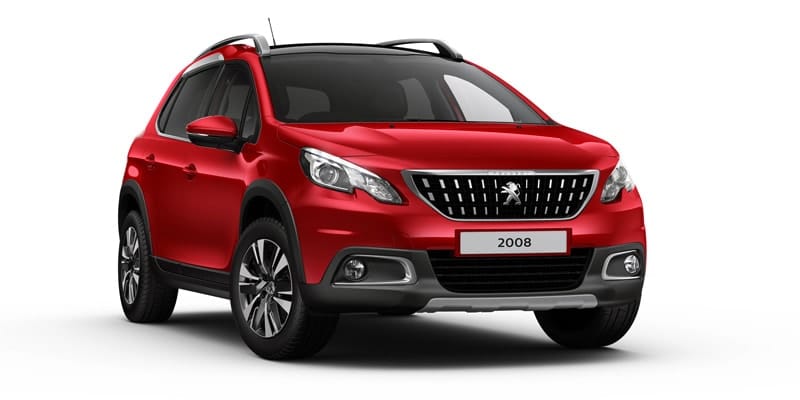 The lowdown: Peugeot 2008 SUV
Model: PEUGEOT 2008 SUV 1.6L BlueHDi 120 S&S
Fuel consumption (combined drive cycle): 76.3 MPG
CO2 emissions: 96g/km
Maximum speed: 119MPH
Acceleration 0-62mph: 9.6 seconds
Insurance group: 21E