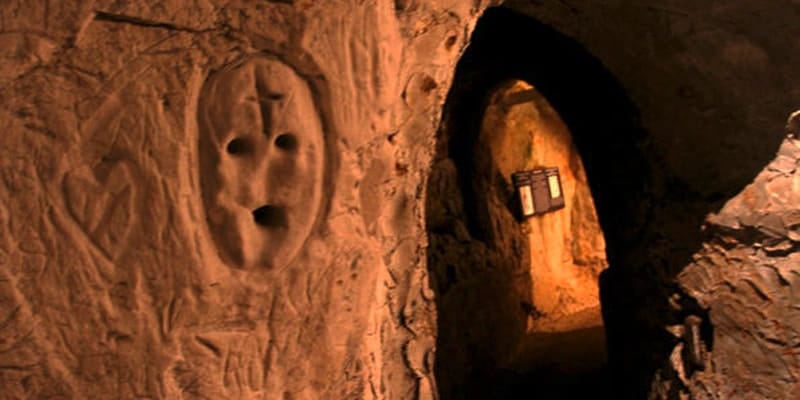 1/6

Hellfire Caves, Buckinghamshire

Even the name is enough to send a shiver down your spine – Hellfire Caves are a network of man-made chalk and flint caverns carved into chalky hillsides in West Wycombe, which extend a quarter of a mile (500 metres) underground. The caves are notorious for their dark, satanic history and are considered one of the most haunted sites in Britain. The caves were once used as the meeting place for the Hellfire Club in the mid eighteenth century, who used secret tunnels and vast chambers to carry out satanic rituals, dabble with the Occult and perform black magic. Devil worship, sacrifice, satanic rituals and a documented death all form part of Hellfire Caves' dark past. The fact that the huge network only has one way in and one way out also adds to its sinister atmosphere.

Ghost hunts at Hellfire Caves have yielded some scarily impressive results. Entire groups have heard chanting from the Inner Temple and individuals have even reported being touched by ghosts! One famous legend tells of Suki, a young local girl who was tricked into meeting a man she thought she was going to marry, but the encounter ended in her death. Suki's ghost has been spotted plenty of times in the banqueting hall where she died and several guests have managed to capture photos of a woman of white in the caves' alcoves. During the late 1940s and 1950s the caves underwent a regeneration and are now a tourist attraction where those who dare are invited to join in with ghost hunts.

Price: From £70pp per night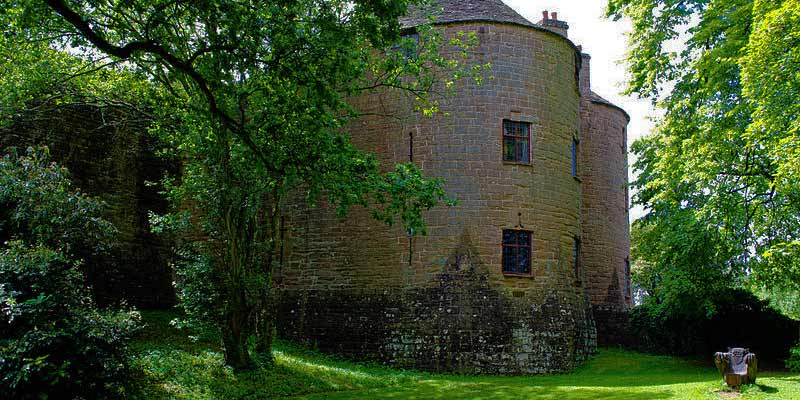 2/10

St. Briavels Castle, Gloucestershire

Legend has it that criminals were hanged from the battlements of this imposing castle. Many ghosts have been reported at St Briavels over the years. One of the most prolific is the ghost of a crying child that is often heard in the Solar Room. Most terrifyingly of all, during recent ceiling repairs in the castle, a wrapped corpse of a baby fell from the rafters – which possibly explains the crying baby. Eek! There's plenty of paranormal activity reported in other areas of the castle too. The spooky atmosphere in the Oubliette room has lead to guests running from the castle in the middle of the night. If all that hasn't got your spine tingling, the walls of the castle's jail are adorned with graffiti from doomed souls waiting to meeting their deaths.

Price: From £99pp per night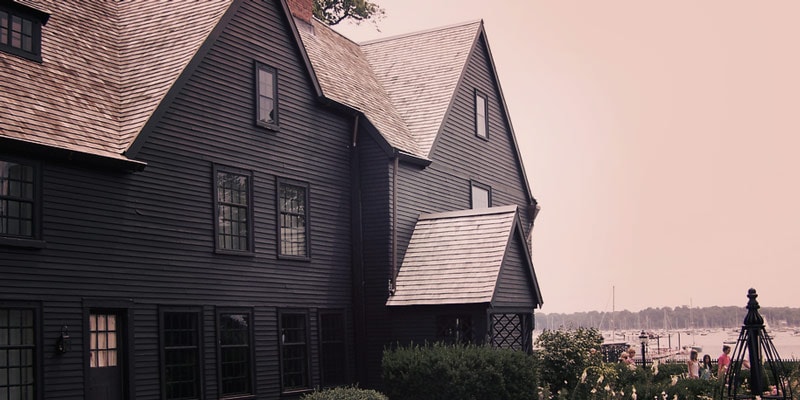 3/10

House of Seven Gables, Salem, Massachusetts

The House of the Seven Gables is the oldest surviving wooden mansion in all of New England. It dates back to the 17th century and was author Nathaniel Hawthorne's childhood home that was saved and moved to its current location in 1958. It was built in 1668 by the Turner family and after one of the Turner sons lost the entire family fortune, the house was bought by the Ingersoll family. The mansion was home to Susan Ingersoll until she was 72 years old. She was the cousin of the great American author, Nathaniel Hawthorne. Hawthorne visited often and his experiences inspired him to write his famous novel, The House of the Seven Gables.

A big part of the House of the Seven Gables' appeal is its reputation for being haunted. Lots of people have reported seeing Susan Ingersoll's ghost peering out of the windows and roaming the corridors. A ghostly boy is also said to haunt the house's attic. The little chap can be heard running around up there and playing with his toys. As well as reporting the goings-on of these apparitions, visitors and staff regularly report hearing strange sounds, plus the toilets flush and taps turn on and off on their own.

Price: From £21pp per night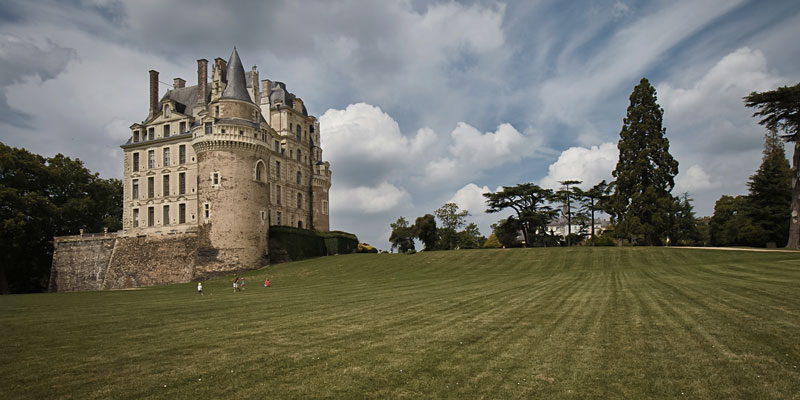 4/10

Chateau de Brissac, Maine-et-Loire, France

At first glance, the Chateau de Brissac in the Anjou province in the Loire Valley looks like a fairy-tale castle. Indeed, it was a castle until the 15th century when King Rene of Anjou ordered over sixty castles and great homes in the region to be altered into into chateaus. Generations of the same family, who share their name with the chateau, have reported being haunted by the same spectre. In the 15th century a double murder was committed in the chateau, which resulted in the Chateau de Brissac becoming famous for a ghost named le Dame Verte, or the Green Lady. It is said that one day, Jacques de Breze, the son of the man who built the castle, discovered his wife Charlotte in the arms of one of her huntsmen. Accounts differ as to exactly what happened next. One version says that the enraged Jacques dealt over one hundred sword blows to the cheating couple, while another insists that he strangled Charlotte in the Chapel Tower. Either way, Charlotte was never seen again.

Today the Duke of Brissac and his family still live at the at the chateau and for generations the family have reported sightings of the Green Lady, so-named because of the dress she wears. The family are used to seeing the ghost, but she terrified many guests over the years. Disturbingly, the Green Lady is said to have the face of a corpse, with gaping holes where her eyes should be. Many people have reported hearing her moaning during the early morning hours. Today guests can take tours of the chateau and two suites are available for visitors to stay overnight.

Price: A four-night stay starts at £1,300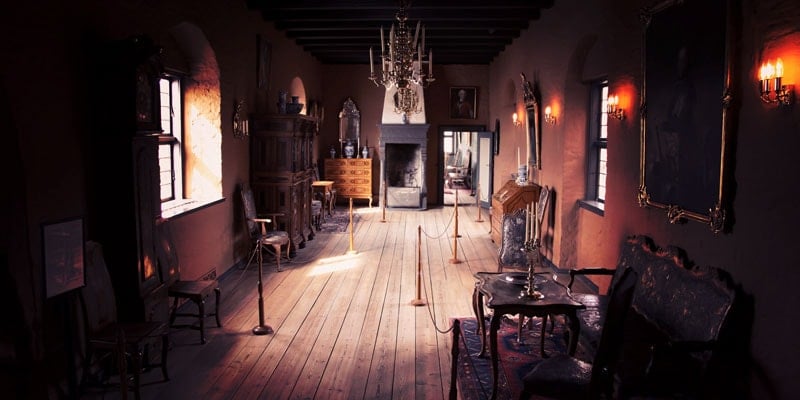 5/10

Oslo's Fortress, Akershus Festning Norway

Akershus Fortress is a medieval castle, built in around 1300 to protect the Norwegian capital. The fortress has also been used as a prison and is known for being home to a number of ghosts. The fortress overlooks the harbour and today is used for important state occasions. It has plush rooms with banqueting halls, staterooms, a chapel used for royal events – and below all this, a dungeon. Legend has it that a dog was buried alive at the entrance, so that the poor creature would become a tortured soul whose ghost would guard the fortress. The dog's name is Malcanisen, meaning the vicious dog, or the evil dog and he terrifies all who see him. There have also been many who report seeing a woman dressed in a full length robe entering a chamber inside the castle. Eerily, she is said not to have face.

Price: Free entry. Guided tours for adults start at £50 for adults and £30 for children. Group tours also available.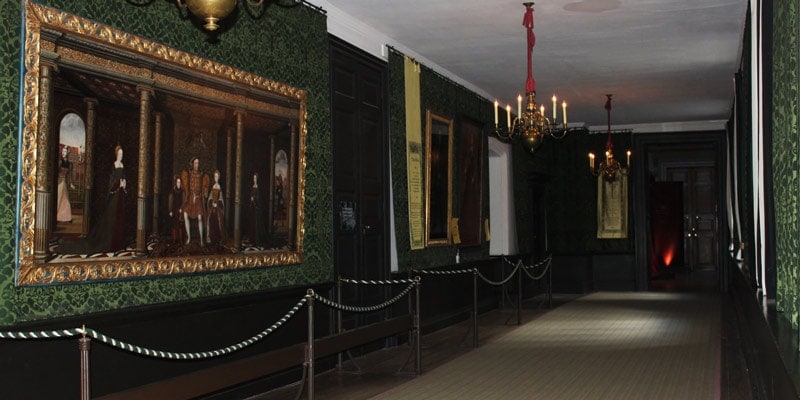 6/10

Hampton Court Palace Richmond, London

With over 500 years of history, Hampton Court Palace has seen plenty of drama, from the death of Henry VIII's third wife Jane Seymour, to the condemnation of his fifth wife, Catherine Howard, for adultery. Over the years visitors, staff and residents have reported very odd phenomena, for which there is no logical explanation. The Wolsey Closet is often described by staff and visitors as having a very strange atmosphere. A caterer even refused to enter the alcove because he sensed there was evil lurking within. A ghost-dog has also be spotted and heard in the Wolsey Closet on more than one occasion.

Catherine Howard's ghost is said to frequently be seen at Hampton Court's Haunted Gallery, which is where she was dragged, screaming, back to her room after being accused of adultery and being placed under house arrest. Her ghost is known as the screaming lady. In 1829 the impressive tomb of Dame Sybil Penn, servant to four Tudor monarchs, was moved. Since that time there have been sightings of Sybil's ghost, known as the Grey Lady of Hampton Court Palace. More recently, a ghostly figure, nicknamed Skeletor, was caught on CCTV at the Palace in 2003. Take a look at the still from the CCTV tape and judge for yourself.

Price: Adults (from age 15 )£21; children £10.50; family ticket (two adults and up to three children) £51.70
If you're looking for an altogether less terrifying day out, don't miss the UK's best family attractions – without a ghost in sight, we promise!