1. AUGILL CASTLE, CUMBRIA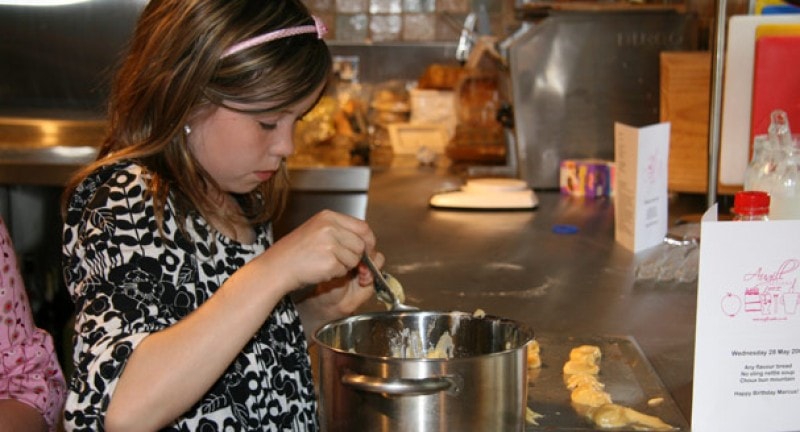 As if staying in a castle wasn't thrilling enough, Augill's owners Simon and Wendy open up the professional kitchen to little people on selected dates during the school holidays. Kicking off at noon, Wendy's hands-on classes aim to teach youngsters about 'real food' and good ingredients. So your junior chefs will make something to eat for lunch, like Thai-spiced meatballs with tagliatelle; something to try, like chocolate éclairs with crème patisssière; and something to take home, like pink velvet cupcakes.
Mum Wendy, who also teaches cookery at a local primary school, loves to instruct kids about provenance and the science behind the ingredients explaining, for example, the difference between pasta flour and ordinary. Classes are open to non-residents, but those lucky enough to be staying at this 15-bedroom castle between the Lake District and Yorkshire Dales, can enjoy all of the luxury of country house living, with none of the formality that parents dread.
Price: Four-hour kids-only classes for ages 7-14 cost £65 including lunch; Six-hour family courses for one adult and one child from £150. Overnight stay from £170 for a double; £200 for a family room; two-bedroom suites from £240
More info: stayinacastle.com
Address:
Augill Castle
South Stainmore
Kirkby Stephen
Cumbria CA17 4DE
2. BERTINET KITCHEN, BATH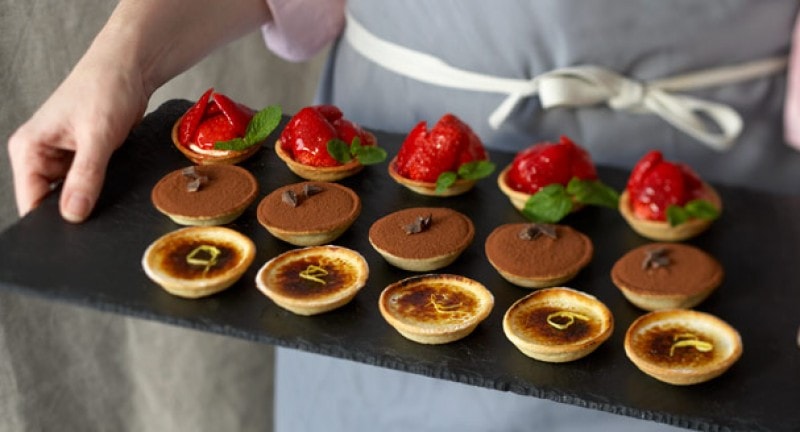 The kids' classes at the renowned Bertinet Kitchen Cookery School in the centre of Bath are shorter versions of the adult ones. Course leader and mum Jenny Chandler believes it's important to get youngsters interested in cooking from an early age. 'Our approach to cooking with kids is simple: once they are old enough to learn to cook they should be learning real skills'. That means you won't find children here just putting sprinkles on cupcakes. Instead, they might spend the two-hour sessions getting to grips with bread or pasta making, or the subtleties of Indian spicing.
If you haven't managed to encourage your child's love of cooking from an early age, don't despair; Chandler also runs courses for teens. The one-day 'survival cooking' workshop will give your school-leaver the skills to fend for themselves away from the comforts of home and a well-stocked fridge.
Price: Two-hour kids-only classes for ages 8-15 cost £35; Three-hour family classes for children aged 7-17 cost £190 for one adult and one child or young person. Survival Cooking five-hour session including lunch £75
More info: thebertinetkitchen.com
Address:
12 St Andrew's Terrace,
Bath, BA1 2QR,
United Kingdom
3. BETTY'S COOKERY SCHOOL, YORKSHIRE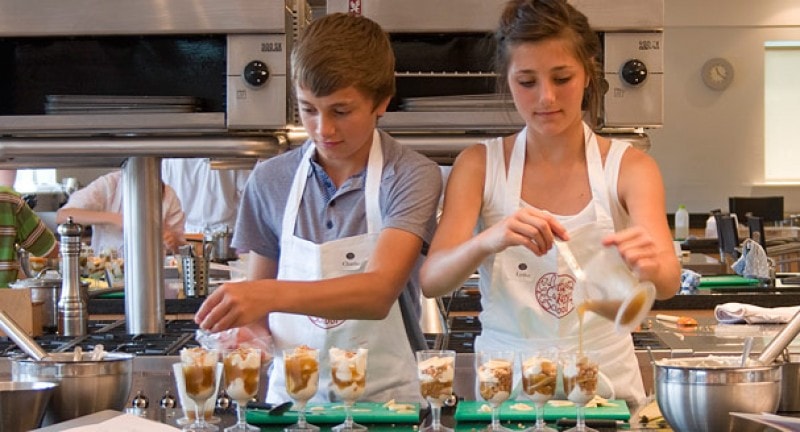 Of course, the name Betty's is synonymous with all manner of baked goodies and fancy treats, so it's no surprise that this cookery school on the outskirts of Harrogate specialises in sharing the secrets of perfect pastry and cracking cakes. The team of master bakers and pâtissiers will teach children as young as eight to make their very own flaky pastry to use in Yorkshire pasties, while teens might spend an afternoon learning the dark arts of the Swiss roll.
For 15 to 18 year-olds, the 'Cooking Skills for Life Weekend' packs in all the essentials across two days, from fish and meat preparation to baking and knife work, so your young chefs need never go hungry, or cut themselves, again. Even better, while the kids are in training for Junior Masterchef, you can head off to Harrogate for a spot of indulgence at Betty's Café Tea Room.
Price: Two and a half hour classes for ages 8-16 cost £65; Cooking Skills for Life Weekend (Saturday and Sunday 9am-4pm) for ages 15-18 is £250
More info: bettyscookeryschool.co.uk
Address:
Bettys & Taylors of Harrogate Limited,
1 Parliament Street, Harrogate,
North Yorkshire, HG1 2QU
4. LUCKNAM PARK, WILTSHIRE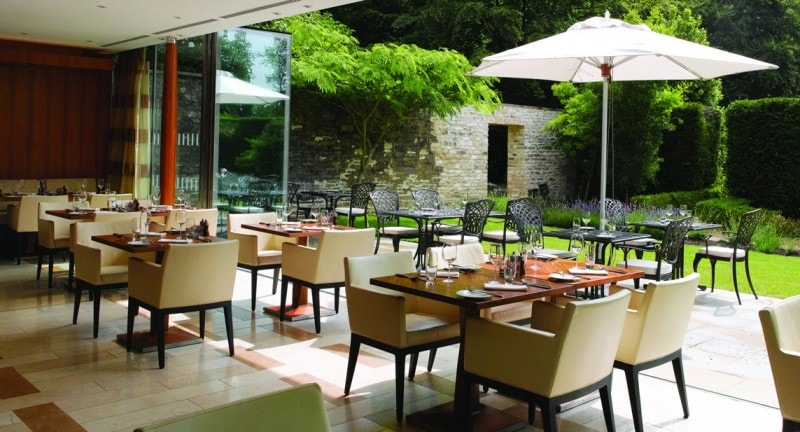 Of course, you could spend a morning bonding with your little treasures over the joys of pasta making, or minestrone preparation, at the adult and child cookery courses at this luxury hotel near Bath. But then frazzled mums and dads might prefer to sneak off to the world-class spa or the new Wellbeing House for some much-needed R&R while the nippers learn to knock up a pie, or bake cookies, at the kids-only afternoon classes.
For the best of both worlds, residents can spend a morning en famille exploring the estate's bike and walking trails, or learning to ride at the equestrian centre, before the kids head off to the cookery school and the expert guidance of chef Hrishikesh Desai. The dad and former Roux scholar believes cooking should be fun and rewarding, so there'll be no stern words for those caught with their fingers in the cookie dough.
Price: Three-hour kids-only classes for ages 10-14 cost £75 including a recipe book and goody bag; classes for children aged 8-10 accompanied by an adult cost £75 per person. Deluxe room from £570 per night based on two adults and one child, aged 12 or under, sharing on a b&b basis inclusive of VAT and use of the spa facilities. Price valid for stays Sunday – Thursday, subject to availability when quoting 'Family Traveller' at the time of booking.
More info: lucknampark.co.uk
Address:
Lucknam Park Hotel & Spa,
Bath, Colerne, Chippenham,
Wiltshire, SN14 8AZ
5. THE IDLE ROCKS, ST. MAWES, CORNWALL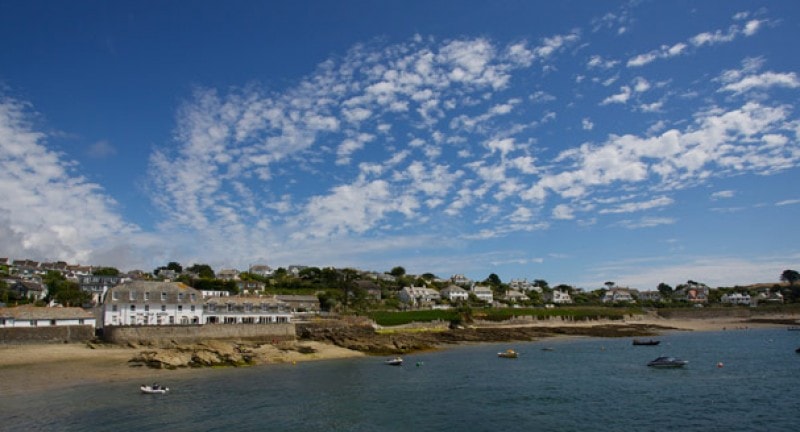 Here's a chance to go behind the scenes at one of Cornwall's most characterful small hotels and experience the heat, noise and raw passion of a professional kitchen. But first, you need your ingredients, which is where fisherman James Brown and his trusty boat Madeline Rose come in. He'll take father and son – or grandmother and daughter, even – around the bay for a Hemingway-style bonding experience, riding the waves with just a rod and line (and a hi-tech fish-finder) to chase down mackerel, cod and pollock – and maybe a crab or lobster if you're lucky. James never returns empty-handed.
On the way back, point out the lighthouse where Fraggle Rock was filmed ('It's an 80s classic, honest!') then hand your catch to Mark Apsey, the Idle Rocks' fresh-faced chef. He will show you how to gut, trim and fillet the fish, and talk you through the sauces and vegetable dishes to match (a summery escabeche, perhaps, or mushrooms à la Greque). As well as tips on frying fish and smoking it over wood chips, he's an avid forager and can point you in the direction of the best samphire or seaweed. After plating up, carry your dinner proudly to the table, preferably on a warm day on the terrace outside, with a glass of chilled Picpoul to hand and a breathtaking view of the harbour.
Price: Father and Son fishing day £95; rooms from £180
More info: Idlerocks.com
Address:
Harbourside,
St Mawes,
Cornwall TR2 5AN
6. BALLYMALOE COOKERY SCHOOL, CO CORK, IRELAND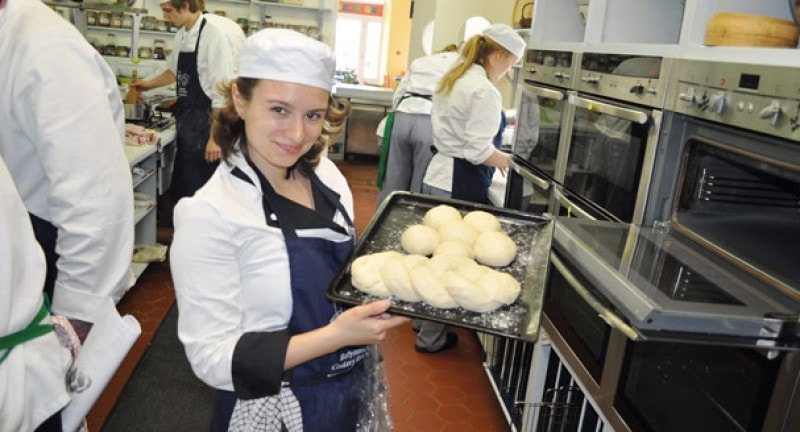 Children get a chance to explore the 100-acre organic farm, collect eggs from hens fed on kitchen scraps, or pull up carrots from the veg patch. By engaging youngsters in preparing dishes from field to fork, the school aims to build a life-long love of food.
Price: Kid's class £76, including lunch. An overnight stay in one of the school's cottages costs from £24 per person.
More info: cookingisfun.ie
Address:
Ballymaloe Cookery School
Shanagarry
Co. Cork
Ireland
7. THYME AT SOUTHROP MANOR, GLOUCESTERSHIRE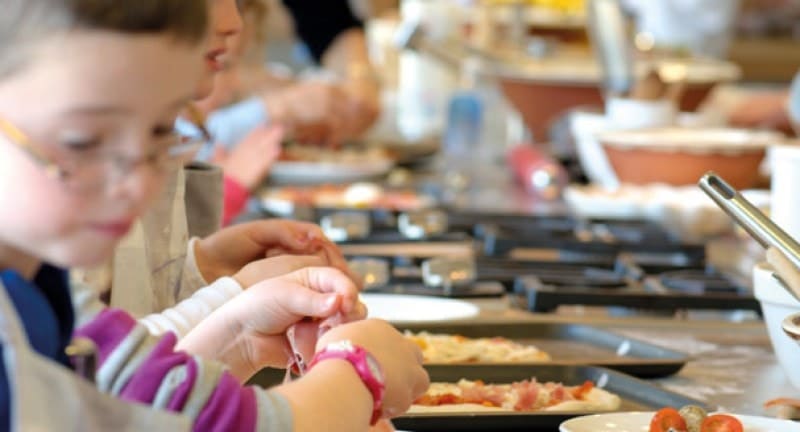 Spend a Sunday morning with your youngster preparing a seasonal main course and pud at this beautiful Cotswold estate. Then invite the rest of the family to join you for lunch.
Price: Classes cost £225 per parent and child; a two-hour class for children aged eight to 14 costs £55. Extra lunch places £35 per adult and £15 per child. Cottages from £255 per night.
More info: thymeatsouthrop.co.uk
Address:
Southrop Manor,
Southrop,
Gloucestershire GL7 3NX
8. P&O COOKERY CLUB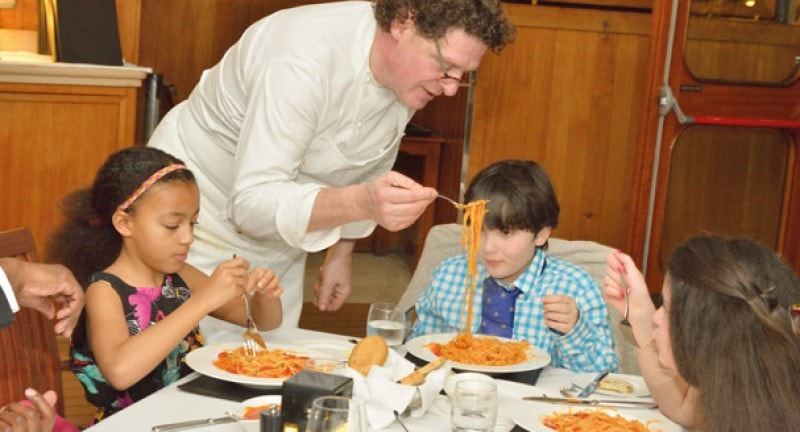 P&O Cruises has teamed up with several big-name chefs to teach families how to cook. Marco Pierre White does children's cookery masterclasses onboard Ventura. When James Martin and Eric Lanlard travel on Britannia they are also on hand with cookery classes.
Price: A seven-night Fly-Med cruise on Ventura with Marco Pierre White costs from £1,279 per person, including return flights, transfers and all meals.
More info: pocruises.co.uk
9. VILLA PIA, PERUGIA, ITALY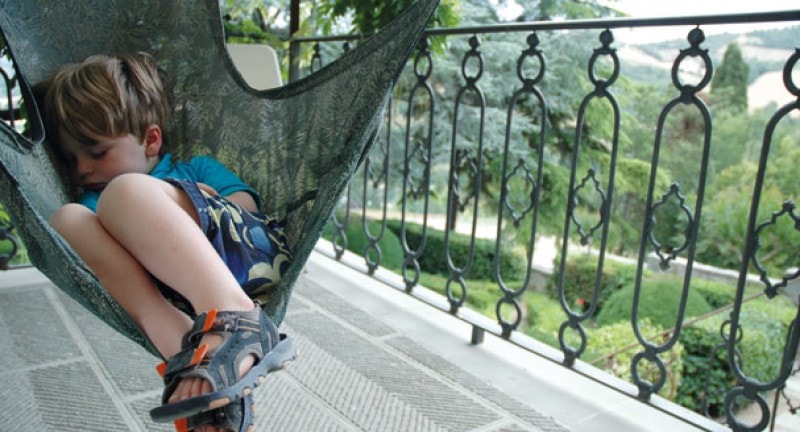 Tots as young as two can get their hands sticky with pizza dough at Villa Pia, a hill-top family-friendly home from home in Umbria.
Price: A week at Villa Pia costs from £535 per adult and £220 per child. Cookery classes cost £12. Flights from London to Florence with Vueling (vueling.com) cost from £106.65 return.
More info: villapia.com
Address:
Villa Pia
Lippiano
06010 MSM Tiberina (PG)
Umbria
Italy
10. BELMOND LE MANOIR AUX QUAT'SAISONS, OXFORD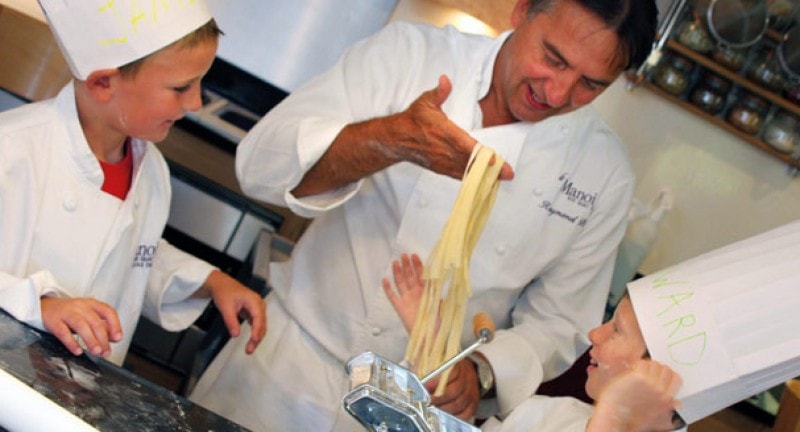 Well known French chef Raymond Blanc is offering a variety of inspiring cookery courses for all little chefs at Belmond Le Manoir aux Quat'Saisons in Oxford. When taking part in one of the classes, your children will learn how to prepare a delicious meal and receive some advice and guidance from the master chef himself.
Additionally, students are invited to explore the Belmond Le Manoir two-acre kitchen garden, to find out where the vegetables they eat originally came from. They will learn about organic foods, sustainable farming and which ingredients are most healthy.
There is also an Adult and Child Course available, for parents who are eager to improve their own cooking skills as well. The Raymond Blanc Cookery School is the only course worldwide, which is taking its students into the kitchens of a two Michelin starred restaurant.
Price: Ideal for children between 7 and 16 years. A day in the cookery school starts at 8.45am and includes all tuition, morning and afternoon tea, lunch and a course certificate. Prices are £285 per child or £555 (weekdays)/£580 (weekends) per adult and child.
More info: belmond.com/lemanoir or call 01844 27 8881.
Address:
Belmond Le Manoir aux Quat'Saisons
Church Road,
Great Milton,
Oxford, OX44 7PD, UK