Give kids a fresh taste of fun in Ottawa in 2020
There are a million and one things to love about Ottawa. It's definitely not your average capital city – too fresh, lively and fun for that. And with over 800km of cycle paths, the mighty Rideau Canal and the Ottawa River running through the its heart, it's certainly not overly urban. You can switch art galleries for the wilds in a matter of minutes. Or play on a beach, visit a farm, go white-rafting, take in a museum and then hang out Downtown, in a single, unhurried weekend.
When locals describe Ottawa as Canada in One City they're not exaggerating. You only have to take a wander round the museums, take a walk through the different neighbourhoods or browse about ByWard Market to pick up on the mix of cultures, traditions and even tastes. In fact, Ottawa's food describes the city's personality perfectly: eclectic, innovative, more than a hint of heritage and always interesting. Barack Obama fell in love with the maple cookies here, the city's syrup is a global phenomenon, it's the birthplace of Beavertails Pastries and kids will never eat mere cheesy chips again after trying Ottawa's poutine.
For a comprehensive Ottawa food tour, you'll have to go visit, which is easier than you might imagine as direct UK flights take less than eight hours year round. Until then take a mini tour of the city's top tastes handpicked by Ottawa Tourism with kids in mind.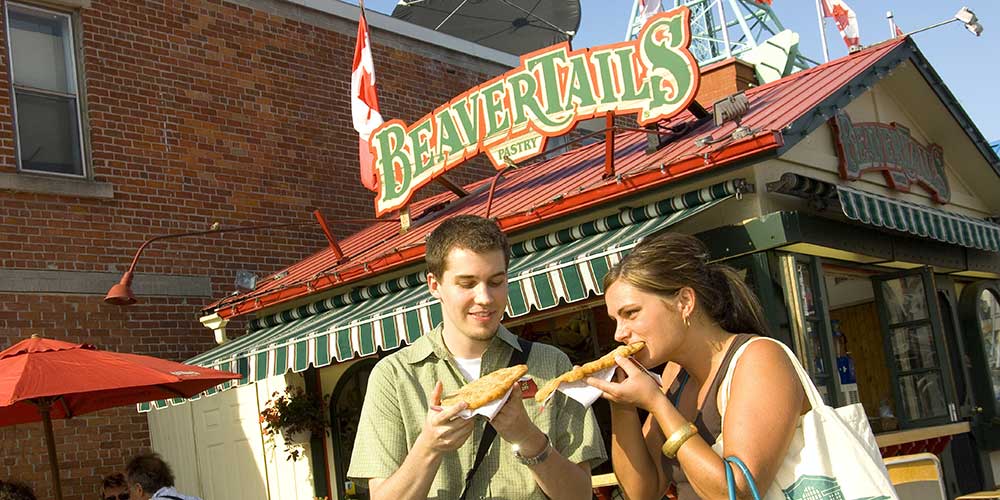 1/6

Beavertails Pastry
Beavertails Pastries are to Canada what croissants are to France or waffles are to Belgium, and they're another great taste tradition born in Ottawa. The first Beavertails were rustled up at the city's legendary ByWard Market back in 1978 but today you can find them all over the country. On home territory, any excuse to tuck into Beavertails is a good one, they're the snack of choice for skaters on the legendary Rideau Canal in winter and even former POTUS, Barack Obama, couldn't resist the local delicacy when he visited Ottawa. Apart from being sweet, sugary, doughy, deep-fried and delicious, Beavertails Pastries are actually shaped like the tail of a beaver which only makes them the perfect surface for just about any toppings you care to dream up; from whipped cream and maple syrup to chocolate spread and pretzels, simple sugar and lemon or poutine – the meeting point of two great culinary traditions. Whether you go sweet or savoury, loaded or simple, summer or winter, you basically cannot visit Ottawa without trying a Beavertails Pastry. And if you want total authenticity, head to the original BeaverTails stand, standing where it's always stood at ByWard Market in Ottawa.