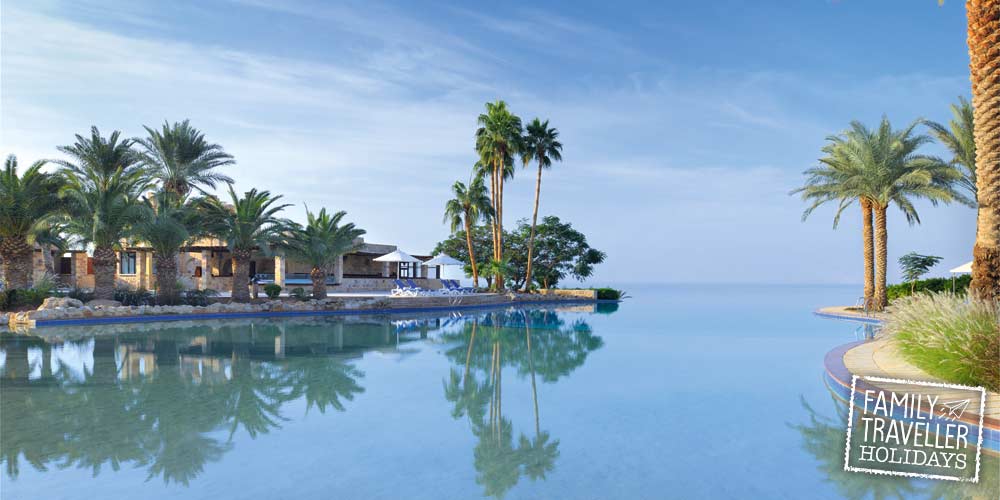 1/7

Mövenpick Dead Sea Resort

★★★★

★

Enviably situated along the coastline of the world-famous Dead Sea in Jordan lie the distinctive creamy stone buildings of Mövenpick Dead Sea Resort, a family-friendly five-star resort boasting more than 300 large suites with sitting areas and balconies that look out over valley or sea views. Guests who upgrade can enjoy the addition of pool or hot tub access, as well as separate living areas. The hotel provides special touches for kids, including strollers, toddler pillows, kids' TV channels, child-proof plugs, toilet rings, baby baths, storybooks and night-lights. Nine restaurants and five bars offer guests a wide variety of dining options, while healthy children's menus, high chairs and colouring mats make eating out a stress-free experience. The award-winning spa is sublime, offering a number of relaxing treatments, plus an infinity pool, Hammam, aromatic showers and flotation pool. A dip in the Dead Sea is a must too. There is a dedicated kids' swimming pool, babysitting services and mini club. Families will also appreciate the small private beach and tennis courts.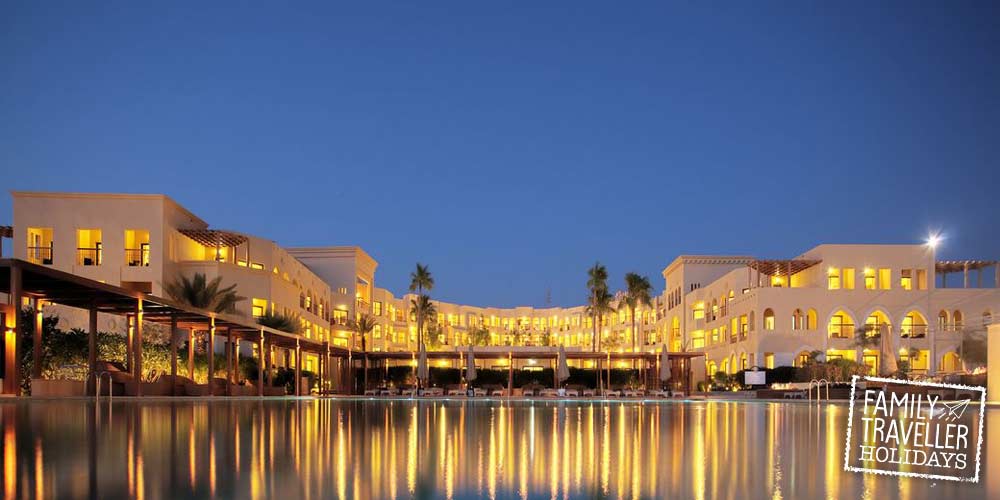 2/7

Grand Tala Bay Resort, Aqaba

★★★★

★

Occupying a seafront spot in the buzzy town of Aqaba by the Red Sea in Jordan, five-star Grand Tala Bay Resort Aqaba offers 336 classically decorated rooms with large windows and private balconies. Upgraded rooms, meanwhile, come with separate living rooms and luxury amenities. For days out, the ancient rose city of Petra is just a one-hour drive away, while the resort boasts its very own private stretch of beach, plus five swimming pools and an outdoor fitness terrace. Water sports enthusiasts are spoiled for choice, while guests will have the chance to get up close and personal to the world-class marine life in the area with both snorkelling and diving on offer. Other options include parasailing, banana boating and canoeing. Kids also have access to a playground.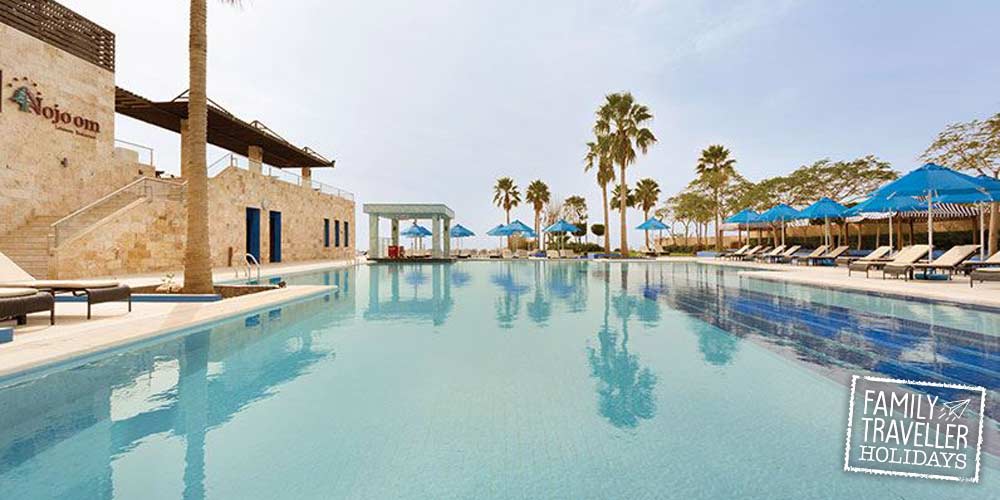 3/7

Ramada Resort Dead Sea

★★★★

Four-star hotel Ramada Resort Dead Sea is a stylish family resort overlooking the Dead Sea in Jordan. Balconies with sea views can be arranged on request, while upgrading will provide extra living space and wet bars. Rollaway beds are available for children. A restaurant, poolside bar and barbeque area provide excellent options for dining, while the full-service spa, lobby lounge, fitness centre, outdoor pool and private beach are perfect spots for relaxation. Children get their own playground and pool, while the hotel also has a games room full of table and video games. Kids stay for free.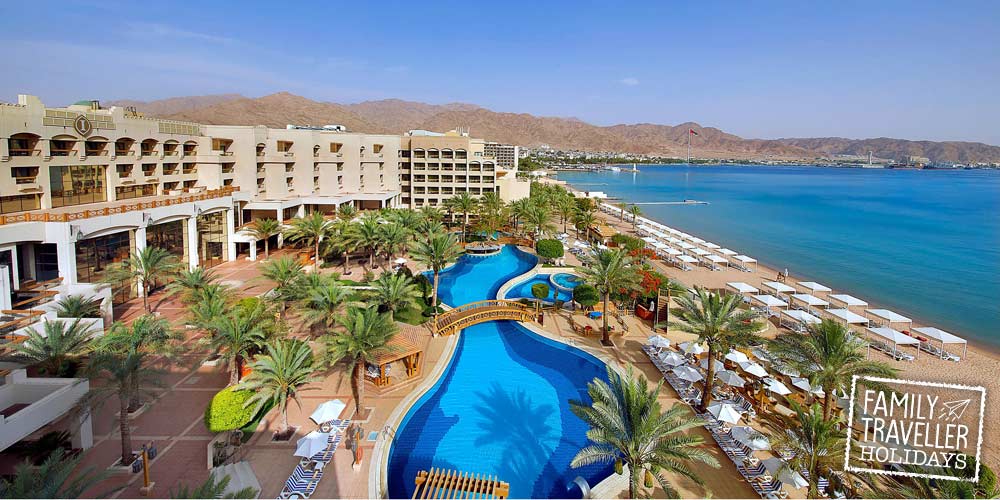 4/7

Intercontinental Aqaba

★★★

★

★

Five-star Intercontinental Aqaba overlooks the Gulf of Aqaba and the Red Sea brimming with fascinating marine life. It boasts a private white sand beach, large lagoon-style pool and a playground which will keep younger guests entertained for hours. An interesting variety of dining and drinking options include an open-air bar and a high-end restaurant. Intercontinental Aqaba also has a hotel-run mini club and a team made up of enthusiastic staff members offering supervised fun for kids, while babysitting can also be organised on request. Rooms come with either sea or pool views, while guests can upgrade for access to a private lounge with complimentary food and drink or to a suite with sauna, steam room and separate living space. There are plenty of activities in the surrounding area, such as Red Sea snorkelling and diving and day trips to the old city of Petra organised by the hotel.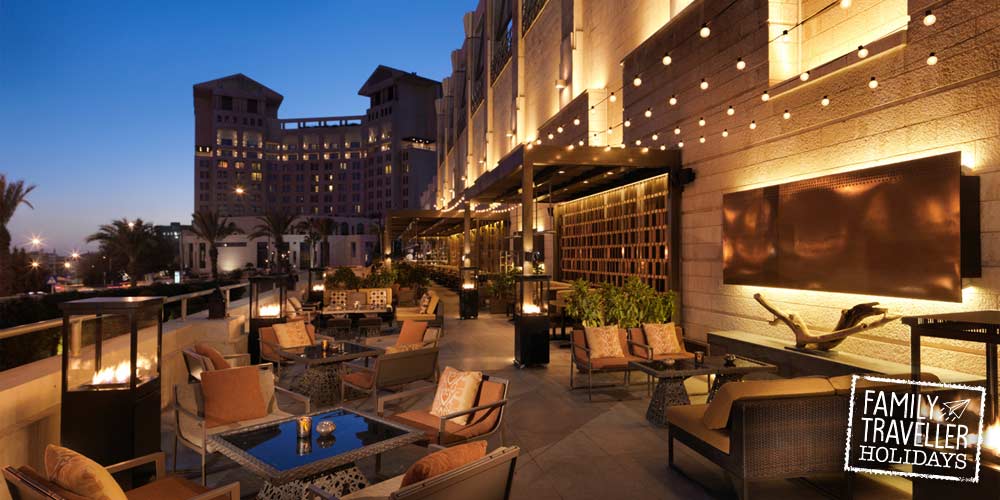 5/7

Four Seasons Amman

★★★★

★

Four Seasons Amman is an upscale city hotel that provides an oasis for guests looking to escape the hustle and bustle of Jordan's capital city. Perched upon the city's highest hill in a leafy, quiet district, it commands panoramic views of the urban district below. Stylishly decorated rooms consisting of large windows and marble bathrooms feature a range of gadgets, including iPod docks and DVD players. Family suites come with lounges, kitchens and dining rooms, providing plenty of space to sprawl out and enjoy a comfortable stay. This five-star hotel has a high-tech gym and two pools – one on the rooftop – in addition to a small spa with Dead Sea mud therapies, a shopping arcade, three bars, a courtyard garden and a refined restaurant. The award-winning Four Seasons Amman caters well to kids, offering a greeting gift, miniature bathrobes and complimentary children's toiletries. Babysitting can be arranged upon request.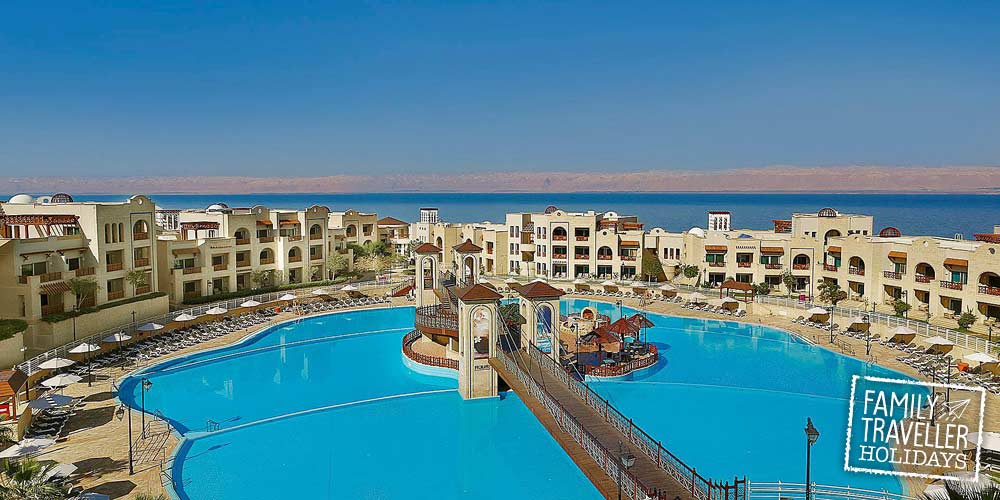 6/7

Crowne Plaza Jordan – Dead Sea Resort & Spa

★★★

★

★

With access to its very own private stretch of beach on the Dead Sea, five-star Crowne Plaza Jordan – Dead Sea Resort & Spa is a family-friendly hotel, offering modern rooms with balconies overlooking either the gardens or the world-renowned Dead Sea where guests can enjoy floating in its salty waters. Amenities at the hotel cater well to both adults and children, with a soothing spa offering traditional Hammam, thermal circuit and Dead Sea mud therapies, in addition to a playground, multi-sports court, indoor pool with water slide and supervised kids' club for four to 12-year-olds. When it comes to dining options, guests are well catered for, with a choice of à la carte and buffet restaurants. In the local vicinity is the Mount Nebo, where families can enjoy panoramic views of the area, while the hot springs of Hammamat Maeen are just 20 minutes by car.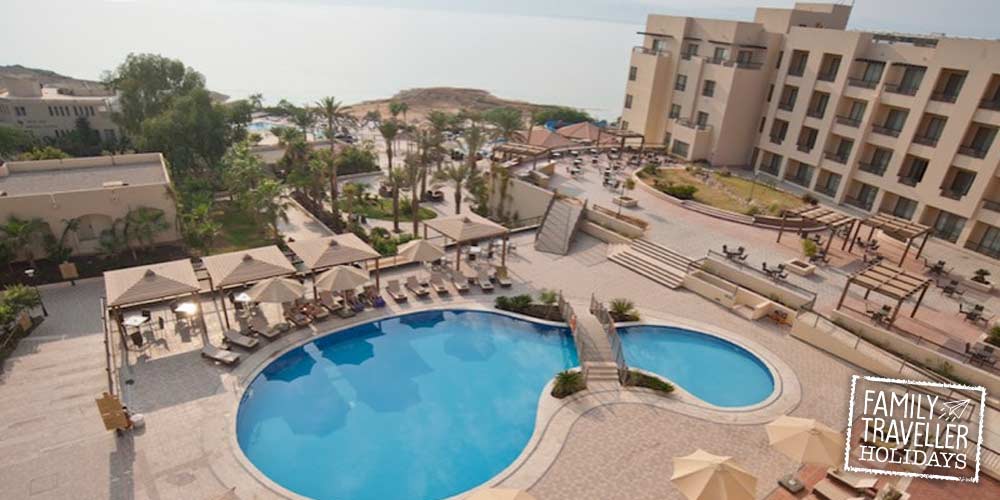 7/7

Dead Sea Spa

★★★

★

Located 420 metres below sea level, four-star Dead Sea Spa is a luxurious hotel that wonderfully caters to families from far and wide. Boasting 265 rooms with a choice of either sea, pool or mountain views, the resort offers fantastic amenities, including three restaurants and two bars, five swimming pools, a fitness centre, spa and access to the largest beach on the Dead Sea, where families can take advantage of beach volleyball courts and a range of high-octane water sports. For a relaxing pastime, guests can take advantage of the unique properties of the Dead Sea that causes people to effortlessly float as they enter the water. Kids are welcomed at Dead Sea Spa, with own play area and splash park complete with 55m water slide, mushroom waterfall and three splash pools.