The return of Disney's Aladdin to the big-screen has renewed interest in travel to Jordan, and with direct flights now to Aqaba as well as to the capital Amman, it is even easier to get there. Travel writer Kate Lewis takes her young family along to explore.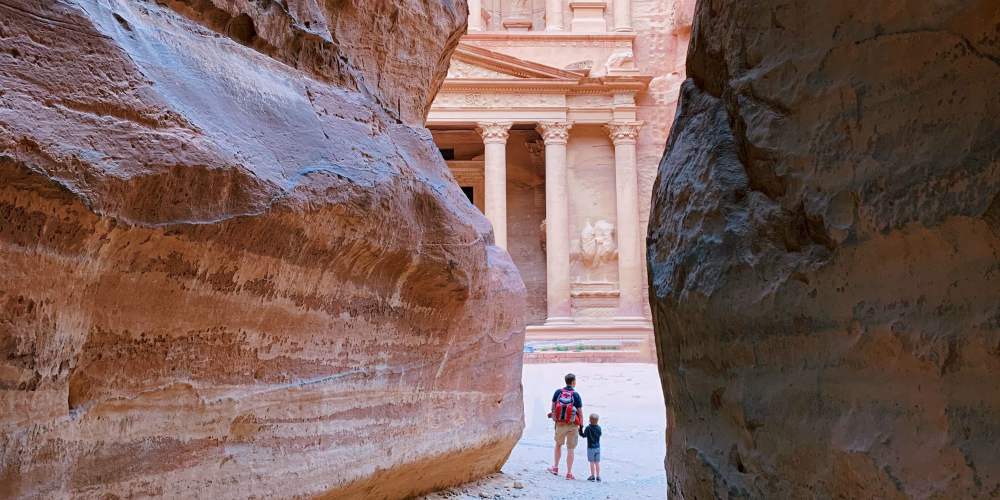 My young children have walked 13 miles over tricky, mountainous terrain. If that's not a parenting brag, I don't know what is. The ancient city of Petra in Jordan is that good, even children as young as three are prepared to hike all day exploring it, with not a whisper of a whinge. 
Petra may be the jewel in Jordan's crown, but there is plenty more to excite young visitors. World-class diving in the Red Sea, the filmic landscapes of Wadi Rum and the rejuvenating properties of the Dead Sea make this country a smart choice for families wanting something different. 
Our trip begins on a winding road carved into jagged cliffs zigzagging us down to the high-end Kempinski Hotel Ishtar Dead Sea. I've never known my children to be so enthusiastic about their childcare, but they're content in a world of bouncy castles, play pit and computer games, which is good news for me, as the spa here is sublime. It's the largest in the Middle East, with pools, Jacuzzis, powerful jet sprays, steam rooms and saunas. I go for a traditional hammam, where I'm scrubbed and pummelled, and emerge feeling reborn.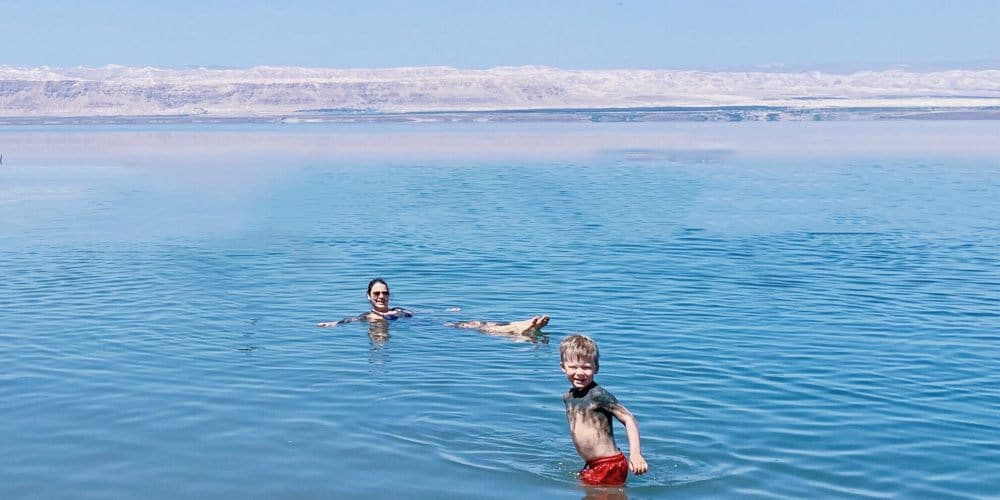 At 400m below sea level, the Dead Sea is the lowest point on Earth and a spectacle to look at, with an almost reflective surface of blues, silvers and whites. The boys delight in smothering themselves with gloopy mineral-filled mud and wandering around like mini brown monsters before bobbing about in the lifeless salt water. 
Blissed out after our restorative experience at the Dead Sea, we head far from the tourist trail to the Dana Biosphere Reserve, a rugged labyrinth of jagged sandstone mountains and deep valleys perched along the edge of the Great Rift Valley. 
Multi-award-winning Feynan Ecolodge sits in the middle of the reserve. It's completely off-grid, powered by solar energy, with locally made candles and the blanket of stars providing light at night. It's a stunning building too, its design carefully blending into the scenery. The boys enjoy the novelty of eating vegetarian stew, hummus and paper-thin shrak bread by candlelight before venturing up to the rooftop terrace to see the never-ending starlit sky.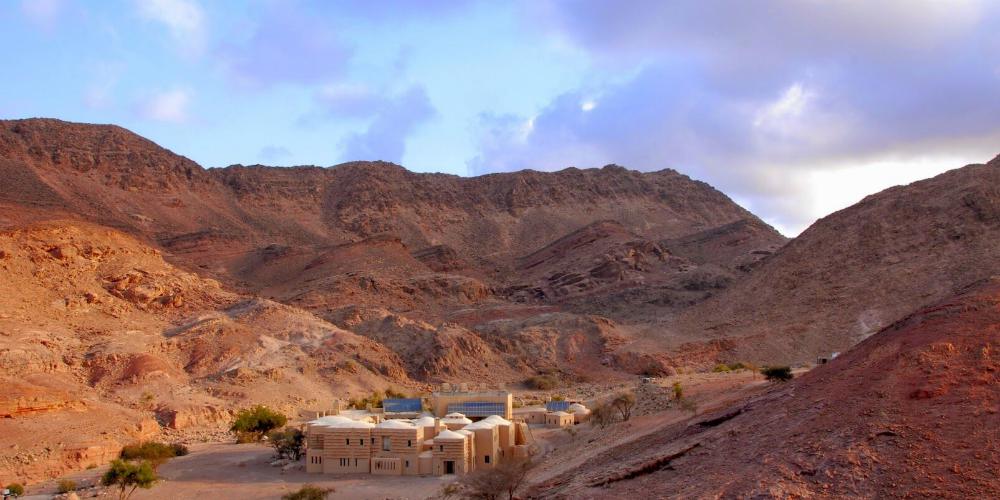 Dana is a spectacular place to go hiking. We spend three hours wandering just 1.5 miles along Wadi Dana, an easy section of the country-long Jordan Trail, the rocky valley bed now dry and desert-like. Bursts of bubblegum-pink oleander and spiky acacia bushes brighten the landscape and my ears ring with the silence. 
The kids are not interested in the grandeur and ancient history of our surroundings, but by the millions of stones ripe for pocketing, and of the bugs and butterflies closer to their eye level. Fine by us – we are content to slow down and take it all in at a snail's pace. An elderly Bedouin woman and two children, similar ages to mine, come to investigate. We swap some flatbread for two oranges and share a smile between us. 
After our leisurely meander through Dana, we prepare ourselves to not see much of Petra with our kids, the vast rock-carved city squirrelled away in the Sharah Mountains. The main 13-mile there-and-back trail winds through the narrow cobbled walkways of the Siq (main entrance) before dramatically revealing the Treasury. Then, the city opens out onto wide, sun scorched, dusty plains filled with tombs and amphitheatres, and a Roman-colonnaded street, before rising steeply up 950 steps into the mountains towards Petra's masterpiece, the Monastery.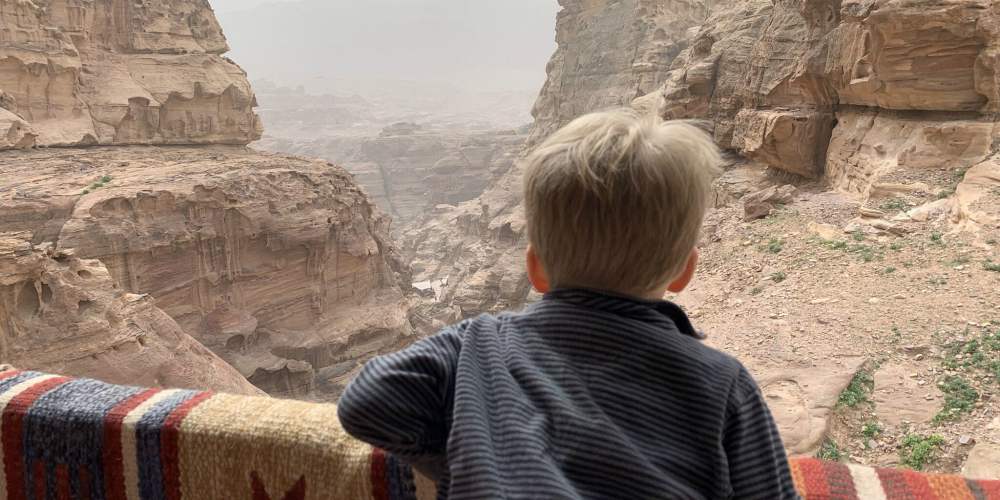 We arrive for 6am, when it opens, and have this ancient Nabataean city virtually to ourselves – the one benefit of having early-rising children. Heading down the steep-sided canyon walk to see the Treasury in the early sunlit hours is as magical as it sounds, but it is the hike into the mountains and to the imposing Monastery which captures my children's hearts. They are in their element scrambling over rocks and stopping to play in patches of sand, before turning to admire the biblical views behind them. On our return, some American tourists give our two mini-explorers a high five each, all of us amazed that we have hiked so far and that we are already making our descent. 
One jaw-dropping vista is replaced by another at Wadi Rum, the filming location for two Star Wars movies and the latest Aladdin feature. Framed by grand sandstone cliffs, the stark, lunar landscapes get lots of wows and oohs from my boys, but more so because they are thrilled to be bouncing about in the back of an open Jeep. After a night under canvas and a star-packed sky, we are whisked away to explore Wadi Rum's main sights, including fire-red dunes and natural wind-carved bridges and canyons. 
We lap up some final luxury at the Mövenpick Tala Bay Aqaba on the Red Sea. With over 2,000 species of fish and clear, warm water, the Red Sea is one of the best places in the world to go diving, but as our children are little and we're mightily worn out, we decide to see the startling colours of the underwater world from a glass-bottom boat. 
Now, when the half-mile walk to school moan is voiced, I like to remind my sons of that time that they climbed that epic mountain in Jordan. Move over Indiana Jones, there are some new kids in town. 
THE LOWDOWN
Getting there
Direct five-hour flights with Easyjet to Amman from £450 return. Easyjet now also flies direct to Aqaba from £450 return.
Where to stay
Family-friendly hotels include the following (costs are per room, based on family rooms for two adults and two children):
Feynan Ecolodge, Dana from £200 (all-inclusive)
Kempinski Hotel Ishtar Dead Sea from £275

Ma'in Hot Springs Resort & Spa from £200

Mövenpick Tala Bay Aqaba from £250

Petra Fig Tree B&B Inn from £10

Wadi Rum Bedouin Camp from £125 (all-inclusive with tour)

Getting around
Care hire costs from £250 per week with Avis.
When to go
Spring is the best time of year to visit. Temperatures hit a pleasant 24°C, flowers are in full bloom and there's no fear of flash floods. 
Tips for families
Families with older children may want to start a trip in the capital Amman (half an hour north of the airport), before heading south for many of the sights and ancient ruins, like the Dead Sea and Petra, and a free history lesson to boot. 
For more information, head over to visitjordan.com.