So, where's sunny and hot in winter? It's simple geography really: the north isn't going to be anywhere near as hot as the south in winter. That said, there are a few places to have a sunny and warm family holiday and avoid the long-haul drama. With temperatures between 14 and 20˚C, less than five hours flying time and direct flights from the UK, here are the best European destinations with a higher than average chance of blue skies and sunshine in December, January and February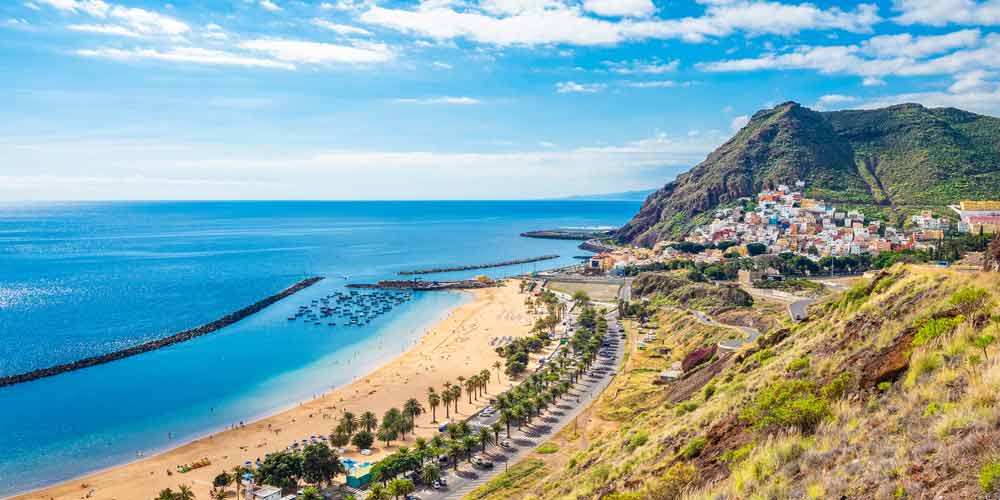 11.

Tenerife, Canary Islands
Located just 300 km from the shores of Africa, Tenerife belongs to Spain's Canary Islands. Southern Tenerife in December has highs of 20˚C, seas warm enough to swim in and almost no crowds anywhere. It's off-season, so there's a chance some of the smaller attractions won't be open. But big tickets like Siam Park are year-round and winter's good for exploring the mountain towns and villages which can seem like a lot of effort with kids in high summer.
Bright and lively Christmas in Santa Cruz comes with colourful local events, cute markets, prettily decorated streets and lots of quaint customs. And winter's the best time to get wild outdoors on this dramatic island. The fierce heat has cooled to manageable and rock climbing, hiking, walking and exploring in Mt. Teide National Park is fantastic fun – even for younger kids. West coast beaches do their best surfing conditions at this time of year too – Los Gigantes is particularly spectacular. It's also the season for driving around on peaceful roads so, even if you opt to stay in the slightly warmer south, Puerto de la Cruz and historic La Orotava are easy days out.
November to January temperatures: 19˚C – 21˚C
Flight time: 4 hours and 30 minutes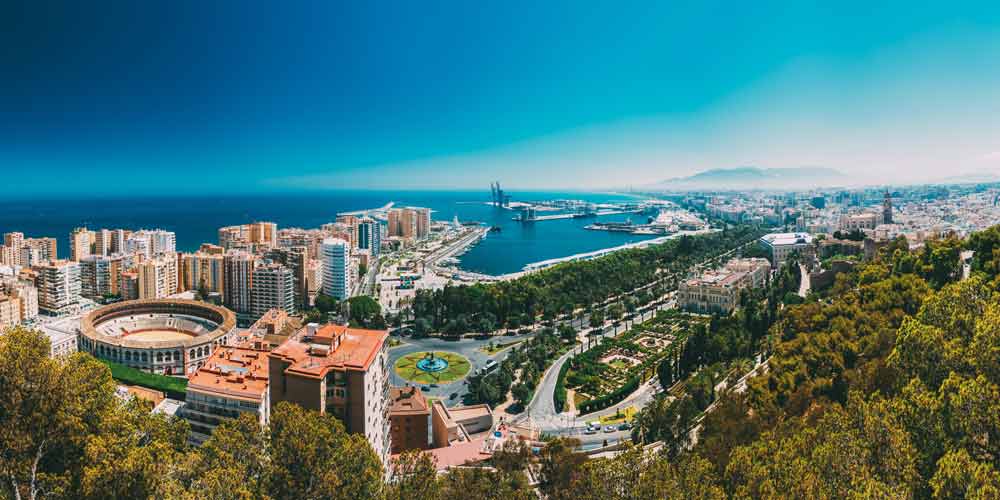 10.

Malaga, Costa del Sol | Spain
Malaga in Spain is an incredible city which just happens to sit on one of the most popular and packed summer coastlines in Europe. Take the kids in winter and you'll be amazed by how historic, charming and lovely it is without the crowds. Picasso was born here and Museo Picasso is fascinating – the ancient building is almost as stunning as the art. But there's also a Pompidou Centre, CAC Malaga, Museo Carmen Thyssen and over 20 other astonishing museums: testimony to the millions Malaga's invested in its cultural heritage over the past decade.
Naturally, the big stretches of white sand are pretty much unchanged all year round, so you can lie in the sun and swim in the sea, you just don't have to share quite as much. And if you long for Andalusian cooking but doubt it's ever authentic on the Costa del Sol, Malaga's more than happy to prove you wrong. It's the coast's culinary capital and even the finest restaurants are delighted to have kids at the table, trying new tastes and enjoying the easy-going atmosphere that's as much of a regional speciality as espeto (grilled sardines like you've never tasted before).
November to January Temperatures: 18˚C – 21˚C
Flight time: 2 hours and 55 minutes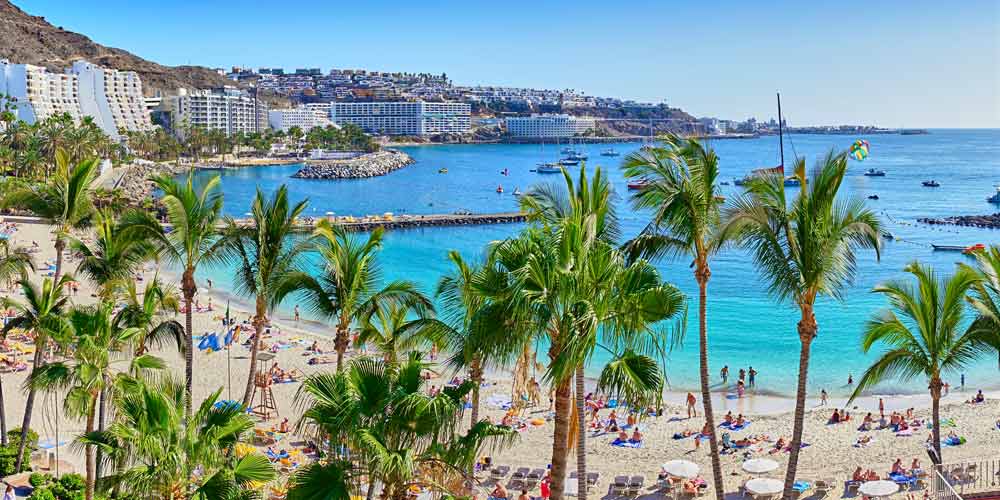 9.

Gran Canaria | Canary Islands
Over 60km of beaches ring the coast of Gran Canaria, but don't dismiss it as the summer Canary – winter temperatures are often higher than Tenerife. It's also home to more than half the population of the entire archipelago and the island capital, Las Palmas, is Spain's ninth-largest city. It's always over-busy and packed with tourists in high season, but come winter Las Palmas is almost reason enough to holiday with kids in Gran Canaria. A lively, working city, it's multi-cultural and full of character so there's no shortage of places to see and things to do – even in January.
The shopping districts are irresistible and the old quarter, Vegueta, is delightfully atmospheric at Christmas. But, back to the beaches. Black or golden in an almost equal measure, they're strewn with vast dunes, as given to big waves as swimmable waters and kid-perfect in winter. For a complete contrast, head inland and it's another island altogether, one that's so mountainous and beautifully austere it's hard to believe Las Palmas exists in the same world but easy to understand why they call Gran Canaria a, 'continent in miniature'.
November to January temperatures: 20˚C – 23˚C
Flight time: 4 hours and 30 minutes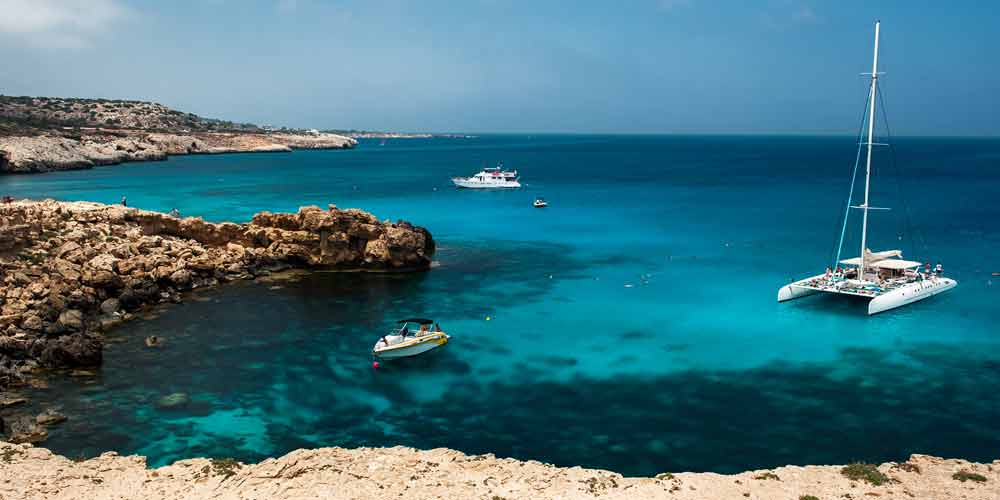 8.

Southern Cyprus
Cyprus is gorgeous in summer but baking hot, so hot it's almost impossible to peel yourself away from the beaches and, beautiful as they are, they're far from all there is to this rich and complex country. Visit in winter and the sun still shines, but it's cool enough to climb ranging peaks, wooded foothills and ramble endless coastal paths and historic trails – kids are always thrilled by how easy it is to reach great heights, disappear behind waterfalls, discover hidden caves and have almost complete freedom to explore.
Then there are all the ancient Phoenician, Roman, Byzantine, Venetian and Islamic sites to see: more astonishing without herds of tourists. The cities are a pleasure too and still good and lively off-season, just a little more local and easier to enjoy – you forget how historic even bustling Larnaka is until you have room to look closely at icons like the Agios Lazarus or the wonderful Pierides Museum. But what kids really love about Cyprus, is how much Cyprus loves kids and includes them in everything from local winter festivals to New Year celebrations.
November to January Temperatures: 16˚C – 20˚C
Flight time: 4 hours and 30 minutes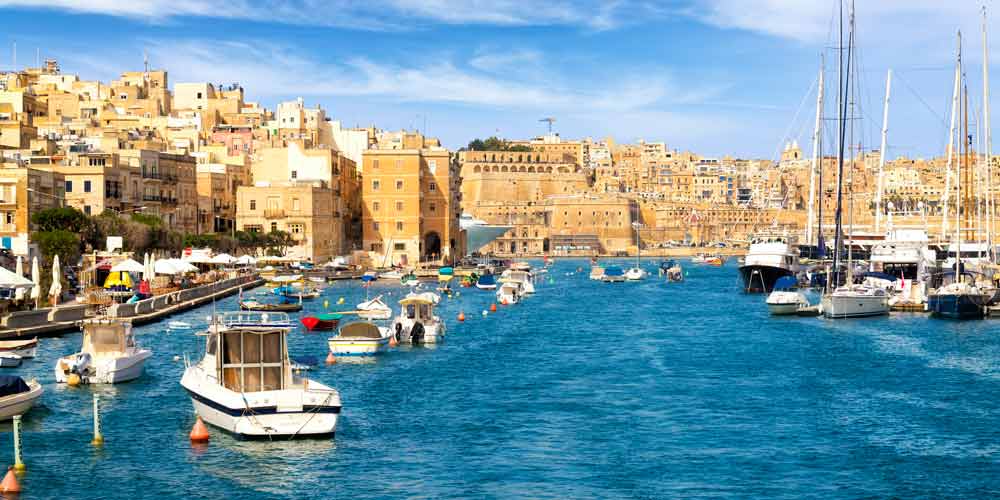 7.

Malta
A fabulous country for adventuring, drenched in history, packed with charm and pleasantly sunny and warm in winter, Malta is a great choice for a family holiday with kids in December or January. The capital, Valletta, is like an enormous heritage playground stuffed with tales of knights, daring exploits, legendary voyages and more than a few bloodthirsty deeds.
The craggy coastline with its caves, grottos, immense cliffs, lagoons and beaches makes most theme-parks seem tame by comparison. And if you want to go sailing, the islands of Gozo and Comino are a ferry crossing from Valletta for a visit, but very tempting to stay on too. Gozo is famous for stunning heritage farmhouses converted into family self-catering villas, often with their own pools, all immaculately restored and available year-round.
November to January Temperatures: 18˚C – 22˚C
Flight time: 3 hours and 20 minutes.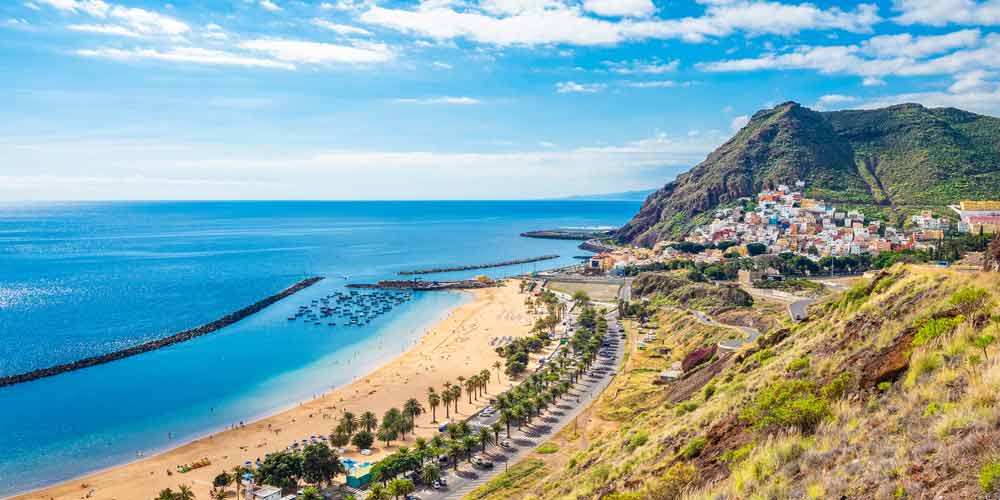 6.

Lanzarote
A firm favourite with families looking to catch some winter sun, Lanzarote is just 78 kilometres off the coast of Africa and benefits from a similar warm climate. The name in the island's native tongue translates to "one that is all ochre", referring to the island's picturesque red rock. Also known as the 'island of the eternal spring, Lanzarote has plenty of natural attractions to keep families entertained, such as Timanfaya National Park with its geysers and rugged volcanic landscape to explore. Cueva de los Verdes offer secret tunnels made from solidified lava through which to take a guided tour, and a huge cactus garden in a former quarry is another example of Lanzarote's natural beauty.
For older children and teens interested in water activities, Lanzarote has some of the most unique attractions in the world, including an underwater art gallery that can be explored in scuba gear. The sculptures at Museo Atlantico stand on the seabed among hand-planted reefs that attract abundant marine wildlife. For those who prefer to stay above water, the clear waters of the coast are ideal for snorkelling. Fun watersports such as jet-skiing, banana boats and parasailing are all on offer for adventurous holidaymakers.
For landlubbers, Lanzarote has fun-filled days out such as the Rancho Texas Adventure Park containing a zoo, cowboy lasso displays and a gold mine, or the Museum of Piracy with sea-worthy exhibits that will fascinate kids and adults alike. Lanzarote has a wide selection of budget family apartments and luxury all-inclusive hotel resorts, and thanks to the cheap flights available it is a great holiday option for families on a variety of budgets.
November to January temperature: 21- 24 degrees
Flight time: Just over four hours.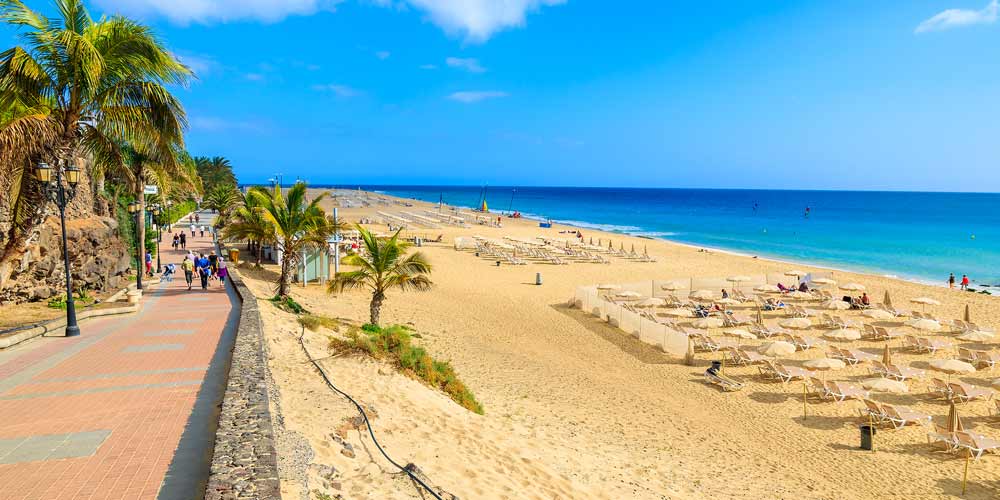 5.

Fuerteventura
With over 150 kilometres of golden beaches, Fuerteventura is a great holiday destination for families looking for sun, sea and sand. The entire island was given the award of UNESCO World Heritage Biosphere Site in 2009 thanks to the volcanic landscape and unspoilt stretches of beach. The Corralejo National Park in the north-east of the island is a popular place for visitors who flock to see the white sand-dunes and desert-like landscape of the protected area, which ends at the turquoise waters of the Atlantic Ocean.
La Concha beach, whose only residents are monk seals, is one of the places in Fuerteventura where the sea is perfectly calm, and ideal for little ones to paddle. Families can even camp on the beach for a back-to-nature experience with kids, saving the long and sandy walk back to your hotel!
If towns and history are more your thing, Betancuria Old Town has much to offer visiting families. The colonial landmark is located in the north-west of the island and was founded in 1404 as a strategic location to defend itself against pirate attacks. Visiting quaint churches and chapels are a great way to incorporate educational travel, and visits to the Museum of Sacred Art and the Museum of Archeology and Ethnography are well worth it when holidaying with older children.
November to January temperature: 18- 21 degrees
Flight time: Just over four hours.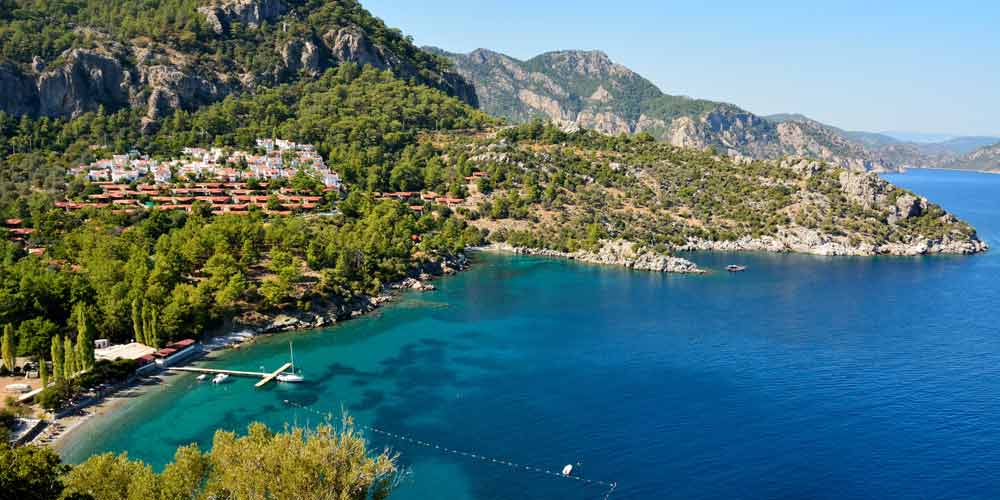 4.

Marmaris | Turkey
Enjoy fantastic value and sunny beaches with a family break to the coastal resort of Marmaris. This popular tourist town has everything from historical monuments to fun-filled boat trips, and plenty in between. Choose villa accommodation up in the quiet hillsides or have everything taken care of with a package at one of the ocean-facing hotels.
Marmaris is a fantastic holiday destination for families who haven't been abroad before, or whose children like the familiar comforts of home such as international restaurants and cafes. Turkish people are extremely friendly and warm towards children, and will go out of their way to accommodate them in restaurants, hotels and on day trips.
If you fancy exploring the local area there are plenty of activities to keep families busy. The nearby beach of Icmeler has plenty of ocean-front restaurants, swimming pools, and beach clubs to enjoy as well as great value shopping. The local markets are full of sweet Turkish tea, 'lucky eye' charms and hand-woven carpets as well as cheap, high-quality leather goods and boxes of Turkish delight for gifts.
The coast of Marmaris is well worth exploring- there are many boat trips that leave from the marina to visit nearby islands and beaches, giving visitors the chance to snorkel and splash about in the clear waters of the Aegean and Mediterranean sea. Kids will love visiting Turtle Beach where they can see the protection process of these beautiful creatures and even watch them come to shore to lay their eggs. The 16th century Marmaris Castle, Marmaris Museum and Atlantis Waterpark are also popular options for families visiting the area.
November to January temperature: 18- 21 degrees
Flight time: Just over four hours.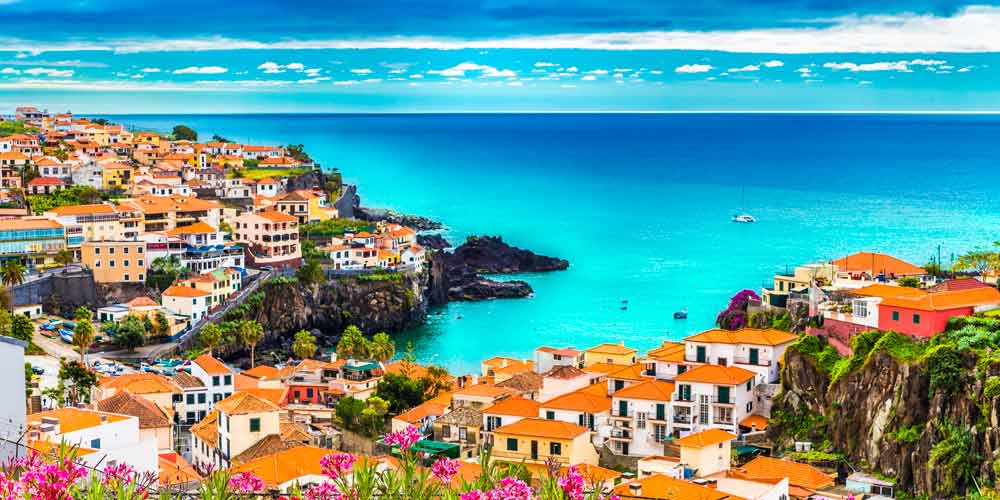 3.

Madeira | Portugal
Commonly thought of as a Portuguese island, Madeira is actually an archipelago of four islands off the coast of Portugal. The main island of Madeira is a winter-sun haven off the north-west coast of Africa and was once described as "the most enviable island on earth, with every European comfort and almost every tropical luxury". Families should spend at least in day in the capital, Funchal, where they can wander through the colourful town market, visit streets entirely decorated by local artists even take a wicker toboggan ride (they originated here in the 19th century as a practical means of downhill transportation).
Madeira is a small island so it is worth hiring a car to make the most of your time here; the north coast, in particular, lends itself to scenic road trips and impromptu picnics. Active families can enjoy hiking along the 'levadas', the irrigation channels that bring water down from the picturesque mountains, and wind through the world's largest laurel forest, the UNESCO World Heritage Laurisilva forest.
Water babies can also experience the natural saltwater pools found in Porto Moniz in the north, enjoy a whale and dolphin watching boat trip and even scuba dive in the shark tank at the Madeira aquarium!
Madeira is also a well-known gastronomic hub, with the area producing a tasty selection of sought-after local goods. Why not try honey cakes, swordfish served with passionfruit or rustic fried corn?
November to January temperature: 16- 19 degrees
Flight time: Three hours and 45 minutes.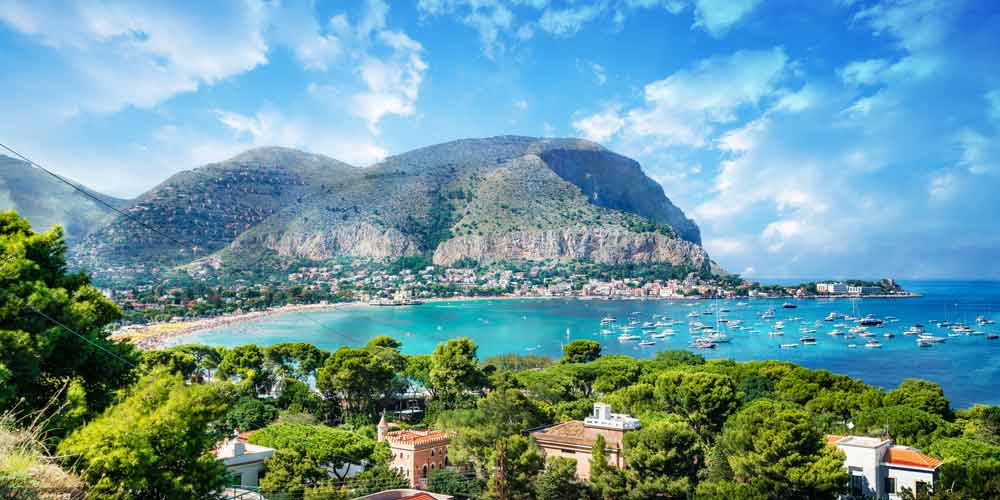 2.

Sicily | Italy
The largest of the Mediterranean islands, Sicily is located just off the toe on the 'boot' of Italy and has plenty to do with children of all ages. Although not as hot as the other European countries, temperatures in November average a pleasant 17 degrees and the south-east is an ideal spot for families. Hiking up Mount Etna, the stratovolcano in Catania is a fun and educational activity; kids will love being able to tell their friends that they dared to climb an active volcano! The adventure park in the forest-based Eco Campus Casaboli, 15 minutes from Palermo, offers children the opportunity to try rope ladder walking, tree climbing and cable slides, as well as other outdoor activities such as archery and mountain biking.
On warmer days families may wish to check out Etna Land, the dinosaur theme park and water park rolled into one- kids can jump on the dinosaur rapids and enjoy cable rides and laser shows. The salt pans of Sicily are also an incredible sight and fantastic photo opportunity, as huge piles of white salt lay between picturesque windmills. Something that families may not know about Sicily is its strong puppet theatre culture. There are five theatres in Palermo alone and more in all the major towns of the island. Traditional performances include the battles of Charlemagne and the Saracens and there is even an international puppet museum in Palermo.
The usual holiday-maker favourites are also to be found on Sicily, with boat trips, beaches and a funicular railway that goes to the town of Erice, famous for its sugar almond treats! Of course, kids' favourites of pizza and pasta headline on any Sicilian menu (order a mezza portion for children to get a half-portion of adult dishes), as do sweet dishes featuring giant Sicilian lemons.
November to January temperature: 13- 17 degrees.
Flight time: Three hours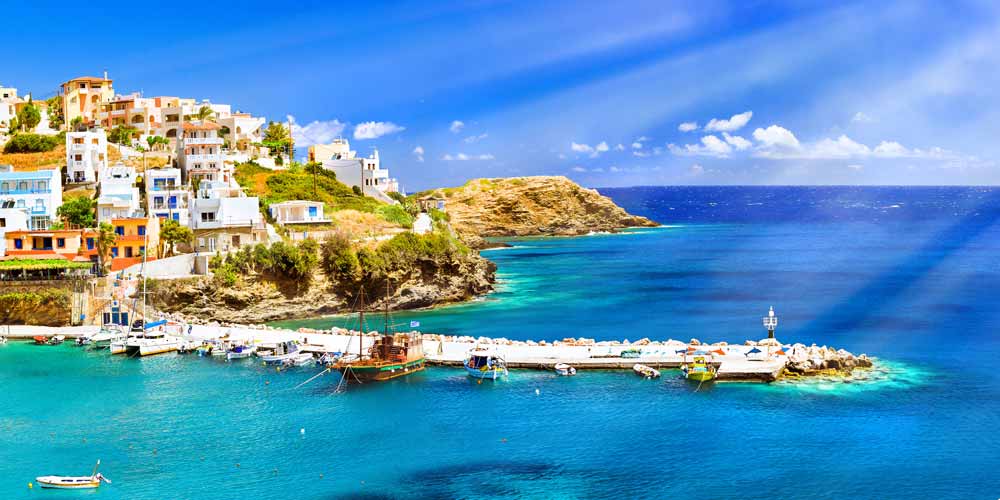 1.

Crete | Greece
Greece is a popular family holiday destination all year round, and rightly so. The balmy weather, fresh and tasty food and scenic vistas all make for a blissful break away with loved ones. Fans of the water can try scuba diving, snorkelling, sea kayaking and paddleboarding off popular family beaches such as Elafonisi and Agia Marina. If green hills are more your thing, grab mountain bikes and head up onto the picturesque mountain roads to blow away the cobwebs. Stop in one of the local tavernas for a plate of sfakia pies, giant olives or snifters of Cretan brandy. Hiking in the cavernous Samaria Gorge or heading underground in the spooky Cretan Caves are other popular ways of exploring the abundant nature and landscape that Crete has to offer.
Aside from spotting geckos around your hotel veranda, animal lovers can get up close and personal with rescued creatures at Aquaworld aquarium and animal centre and visit the Cretaquarium, part of the largest marine research complex in the Mediterranean. A great way to incorporate fun education into your family holiday! Kids will also love checking out the prehistoric creatures at Dinosauria theme park, which offers interactive games and trails for little ones. The Acqua Plus water park, the Minoan Palace in Knossos and Chania's Old Town are also fantastic days out for when the family wants something more than a relaxing beach day.
November to January temperature: 12- 18 degrees
Flight time: Three hours and 45 minutes.
Don't forget to follow Family Traveller on Facebook and Instagram and listen to the Family Traveller Podcast for more travel ideas.
This article contains affiliate links. We may earn commission when you click on them. This does not influence our editorial standards. We only recommend products and services we believe will enhance your family travel experience.