The biggest of all Greek islands, Crete is also the furthest south, has the longest summers, and its Mediterranean coastline stretches for an astonishing 1,046 kilometres. Naturally, there's no shortage of spectacular beaches, Crete's famous for them. But where do you even begin to find one that's just right for you?
Here are seven of the best for all types of kid-shaped adventures: whether that's a buggy walk round Europe's largest palm grove, turtle-spotting on a magical lagoon, or nonstop watersports from sun up until sundown.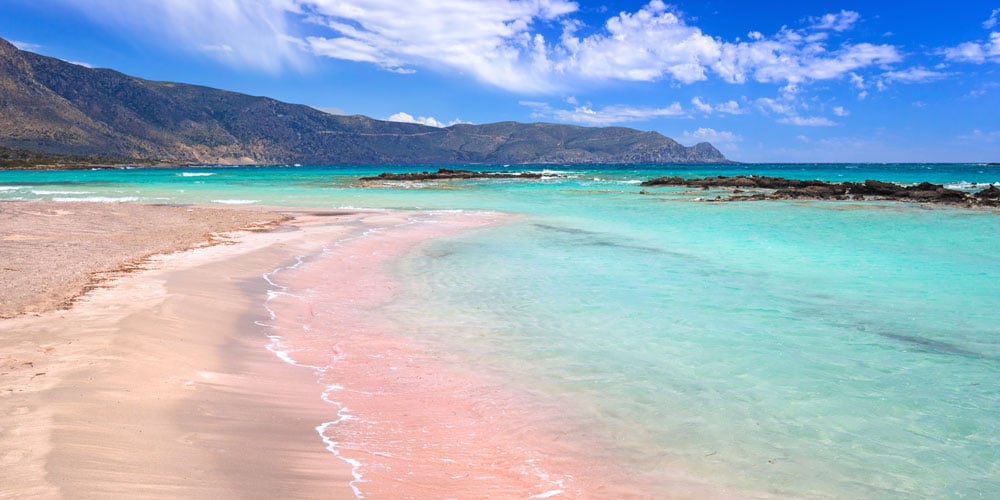 1

/7

  Good for adventurous kids: Elafonissi Lagoon, south west Crete
Another of Crete's enchanting west coast lagoon beaches, Elafonissi is the one where kids can spot wild goats, spy on Loggerhead turtles, and hop around pink sand islands marooned all over crystal clear, shallow waters.
Head to the eastern end for practical beachy stuff like showers, cafés and sunbed hire. Wander west, find one of the quieter little coves and let young explorers go adventuring. Or do both, the good thing about Elafonissi is how accessible it makes the magic, so you can arrive in the morning and spend all day here, very easily.
Beach basics
West coast, facing Elafonissi Island, 10 minutes from Moni Chrisoskalitissis.

Blue Flag beach known for its safe, shallow lagoon.

White sands, lagoon islands, sailing to Elafonissi Island.

Good for snorkelling, wildlife spotting and kitesurfing.

Beach bars on east end of Elafonissi.

One hour and 30 minutes drive west of Chania.

Lifeguards; showers; baby changing; sunbed hire.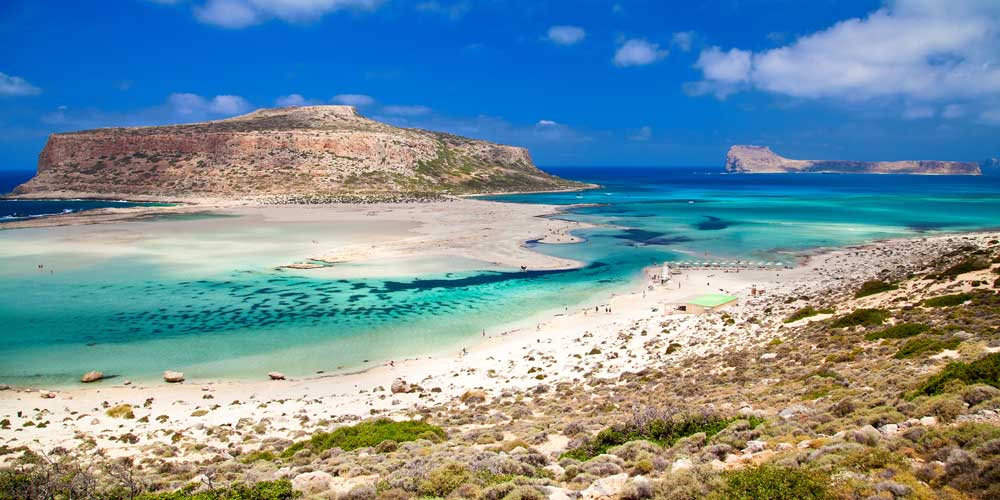 2/7

  Good for teenagers: Balos Beach, north west Crete
Recommending, easily the most famous beach on Crete, for families might seem counter-intuitive. But Balos breaks all rules.  For a start it's breathtakingly beautiful, and if you're staying anywhere on the north west coast with teens, depriving them of an Instagram moment here is almost mean. Then there's the lagoon itself: shallow and a dozen different shades of blue, edged with the palest pink shell sand, and framed to the north by dramatic Gramvousa Island. 
Visit at the right time of year and there's a chance of spotting Loggerhead Turtles here, and the area's known for colonies of Monk Seal. Worth remembering, Balos is also quite heavily protected, so no beach bars or water sports. Although the snorkelling's fantastic, and if you forget a picnic, Kissamos is only 20 minutes drive away.
Beach basics
#7 loveliest beach in Europe, TripAdvisor 2017.

Soft, pink shell sand; shallow lagoon; sheltered bay.

Safe, warm waters for younger kids.

Sensational Instagram opps for teens.

Fabulously clear conditions for snorkelling.

Easily reached by road from Kissamos (17km south of Balos).

An hour's drive from Chania (56km east of Balos).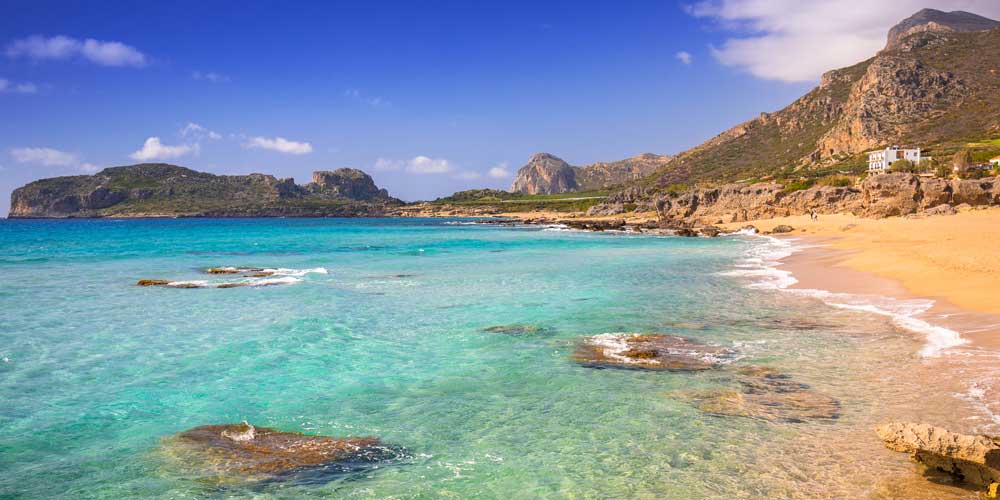 3/7 

Good for kids of all ages: Falassarna Beach, west Crete
Falassarna's combination of stunning looks and family atmosphere, give it a permanent slot on the island's best beach list. This is another Blue Flag holder on the west coast: where the sea's almost always described – accurately – as turquoise. It's actually five beaches in one, so white sands stretch forever and never seem crowded.
A good choice of watersports and some of Crete's best snorkelling keeps older kids happy here. There's plenty of space for toddlers to play safely, and teen explorers can even go see the Ancient Roman city of Falassarna: just minutes from the sea. Several family-friendly restaurants are beachfront too, and lively Kissamos is only 20 minutes drive east.
Beach basics
Far west coast of Crete, an hour's drive from Chania.

Blue Flag beach with watersports, surf school and safe swimming.

Shallow seas, white sands, lifeguards in summer.

Sunbed hire; showers; toilets; baby changing.

Good beachfront restaurants, 20 minutes from Kissamos.

Right beside ruins of the Ancient Roman city of Falassarna.

Great conditions for snorkelling.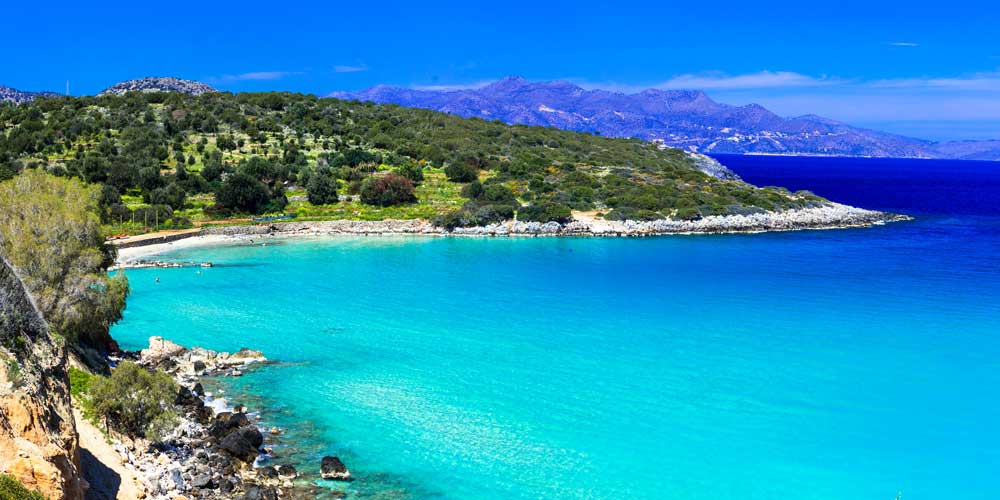 4/7 

Good for younger kids: Voulisma Beach, north central Crete
If Voulisma didn't already have a Blue Flag, you'd probably be prepared to start a petition to secure it one: if you could bear to tear yourself away from the sugary white sands and sea-glass green waters.
Caribbean looks like these aren't rare on the north east coast of Crete, but they're almost unheard of on a beach that doesn't involve boats or some dedicated hiking. But, not only is Voulisma close to several good local restaurants and cafés, it's just 20 minutes from Agios Nikolaos, one of the north east's most popular family resorts.
You'll find everything from baby changing facilities and showers to sunbed hire here too, so you could easily stay for the day. Plus, the sea's calm and shallow enough for paddling, and lifeguards are on duty all summer.
Beach basics
Stay all day beach, good for younger kids.

20 minutes drive east of Agios Nikolaos.

Sheltered bay, fine white sands, shallow seas.

Water sports; sunbed hire; lifeguards during summer.

showers, toilets, and baby changing facilities.

Snack bar on beach, cafés and restaurants nearby.

Popular with local families at weekends.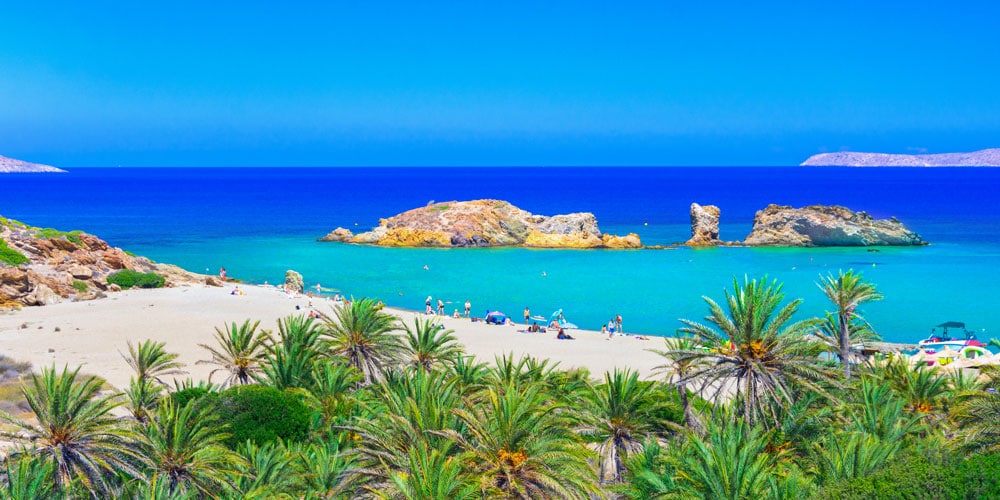 5/7 

Good for babies:

 

Vai Beach, north east Crete
Sheltered by Europe's largest, natural grove of date palms, Vai's creamy sands look like they're combed every morning, by hand. Bounty filmed a the iconic 1970s 'taste of paradise' ads here: a brief brush with fame which attracted crowds for a few years.   
These days, it's still a destination beach, just a bit too easterly for passing visitors and, apart from sea kayaking and palm grove exploring, there's not much to do. But if you want pretty waterfront restaurants, flawless sands, and nap-perfect sunbeds, it's close to heavenly for a family day with baby.
Beach basics
Far north easterly tip of Crete, 40 minutes east of Sitia.

Blue Flag beach with lifeguards in summer.

Calm, shallow waters and fine pebble sands.

Sunbed hire; showers; baby changing; tree shade.

Waterfront restaurants and nearby parking.

Palm grove trailed with buggy-friendly paths.

Excellent for snorkelling and kayaking.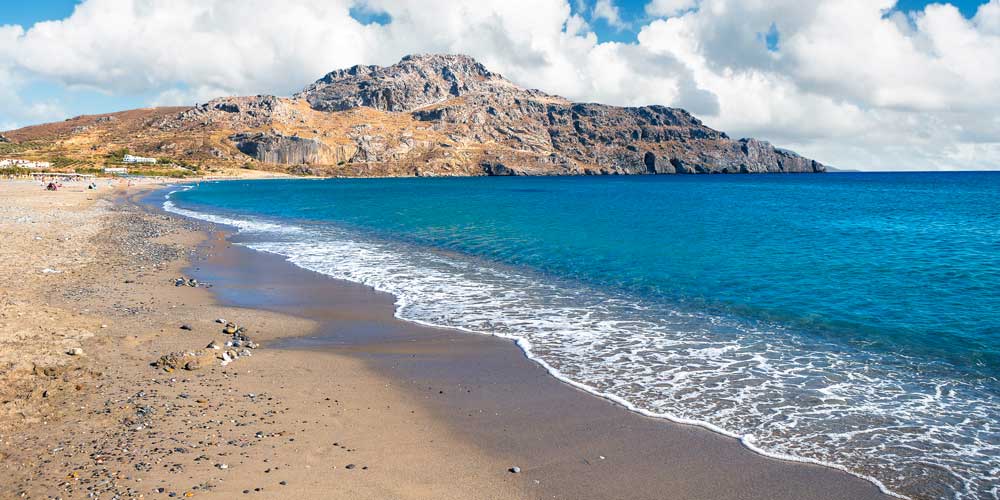 6/7 

Good for active kids: Plakias Beach, south west Crete
Plakias is one of the most popular family resorts on the peaceful south coast, and a lot of that comes down to its fantastic beach. Big, sandy and Blue Flag, with calm, shallow waters, and sea turtle nests at the right time of year, Plakias would be amazing even if it didn't come trimmed by the towering Paligremnos Cliffs: famous for reflecting the full moon's light so intensely they attract squid to shore.
Kids might be more taken with watersports, and cycling on the traffic-free beach road, several full-size volleyball courts and interesting nature trails in the nearby forest. Although watching experienced technical climbers attempt the cliffs is pretty exciting too.
Beach basics
South west coast, close to the resort of Plakias.

Blue Flag beach known for its striking cliffs and sea turtle nests.

White sands, calm and shallow seas.

Watersports, snorkelling, sailing, cycling, forest treks.

Several beachfront restaurants and bars.

45 minutes drive south of Rethimno.

Lifeguards; showers; baby changing; sunbed hire.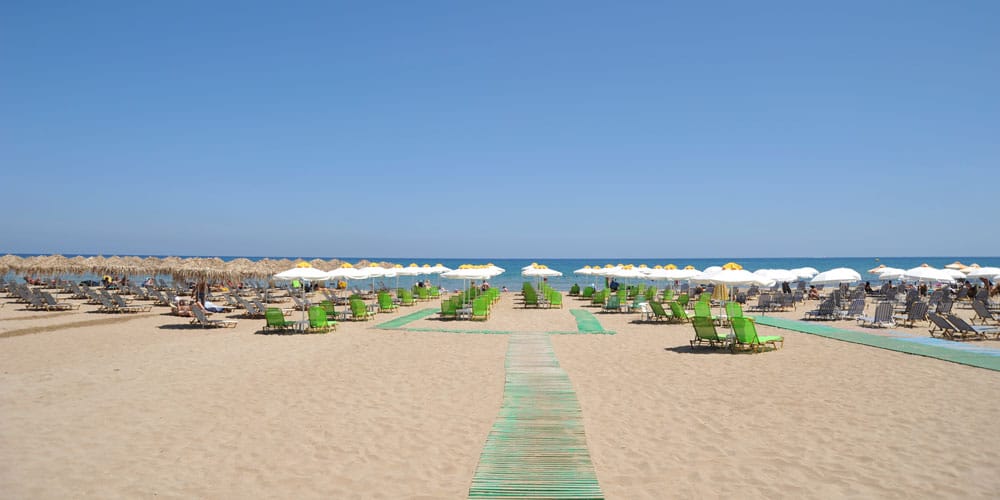 7/7

  Good for sporty kids: Stalida Beach, north east Crete
For watersports, waterparks and non-stop activity, you can't go wrong on any of the big, sandy beaches east or west of Heraklion. They're all busier than Crete's famously lovely coves and lagoons, but some are less crowded than others.
Stalis Beach (known locally as Stalida) is about 10 minutes west of massively popular Malia Beach. Both share the same warm, calm waters and great swathes of sand; fantastic watersports and beach sports, and Crete's best waterparks are all within easy reach. But Malia tends to draw most of the crowds away from its less famous neighbour, so kids have more room to play on Stalis, the entire beach isn't a sea of sunbeds, and you don't have to be in constant surveillance mode.
Beach basics
On Malia Bay, 30 minutes east of Heraklion.

Main beach close to the popular resort town of Stalis.

Sandy beach, good for windsurfing.

Wide range of watersports, beach sports, and family activities.

Excellent choice of beach bars, nearby restaurants, cafés and shops.

10 minutes drive from waterparks.

Lifeguards; showers; equipment hire; sports schools; sunbed hire.