The biggest of all Greek islands, Crete is also the furthest south, has the longest summers, and its Mediterranean coastline stretches for an astonishing 1,046 kilometres. Naturally, there's no shortage of spectacular beaches, Crete's famous for them. But where do you even begin to find one that's just right for you?
Here are seven of the best for all types of kid-shaped adventures: whether that's a buggy walk round Europe's largest palm grove, turtle-spotting on a magical lagoon, or nonstop watersports from sun up until sundown.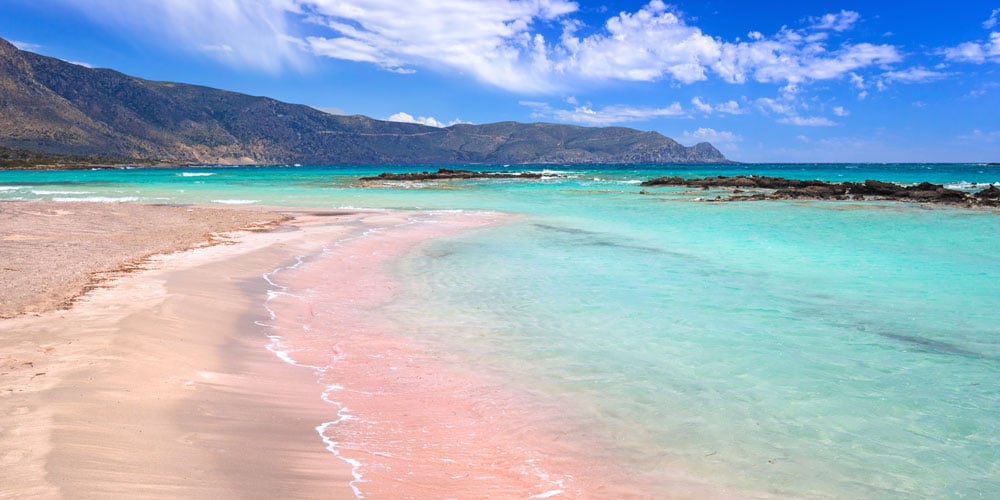 1

/7

  Good for adventurous kids: Elafonissi Lagoon, south west Crete
Another of Crete's enchanting west coast lagoon beaches, Elafonissi is the one where kids can spot wild goats, spy on Loggerhead turtles, and hop around pink sand islands marooned all over crystal clear, shallow waters.
Head to the eastern end for practical beachy stuff like showers, cafés and sunbed hire. Wander west, find one of the quieter little coves and let young explorers go adventuring. Or do both, the good thing about Elafonissi is how accessible it makes the magic, so you can arrive in the morning and spend all day here, very easily.
Beach basics
West coast, facing Elafonissi Island, 10 minutes from Moni Chrisoskalitissis.

Blue Flag beach known for its safe, shallow lagoon.

White sands, lagoon islands, sailing to Elafonissi Island.

Good for snorkelling, wildlife spotting and kitesurfing.

Beach bars on east end of Elafonissi.

One hour and 30 minutes drive west of Chania.

Lifeguards; showers; baby changing; sunbed hire.