Easter in Dordogne is easy to do. Direct UK flights to Bergerac take from just one hour, 45 minutes. But that's not why your kids want to go to this part of France. Take a look at the 9 real reasons Dordogne should be on your wish list this spring (or summer).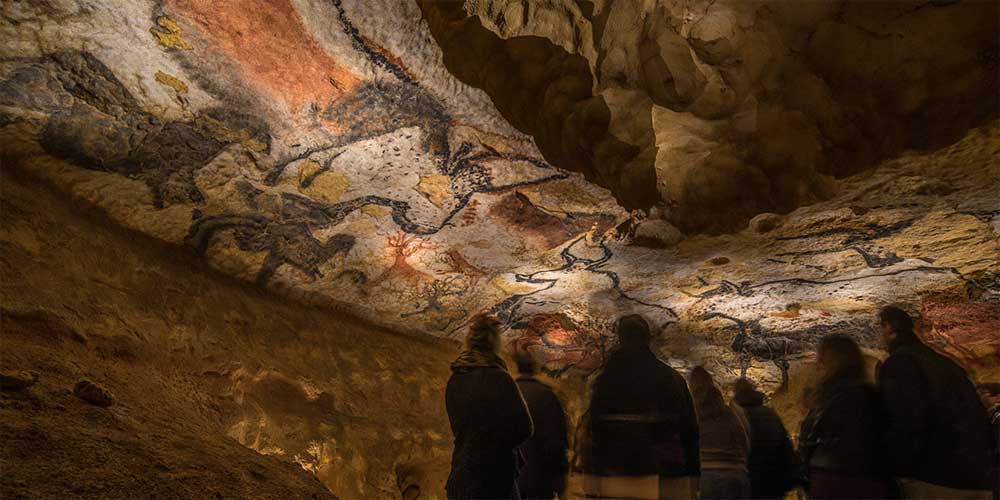 1. Lascaux Cave: explore prehistoric art this Easter in Dordogne
You'll find the Lascaux Cave  just outside the little town of Montignac in Dordogne. It's a UNESCO World Heritage site and contains the world's finest collection of prehistoric wall paintings, created over 19 millennia ago.
Although the original cave hasn't been open to the public since 1963, there's an astonishing reproduction. And it's open for exploring at the Lascaux Parietal Art International Centre for Cave Art in Montignac.
Ignore the Centre's stuffy name. Its 200m long replica of Lascaux couldn't be more exciting.
Designers have recreated authentic prehistoric acoustics and lighting, as well as a sense of subterranean atmosphere. The wall painting are meticulously reproduced, right down texture and organic colours. Plus, there's an excellent guided tour and the Centre explains about the lives and times of the original Lascaux artists.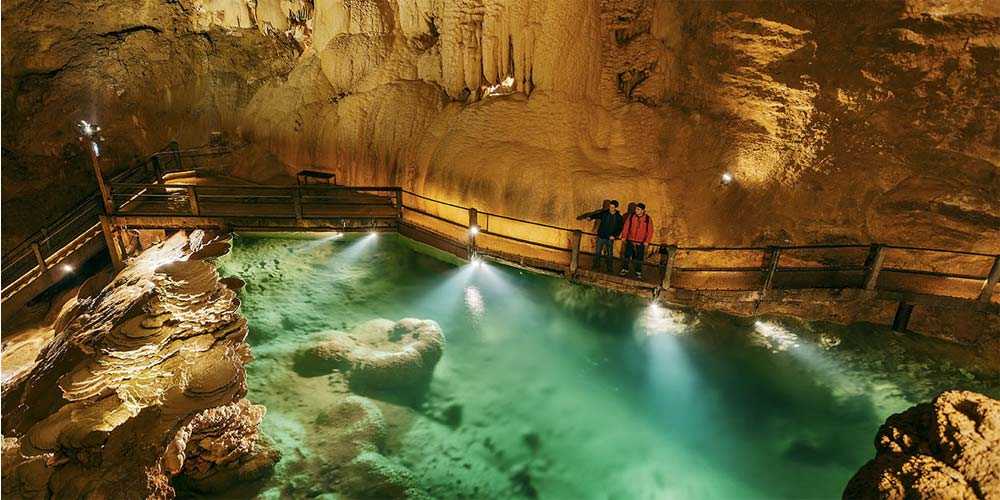 2. Gouffre de Padirac: voyage through Europe's second largest show cave
Gouffre de Padirac is one of the most impressive chasms in France. It's 75m deep and contains an eerily beautiful underground river which 1000s of visitors sail along every year.
Add your family to that count. Then listen to the sound of your kids' awestruck silence as they voyage through Europe's second largest show-cave.
The immense rock formations, walls and organic ceilings look magnificent. The entire Gouffre is hauntingly lit for extra impact and the entire experience vies with Lascaux for atmosphere.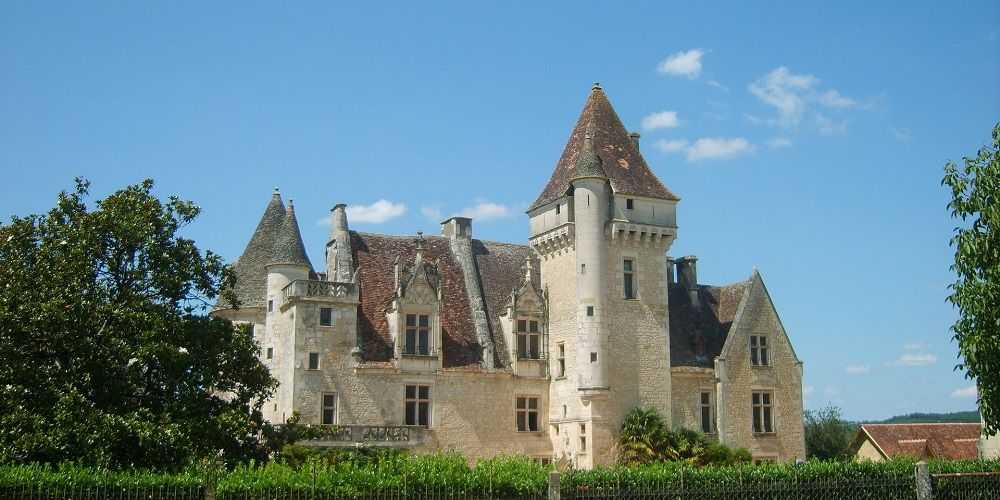 3. Sarlat: the medieval village to spellbind kids this Easter in Dordogne
Sarlat was the first medieval town in France to be fully restored to its original state. It now has a higher density of historic architecture than any other town in Europe, and it's a World Heritage site.
If that doesn't sound too exciting for kids, let them ride the Bell Tower glass lift. The reward at the top is 360˚views of Sarlat and will definitely persuade them to explore at ground level.
The town is packed with strange tales and unusual connections. Knights Templar are linked to some of Sarlat's oldest buildings. Boétie, 'father of modern French political philosophy', was born here in 1530. The Saturday morning street market is wonderful. And they light Sarlat up with candles and glowing lamps on Saturday evenings, for extra enchantment.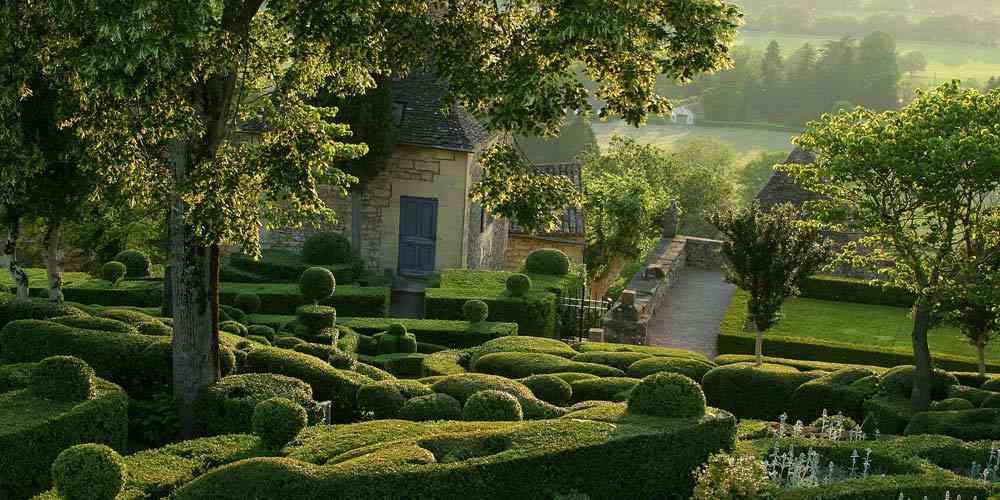 4. Les Jardins de Marqueyssac: pretty gardens and rock climbing at Vézac
Les Jardins de Marqueyssac open in late March 2022 so you have to add them to your Easter in Dordogne list. They're some of the most visited gardens in France and the contrast between formal planting and the wild Dordogne Valley is spectacular.
Kids love walking round and round Les Jardins, climbing higher and higher to reach their summit. And it's the view from the top that earns Marqueyssac its nickname, 'Belvedere of the Dordogne'.
Gorgeous 19th century gardening aside, there's a Nature Pavilion for meet 'n' greets with a complete skeleton of a 150 million year old Allosaurus. Free roaming peacocks add more excitement. And the fairy tale play area, rope courses and beginner's climbing wall shouldn't be missed either.
Older kids can test their nerve on the Via Ferrata course along some impressive cliffs. And in spring and summer, Marqueyssac lights up after dark to bewitch you completely.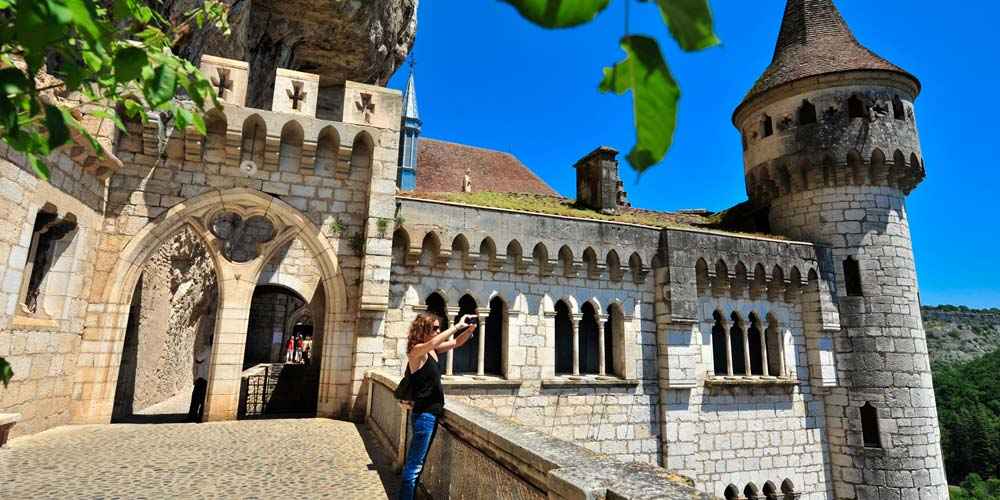 5. Rocamadour: an Easter in Dordogne must do for families
The way Rocamadour precariously hangs on to a cliff face, it's hard to believe this village has survived since the middle ages. But it has. What's more it was a place of pilgrimage then, and it still is today. Although few modern pilgrims opt to crawl up 216 steps on their hands and knees to visit the tomb of Saint Amadour, unlike their medieval predecessors.
Two of Rocamadour's churches have World Heritage status, and there are no less than seven chapels in the ecclesiastical complex. Once you're done exploring the spiritual side of town, go see its more earthy side.
Borie d'Imbert is the local goat farm where they produce legendary Rocamadour Cheese. Between seeing the cheese being made and meeting the goats themselves, this experience alone transforms Rocamadour into the top holiday memory for kids.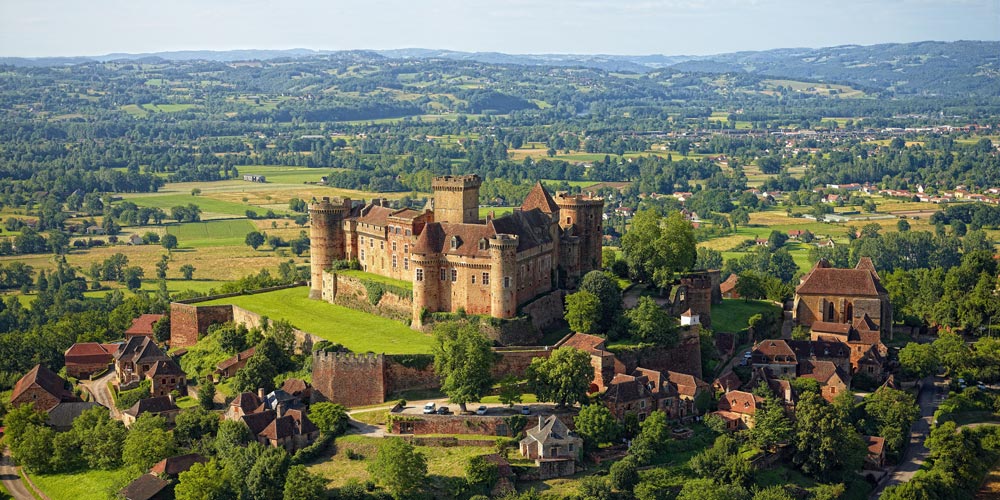 6. Dordogne Valley Châteaux: the mighty castles kids need to see this Easter
There was clearly an ancient rule that decreed the valleys of France had biggest share of Châteaux, and Dordogne Valley is no exception.
The Middle Ages was peak construction time in this part of France and no drama was spared in the building of the grandest castles. Their history is a fascinating mix of fact and outrageous fiction, so entertainment is guaranteed. And you might not have time to see every château this Easter, but here are the ones you shouldn't miss:
15th century Château de Val, because it's full of secrets, floats on a lake and looks like a fairy tale.
The imposing ruins of Tours de Merle, because the backstory's enthralling and they have falconry displays in the 10ha grounds.
Impeccably restored Château de Castelnau-Bretenoux, because the view is incredible and it's a great excuse to visit the charming bastide town of Bretenoux.
Dramatic Château de Castelnaud-la-Chapelle, because it has a tremendous location and an armoury, complete with medieval siege machines.
Ancient Château de Beynac, because it stares straight across the Valley of the Five Castles from a lofty cliff and has links to Richard the Lionheart.
Clifftop Château de Commarque, because it sits above thrilling troglodyte caves and cave paintings.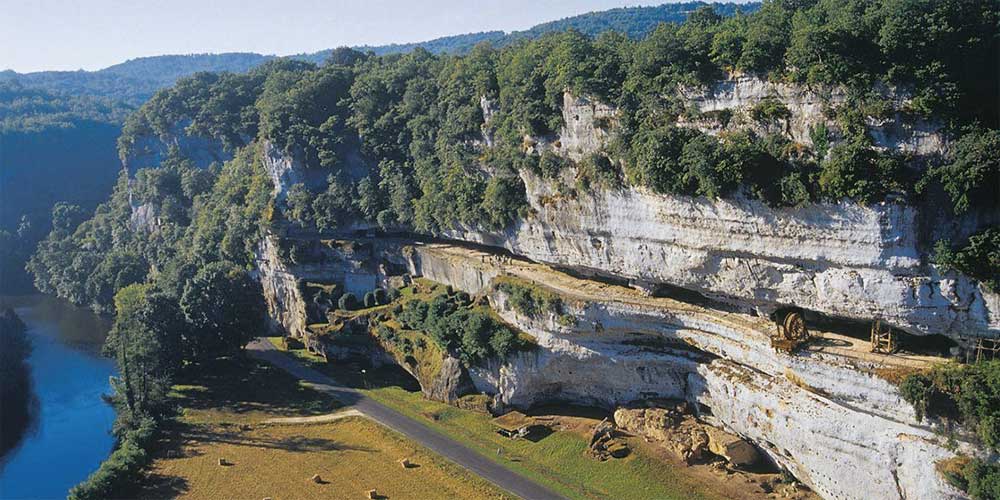 7. Roque-Saint-Christophe: meet cave dwellers this Easter in Dordogne
Humans lived in the cracks and crevices of Roque-Saint-Christophe in Peyzac-le-Moustier for over 50,000 years. Hard to imagine in the abstract? Kids have no trouble envisaging these ancient cave dwellers thanks to to this excellent museum, designed around the original Roque-Saint-Christophe dwellings.
The attention to detail is outstanding. There are even reproductions of machines that troglodytes are thought to have invented. Don't miss the 3D film. And leave time to explore round and about. The local landscape is almost as exciting as the living museum experience.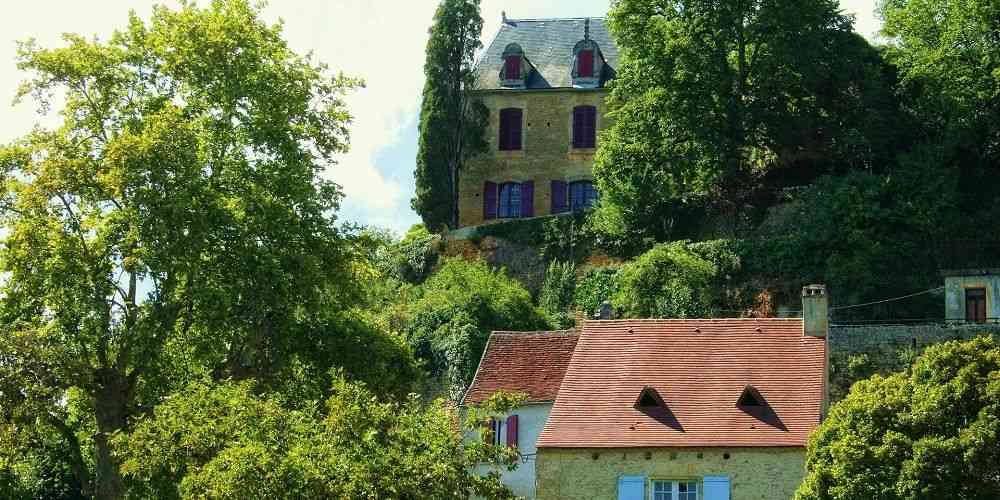 8. Limeuil: one of the most beautiful villages in France
A member of the select group designated 'the most beautiful villages in France', Limeuil sits where the Dordogne River meets the River Vézère.
It's a vision of peace and prettiness these days, but if you dig deeper you'll uncover a past that includes everything from Viking invasion to the 100 Years War – this may be why the village has three fortified gates.
As well as its charming riverside setting, family beach and tranquil atmosphere, the village is also home to the Panoramic Gardens of Limeuil.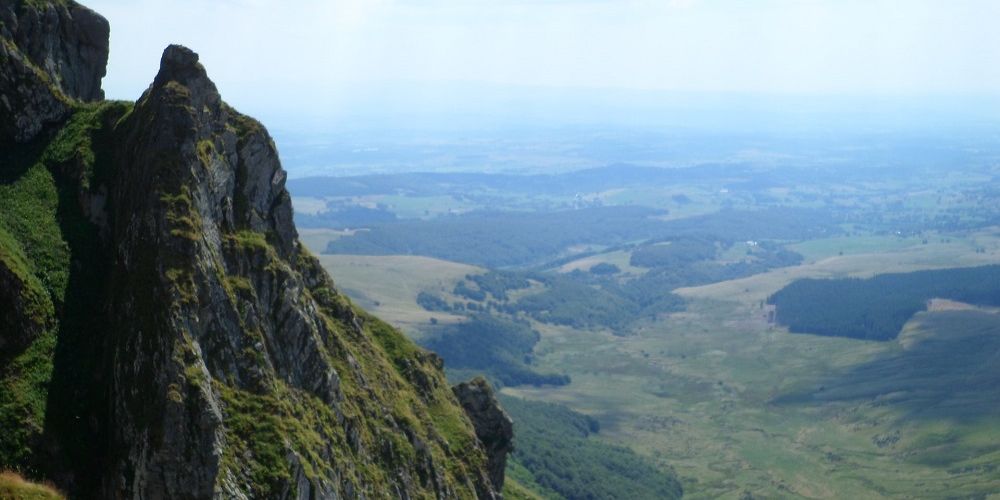 9. Puy de Sancy: the spectacular gateway to the Dordogne Valley
The tallest volcano in France and the highest peak in the Massif Central, Puy de Sancy is also the gateway to the Dordogne Valley.
Its surroundings may be rugged and dramatic, but the last eruption happened over 250,000 years ago and most activity these days is down adventurous families. This part of France is known for hiking and climbing in summer. You can ski here in winter. In fact, Mont-Dore resort on Puy de Sancy is one of the oldest in France, with 84km of downhill runs, cross-country trails covering over 200km and a friendly South West France atmosphere.
How to plan Easter in Dordogne with kids
Where is the Dordogne Valley
The Dordogne Valley in South West France, stretches the entire length of the Dordogne River from Puy de Sancy to the border of Gironde.
How to get to South West France
There are direct flights to Bergerac from several UK cities, including London.
Flights take from one hour, 45 minutes.
There are also direct UK flights to Brive in the Dordogne Valley.
Flights take from one hour, 40 minutes.
This article contains affiliate links. We may earn commission when you click on them. This does not influence our editorial standards. We only recommend products and services we believe will enhance your family travel experience.
Updated March 2022