Sponsored Content
Savoie-Mont-Blanc spreads across more than two-thirds of the French Alps and counts 110 plus resorts on home territory – including world icons like Val d'Isère, Chamonix and Courchevel. Naturally, in late April, when the snowline recedes back up the mountains, everyone in the area simply falls sound asleep until ski season kicks off again in December.
Oddly enough, that unlikely scenario might very well be one you've just assumed. After all, what could there possibly be to do in the French Alps except ski?
Well, apart from the lakes; beaches; Alpine meadows; spectacular national parks; rivers; valleys and snow-free mountains themselves, you could try almost endless sunshine and average temperatures of 25˚. Then there are dozens of Famille Plus resorts, so the area's made for kids. And if all that isn't quite tempting enough, have some wildlife: most sensible creatures snooze out winter around these parts but, come summer, it's showtime – and how.
Still think you can't do a family holiday in Savoie-Mont-Blanc without extortionate lift passes and equipment hire? Here are another 10 great reasons to change your mind.
1/10

  Meet mighty cute Marmots in Flaine
As far as a gap in your wildlife knowledge goes, don't worry too much about unfamiliarity with the marmot – especially if you've only visited the French Alps to ski. A member of the squirrel family, these endearing creatures hibernate in winter and only make an appearance in late spring. Then, for about four months straight, they eat non-stop; romp around; whistle loudly to attract each other's attention and grow fat and fluffy.
Flaine Mountain's one of the best places to spot marmot in summer and the resort organises family hikes with local guides in July and August. Kids as young as six are welcome so it's not too strenuous and the prospect of spying giant squirrels is always enormously motivating.
2/10

  Fun family cycling around Lake Annecy
Lovely Lake Annecy hardly needs any introduction. From the historic canal-woven town of Annecy itself to the ring of mountains which enclose it all round, there's probably isn't a more instantly recognisable stretch of water in the French Alps.
Do it justice this summer and take the kids cycling. The perimeter of the lake's 40km round which sounds like a challenge, but the one and only climb's tiny and there are about a million and one reasons to stop along the way – try sunny and sandy beaches for starters.
3/10

  Kid-size hiking all over La Plagne
La Plagne's another Famille Plus resort and there's virtually nothing here which isn't child-size and fantastically exuberant all summer long. Kids can learn anything from tennis and archery to circus skills and magic. They have adventure parks, playgrounds, creative kids clubs and outstanding creches. And even restaurants are geared towards young gourmands.
This is the place to introduce mini-walkers to the ways of the mountains on dozens of well-marked, graded for difficulty and satisfyingly wildlife packed hikes. Many are designed just for kids so expect lots of information boards, picnic places, pretty lakes, gentle climbs and deep, mysterious forests.
4/10

  Spend a night (or more) in Vanoise National Park
France's first national park, Vanoise covers over 130,000 acres in the heart of Savoie-Mont-Blanc. This is where to see Ibex and Marmots at their wildest, walk Alpine meadows at their finest and explore the majesty of mountains as you rarely – if ever – have the freedom to do.
Just to add to the adventure, Vanoise is liberally dotted with charming traditional guesthouses (Refuges) for overnight – or longer -stays. Converted from ancient barns or mountain huts, some are pretty strenuous to reach but worth the hike and just as many are perfect for little legs. Try Refuge Porte de L'Orgère for starters: not only is it in prime marmot territory, the surroundings are breathtaking, you'll find easy walking in every direction and family-style evening meals and entertainment are part of the experience – you can drive right up to the front door too.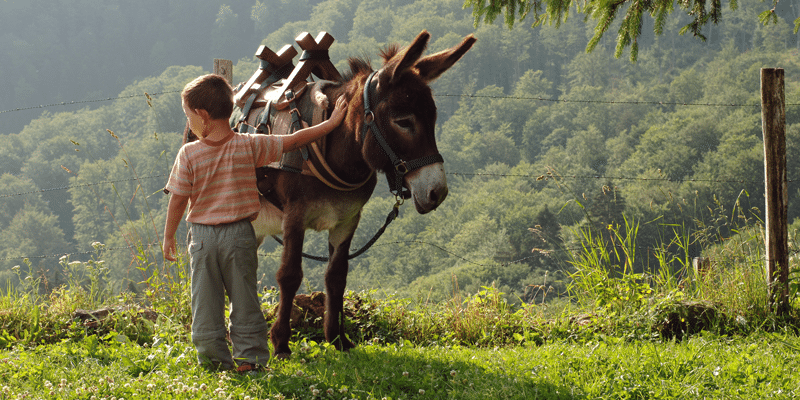 5/10

  Donkey trekking in the mountains of Morzine
Did you know that donkeys are wonderful travelling companions? They're also one of the most iconic sights on the mountains, paths and trails all over Savoie-Mont-Blanc. Introduce kids to their sweet natures, easy pace and pretty much endless patience at Les Ânes de Mines d'Or. The cute, four-legged residents here are local experts on the lakes and foothills of Morzine and no child has ever failed to be enchanted by an amble along the ancient smuggler routes in their company.
6/10

  White-water extremes in the Chamonix Valley
Chamonix is a skiing legend but it doesn't shut down when the snow melts. One of the Savoie-Mont-Blanc's excellent Famille Plus resorts, it's basically up for family adventure all year round and there are no age limits to the fun.
If you want to see mountains from a different perspective try white water rafting, body surfing or hydro-speeding in the Chamonix Valley. The rivers and rapids are the extremes bold kids dream about, the scenery's spectacular (if you dare look) and there are plenty of quiet moments for swimming, sunbathing and catching a breath too.
7/10

  Aerial extravagance at Lake Annecy's Acro'Aventures
When the mountains just aren't high enough, the rivers don't flow fast enough and the adrenalin isn't pumping hard enough, send the kids sky high at Acro'Aventures.
Set in the soaring peaks around Lake Annecy this monumental aerial adventure park takes full advantage of the tallest trees, widest gullies, biggest gaps and wildest climbs to thrill, terrify and excite in equal measure. A ground-level bike park and laser battlefield are what passes as gentle downtime here. Younger children can get excited on their very own miniature aerial circuit. And babies and toddlers have the pretty and buggy-friendly Forêt de Sens for more peaceful playtime.
8/10

  A day on the beach with mountain views at Chatillon
If summer isn't summer without a beach in the mix, Savoie-Mont-Blanc does plenty of those too. From manmade lake beaches at Challes-les-Eaux to the sporty numbers at Aix-les-Bains: just choose the style and take your pick.
But if you want white shores nestled in a circle of the Chartreuse Mountains with safe swimming waters and a medieval tower or two nearby, go for gorgeous Chatillon on the northern shore of Lake Bourget. The beach is beautiful and also happens to be in the Chautagne region. So, when you get tired of the water, you can go cycle, hike, climb and explore around the rest of this lovely part of Upper Rhone too.
9/10 

Mountain biking for everyone in Aussois
Aussois Famille-Plus resort takes family mountain biking more seriously than almost anywhere else in Savoie-Mont-Blanc.
Their La Dotta Bike Park is brilliant for beginners but has more than enough technical challenges to satisfy seasoned young riders too. If only the open road will do, this is also one of the few resorts with several well-marked 'green' mountain bike trails: great for under-eights and not too humiliating for rusty old grown-up cyclists either. And tough teenagers won't be disappointed by the likes of Esseillon MTB, Evita Carnea and the, very red, Pont de Diable trail.
10/10

Spa soothing and waterpark wildness at Courchevel
Courchevel is one of the world's most famous ski resorts. Renowned for high-altitudes and a long winter season, it's just as much of an adventure in summer. With one big difference: instead of snow, there's water.
Aquamotion is the resort's extraordinary leisure complex and waterpark where high octane chutes, slides and rides are designed to exhaust the most demanding kids in a very good way. Chilled grown-ups might prefer spa treatments or aqua-fitness. Everyone loves the soothing open-air thermal pools. And, if you have any energy left at all, indoor surfing and the challenge of daunting climbing walls can be relied on to use all that up in no time at all.
Discover why Savoie-Mont-Blanc does family holidays wonderfully all year round