The Adriatic is so blue off the coast of Croatia, NASA can identify it from space. Fortunately, a short flight from the UK gives families an almost identical perspective, and the island-scattered sea is even lovelier up close.
But between its various Riviera, several peninsula, widespread archipelago, and dozens of historic seaside towns and cities, Croatia isn't always the easy place to pin down for a perfect family holiday.
As a rule of thumb, the closer you get to Dubrovnik, the more you pay for everything. Islands like Hvar are gorgeous, and know it, so expect the pleasure of visiting to cost plenty. But the Istria Peninsula is normally good value, especially round about the capital Pula; which isn't a compromise, because the beaches are fantastic.
Here are five of the best affordable family villas with sea views, private pools, and fun stuff for kids nearby, all along the coast, and on Adriatic islands too.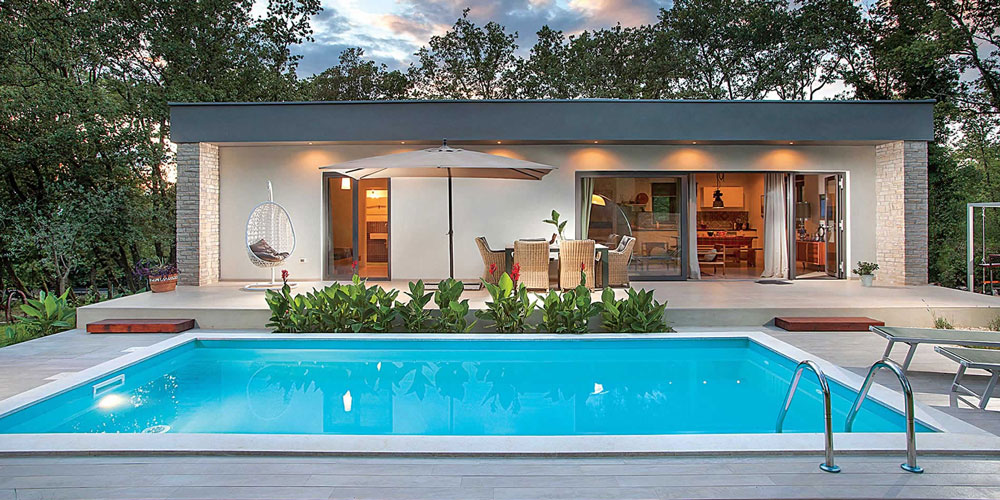 1/5

 Villa Frleti, Umag, Istria
Sleeps up to four. Entire villa from £1086 per week. 
A single-storey modern villa with two bedrooms, two bathrooms, and an open-plan living area, Frleti is a good choice for younger kids. The garden is fully enclosed, and has a swimming pool and sun terrace, small lawn, dining gazebo, and barbecue. The pretty countryside setting is very peaceful, but only minutes away from Umag Riviera beaches.
2 bedrooms
2 bathrooms
Sleeps up to four
Private pool, enclosed garden, sun terrace, country setting
Minutes from Umag and beaches on Umag Riviera
Far west on Istrian Peninsula
An hour's drive from Pula Airport
About the area
A favourite holiday resort for ancient Romans, Umag is even lovelier today. The town history is fascinating, but you'll find plenty of shops here too, along with excellent restaurants on the charming seafront. The Umag Riviera is famous for beautiful beaches, and water quality on the entire Istrian Peninsula is checked every 15 days during summer.
Find out more about Villa Frleti with James Villas.