Teens are the perfect age to appreciate beautiful Bali. Even just watching a sunset with the cheering crowds on Kuta Beach is unforgettable, and no one is ever too cool not to be amazed by sneaky monkeys at Ulawatu Temple or the snaking rock-bound staircase down to Padang-Padang Beach.
Time to make some memories? Here are just 10 teen-shaped Balinese adventures to astonish your favourite travelling companions, and maybe convince them you're still fun to go on holiday with after all.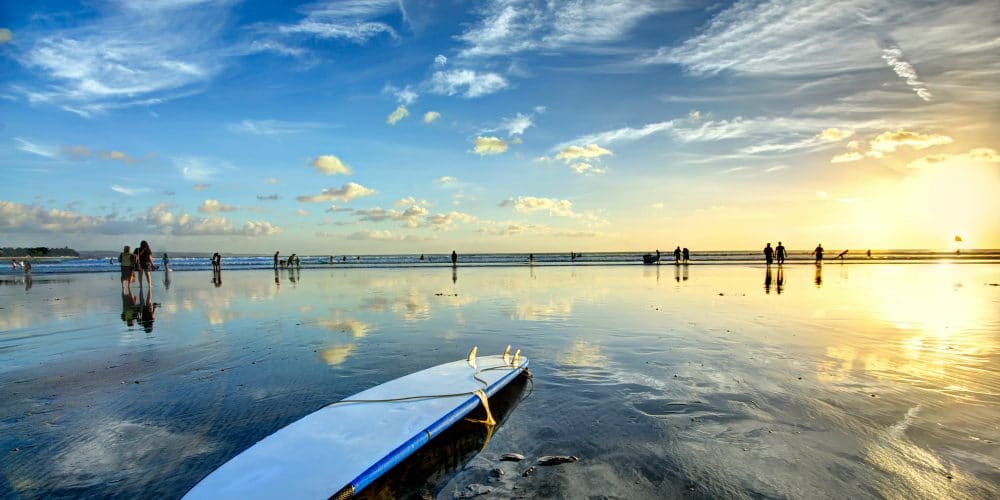 1/10

 
Surf the fun beach breaks at Legian
Pick just about any beach on Bali's south coast and you'll find a surf school. Famous and famously crowded Kuta has the motherlode, but for teen first-timers, Legian Beach – just a little further west – is the one to beat.
Rip Curl School of Surf does beginner lessons here, supplies equipment and, when kids are ready to move beyond easy beach breaks, takes them along the coast to Canggu to brave the reefs at Batu Bolong and Tugu.
Where to stay: Stay at the Samaya Seminyak for your very own luxury family villa with all the facilities of a luxury hotel. Read more…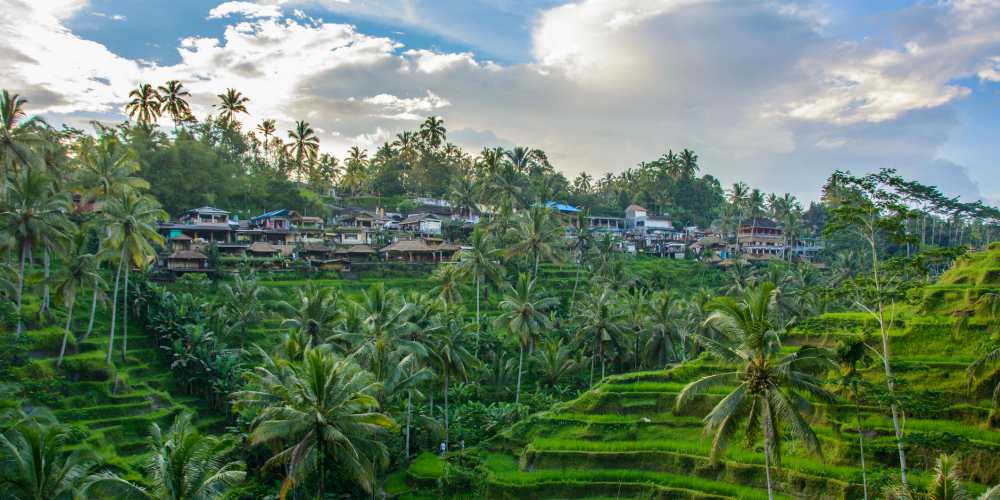 2/10 
Go eco-cycle adventuring in hidden Ubud
Quit colourful and bustling Ubud for a few hours, hop on an eco-cycle and take a half-day guided tour of eastern Bali's lush, green countryside.
Off the beaten track, but mostly easy going, this isn't a head-down ride, so enjoy the view of everything from rice paddies and terraced fields to peaceful local villages and plenty of jungle bits too.
Where to stay: Green Village, epics villas built almost entirely from bamboo. Feel at one with nature and learn about green living.
Map out your perfect eco-cycle in magical Ubud and beyond
3/10 

Hang out at La Laguna in Canggu
Hard to know where to begin or what's cutest at La Laguna. Just make sure phones are charged for the colourful gypsy caravans, beanbag scattered and fairy light strewn gardens, sunsets over the lamplit beach, and all food.
Retro-quaint and magically pretty, spend a few hours with teens here and you've cool credentials for life.
Where to stay: Laid-back teens will like the Gerry Lopez Treetop Loft at The Chill House in Canggu.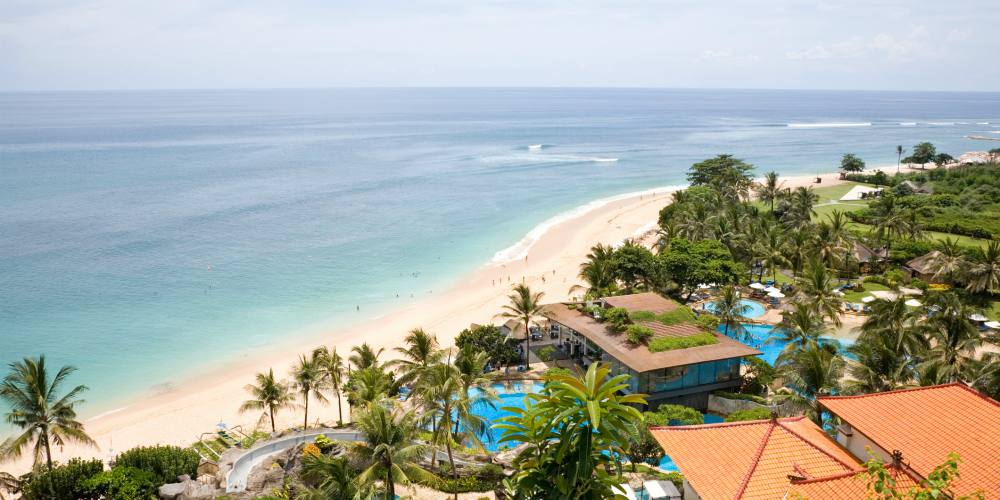 4/10 
Go wild for Waterbom, #1 Waterpark in Asia
Not just the best waterpark in Bali, Waterbom is number one in the entire vast continent of Asia.
How good can it be? Think 3.8 hectares of lushly tropical gardens, white-knuckle rides by the dozen, miles of lazy rivers and lagoons, the steepest waterslide in Asia; and even Balinese spas for post-terror soothing.
Go in good conscience: Waterbom also holds an Earth Check Gold Medal for sustainability, and over 50% of its grounds are green space and indigenous planting. 
Where to stay: Try Hotel Berry Glee for its funky theme rooms and huge swimming pools, close to Waterbom and Kuta's Entertainment District.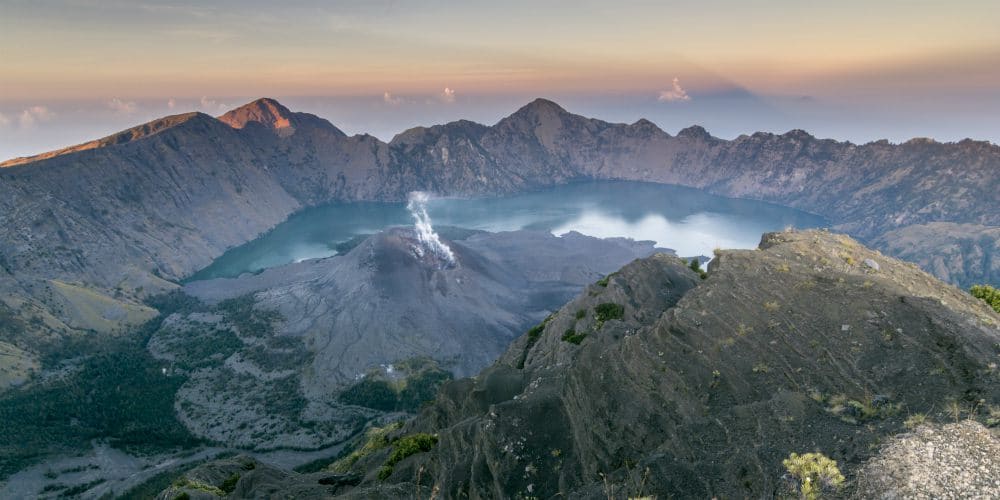 5/10

 
Trek Gunung Rinjani National Park on Lombok
Mount Rinjani is the second highest active volcano in Indonesia, and right at the heart of Gunung Rinjani National Park. A guided two-day trek up to the phenomenal crater lake is the ultimate bonding experience with teens. Truly intrepid types can scale the entire mountain. Or you can take it easier, hike a bit of the park and look at lively Rinjani from a distance.
Where to stay: Soulful teens will appreciate Hotel Tugu's gentle art, Indonesian culture and beach mix after a day (or two) trekking Rinjani.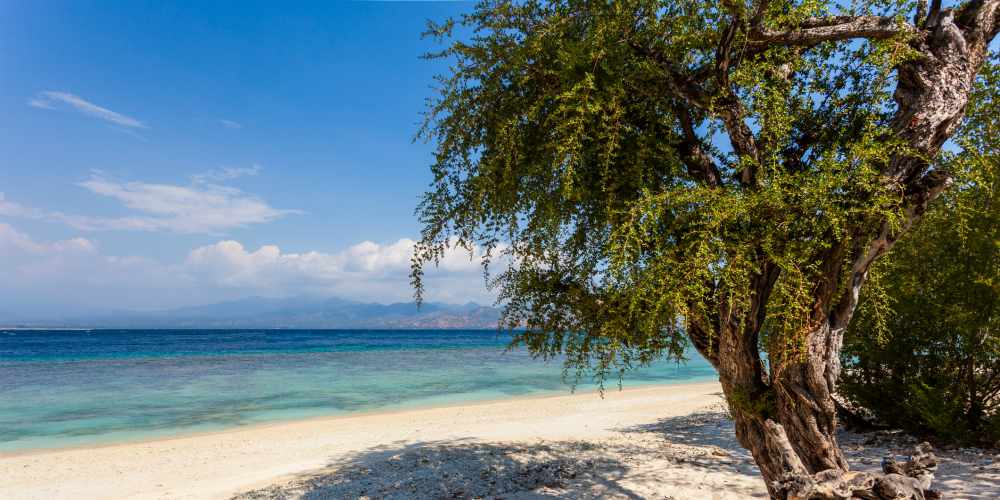 6/10 
Discover diving round tropical Gili Air
If teens have already earned their scuba stripes, the clear waters round Gili Air are packed with marine-life, living coral, and more than a few challenging dive sites.
The second largest of the Gili Islands (still tiny) is great for beginners too. Progress from pool to ocean is surprisingly quick for older kids, and since most instructors have been diving these waters for as long as they can remember, even nervous first timers are in very safe hands.
Where to stay: Go for complete immersion, check into the Gili Air Dive Resort and fit beach lazing and biking round the island in between scuba lessons.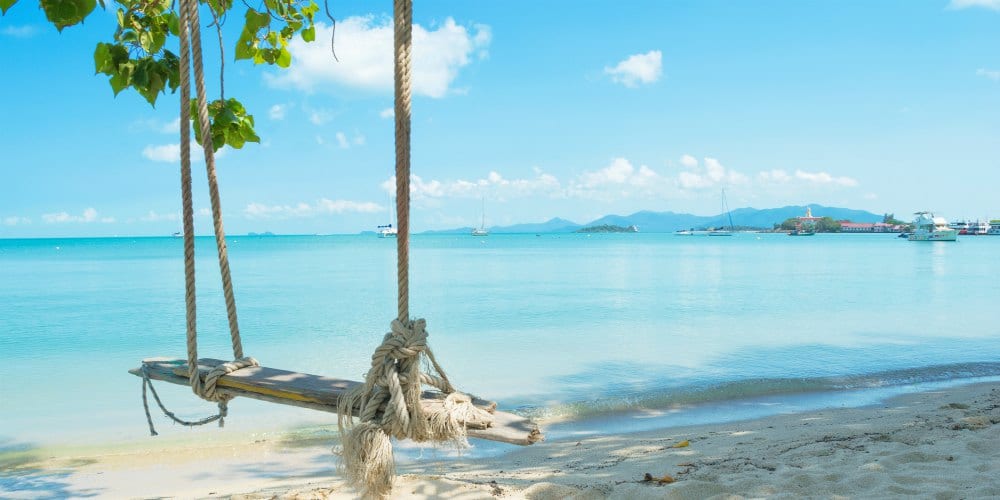 7/10 
Soar over the jungle on a Bali Swing
This one lies between unforgettable experience and a teen rite-of-passage; but almost anyone, of any age, with a hint of spirit and a few hours to spare, heads to the jungle for a swing.
Bali Swing are happy to collect you in Ubud, and if you want to make a day of it, they have tubing, river rafting, forest quad bike tours, and guided elephant rides too.
Where to stay: Happy to stick with soaring? Check out the Nautilus Treehouse just five minutes from Ubud.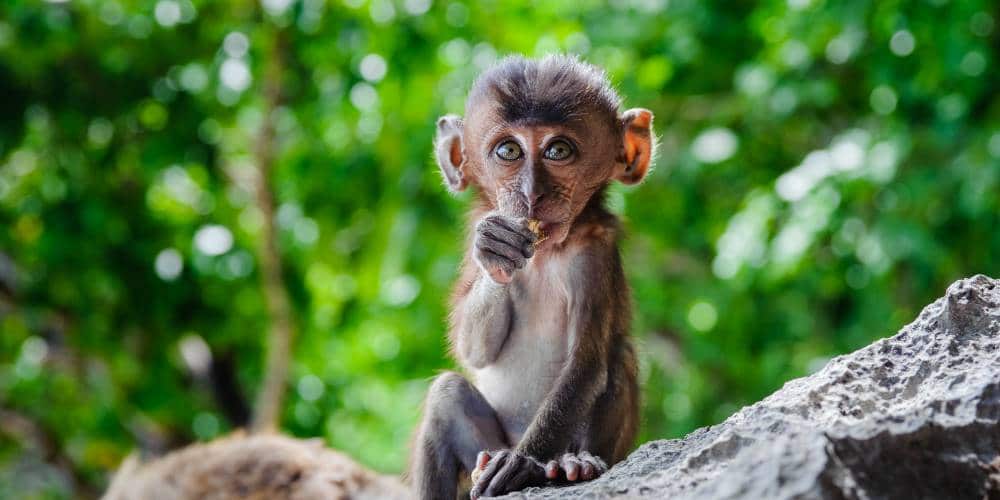 8/10 
Meet the macaques in Ubud's Sacred Monkey Forest
Ubud Monkey Forest is just outside the small village of Padangtegal, and home to about 700 grey macaques. They're about as far from shy and elusive as wildlife gets, and highly entertaining, as long as you don't feed them.
Apart from the boisterous residents, all is peace in this 12.5ha forest, but it's also sacred to the local villagers so there's a chance of running into colourful ceremonies too, if you're lucky.
Where to stay: In the mood for more forest? Then perch over a gorge on the Ayung River at the astonishing Hanging Gardens of Bali; the world's first seven star boutique hotel.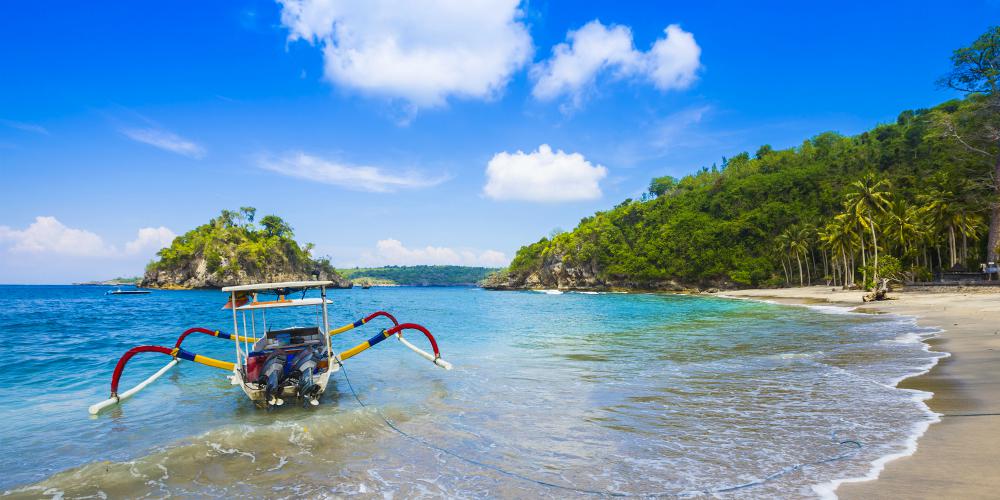 9/10 

Snorkel with Manta Ray on Nusa Lembongan

     
Tucked between Bali and Lombok, the little Lembongan Islands are occasionally overlooked. Make that mistake, and teens miss out on the incredible experience of snorkelling with ghostly, gliding manta ray through some of the world's clearest waters.  If you chose Indonesia for making remarkable memories, this underwater adventure should be high on your wish-list.
Where to stay: Barefoot, beachy and laid back as the Lembongan Island themselves, Le Pirate Beach Club will charm teens to bits.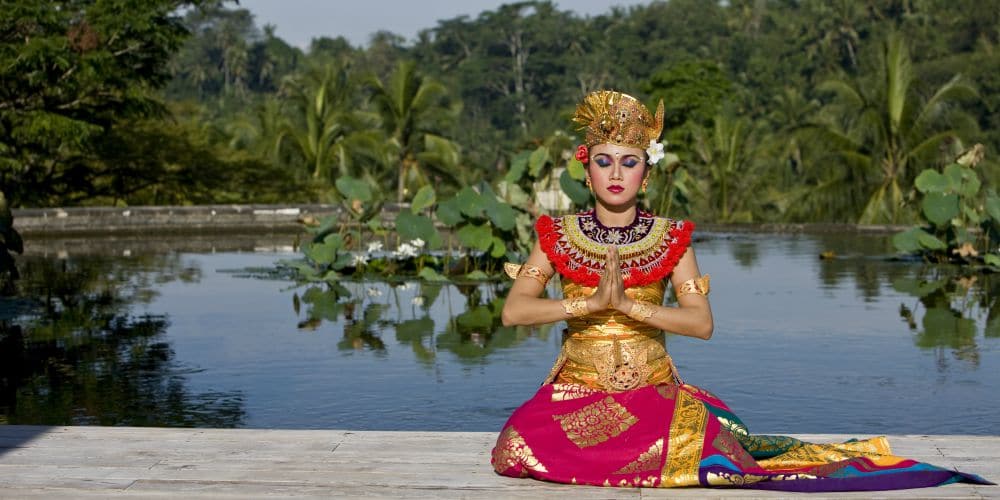 10/10 
Catch the dancers at Puri Saren Ubud
You can't miss Ubud Royal Palace, it's right in the heart of the ancient town, and a few minutes walk from Ubud Art Market. Spend some time exploring the palace buildings, and wandering round the gardens, then buy tickets for an evening performance of traditional Gabor dance and theatre.
Even the least culture-loving teens will be captivated by this spectacle, and don't worry about following the story, everyone's given a guide leaflet in their own language.
Where to stay: If you're taken with Balinese culture, Wapa di Ume is the perfect place to continue the theme overnight.