Beauty writer Sophie Qureshi heads off on a restorative break to The Legian Seminyak in Bali for a spot of unrivalled luxury,  blissful wellness and peaceful sunset strolls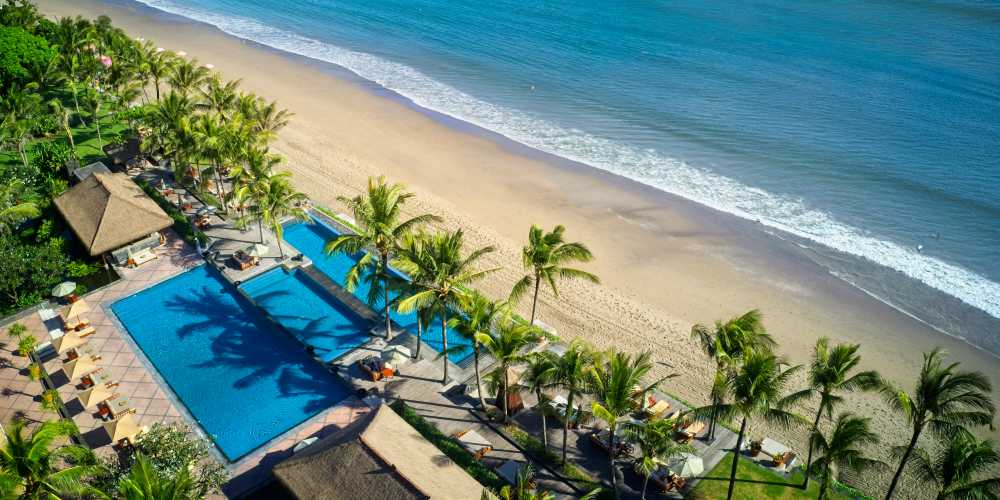 Bali isn't short of spa retreats but if you're looking for somewhere to really reboot and rejuvenate, The Legian is just the ticket. Occupying an expansive stretch of Seminyak Beach, its beachside location with gentle waves lapping at a flawless sandy shore is as ideal for sandcastles and family fun as it is for restorative sunset strolls. 
Seminyak's hip array of cafés, bars, boutiques and restaurants is only a five-minute walk away (so there's plenty to keep teenagers interested), but inside the hotel you'd never know it. The grounds are a haven of tranquillity that completely belie the hustle and bustle of the surrounding neighbourhood. In fact, cocooned inside the compound, with its tiers of generous infinity pools, manicured lawns and towering palms, it's easy to forget about the outside world altogether.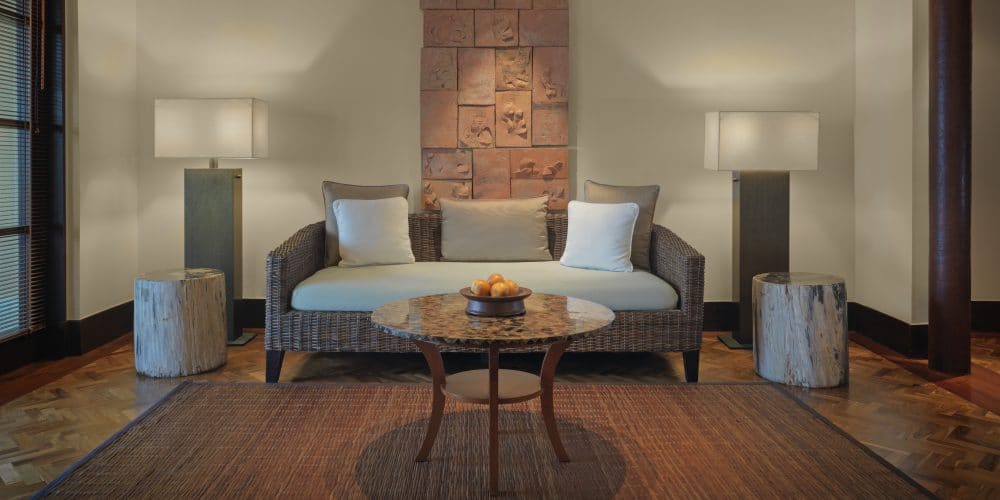 Despite its unmistakable air of luxury, somehow the property never feels overly formal or stuffy. Elegant interiors of dark wood, white walls and natural linens combine with open air walkways across fish-filled lotus ponds, creating an ambience that feels more like the grounds of a temple than the grounds of a hotel. 
While there are dozens of eateries of every cuisine imaginable in Seminyak village, inside the hotel the choices are thankfully less overwhelming. The menu at The Restaurant fuses Indonesian and French traditions, changing daily depending on what's fresh and in season at the local market. The food is pretty spectacular, and only outshone by the mind-blowing sunsets that surround you as you sit in the pavilion, overlooking receding layers of lawns, pools and ocean.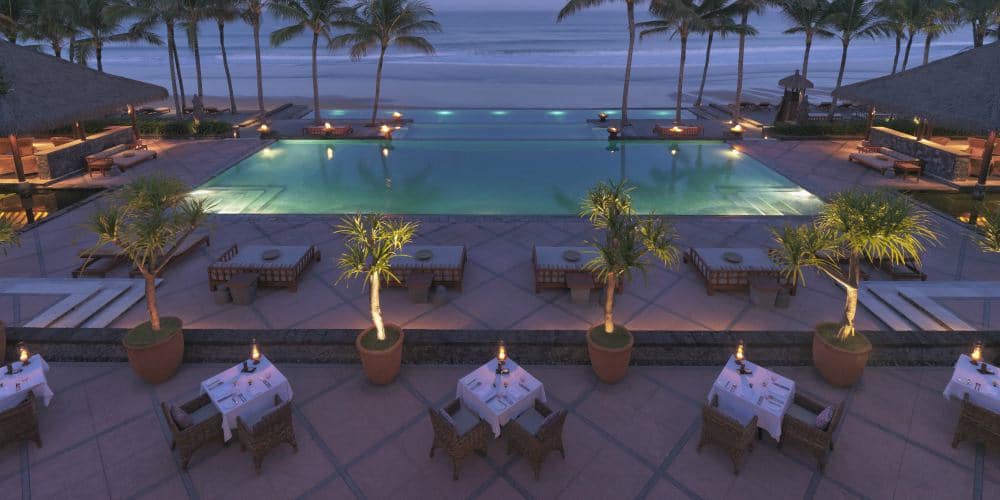 If the spices don't suit fussy members of the family, don't worry – the restaurant isn't above serving a margherita pizza or Indonesian fish and chips (in fact, the kids menu is so good, you may be tempted to get involved yourself). Two excellent bars, the Pool Bar and the Ocean Champagne Bar, flank the hotel's beachfront – a sublime spot for a lychee martini once the kids are packed off to bed. 
This is Bali, so there's a spa of course, but even for Bali the treatment menu is extensive and the facilities impressive. Tucked away in the hotel's South Garden, the chic space boasts four single beachfront treatment rooms and two double ones (ideal for his-and-hers massages), warm and cold plunge pools, capacious sauna and steam rooms, as well as mani-pedi lounges, and a fully decked-out gym. Nimble-fingered therapists perform healing Balinese rituals and chakra-balancing massages, as well as heavenly pore-purging facials that combine Indonesian methods with hand-blended products by British brand Ila (a Family Traveller fave).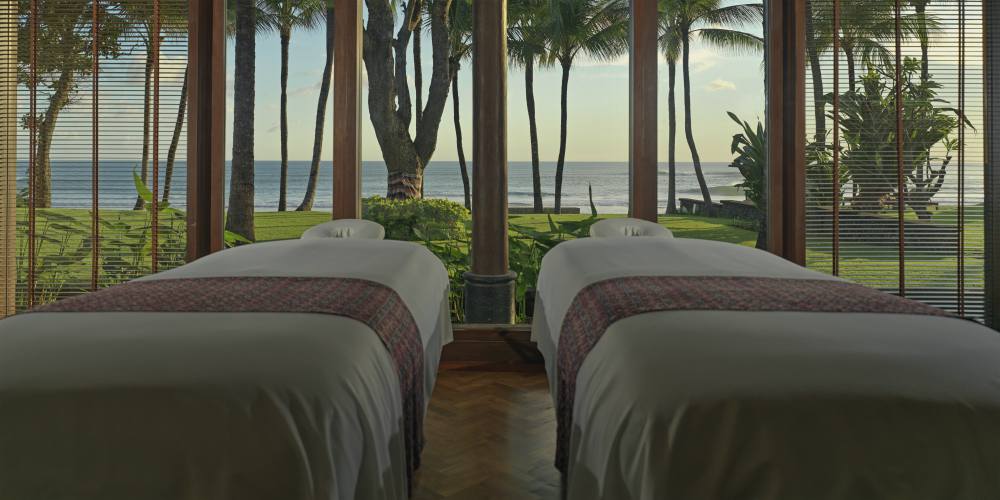 Complimentary hatha yoga every morning gives you no excuse not to find your heart centre before breakfast (the yoga mats are actually laid out on the lawn so while you're perfecting your warrior pose, the breakfast pavilion is tantalisingly in sight!). If you really need to relocate your zen, you can also opt for private meditation classes, held in the frangipani-scented garden.
While you're in the spa nearing nirvana, there'll be no need for Mum guilt as the kids will so busy, they won't even notice you're gone. With an eclectic menu of activities on offer – jewellery-making, Balinese dance classes and origami, as well as all the usual beach-front stuff – every age is thoughtfully catered for.
If you feel obliged to venture out beyond The Legian's idyllic environs (and trust us, it'll be tempting not to), the hotel is within a mile of Petitenget Temple and Seminyak Square. There's even a shuttle service to make the family outing that bit easier.
The lowdown
Rooms at The Legian, Seminyak are from £380 per night on a B&B basis. 
The Legian Seminyak is situated on Bali's southern coast and is 9 miles (a 25-minute drive) from the Ngurah Rai International Airport.
On-site facilities include a boutique shop, a wellness centre and a luxurious spa with a sauna, steam room, plunge pools and treatment rooms. 
The Legian boasts three tiered pools 
There are three on-site bars and restaurants: The Restaurant, The Pool Bar and The Ocean Champagne Bar.
High chairs, car seats (for private transfers), cots and changing mats are available free of charge. Also available on a complimentary basis are baby baths, bottle sterilisers and buckets and spades.