The idea of being bored on trip in Mexico probably never crossed your mind and why would it — especially on a Cancun family vacation. The iconic resort is located in the Yucatan Peninsula and has the entire Mexican Caribbean to play around with. So what to skip is probably more of an issue than what to fit in.
But where do you even begin on a coastline that has everything from sixth century Mayan cities to modern waterparks, beaches to lagoons and almost every other essential in the dream holiday mix?
Experiencas Xcaret is the team responsible for Xcaret Eco-Archaeological Park, opened in 1990 and now world famous for preserving some of Mexico's most important natural heritage (and making it accessible to millions of visitors). So when it comes to local knowledge of Cancun and the Riviera Maya — and how to pack as much into a family holiday as possible — who better to hand out hints? Have a look at their top 10 things to see.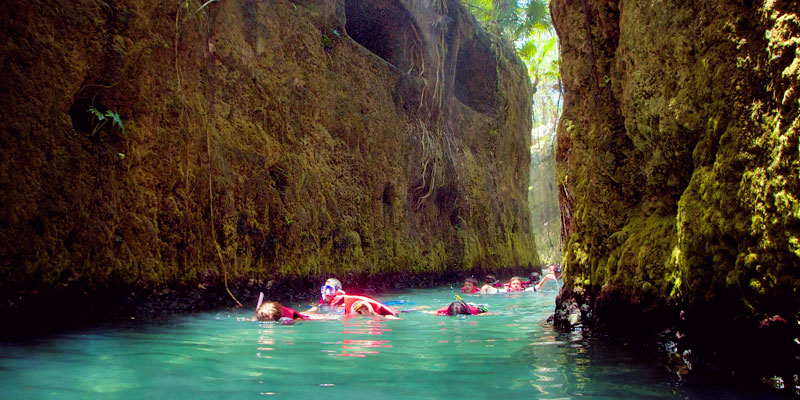 1/10

 Explore the amazing underground rivers of Xcaret

The Yucatan Peninsula's caves and caverns are archaeological marvels, but you don't have to be an archaeologist to explore the awe-inspiring network of underground rivers. Simply put on a life vest, step into the water and let the natural currents gently guide you round ancient rock formations, into enchanting pools and along narrow, sunlit channels between soaring golden cliffs.

Choose from three different waterways: the Blue, Maya or Manatee. They're nature's own lazy rivers but much more captivating than manmade waterpark pretenders. Just relax and look around, from busy flocks of colorful flamingo to the strange beauty of mangroves, there's never any shortage of sights. It's part amazing adventure, history lesson and organic water therapy in the purest form, which makes the entire experience all-around perfect for families.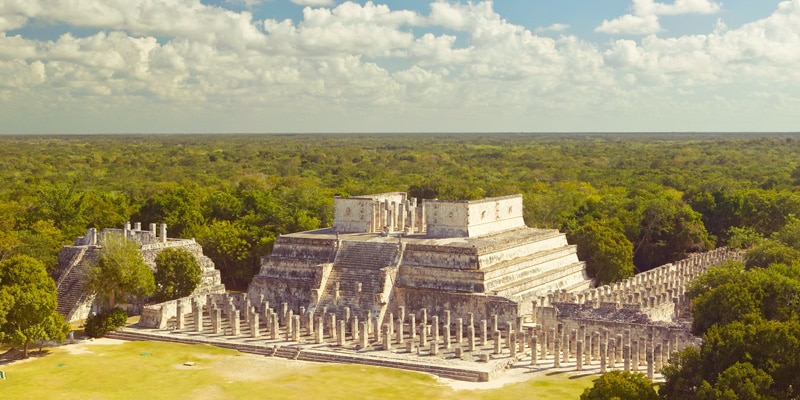 2/10

 Tour the ancient Mayan city of Chichén Itzá
You can't visit the Yucatan Peninsula without paying homage to its most remarkable marvel: the mythical Mayan city of Chichén Itzá. Thousands of visitors every year make the pilgrimage to stare in awe at the legendary El Castillo pyramid, the Temple of a Thousand Warriors or the eerie tzompantli skull carvings: just a hint of the archaeological collection which makes this one of Mexico's most important UNESCO World Heritage sites.
Discover Chichén Itzá in an in-depth historical tour which takes in six centuries of Mayan civilization, gets to the heart of colonial history in the great city of Valladolid, reveals mysteries hidden in sacred Zaci Cenote and then treats you to a traditional Yucatan feast in one of the Peninsula's loveliest mansions. It's hard to predict a favorite for kids out of all of the wonders, but Chichén Itzá's Great Ball Court tends to wins hands down with teens.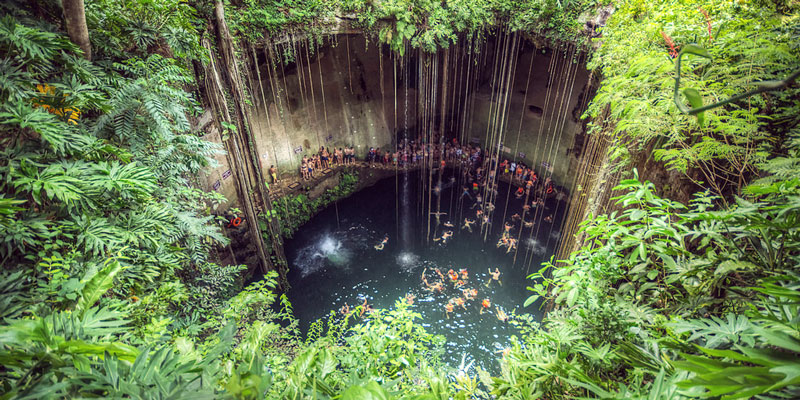 3/10

 Discover the Yucatan Peninsula's astonishing cenote
There are thought to be around 10,000 sacred Mayan cenotes (natural pools) across the Yucatan Peninsula. You won't be able to see them all in one trip, but with a little help, you could easily experience four in a day trip from Cancun.
Xenotes Oasis Maya Tour has plenty of ancient mysticism to satisfy your cultural cravings, lots of wild adventuring for kids and plenty of soothing downtime in the mix, too.
White-knuckle enthusiasts will be up for rappelling high above the transparent waters of Lu'um, the Earth Cenote; bold kids can dare fearsome ziplines to land in the heart of cooling Lik', the Wind Cenote; and Ha', the Water Cenote, is the spot for some gentle swimming and snorkeling. Then it's off to K'áak, the Fire Cenote, and a grand finale of kayaking, tubing and lazing, before a well-earned picnic lunch.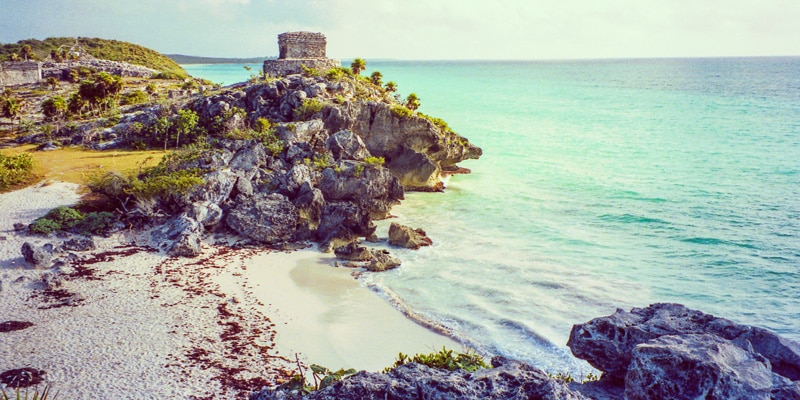 4/10 

 Sun, waterpark fun and ancient mystery at Tulum
One glance at Tulum's location and it's easy to see why the ancient Mayan picked this spot to build a walled city on the Yucutan Peninsula. Staring straight out over the ocean and surrounded by wide open plains, this is another remarkably well-preserved archaeological site.
Once you've worn out the history, do something completely different for a few hours at the nearby Xel-Há waterpark, where kids can snorkel, swim and splash to their heart's content. You might want to find a hammock, take five and just chill for a little in the afternoon sun – long, cool drinks go really well with the views here.
5/10

 Eco-adventures unlimited on Xcaret Beach
The Mexican Caribbean isn't short on gorgeous, huge, white, sandy beaches. So it takes something fairly spectacular to stand out from the crowd. Welcome to Xcaret, the beach that goes well beyond all expectations, hints at a natural waterpark and has more than enough on shore for taking it easy, sun-lounger lounging and building up energy for the next round of aquatic adventures.
In this part of the world, they call the thatched sun-shelter a palapa, and it's the perfect shelter for cooling down with toddlers. Older kids should prepare to be mesmerized by the hypnotic swirl of blue Caribbean sea in a natural ocean jacuzzi. And it takes a tough teenager to resist the temptation of snorkeling and swimming in the fantastically clear, calm and packed-with-sea-life lagoon.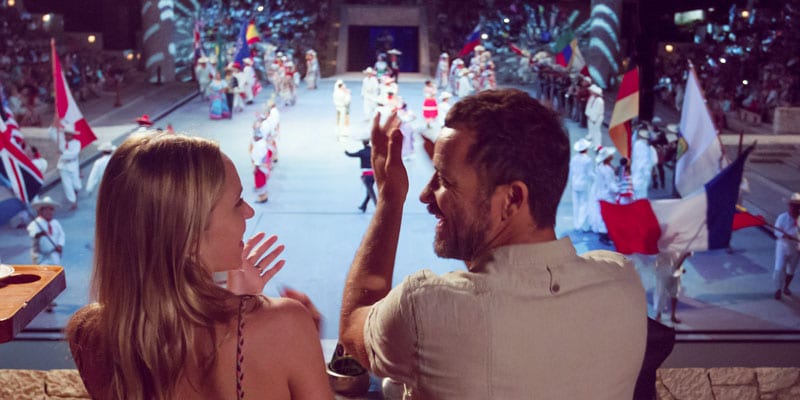 6/10

 Xcaret Mexico Expectacular Show
With one of the world's most ancient cultures to draw on, there's no lack of source material for Xcaret Mexico Expectacular: a theatrical voyage through the country's history from pre-Hispanic times to the present day.
You'll appreciate the cultural authenticity, traditional dances and brilliantly detailed costume design. Kids are more likely to be taken by the riotously joyous music, dancing horses, deliciously terrifying legends and the spirit of fiesta which manages to sneak in everywhere.
Over 300 performers take part in this extravaganza (calling it a 'show' is a bit of an understatement) and it's stunning from the mysterious Mayan heritage to the Mariachi band merriment.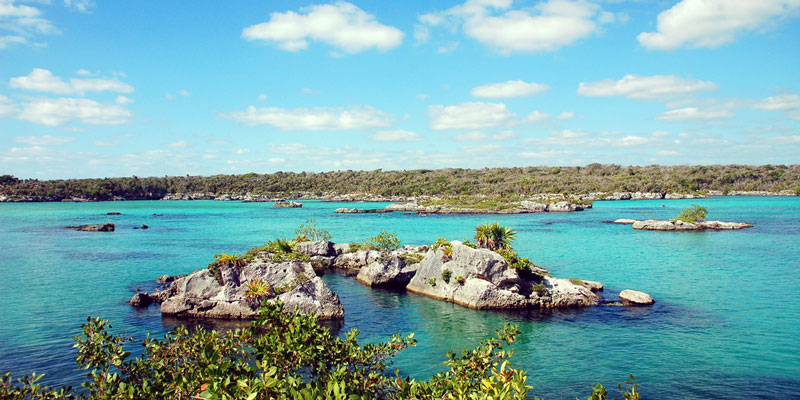 7/10

 Xel-Há is the land of all-inclusive fun for kids
Begin with the natural beauty of Xel-Há's lagoons, bays, beaches, ponds and ancient Mayan cenotes, then just add kids, for one of the most thrilling days out in all of extremely exciting Cancun.
Known as the snorkeling capital of the Yucatan Peninsula, this legendary paradise is a great introduction to the Mexican Caribbean's diverse underwater world, even for little first timers to masks and flippers. Older children might want to take a break from the marine life and try out the lively waterpark chutes, rides and slides or do the daring thing on Xel-Há's famously speedy zip-lines. Then get together, grab some bikes and head into the jungle on one of the well-marked, but satisfyingly wild, family cycling trails.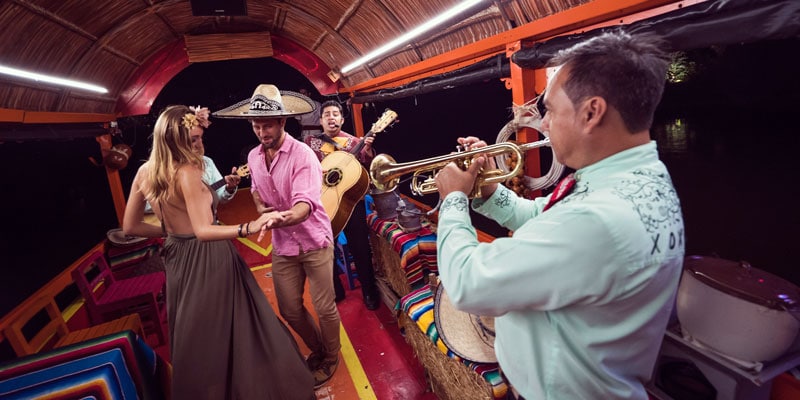 8/10

 Every night's carnival night at Xoximilco Park
No holiday in Cancun is complete without some Mexican carnival spirit in the mix and nowhere has that covered from every angle better than Xoximilco Park.
Every colorful evening kicks off with traditional kid's games, music and dancing. Snacking is part of the fun too and if ever children are prepared to try new tastes, it's here. The famous Mexican Party Barges are up next, moving the action out on to the water but not letting up on the energy one bit. Every legendary musical style from Marimba to Ranchero has a voice at this fiesta. And, because you can't have a Mexican carnival without feasting, expect to eat plenty and then eat some more.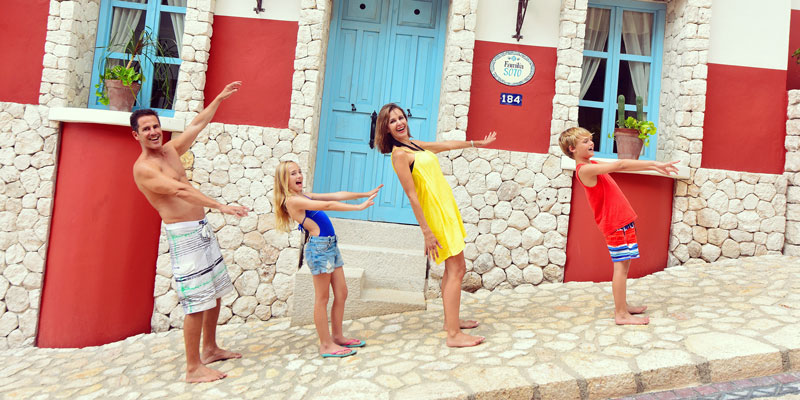 9/10

 Explore Xenses with all your senses
You might not want too much challenge in Cancun, the land of absolute bliss and beachy serenity. But if kids have another take on the holiday mood, Xenses is probably what they have in mind. A cross between an eco-exploration and crazy exciting activity park, a half-day here should buy you more than a few hours of undisturbed sun worshipping later.
Although you could very well end up releasing your inner child faced with irresistible temptations like Mud River and Xitric Garden, the lush tropical loveliness of Eden, cavern hiking in the Labyrinth and lazy floating on the beautifully buoyant Salt River.
Designed to stimulate mind and body, make you think, dream, explore and question, Xenses is a flight of the imagination combined with outrageously energetic activity and aims to leave everyone exhausted but exhilarated at the end of its five hour adventure.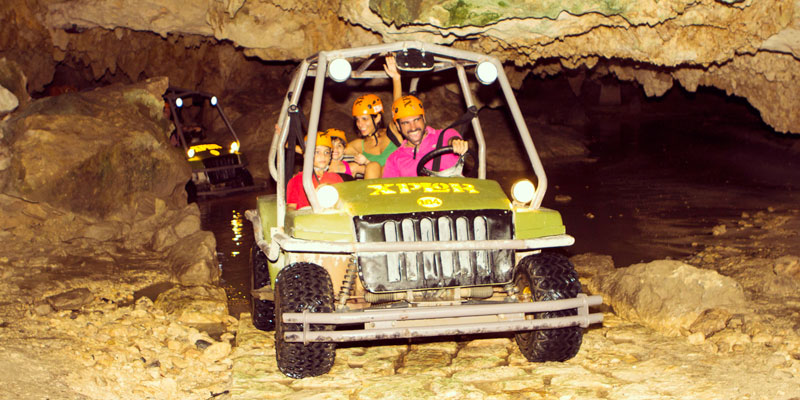 10/10

 65 million years of experience in one activity park
Not many adventure parks can lay claim to a heritage of 65 million years, but Xplor is no ordinary adventure park. Legend has it a prehistoric asteroid strike created the space, but it wasn't until 2009 that it started to fill up.
Today's young palaeontologists will be thrilled to meet dinosaurs in subterranean caverns; junior aerialists can zip around in the treetops; rivers-a-plenty make playgrounds for everyone from amphibious craft sailors to raft builders, swimmers, snorkelers and serious water babies – the Hammock Splash is an aquatic icon.
And the fun doesn't finish when the sun goes down. Hang around after dark to experience Xplor Fuego: all the night time, black skies thrill of the jungle and close encounters with its wilder residents.