In the mood for warm winter getaways? When you're craving some Vitamin D there are plenty of easy destinations that consider 70 degrees cold for this time of year. Here's our line up of warm winter getaways and hot family resorts to book right now.
Key West warm winter getaways in southern Florida
Key West in Florida isn't known for beaches, so the fact that Waldorf Astoria Casa Marina sits nestled along its largest private beach puts this luxurious and family-friendly resort at the top of our list of warm winter getaways right now.
Average Winter Temperature: 71°F

Warm winter getaways to Cape Coral in Florida
The low key Westin Cape Coral resort is reached via Cape Coral's 400 miles of navigable canals and waterways. It also sits nest to the prestigious Tarpon Point Marina so families have both a relaxing and adventurous tropical escape this winter.
Average Winter Temperature: 75°F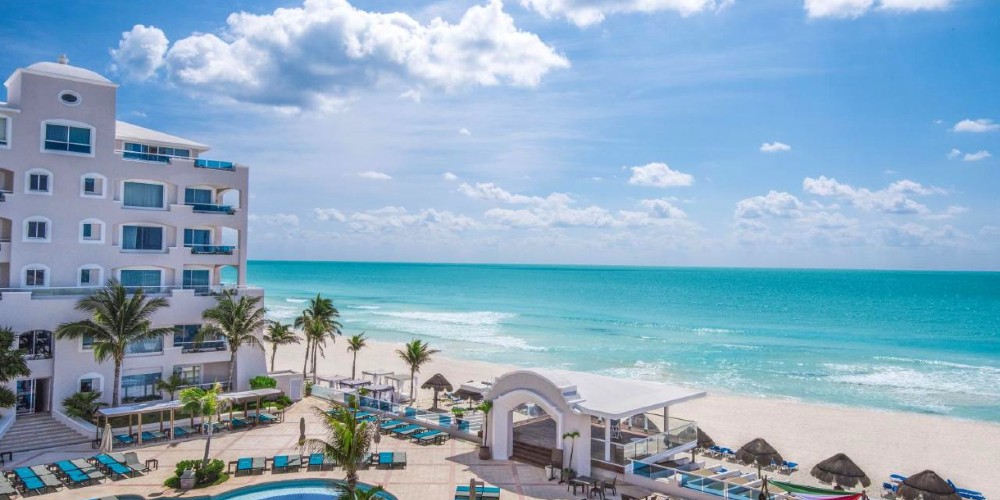 Cancun all-inclusive includes wonderful winter weather
Beachfront Wyndham Alltra is the incredibly generous all-inclusive Cancun resort with panoramic sea views, pristine pools and an amazing splash park for kids. Lux Aura Spa brings grown-up treats and nearby Mayan heritage sites are great fun to explore for the whole family.
Average Winter Temperature: 70°F

Montego Bay for warm winter getaways in Jamaica
Montego Bay in Jamaica now has easy, direct flights from Orlando so it's one of our top warm winter getaways for families in 2022. We're recommending all-inclusive Hilton Rose Hall Resort & Spa for its family-friendly vibe and the fact that it's set in legendary 18th century Rose Hall Estate.
Average Winter Temperature: 76°F
Head to Antigua for winter temperatures of 8o° and counting
Idyllic Curtain Bluff Resort in Antigua is perfect for warm winter getaways this year. Another all-inclusive beachfront beauty, this one is particularly family friendly right down to the fun Cee Bees kids club. Pool villas are stunning here and active older kids will love all the sports on land and water.
Average Winter Temperature: 82°F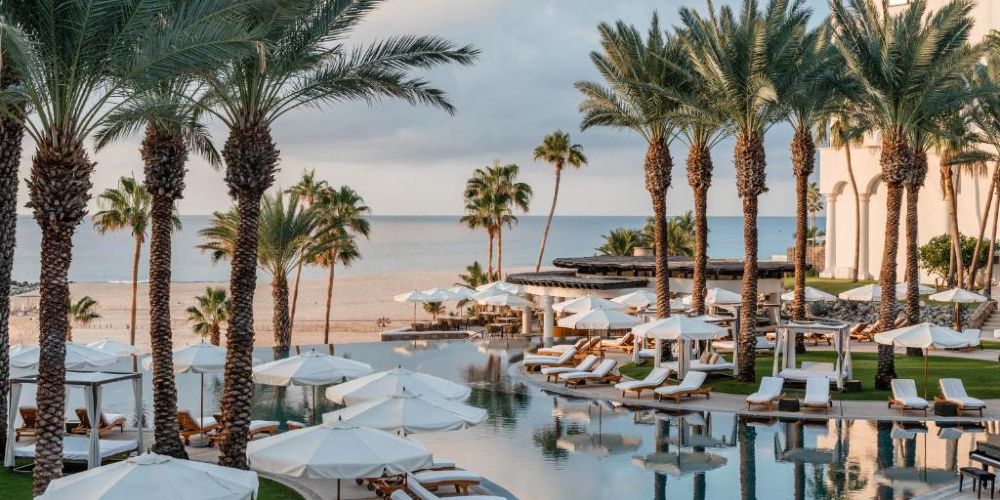 Try warm winter getaways with whale watching on the Baja Peninsula
Whale watching season On the Baja Peninsula runs from January to March. Stay at kid-friendly Hilton Los Cabos Beach and get up close to giants of Magdalena Bay on the resort's exceptional whale watching tours.
Average Winter Temperature: 76°F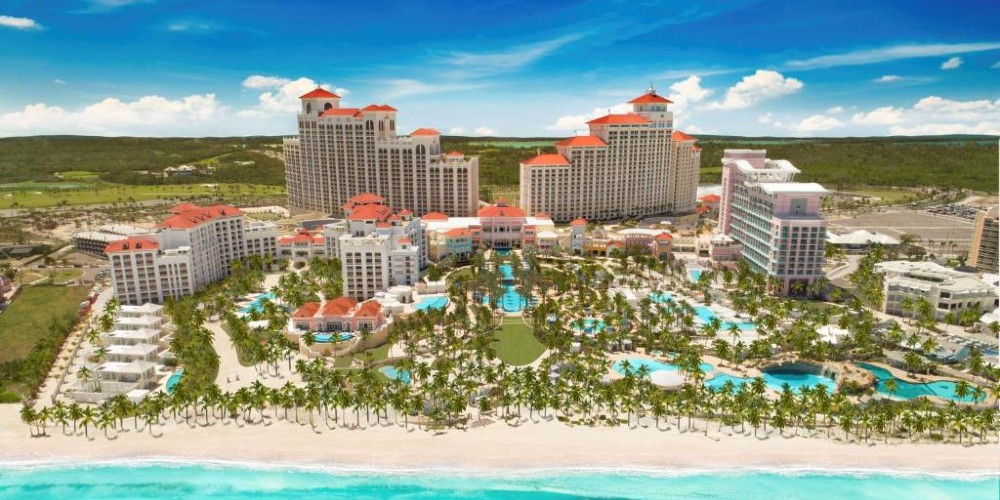 Easy to do winter sun at Baha Mar in the Bahamas
The Grand Hyatt Baha Mar resort sits right on enormous Cable Beach in Nassau. Kids will love the choice of eight pools or the option of Baha Bay Oceanfront Waterpark. The unique on-site wildlife sanctuary is a thrill for families and teens can look forward to amazing watersports.
Average Winter Temperature: 79°F

Catch the warmest winter breaks on Big Island, Hawaii
The 62-acre Hilton Waikoloa Village blends Hawaiian culture and family fun. Its four-acre ocean-fed lagoon flows alongside hammocks and white sand beaches. Reef fish and sea turtles interact with kids. And paddleboards, water bikes and kayaks are just a few fun ways to explore the resort.
Average Winter Temperature: 81°F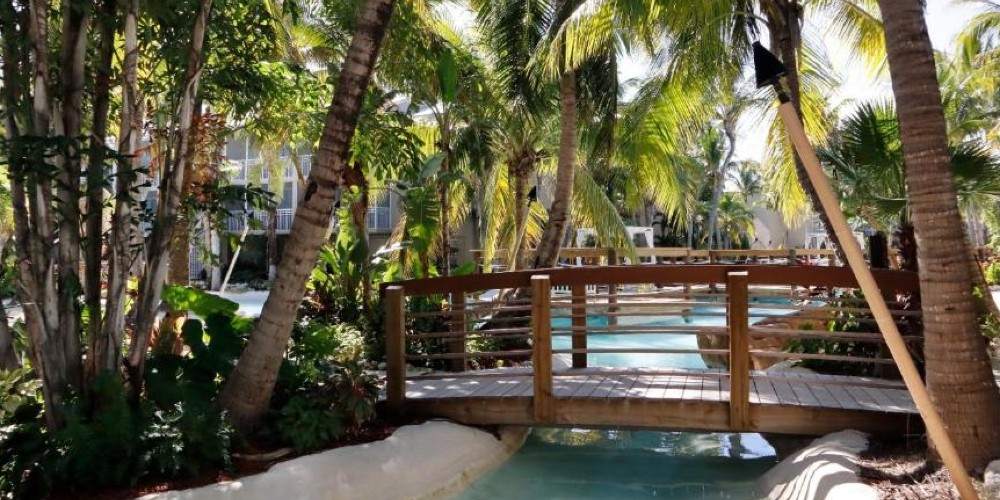 Forget winter on the white sand shores of Islamorada in Florida
Discover Islamorada on the Florida Keys less than two hours' drive from Miami. Look forward to one of the largest natural white sand beaches in the Keys and plenty of gentle, outdoorsy fun for kids. We recommend staying at Cheeca Lodge & Spa for its family-friendly pools, beachfront setting, amazing watersports and 27-acres of lush, tropical gardens.
Average Winter Temperature: 75°F

Warm winter getaways in La Romana, Dominican Republic
La Romana is surrounded by lush jungle, trimmed with white sand beaches and close to Dominican Republic diving legend Catalina Island. We recommend a stay at Casa de Campo Resort & Villas for nearby golf courses, gorgeous oceanfront location and fun family golf carts to get about the 7000 acre estate.
Average Winter Temperature: 77°F
Looking for more family getaways this winter? See 6 Caribbean islands for easy and fun vacations. And don't forget to follow Family Traveller on Instagram and Facebook for even more family vacation inspiration.