For breezy St Lucia family vacations, Family Traveller's John Lewisohn discovered Windjammer Landing, the easiest resort for families ready to return to the Caribbean.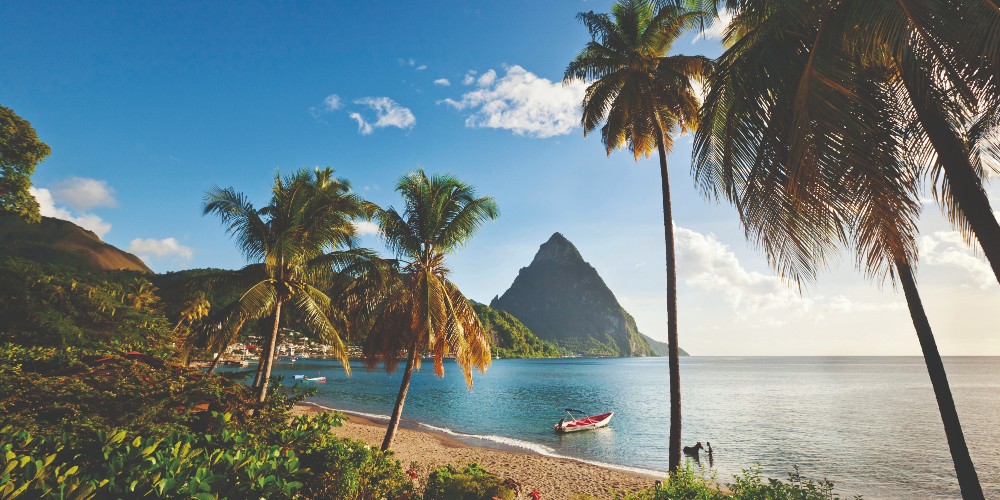 You might have noticed we've not passed any buildings in the past 10 minutes," said our driver Michael in his laid-back style. "That's because we are in 'Snaketown'.
"The poisonous St Lucia pit-viper calls this forest home, so folks build their houses elsewhere." Pointing to his left Michael chuckled, "apart from the Bordelais Correctional Facility up that lane. That's the only building around here and those vipers stop the inmates from contemplating an escape."
I never found out whether Michael was telling a tall tale to entertain us on the 90-minute drive from St Lucia's airport in the south (the only part of the island flat enough to position a runway), up to our hotel – Windjammer Landing – in the northwest. But, parents beware: make sure your children visit the restroom before they leave the airport. You don't want an impromptu stop in "Snaketown".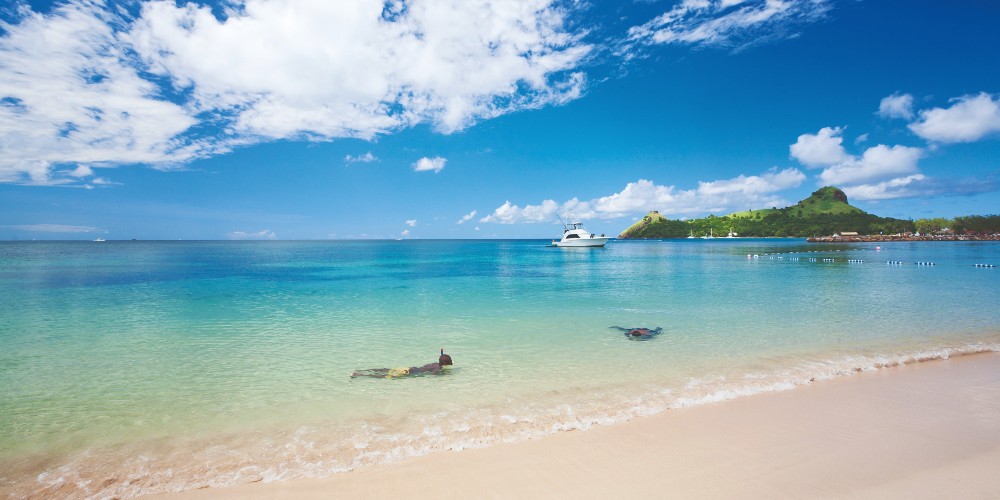 Welcome to luxuriously lush and green St Lucia
A late afternoon arrival works well for families. The lunchtime BA departure from Gatwick means a not-too-early start, and it's only 9pm UK time on touchdown. Bedtime yawns on the transfer will be stifled by the excitement of travelling through this Jurassic Park. Every vista is shag-pile-thick, with radioactive green vegetation, gradually dimming in the gathering dusk. And, in our case, dimming to complete blackness because an island-wide power cut – apparently the first in years – meant we arrived to a welcome party of staff with candles and torches and a backing orchestra of max-volume crickets and frogs. It's an exotic, evocative arrival.
Next morning, the green dazzled again, reflected off the shimmering Caribbean sea. With this amount of chlorophyll overload, you'd think it must rain non-stop. Yet every day we enjoyed 90 per cent blue sky. The one innocuous wispy cloud overhead seemed to say, "I am a cloud and my role is to deliver rain …. right now. Sorry!". And it always did, often in a deluge, lasting just 20 seconds, and then disappeared to be replaced by a friend a few hours later that did the same. No impediment to enjoyment, actually, but a welcome refresher.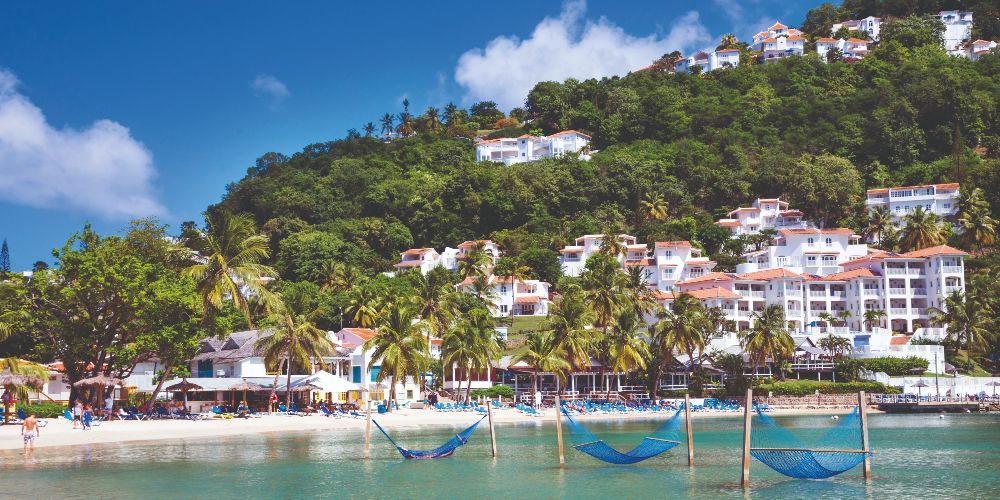 Windjammer Landing perfects St Lucia family vacations
At sea-level, Windjammer Landing resort feels relatively compact with a collection of pools, bars and restaurants straddled along the gently curving beach.
The plot is huge and much of the accommodation can be found via a vertiginous road with jaw-dropping views around every hair-pin bend. Carefully tended landscapes overspill with multi-colored bougainvillea and jacaranda trees.
The trade-off is yours to make: stay up the hill and you'll find vast villas, private pools, seclusion and ocean views – but that means taking one of the regular shuttle buses to the beach and hotel.
If you want to be right beside the beach, try the more affordable rooms. Still very spacious and with their own balconies, but the shortest journeys to the sea for kids.
Also good to know, some of the swankier room types come with their own kitchen. There is also a well-stocked store on-site. Or you can ask for one of the hotel chefs to cook you a feast – a great option if your kids aren't restaurant-ready.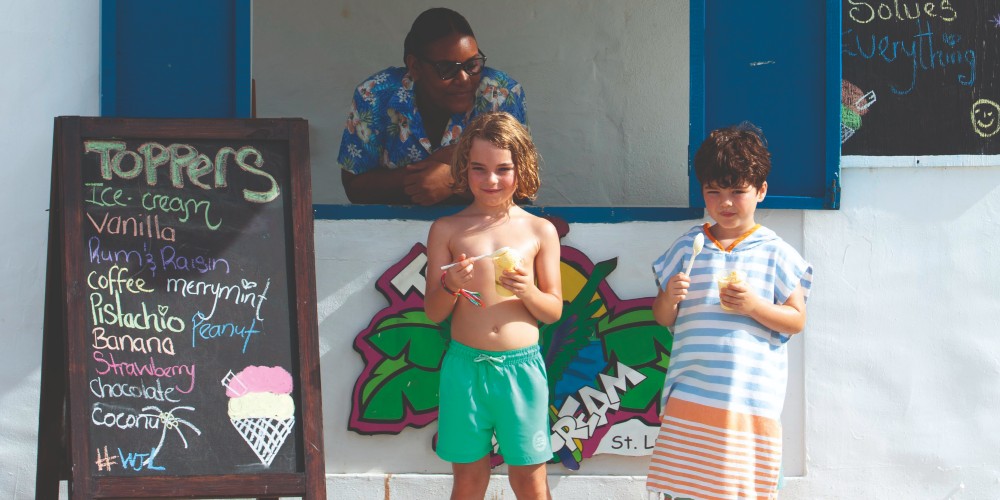 The Caribbean resort where families are treated like VIPs
Families are treated like VIPs at Windjammer. Despite having to wear face masks, the staff manage to convey a natural warmth and they've thought of your every need, before you've even realised what you forgot to pack (including nappies).
Each of the four restaurants has its own themed drawing sheets and crayons as well as dedicated food, whether it be smaller portions or child-friendly choices.
Toppers ice-cream shack, just steps away from the beach, will become a regular haunt, as will the Jacquot Fun Club. There's a real sense of mischief and fun among the staff at Jacquot; inside is packed with board games, building blocks and paints, while the sandy garden is scattered with slides and swings. Activities often take place on the beach or explorations happen around the gardens. Staff boast that even initially reluctant children want to stay all day after their first visit to Jacquot.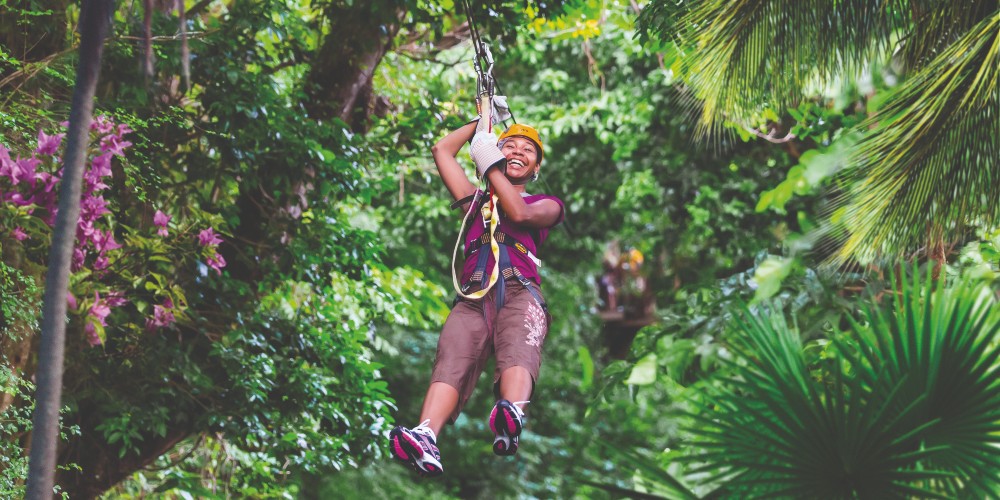 St Lucia family vacations are full time adventures
A brilliant multi-generational family activity is chocolate-making with a local artisan producer. St Lucia has the perfect conditions for growing cacao – volcanic soil, plenty of sun and rain – and chocolate has been produced on the island since the 1700s. Given a heated pestle and mortar, cocoa nibs, spices, cocoa butter and sugar, it's harder than you'd think to turn the beans into a paste. Kids love the process. And finally, it's turned into a mold and put in the freezer. Your reward for all that hard work is your own bar of chocolate, unique to your own tastes.
Unlike many Caribbean islands where the interior is flat and scrubby, inland St Lucia is the stuff of treasure maps.
An hour's drive south west of the hotel, deep in the highland community of Chassin, is Rainforest Adventure with ziplining and an aerial tram. Any confident child from five upwards can enjoy this thrilling excursion which includes eight zip-wires of varying length running through the forest.
If you are not such an adrenaline junkie, there's a more relaxing aerial tram ride through the forest canopy. We grown-ups were astonished by the profundity and variety of trees. While gently trekking to the next zip, our guide chipped away at some bark and offered it to me to smell. Immediately, I was transported to a church for it was pungent incense and came from an incense tree that towered above.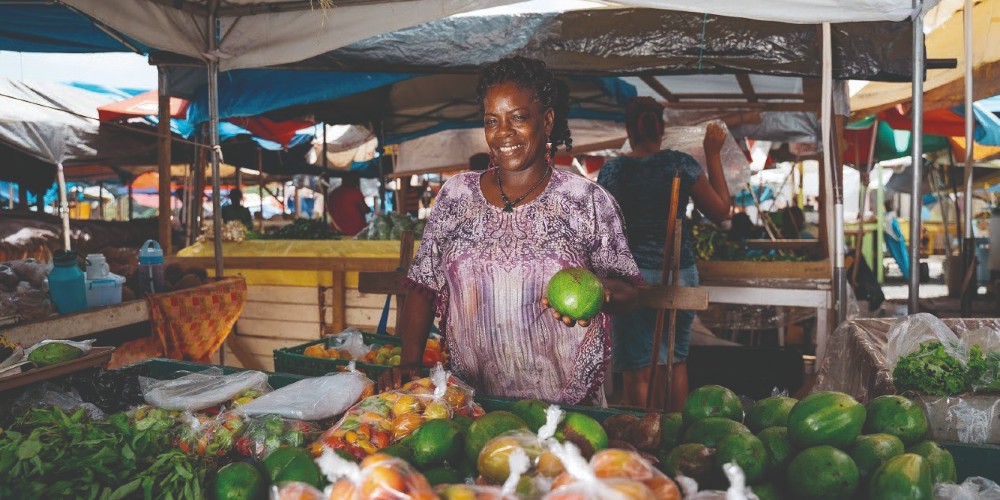 From market days in Castries to stunning catamaran cruises
Just down the road from Windjammer is Castries, the capital of St Lucia, which offers a glimpse of true island life at its famous Saturday morning market. Locals shop for fresh provisions here, plus there are countless stalls selling home-made curios, clothes and second-hand bottles with mysterious oils, rums, moonshine and searingly hot chili sauces. We went home with a bottle of lime-green banana ketchup.
Our favorite day out was a stunning afternoon catamaran cruise following the coastline southwards, with views to Martinique and down to Soufriere with its extinct volcano and mud baths.
As the boat approached Soufriere, the iconic Piton mountains came into view, looking like two green bullets rising from the sea. In actual fact, Gros Piton can be climbed in two hours by a path, although Petit Piton is only for experienced climbers.
From Soufriere harbor with its creaking, colorful clapboard houses in varying vibrant shades and stone walled Catholic church, we take a shortminibus journey to the volcanic mud-baths. They're also open to children too who'll enjoy daubing themselves in the colorful mud.
Back on board, we snorkeled, swam with parrotfish, ate, danced and drank. It was an unforgettable day out for older kids. If you're staying with younger ones, Windjammer Landing has free-to-use kayaks, paddleboards and snorkeling gear.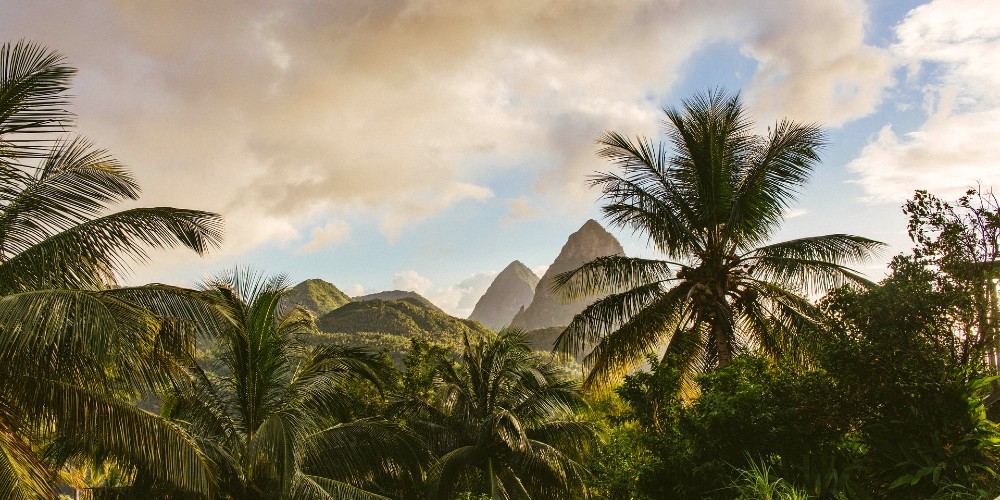 From 1674 to 1814 St Lucia changed hands between the French and British a total of seven times. That's why place names here are French and the local Creole dialect is also based on French. After spending time on this beautiful island I can see why it was fought over so tenaciously. And all parents should steel themselves for brutal battles and fierce arguments of their own – because there will be a few when you tell the kids it's time to leave.
How to plan St Lucia family vacations
Direct flights from Miami to St Lucia take from 3 hours, 30 minutes.
All-inclusive Windjammer Landing offers a choice of accommodations from family rooms and suites to family villas with one to four bedrooms.
The resort also offers a Kids' Club, six swimming pools, five restaurants, spa, private beach access, watersports and a dive center.
Ready for more island ideas? Take a look at six amazing Caribbean family adventures to try this year. Don't forget to follow Family Traveller on Instagram and Facebook for more travel updates and inspiration.