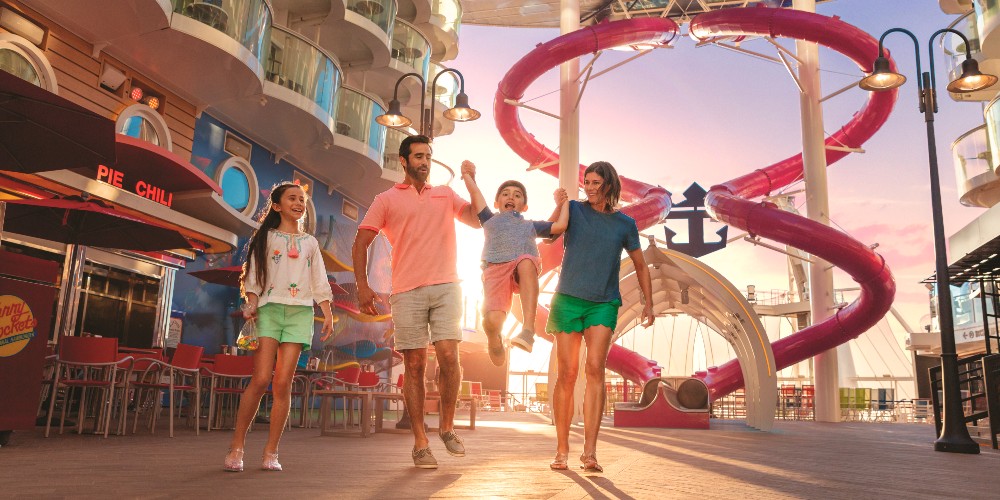 The best family cruise vacations are big adventures and adventurous cruises are what Royal Caribbean do like no other cruise line. So if getting together for all out fun is something you've all been missing, now is the moment to discover the family cruise vacations worth waiting for. Take a look.
Royal Caribbean matches family cruise vacations with your family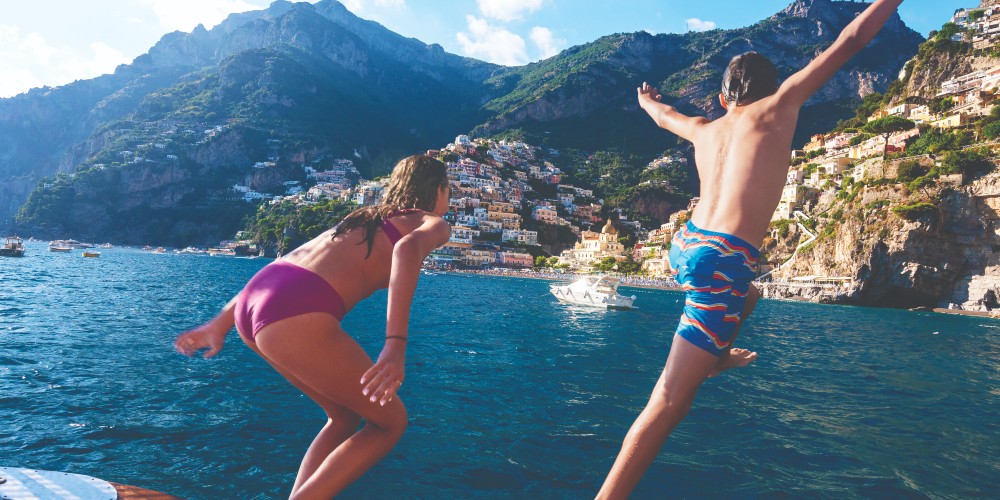 Plain sailing history lessons: Discover Greece and Croatia on Explorer of the Seas
Dubrovnik is known as the Pearl of the Adriatic. However, your kids might know it better as one of the most famous locations in several seasons of HBO's Game of Thrones.
Discover both sides of Dubrovnik on a 7-night Greece & Croatia Cruise aboard Explorer of the Seas.
Don't miss a walk along the 16th-century city walls.
Stroll across the impressive Pile Gate drawbridge.
Climb up St. Luke's Tower which stands sentinel over Dubrovnik harbour.
Finish up with a cable car up Mount Srđ – the views from the top are spectacular.

Want to tick off Tik Tok icons? Take a Western Mediterranean cruise on Symphony of the Seas
Book a 7-night Western Mediterranean Cruise aboard Symphony of the Seas and let kids loose on top Tik Tok icons.
Take a hike up active Mount Vesuvius and grab a selfie at its rim.
Head to Pompeii to see the city engulfed by Vesuvius in 79AD.
Eat Instagram-ready pizza in Naples.
Stop off in Capri for some celebrity spotting.
Shop on the elegant Via Condotti in Rome.
Grab a reel on Rome's Spanish Steps, then catch a tour of the Colosseum.

New to family cruise vacations? Try a 2-night taster on Anthem of the Seas
A short taster is a perfect introduction to cruise vacations for kids. Book a 2-night Weekend in Paris Cruise aboard Anthem of the Seas and you'll see what we mean.
Sailing from Southampton, England to Paris is an adventure in itself.
Climb the Eiffel Tower and shop the Champs-Élysées.
Meander up to Montmartre for more amazing views.
Fit a visit to historic Rouen in Normandy into your weekend.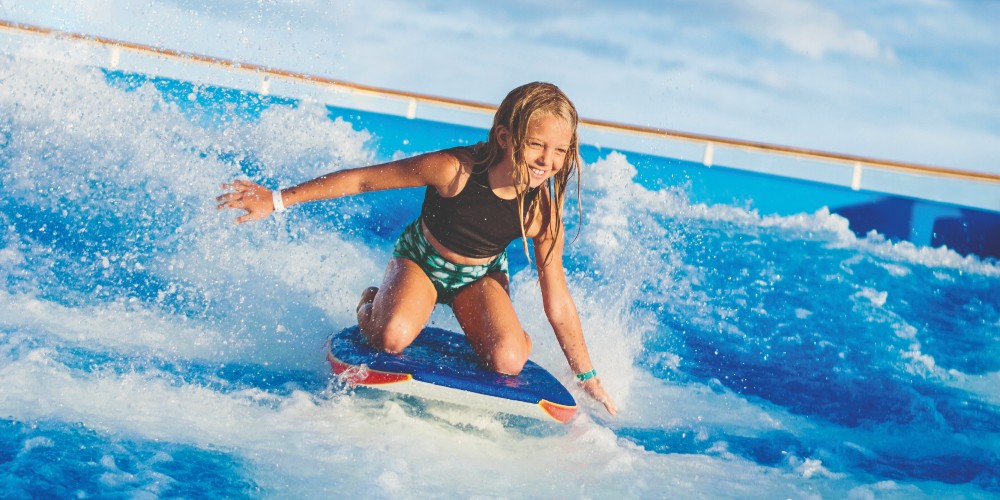 What kids really think about family cruise vacations with Royal Caribbean?
"I didn't really think I'd like a cruise before I went on one. Now I'm addicted.
My first cruise was on Explorer of the Seas, sailing to Norway, Denmark, Sweden; all through the Baltics. I know, lucky me.
The FlowRider was amazing, as well as all the pools, the kids' club and the food!
'The only bad bit was the pain in my feet at the end of every day. If you want to fill your day with activities, by bedtime you're tired out."
Cameron, age 9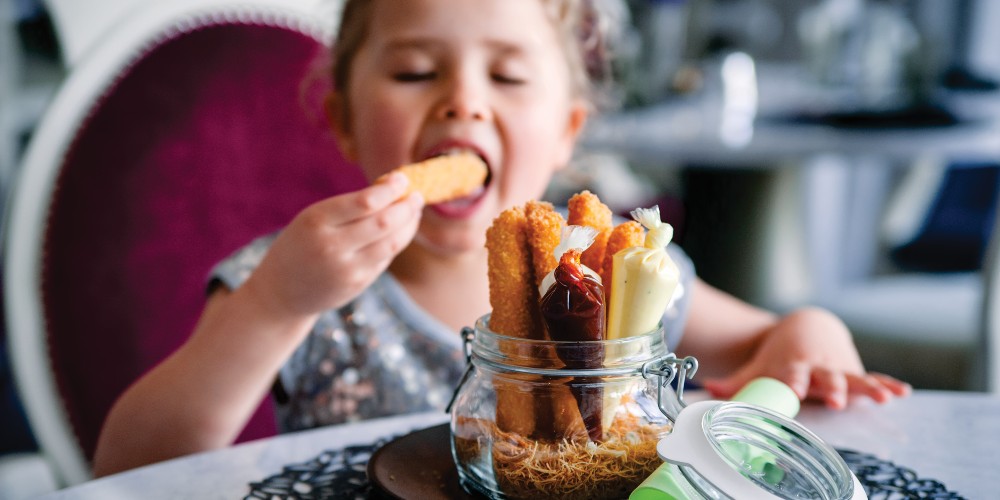 "I went on my first cruise when I was nine weeks old and have been around Europe, the Caribbean and the Middle East.
My favourite place is Barcelona. I loved going to Camp Nou stadium. My dad bought me and my brother Barcelona football shirts but I preferred the Spanish flamenco dress we bought at the cruise terminal. I wanted to wear it for the rest of our vacation.
'The best thing on the last ship we were on, Anthem of the Seas, was the pizza. I'd get a slice after the shows. It was yummy."
Anais aged 7

Why kids love life aboard Royal Caribbean cruises
Several Royal Caribbean ships are now fitted with the first ever on board Zip Line. It's suspended nine decks above the Boardwalk and lets kids stop for a selfie mid-zip at the centre of the ship. Only the boldest dare look down!don't look down!
Other new on board experiences include Sky Pad, a bungee trampoline where kids wear virtual reality headsets. The aim is to bounce and be transported to another time, place or even planet.
Bumper cars bring all the fun of the fair to SeaPlex, the largest indoor active space at sea. Anthem of the Seas now includes a circus school complete with trapeze lessons. And Symphony of the Seas features Laser Tag, an ice rink and a custom designed Escape Room experience.
Children love all the complimentary Adventure Ocean Kids Club. In addition to a nursery for babies aged 6-months and over, there's Aquanauts for 3 to 5 year olds and Explorers for kids aged from 6 to 8.
Don't worry tweens and teens are well taken care of too. They have their very own Royal Caribbean clubs as well as brilliant art studios, high-tech science labs and fun theatres.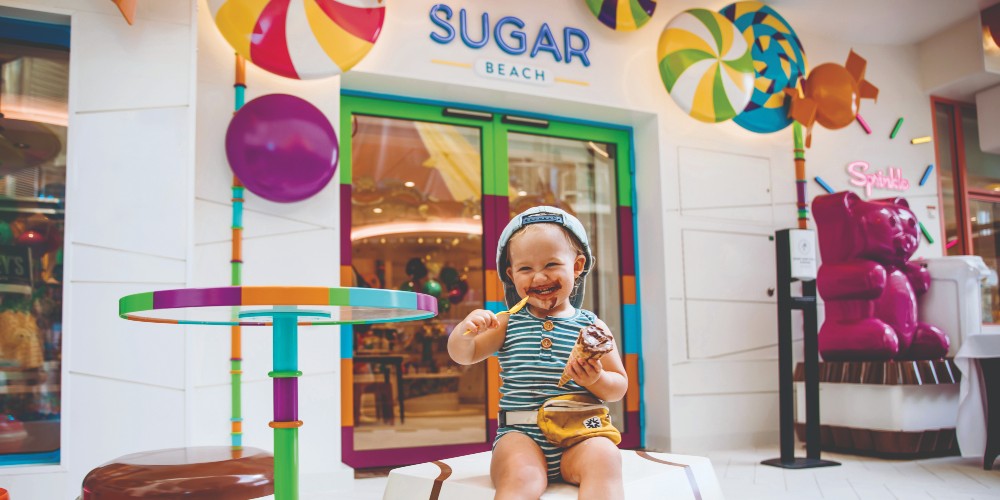 Why everyone loves Royal Caribbean family cruise vacations
With world-class cuisine, award-winning shows and thrill-filled itineraries, Royal Caribbean really offers the best family cruise vacations for everyone in your family.
Children of all ages have fantastic activities on board.
Parents can look forward to time in the spa or gym.
Grandparents enjoy family together time, as well as escapism in the adults-only Solarium with ocean-view whirlpools.
There's plenty of opportunity to dress up onboard and with no baggage limit you can pack all your favorite clothes.
For extra luxury try a two-level Royal Suite Class. It's the Ultimate Family Suite and comes with a slide from the kids' bedroom to the living room.
VIP guests receive premium benefits and exclusive access to dinner at Coastal Kitchen.
Top Star tier guests have their own sun deck and a Royal Genie who makes family wishes come true all vacation.
Shore excursions are another reason to book with Royal Caribbean. Every cruise is an opportunity to discover new destinations and get to know amazing cities. You can explore islands from the Caribbean to the Canaries. And if you feel extra adventurous, you could even venture to Alaska for the voyage of a lifetime.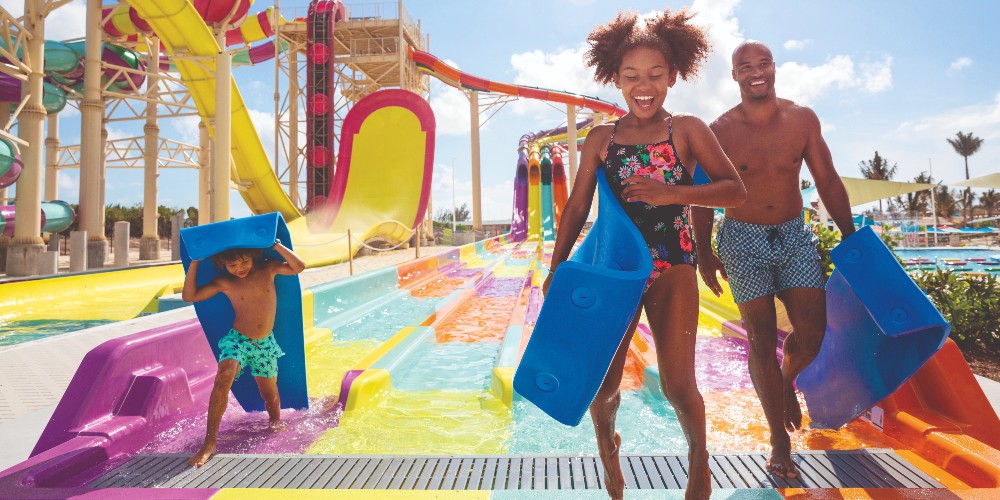 Every day is a Perfect Day on a private island in the Bahamas
Perfect Day at Coco Cay is Royal Caribbean's own private island. Nestled in the Berry Islands, near Nassau in the Bahamas, it's the ultimate fun-in-the-sun shore excursion and exclusive to cruise passengers.
Kids can look forward to the tallest waterslide in North America. It takes 35 seconds to plunge 135 feet at speeds of up to 18mph.
Up, Up and Away is the helium balloon experience with carries kids to heights of 450 feet.
They can hop aboard a pirate boat where 16 water cannons keep them entertained for hours.
Splash Summit water slide is twice the height of the Golden Gate Bridge. See it in action in the video below.
Parents have fun of a different sort with swim-up bars, floating cabana, plus a freshwater pool the size of a football pitch. Perfect Day's powdery white sand beaches and year round sunshine appeal to everyone. And there's even a complimentary solar-powered tram which tours the island.
Perfect Day is included on short cruises from Fort Lauderdale, Miami, Port Canaveral and Cape Liberty. Perfect if  you want to add something extra to a Florida family holiday.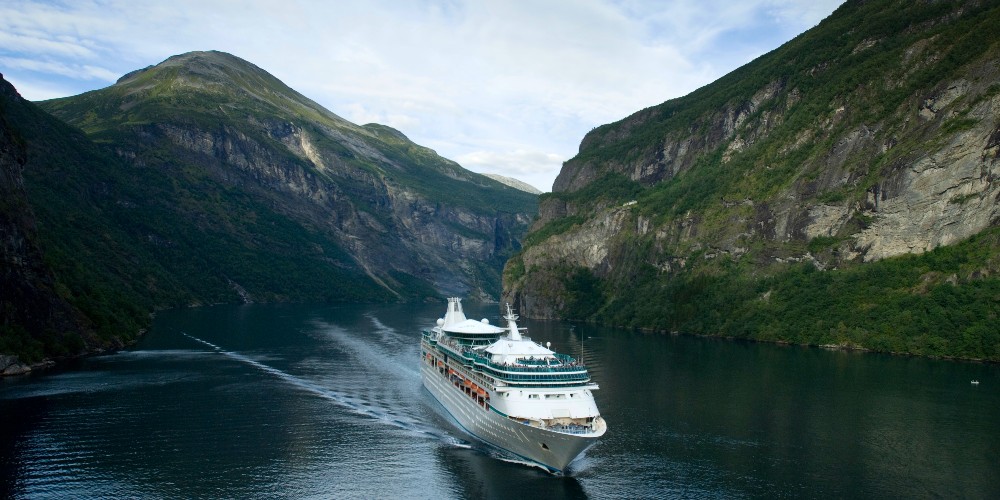 Voyage the Norwegian Fjords in the path of Vikings or Mission Impossible
Norway has spectacular scenery and the entire country could have been designed for family cruise vacations. Think vast glaciers and dramatic fjords, cascading waterfalls and impossibly grand mountains and you have just a hint of what's in store on a 7-night Norwegian Fjords Cruise aboard Anthem of the Seas.
Sail from Southampton, England to Stavanger, Olden, Geiranger and Haugesund in Norway.
Kids will be thrilled by the Stavanger's pastel-painted wooden homes.
There's a chance to climb Preikestolen or Pulpit Rock, 2,000 feet above Lysefjord. This was one of the locations for Mission: Impossible – Fallout.
Take a walk to the heart of the immense waterfall at Geiranger – now a UNESCO World Heritage site.
Brave a bus journey along hairpin-bendy Eagle Road, 2034 feet above sea level!
Chase the summer sun on family cruise vacations to Spain and Portugal
Spain and Portugal guarantee summer sun. However, they also offer some of the most kid-friendly culture in Europe. Indulge in both on a 9-night Spain & Portugal Cruise aboard Anthem of the Seas.
Sail from Southampton, England to Bilbao, La Coruna, Vigo, Lisbon and Seville.
Browse the spectacular Guggenheim Museum in Bilbao.
Climb the Tower of Hercules lighthouse in La Coruna.
Sail to the sunny Cíes Islands from the bustling port city of Vigo.
Visit Lisbon for Alfama, jangling trams, the Belém Tower and beaches.
See the largest gothic cathedral in the world at the heart of stunning Seville.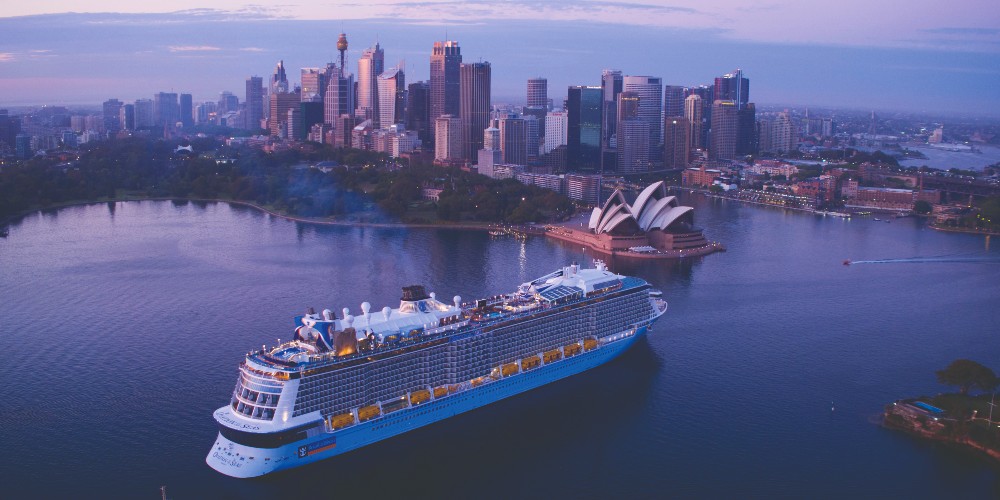 Discover an entire world of family cruise vacations with Royal Caribbean
Ralph Waldo Emerson said, 'life is a journey, not a destination'. The same can be said for Royal Caribbean family cruise vacations. Because when voyages are this exciting  nobody is in too much of a rush to arrive. Especially as the recent global health crisis has taught us to treasure family time together more than ever.
With more than 250 destinations on offer, Royal Caribbean make it possible to travel to every corner of the globe. You can choose between European weekend breaks to winter sun in the Caribbean.
With more far-flung destinations than ever now available,  the world is wide open for the biggest family cruise adventures yet:
Watch Northern Lights with your kids on Arctic Circle cruises.
Choose once-in-a-lifetime cruises to Japan or China, Australia and the Middle East.
Sail up the Panama Canal or visit Pearl Harbour in Honolulu.
Snorkel in the crystal clear waters off Kaanapali Beach in Maui, on a Hawaiian Cruise
Learn to surf like a pro on Waikiki Beach.
Ready to get together for some all-out fun on one of the best family cruise vacations ever? Visit Royal Caribbean to explore adventurous, family-friendly itineraries worldwide for 2022 and 2023.