San Francisco is home to the world's first cable cars, and the last. Aaron Millar hops aboard for a city tour and discovers adding this icon to San Francisco holidays works brilliantly with kids.
If there was such a thing as a roller coaster tour of a city, San Francisco's cable cars would be it. They may only go at 9.5mph, but with the wind in your hair, bells ringing, track clattering, hanging on as you are pulled up and down the city's infamously steep hills, it feels far more like an amusement park ride than a boring old bus tour.
Forget rollercoasters, San Francisco's cable cars are the ride of your life
It's also the one of the only antiques in the world you can actually ride on. Invented exactly 150 years ago this summer, when Andrew Halliday first laid cables here in 1873, people thought he was insane.  But it transformed the city and the idea spread like wildfire. For a time. But while other cities abandoned them in favour of faster, more efficient means of transport, this one stood true. San Francisco's is home to both the first cable cars in the world, and the last. If you want to ride this roller coaster, you have to come here to do it.
And you should. San Francisco holidays are not only the jumping off point for many of California's greatest adventures – the Pacific Coast Highway, Yosemite and Napa Valley are all on its doorstep – it's also a fantastic city for families.
So, jump on board. The tracks are clattering, the bells are ringing, and this is the ultimate roller coaster tour of the City by the Bay.
Stop1: Cable Car Museum, big, noisy and a lot of fun for kids
You'll be taking the Powell-Hyde line throughout and though this isn't where it starts, it's where you should begin. The Cable Car Museum is way more than just a museum. This is the Powerhouse, where six 14-foot diameter sheaves turn the cables on a constant loop around the city.
It's big, it's noisy and there's lots of hands-on stuff to entertain the kids while they learn about the roller coaster they're about to ride. Who needs theme parks on San Francisco holidays?
Stop 2: Chinatown, lantern-strung streets you don't want to miss
Next up is Chinatown. Strolling through these lantern strung streets is an experience itself.  Pagodas adorned in yellow and gold, tea shops and temples. You'll hear more Mandarin than English. But a couple of stops can't be missed.
At the Golden Gate Fortune Cookie Factory up to 10,000 cookies are made by hand, each day. Walk in the door and the scent alone will start little mouths watering. But the best part is you can write your own fortune. Scribble your wish on a little slip of white paper then watch it placed into fresh baked dough and folded into a finished cookie to take home.
But while the Cookie Factory is well and truly on the tourist trail, Shangri-La Gifts is most definitely not. Owner Fang-Yi is a master Gu Zheng player – a more than 2,000-year-old traditional Chinese instrument – and hidden in a back room above the shop is her studio.
Come for the souvenirs, but if you're lucky, and book a visit in advance, you might catch her or one of her students for a private show. With 21 strings plucked by picks strapped to each finger, it takes a master to play, and Fang-Yi won't disappoint.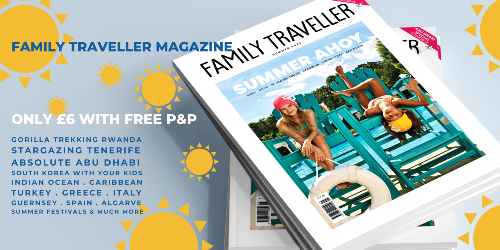 Stop 3: Lombard Street, another icon to add to San Francisco holidays
Known as the 'Crookedest Street in the World', this San Francisco icon is like something out of a fairy tale: impossibly steep, eight stupidly windy hair pin turns with lush, manicured gardens on either side. Selfie spots don't get much better than this.
A short walk away is the North Beach district. Settled by Italian immigrants from the late 19th century onwards, this is San Francisco's very own Little Italy. A fun place for strolling, eating and – if you can ditch the kids – enjoying some nightlife, including grabbing a drink at one of Jack Kerouac's old hangouts.
Stop 4: Fisherman's Wharf, spectacular end to the Powell-Hyde line
Fisherman's Wharf is the end of Powell-Hyde line, and it's a spectacular finish. This is where the roller coaster hits its big drop, coming down Russian Hill at a laughably steep angle.
The wharf itself is packed with fun for San Francisco holidays. Go inside an actual WWII submarine at the USS Pampanito. Play vintage arcade games almost as old as the cable cars at the Musée Mécanique.  Check out San Francisco's resident 'sea-lebrities', a colony of wild sea lions who have claimed Pier 39 as their own. Whale watching, bay cruises, and of course the infamous Alcatraz tours all leave from here.
But don't miss Scomas. This beloved seafood restaurant began in 1965 as a shack for local fishermen. Come in the afternoon and you'll see the third-generation fishermen of those first customers return from sea, their catch hauled directly from the dock to your plate.
Then for dessert, stroll over to the Ghirardelli Chocolate Experience, home to world-famous Ice Cream Sundaes, and the largest pic 'n' mix on the planet.
Stop 5: Tonga Room, tiki vibes at the top of legendary Nob Hill
A must-do dinner on San Francisco holidays? You'll need to take the California Line to the top of Nob Hill, and then head to the landmark Fairmont Hotel. Nearly every president for the last 100 years has stayed here; the charter for the United Nations was signed here in 1945; Tony Bennet first sang 'I Left My Heart in San Francisco' within these walls.
And then there's the Tonga Room. As if transplanted direct from a Polynesian island, this delightful piece of tiki eccentricity was built by MGM set designer Mel Melvin in 1945. It feels like a movie too: giant tiki masks, thatched roof cabanas, the actual deck of a ship for a dance floor. And then, in the centre of it all is a swimming pool lagoon. In the restaurant. And if that wasn't enough, it rains and thunders every 15 minutes just like a tropical monsoon. Imagine Disney's Pirates of the Caribbean, but with Mai Tais and you'll get the picture.
Check out the Exploring San Francisco podcast to listen to an audio documentary of this journey, recorded on location, and hear what it feels like to be there for real. For more information visit sftravel.com