Family Traveller reader and father of two, Six Mariano, explores ancient Roman ruins, kicks back on the beach and enjoys delicious local dishes on a family trip to Bolonia, Spain.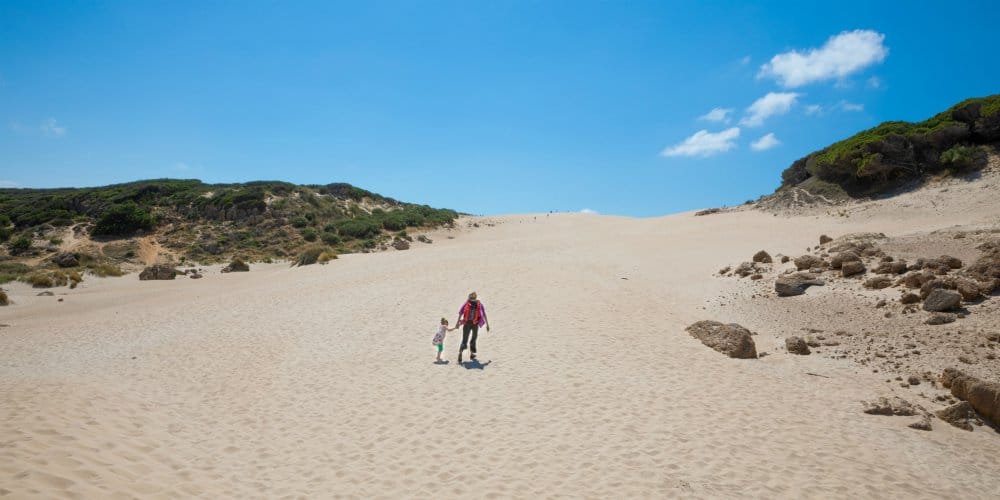 Planning a relaxing family trip to Spain with your children? If you will already be in Cádiz or Tarifa, make sure to save a day or two for Bolonia (not to be confused with Bologna in Italy).
Not far from the better-known surfing capital of Europe of Tarifa in the coastal region of Cádiz, Bolonia is a hidden gem for both individual and family-oriented explorers. Only 30-or-so kilometres away, Morocco's coastal mountain can be seen from Bolonia—an off-the-beaten-path destination for most foreigners that is easily worth a three-day visit. So, what to do here with your little ones?
Beaches
First up is to just chill and do nothing in particular. Parents with small children will understand how this could be top of the to-do list and Bolonia provides the perfect setting for completely unwinding. Here, you can enjoy simple pleasures, such as wandering along the long beach, observing fishermen stare silently towards the horizon, watching dogs racing around and kite-surfers learning to skim over the waves, while horses trot by on guided tours. Or, you can be up the nearby mountain, gazing over the village towards Moroccan territories from where the 500-year Muslim conquest of Spain came. Relaxing is an art form and in a world of over-scheduled parents, it's not easy to do – until you find yourself in Bolonia. 
The beach is the perfect babysitter for our small children. They can run around, fall, get dirty as they wish and it's all good – for the most part. Of course, you have to keep eyes on them and make sure they are within running reach. There are at least 300 days of sunshine in Andalusia (southern Spain) and the perfect time to go to the beach is not in the summer when there are too many people and it's stiflingly hot. In the middle of winter, as I write this, it's 20 degrees Celsius in Bolonia,and  yet there's still plenty to do involving sand, sea and sun. You could even climb to the top of the continuously forming sand dunes and enjoy sandboarding back down.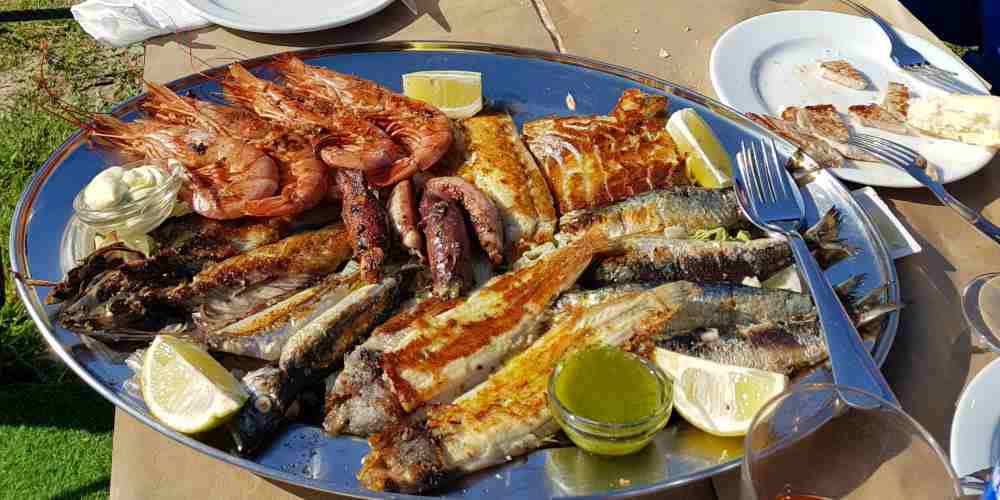 Food & drink
Feast on fresh seafood, freshly caught just off the coast of Cádiz. There are only a few restaurants and chiringuitos (beach bars that also serve food) in this area, especially during the off-season. We recommend those found as far south from the main road as possible, with the added pleasure of being right on the beach where your children can play as you sit and stare into the distance.
Washing it down with a signature cocktail or refreshing jug of sangria shouldn't be too hard to come by either, with plenty of bars on the seafront offering a wide selection of classic Spanish drinks. For wine connoisseurs, jump in the car and head over to Vino DiVino, a wine shop offering free wine tasting sessions.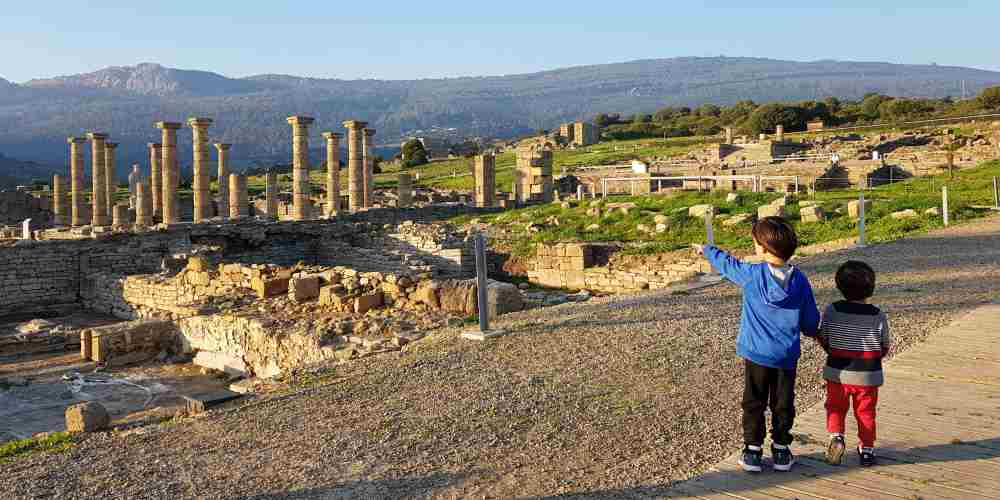 History
Discover the ancient Roman city of Baelo Claudio, a place where our little runners like to play Roman soldiers and yell, "Shield Wall!" Baelo Claudio was built by the Emperors Agustus and Claudius in the second-century B.C., before the common era. This is apparently one of the best examples of Roman urban development and visits to the archaeological complex are free of charge for European Union residents. You can learn first-hand about the well-preserved water delivery system (aqueduct), forum, amphitheatre, the impressive ordered layout of the small "city", and the fish-salting industry that produced special sauce called "garum", which gave the city commercial importance at the time. This is easily a half-day tour for the family with plenty of facts and stories to spark a fountain of imagination for the little ones – and the not-so little ones too.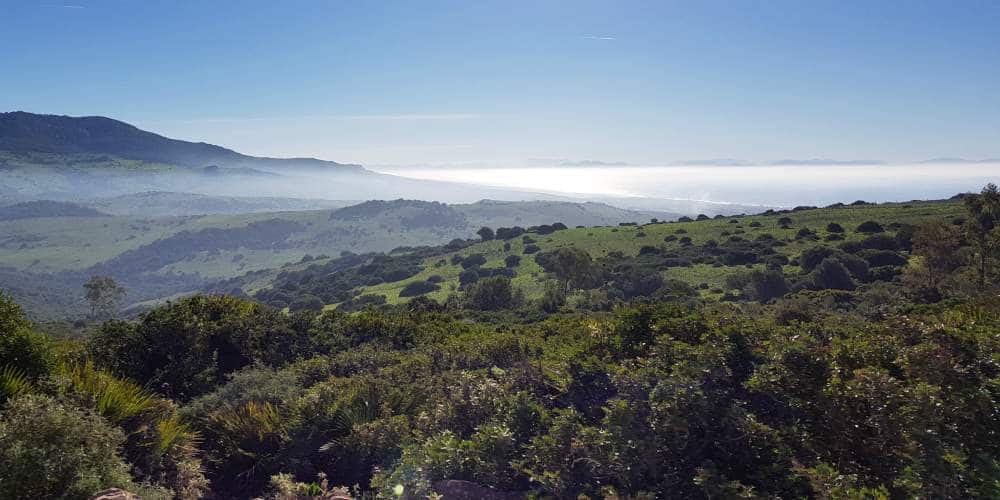 Hiking
Head off on a mini trek or hike along a semi-wild, off-road trail, up the mountains of Del Estrecho Natural Park that form the backdrop of Bolonia beach. Watch the glorious eagles and Egyptian vultures fly and perch atop their rocky peaks. Explore the wild and you might just run into an albino cow – cows, sheep and donkeys share the road here with you. There is limited, rough parking areas up the mountain. Licensed hunting is likely allowed here, so check with the tourist information centre before you start exploring.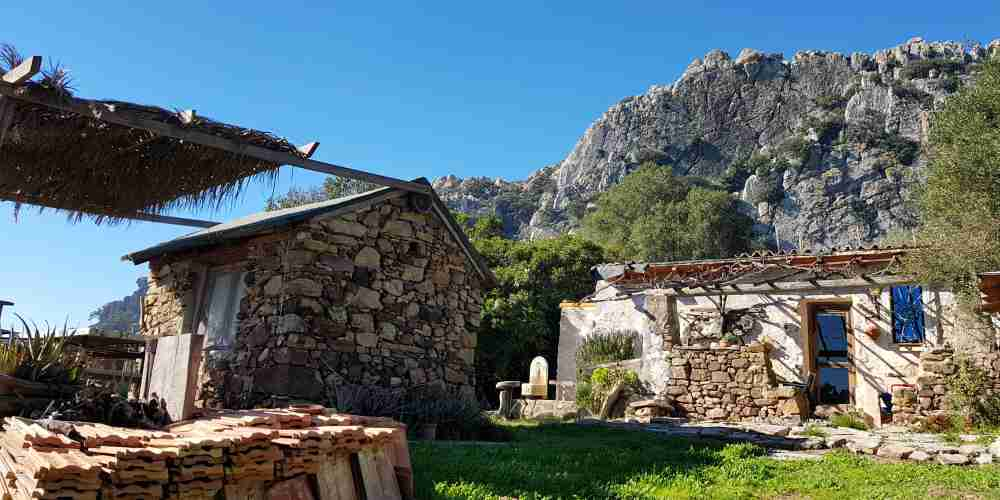 Where to stay
When it comes to accommodation, we recommend renting an idyllic, low-key house on the southwestern side of the mountain for a view over the beach and towards Africa. Our children enjoyed exploring the wide and wild garden of our casa rustica, with its little homemade playhouse, treehouse and improvised swing. An orange grove was also a curiosity as much as it provided our daily dose of fruits. Then they played guitar, danced, played Roman soldiers, and chased Masha, a semi-feral, friendly cat.
About the author
Six is a husband and father to two children, aged four and seven. Yearning for a change in lifestyle, they all decided to quit their jobs in the USA and up sticks to Europe for a family gap year that has now developed into three. Based in Andalusia, they like to experience a slow-paced, yet adventure-filled life on the road. Six also runs his own family travel blog.