Lydia Bell and her five-year-old check into Pine Cliffs in Portugal to find out why this Luxury Collection Resort is so beloved by families.
'Mummy, would you like to open the box?' the millennial maître d' of the reptile show asks me, with an evil twinkle in her eye. 'There's something so lovely inside.' I gingerly prise open the innocuous pink box decorated with glitter. Inside – ugh – is a giant, coiled, Burmese python. 'Don't worry, Mummy, he's actually really docile,' says the reptile handler, grinning like a Cheshire Cat, 'and I'm just going to pop him around your neck.'
Paralysed, I observe the thick folds of his snaky skin and his flickering tongue, and I'm afraid to say that respond "Er, no you're not,' and I run off, while my five-year-old daughter and her two friends point and laugh. The reptile show is amusing and fun at Porto Pirata, the children's club at Pine Cliffs, A Luxury Collection Resort. But when it comes to the snakes, most of the kids watching are less chicken than I am. I prefer the iguanas and the tortoise. Actually I prefer the giant fluffy rabbit, which they bring out at the end. Eventually, she convinces another mother to act as the snake-wrangler.
Porto Pirata is where you bring your children if you want to go to the gym, drink in the cliff-top bar, swim in the wild Atlantic without worrying about one of them drowning, join a zumba lesson, indulge in a massage at the new Serenity Spa, play golf or simply have too many watermelon daiquiris. At its heart is a giant pirate ship, which provides the 'indoors' space. It's set within a garden that includes a playground, mini golf course, giant Angry Birds game (€5 a pop) and a swimming pool that's marvellous for kids who can't swim properly yet because it's extremely shallow. Days unfold in a whirlwind of treasure hunting, outdoor games, dancing, dress-ups, and arts and crafts. Next door is the Annabel Croft Tennis Academy, where you can watch three-year-olds learning to serve.
Pine Cliffs, A Luxury Collection resort, enjoys a popularity that knows no bounds, especially with the British. In summer, families return year after year, their repeat visits patterning down the generations, and in summer it's full to its 2,000-strong capacity (don't let this number perturb you; the many different accommodation variations are scattered over a giant seven-hectare surface area, which absorbs the body count pretty well).
So what is the enduring appeal of this Portuguese behemoth? The resort has emerged from an 18-month multi-million-Euro refurbishment that has included a reimagining of the hotel itself, and created the new 148 one- and two-bedroom suites, butler-serviced Pine Cliffs Ocean Suites and standalone destination spa. I do recommend the Ocean Suites for sheer comfort, functionality, ease of living and fantastic self-catering. They are super roomy and exude an unobtrusive, neutral-toned contemporary luxury that inspires one to flop and relax. They also enable two families to share the same apartment as standalone hotel-style bedrooms can be configured to open onto a shared kitchen and living space, with a expansive shared balcony.
But I don't think this explains the popularity, as the resort has long earned its stripes as a family choice. The appeal, I decide over the four days I spend here with my five-year-old daughter, her similarly aged friend and her 9-year-old sister (and their mum), is multi-fold. It's the sheer quantity of accommodation options. Villas? Check. Hotel rooms? Check. Townhouses? Check. Serviced or self-catering apartments? Check. Golfing suites? Check. All-inclusive rates? Check? Different variations on all-inclusive rates? Check? Not in any way all-inclusive? Check.
It's the year-round sunshine, which means shoulder-season visits have that crucial Mediterranean. It's the breathtaking position set back from the magnificent peach-hued cliffs over Praia Falésia beach, which glow prettily at sunset (best enjoyed from Mirador, the cliff-top bar set in their gardens, shown in picture below). And it's the total convenience. This is the kind of place where Wi-Fi is pumped everywhere; where there are pharmacies and boutiques on site; where you can pop the children in the kid's club or for a private game at the Pine Cliffs' Golf Academy. There are towel stations everywhere; lounger service for meals and snacks; a kids' menu that one can order from anywhere in the hotel complex; and ice-cream booths on tap for a mid-afternoon sugar hit.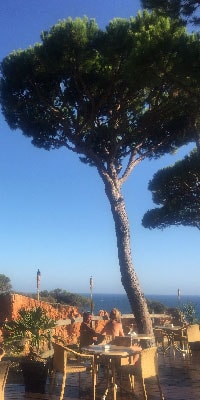 Come the night, the restaurants pander to adult and children's tastes, from a steakhouse and a Japanese restaurant to a vast, buffet-style restaurant, which children inexplicably love. Though some families wander home to get dressed up for their ritual dinner, it's also the kind of place where it's perfectly fine to come straight from the beach or pool sporting the day's sundress, as we always did.
Although almost all staff members seem to be either Portuguese or Brazilian, Pine Cliffs, a Luxury Collection Resort may not be the kind of place where you'd go to get a strong sense of being in Portugal. Purely because many families likely hole up here for the duration, with no need to break its boundaries. But you can be one hundred percent confident the children will be in seventh heaven. And thus, your own contentment is ensured.
For the record, my five-year-old daughter and her chums were focused entirely on the pools. They didn't want to be anywhere else, ever. It was hard coaxing them out even to eat. For us, Pine Cliffs was easy, fun, and on a plate. I reckon that the secret to its enduring success is that it is, quite simply, summer on a stick.
The Lowdown
Pine Cliffs Ocean Suites, a Luxury Collection Resort
Lydia Bell travelled with Carrier who offer 7 nights from £3,490 per family, based on 2 adults and 2 children sharing a One Bedroom Ocean Suite Resort View on a room only basis, including return flights from London Gatwick and return private transfers. (Priced based on departures in October 2017).
Find out more about Carrier.