The ultimate alpine family break at Hotel Quelle, South Tyrol
Suzanne Dent takes her family to enjoy a few days of bliss in the Northern Italian region of South Tyrol, where trekking, biking and rejuvenating spa treatments are the order of the day
---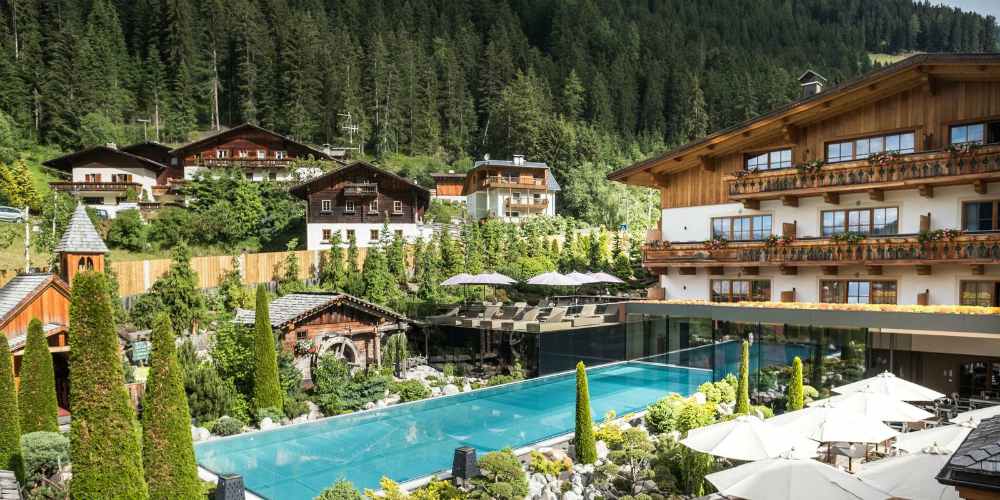 Days brimming with alpine hikes and biking, lazy rejuvenating afternoons lounging in the hotel spa wrapped in luscious white robes before closing out the day with five-course dinners. If you think that this sounds like a holiday where you leave the kids at home, you will need to think again.
Hotel Quelle is nestled in a valley between the Alps and Dolomites in the South Tyrolean region of Northern Italy.  Interestingly, South Tyroleans haven't always been considered Italians. This piece of property changed hands from Austria to Italy following the Second World War and has a distinct blend of both cultures today.  When asking locals which country they identify with more, after a thoughtful pause, the response is I am South Tyrolean. With my husband Simon and two daughters, Ellie (12) and Charlotte (10), we are curious to find out more about South Tyrol.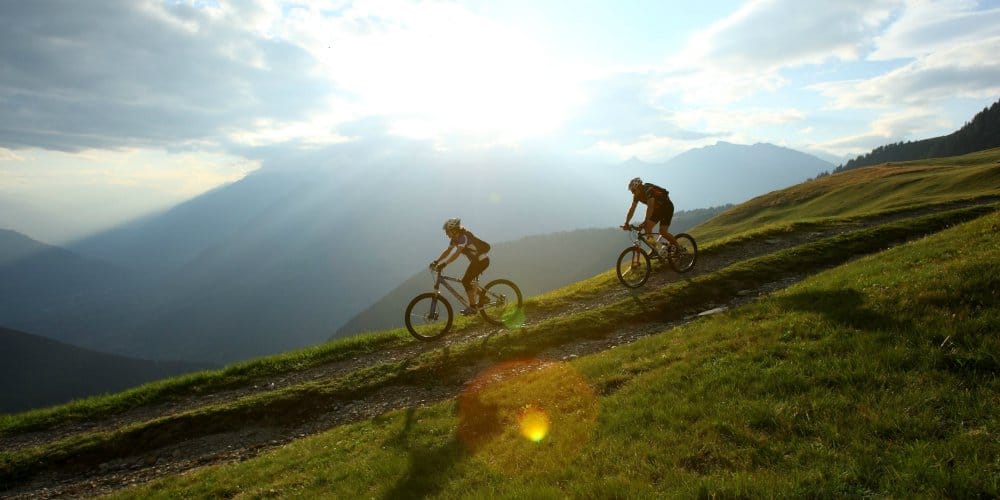 As a nature spa hotel, Hotel Quelle undoubtedly has an ethos of wellness. There is every opportunity for fitness with a packed schedule of daily-guided trekking, biking and fitness classes to choose the level that suits you.   
Having viewed the extensive and scenic bike paths during our two-hour transfer from Innsbruck, we were keen to give the electric bikes a try. An afternoon's bike ride through alpine hills would be a monumental task for my ten-year-old's legs without the extra pedal-power from the small electric motor attached to the e-bike, allowing her to easily keep up with the pack. The guided e-bike tour went up and over mountain, valley and stream and I must confess my bike was more often found in the turbo mode than the lighter touch eco mode.
With the Caises valley having a long history of cross country skiing in the winter, it turns to amazing walking terrain for the other seasons, whether it be a gentle stroll down the valley to the next village or a more energetic climb 600 meters for lunch at the hotel's own mountain hut restaurants perched high on mountain top. 
The alpine views are unparalleled and the hearty local dish of kaspressknodel (a cheese-filled dumpling) a satisfying reward for the calories just burned. Our guide, Barbara, had been in the Italian cross country ski team and although she takes it easy on us, I'm sure she can set quite a pace for the more athletically ambitious.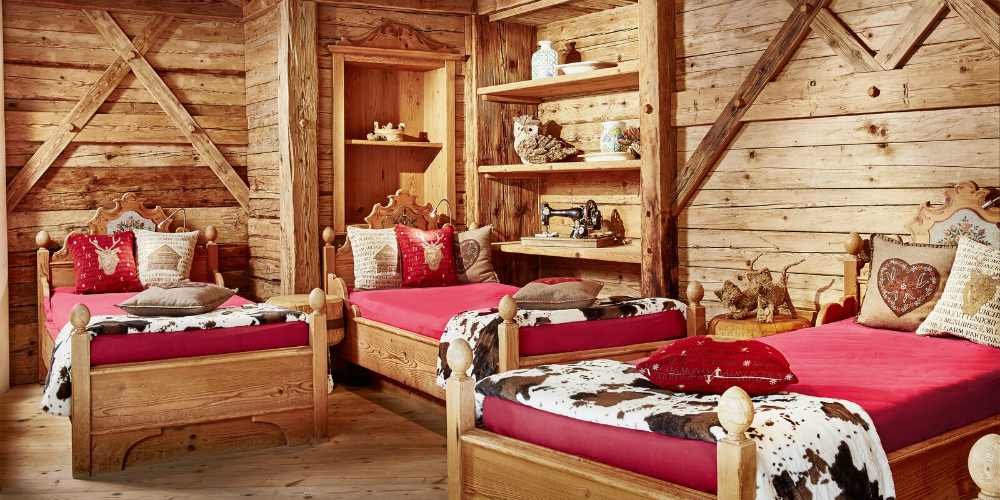 After a full day partaking in nature, we now felt justified indulging in the spa.
With seven pools, ranging from the modern infinity pool to the natural swimming pond, and ten saunas its safe to say there is plenty to explore without covering the same ground twice. Indoor and outdoor pools mean that no matter the weather, swimming is always on offer. The family sauna zone has dry and wet saunas set on cooler temperatures to allow our girls the first taste of spa life.
We venture to the spa treatments upstairs to enjoy massages, with the girls choosing the "hot chocolate massage" of chocolate-scented oil. I may have possibly set myself up to never enjoy a hotel spa again without the girls angling for an invitation! 
The Alpine views from the hotel's restaurant are unparalleled
For the adventurous spirits willing to go-native, there are adult-only nude saunas and whirlpools complete with a "show sauna" called Aufguss.  As prudish British it took us until the last day to shuffle shyly into the back row of the show sauna – an auditorium style dry wood-sided sauna three benches deep filled with close to 30 people in various states of undress and towel covering– the Aufgussmeister or sauna master arrives, clothed I might add, and places a giant scented snowball on the hot coals.
With music playing, the sauna master expertly flaps his towel to disburse the heat and aromatic snowball around the room. We skip the "nudi" whirlpools and scurry back to our robes and recover in the reclining swings while taking in the view of the adult-only infinity pool stretched out before us with thankfully fully clothed swimmers.
No matter the extensive spa offering, no relaxing would take place for parents without the much-required Kids Club.  There are all the usual corners of games and toys, and impressive cinema room (expands to grown-up choices after children's bedtimes).  It is the inclusion of local culture that Hotel Quelle weaves into the stay that impresses me most, whether it is baking bread in the old on-site oven or a short walk to local petting farm that gives the children a taste of Tyrolean life. As is typical of all hotel staff, childminders move effortlessly between English, German and Italian to accommodate the families visiting.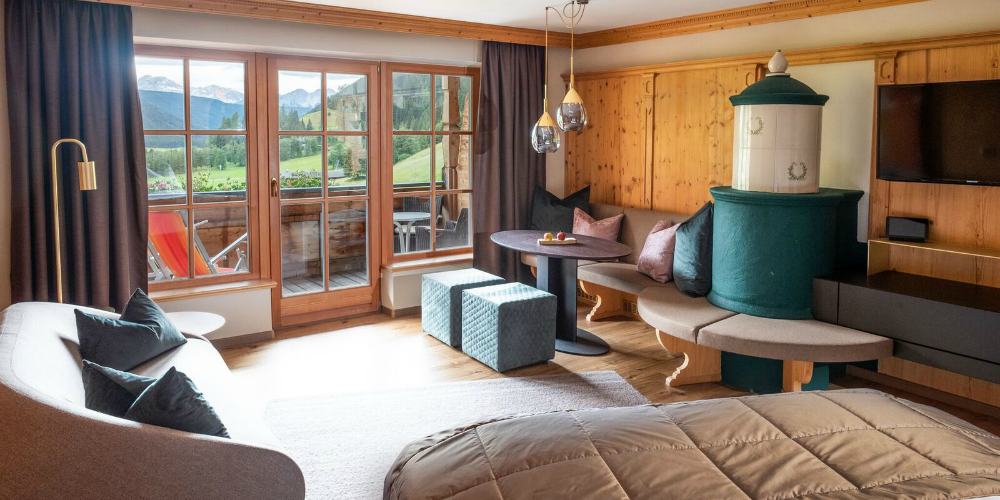 Hotel Quelle has been in the Steinmair family for over 70 years and as it has passed through the generations so has the hotel grown with multiple additions, evolved from the traditional cosy alpine chalet to modern glass and luxurious comfort. Manuel, the third generation of Steinmair, can often be found behind the front desk with his broad smile and welcoming manner, truly making this feel like a family-run hotel.
Ample family suites offer both kids and adults the space required to relax with a lounge and two bedrooms with ensuite bathrooms – look out for the stars on the bedroom ceilings.  You don't have to be a kid to enjoy a starry night overhead!
If you are looking for even more space and privacy, the new Chalet Salena offers seven modern luxury two-bedroom residences in a private setting with balconies, sauna and Jacuzzi all just a short walk from the amenities and service of the hotel.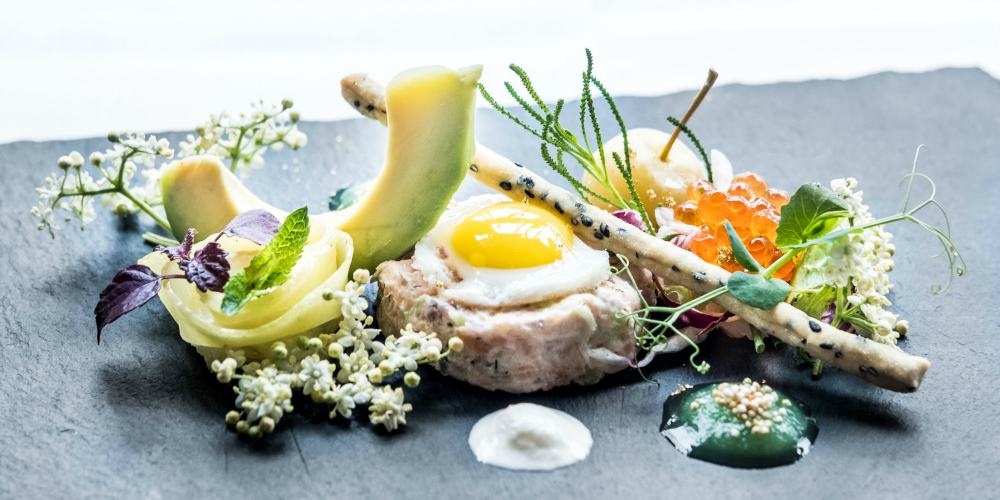 The cuisine is yet another blend of South Tyrolean culture with influence from Austria, Italy and even Switzerland showcased in the meal and local wines.  The extensive experience of the resident sommelier, Akos, provides helpful advice in our desire to sample regional wines; even taking the time to demonstrate, using a fizzy drink for the girls' benefit, the influence different glasses have on beverage taste.
The buffet of food is displayed magnificently three times a day with an additional set menu offered in the evenings. As a 12-year-old, Ellie is starting to show curiosity to dine as an adult but considers it too risky to order an entire meal outside her comfort zone.  The Hotel Quelle buffet allows the opportunity for her to sample new culinary choices with a healthy helping of reliable favourites. 
Spending a week at Hotel Quelle, nature spa hotel, we had achieved the trifecta of an outstanding family holiday with daily outside active time together, hours relaxing away from screens and without a doubt dining better, varied and locally sourced. I think that easily qualifies as a holiday win.
The lowdown
Prices start from £968 per person based on two sharing for seven nights on a full-board basis.
Family rooms from £1,016 per person.
Transfer from Innsbruck Airport to the hotel takes approximately two hours.