Emma Kirkham, her partner Kevin, and their four children make a beeline for the Loire Valley and their first big family break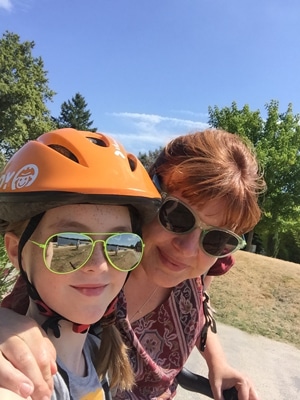 'Well, this is it, we made it!' Me and my two children, and Kevin, my partner, with his two. We've been camping for the weekend, but this was our first proper holiday together as a six-some, and we'd finally made it to Les Alicourts resort. It was 1am, mind, and we'd had various mishaps on the way. A satnav set to the wrong coordinates (hello, Orléans, you were pretty, but not where we wanted to be), our four-year old Beatrix declaring that 'my bottom is telling me the car seat is a toilet' and accidentally driving through a group of twentysomethings' Saturday evening game of pétanque. Discovering anything about where we were would have to wait until morning, and we collapsed into bed.
We awoke to warm bright sunshine, and it was certainly worth the wait. Our swish new holiday home had its own outside eating area, barbecue and a little garden that was all ours. A quick stroll to the bar for croque monsieurs and we started to get our bearings. Les Alicourts is not a particularly big site, but there's lots going on. The big draw for us, though, was the waterpark. The kids couldn't wait to get their gear on and get wet.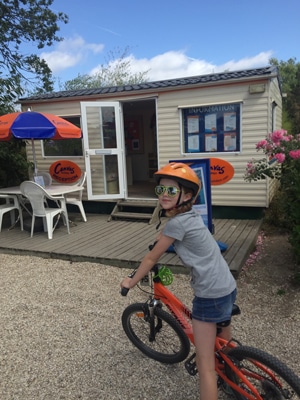 We spent the whole first day in the water. In fact, I would say we spent approximately half the holiday wet, whether in the pools, at the lake or on the beach. I took some time to relax, and actually read a whole book lying on the beach, something I didn't think p0ssible with four children, but they were quite happy entertaining themselves.
It wasn't all swimming (or lying around, in my case) – we were going to make the most of what the campsite had to offer. We tried the minigolf – some of the holes were nigh-on impossible for Beatrix, but an occasional sneaky kick of the ball by the adults meant we could get to the next hole before the sunset. The older three were playing like their lives depended on it, and by the end of the 10 holes I was happy to head back to the beach.
The spa is open a couple of mornings a week for families, so I took Annie,- nine, 
and Noah, 10, for some pampering, after purchasing some fetching budgie smugglers for Noah (no boardshorts are allowed). We settled straight into floating round the many different pools inside, and the kids both had their first ever massage. Afterwards, they were delighted to be instructed to sit in the lounge to relax and given a fruit smoothie.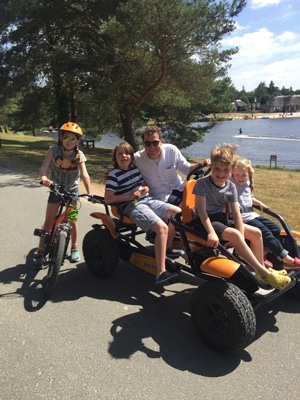 Another treat well worth the effort was hiring bikes and a Rosaline (a four-seater go-kart). It was especially enjoyable for Ed, seven, and Beatrix, who quickly bagged the front seats of the Rosaline, and didn't have to pedal. After a couple of circuits of the lake, Annie and I left the other four and made a break for the BMX track. Kicking up the dirt on the track was great fun. Annie even managed a couple of bunny hops.
Our evenings were spent with more swimming, barbecuing in our garden, or in 
the bar enjoying the entertainment. It was curious mix of acts, from high-kicking dancers dressed in Oktoberfest outfits to Pierrot clowns commandeering members of the audience to join in with their crazy dance routines. Ed summed it up nicely: 'I don't know if I like it, but I can't keep my eyes off them.'
We did manage to tear ourselves away from the park, though, and made a trip to the neighbouring village of Lamotte-Beuvron, which we were happy to discover was the birthplace of Tart Tatin. The story holds that this French delicacy, an apple tart, was accidentally baked upside down by the Tatin sisters who owned the local hotel, and it continues to be served there to this day. Noah said it was 'yummy', and Ed declared that the tart was 'amazing, better than Nana's apple pie' – high praise, indeed. Lamotte-Beuvron is also the home of great homemade ice-cream, which we picked up at Fleury Joël. It was so good, in fact, that we hid a tub of sorbet in the freezer, telling the kids it was just for adults as it was alcoholic.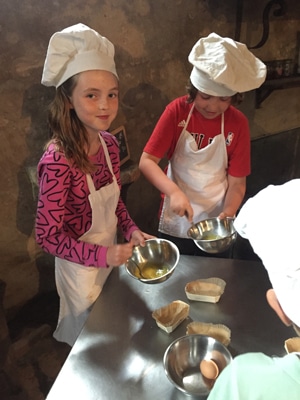 The Loire Valley is bursting with châteaux, symbols of the French Renaissance, and has been declared a World Heritage for Humanity Site by UNESCO, which describes it as a 'cultural landscape of exceptional beauty'. They're not wrong – we almost had too many options to choose from – but eventually we plumped for the Château de la Ferté Saint-Aubin. It's not your typical luxurious castle – it's rather down at heel and is in the midst of restoration – but what it didn't have in sparkle it made up for in character. We were positively encouraged to touch the artefacts, sit on the furniture and play the many traditional family games laid 
out throughout the house and grounds.
Entering the main house you can't help but notice the delicious aromas of cakes baking in the basement kitchen. Demonstrations of madeleine-baking take place three times a day in peak season, and we were just in time for a session. Noah and Annie decided they wanted to stick around afterwards for the 'Petit Chef' session (85p).
They donned chefs' whites and got stuck into cracking eggs and mixing up their own (rather large) madelines. Half an hour later, we returned to the kitchen after some more games to find piping hot cakes – quickly wolfed down by their creators.
The next morning, on our drive back to Paris Orly airport, we decided to take a detour to the beautiful city of Orléans, home of Joan of Arc (our second visit, after our accidental drive-through on the outbound journey!). Despite its central location in France, the city avoided much of the damage done during WWII, and it remains stunning, with a beautiful cathedral and wide, open boulevards. It was a shame we didn't have more time to explore, but after lunch and crème caramels as big as the kids' heads, we needed to head off to catch our flight.
So, kids, what was the best bit? Noah: 'The circus skills and baking.'
Annie: 'Being able to go to the shop in the morning to collect the croissants on my own.'
Ed: 'The big waterslide that I wasn't scared of.' Beatrix: 'The crazy golf.'
Meanwhile, the grown-ups agreed the best bit for us was the sunshine, the happy kids and the thought that this will be the first of many holidays with our new big family.
Loire: The Lowdown
Getting there
Fly to Paris with British Airways  or catch the Eurostar and pick up a hire car. Or take your own car and go by ferry
How much
A week in a Select 3-bedroom mobile home at Camping Les Alicourts Resort costs from £1,218 for a family of 4 in the summer holidays with Canvas Holidays.
Discover 11 of the best afternoon teas for families in London
The best glamping companies in the UK for families