Mark Barber and his 13-year-old daughter Holly take an Action Outdoors holiday and stay at a UCPA ski centre at Serre Chevalier, in the Hautes-Alpes region of the Alps
Action Outdoors
Thanks mainly to low-cost flights and package deals, ski holidays have become far more accessible and affordable than they used to be. Despite this, a family ski holiday can still stretch the budget a little too far, especially during peak school holiday time.
I first took my family on a ski holiday a couple of years ago and ever since I've have had to endure constant nagging from my daughter, Holly (aged 13), to take her back to the French Alps. After all, the ski bug can be infectious.
Because of the perception of cost, I resisted the temptation until I discovered Action Outdoors, a tour operator specialising in good value holidays that link up with the French UCPA centres (a non-profit organisation that was originally set up by the French Government in 1965 to encourage young people to engage in action and outdoor sports). It sounded too good to be true but I thought why not give it a go?
The UCPA centres are normally exclusive to 18-40 year olds, but during the school holidays, certain centres open their doors to welcome families with dedicated ski and snowboard packages. During the Easter holidays, Action Outdoors had the French resort of Serre Chevalier open to families and Holly and I left the rest of the family behind for a dad and daughter adventure.
Sunshine and snow
The UCPA at Serre Chevalier is a large, modern, ski-in/out centre that is positioned centrally at the bottom of the slopes in the village of Villeneuve. The resort is known for its sunshine and to accommodate this, the centre has a large sun deck and heated swimming pool overlooking the pistes.
One particular enjoyable experience was a lunch time BBQ. With the sun shining, the aroma of pork kebabs wafting from the grills, Bob Marley tunes pumping out across the sun deck and kids playing in the pool, it felt more like Lanzarote than a ski resort; watching skiers descend the 'Casse du boeuf' black run in the background seemed very surreal.
This certainly was not a luxury ski holiday, but the UCPA centres are incredibly good fun to stay in with a real sense of communal spirit, camaraderie and friendliness from the guests and staff alike that I have not experienced anywhere before. All the kids get together and form their own little groups and friendships, enjoying evening entertainment such as discos and karaoke, while the parents get together to chat about the day's skiing and snowboarding over a glass (or two) of red wine and a fully loaded cheese board. There was even a games console area on the third floor that proved popular – and not just with the kids!
Rooms for families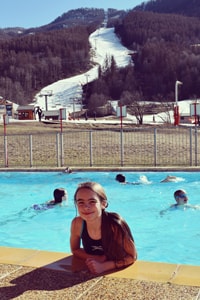 We had a family room which had a balcony with an incredible view overlooking the pool area (see the image on the left) and pistes in the background. The room was basic but large, with plenty of storage and a large radiator to dry wet ski gear. The bathroom was also large with a separate shower section which was basic but functional. The toilet was shared with the adjacent room located off the lobby that separated the two rooms.
I liken the UCPA centres to the modern and fashionable new breed of European chic-hostels such as the Generator in London. With this in mind, it is stated that you may have to share the room with others, but this is highly unlikely if you are a family and you can pay a small amount extra to guarantee the room exclusively too.
The buffet style lunches and evening meals had plenty of salad and pasta options, with at least one meat option and fish being heavily featured on the menu. One thing to bear in mind for the youngsters is that the food is typically French and 'un-British'. You will not find chicken nuggets and baked beans as an option and even chips are a rarity – many will see this as not a bad thing!
We always managed to ski down to the centre in time for lunch, but for those who plan to travel further afield, pre-prepared packed lunches can be supplied at breakfast if booked the night before. The bar, although small, is a pleasant break-out area. Drinks are extra and are purchased via an in-house debit card that can be topped up by machines.
This is a great system ensuring that you do not have to carry around cash while in the building, but be aware that any amount left on the card at the end of your stay will not be refunded. Soft drinks are very reasonably priced as well as the house wine, but a pint of lager is expensive although in align with the rest of the resort.
The only gripe that I had with the centre was the wi-fi. Although free, it could not cope with the amount of traffic and was tediously slow and kept crashing. Although, for many this may be a good opportunity to stop checking Facebook profiles and start being social.
Serre Chevalier resort
Serre Chevalier is a vast ski area in the south Eastern Alps of France. It is not a big commercial machine like the big boys of Paradiski or the Three Valleys, which is probably why it is popular with French families and has managed to retain an un-diluted village charm. Serre Chevalier consists of various villages and hamlets along a valley with Briançon on one side and Le Monêtier Les Bains on the other. The UCPA centre is in Villeneuve which is located centrally next to Chantemerle. There is a free bus service that runs regularly across all areas throughout the day.
The whole ski area is ideal for families, with plenty of long green and blue runs and nursery slopes situated by all the villages. The best green runs can be found high above Villeneuve and initially accessed by the Frèjus 4-man gondola. These runs are wide, mellow and snow sure, with great views across the Alps. The only snag is that they are reached by fast, long and steep drag lifts with a couple of right angle hairpin turns thrown in for good measure. Inexperienced snowboarders may struggle and they are not for the faint-hearted.
What I found incredible was how quiet the slopes were considering this was still during the Easter school holidays. Not once did I have to queue for more than a few minutes at any chair lift and for the majority of the time we just skied/snowboarded up and jumped on. At times we had the slopes to ourselves, which is great for the kids if they are inexperienced and need to work on their technique without fear of an over populated piste.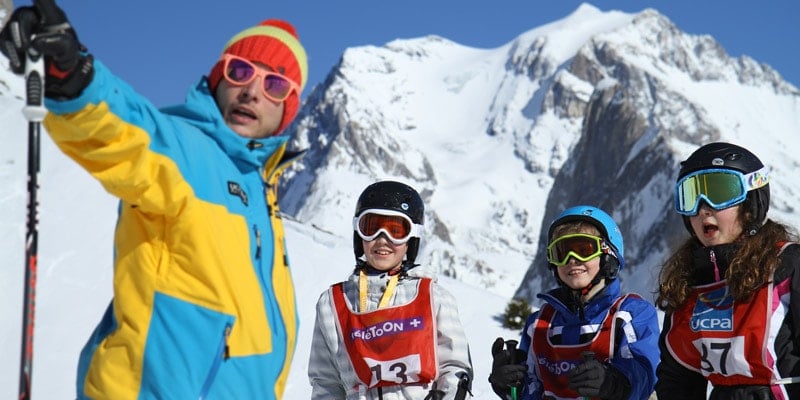 Lessons on the snow
As part of the UCPA package, ski or snowboard lessons are also included. When we arrived we were asked our ability and put into separate groups accordingly. Holly really enjoyed her lessons and the instructors were very friendly and spoke perfect English. The group was one of the largest and Holly probably would have benefited from being in a smaller group, but it was a great experience for her.
I was very impressed with my group for advanced snowboarders and our guide (Robin) also spoke perfect English and was very knowledgeable. Robin gave insightful advice on how to tweak our techniques for better riding in varied terrain. We covered 180 and 360 Ollies and Nollies as well as jumps. We had a fun few hours in the snow park and also jumping off natural kickers and rock drops.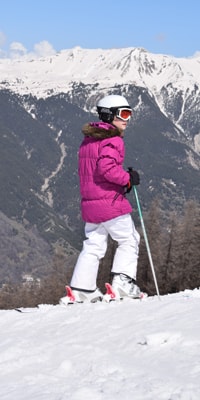 On the last day we were in heavy snowfall so headed for the woods and snowboarded some incredible lines through the trees on steep terrain – great fun! The groups are only for half a day so you can get together for some family skiing/snowboarding for the rest of the day.
Serre Chevalier has a reputation of having more than their fair share of sunshine but during the week I was there it was a real mixed bag. During the first few days we had heavy rain at base level and snow in the mountains. By mid-week we had glorious sunshine, then on the last day we had heavy snow.
In general the pistes are well maintained. As expected, the snow was hard packed in the morning, but softened out by midday. A few of the steep blues and reds were mogul fields and quite choppy, but the majority were a true delight to ski or snowboard down. Down at the bottom of the runs near the villages it was slushy – but slush can be fun!
The whole area is vast with something for everyone. Beginners will appreciate the simple nursery slopes at base level, while intermediates will enjoy the long, wide, sweeping greens and blues. Many runs are tree-lined with a couple of scenic tight traverse routes.
More advanced skiers and snowboarders will also appreciate the long and scenic red runs such as the Cucumelle that eventually winds its way back to the mountains above Villeneuve, or the black runs which are technically challenging without being too steep. Overall, the resort is well mapped out, well signposted and accurate on the colours.
Snowboader's paradise
Serre Chevalier really is a snowboarder's idea of heaven. Every run becomes a playground with natural features in abundance. Experienced snowboarders (and skiers) will appreciate the slightly off-piste tree lines which are so much fun in powder. Inexperienced snowboarders may get a baptism of fire with a couple of the drag lifts, but it is a great place to learn the art of the dark side.
There is also some great snow parks to be found with beginner, intermediate and advanced routes which are feature packed. The beginners (green) route was very popular with ski schools and a great, non-threatening, introduction to the park and for gaining confidence. There is also a couple of mini boarder cross tracks to have a go on with tight corners with high banks and rollers to test your ability and speed.
The fact that equipment hire is also included in the price is also a massive plus, especially if you fly with budget airlines and do not want to pay their extortionate carriage charges. I am always a bit weary with hire equipment as I have had snowboards in the past that look like they have been used as shark bait, but the equipment that UCPA gave us really was good quality. The equipment hire for adults is in-house, but the kids have to collect (and return) theirs from a rental shop which is only a 5 minute walk away.
The village of Villeneuve is quaint and sleepy with very little to offer for après ski and restaurants. It has a non-commercial and real 'village' feel, with local shops only a few minutes' walk away from the centre (including a Mini Marche and pharmacist).
I really enjoyed my 'Serre Che' experience and we both had a wonderful time staying at the UCPA and I highly recommend it for a family ski trip on a budget. The families I met are repeat customers, and I think I will be joining them by returning next season.
UCPA at Serre Chevalier: the lowdown
Who to book with
Action Outdoors offer family ski holidays to the French Alps in School holiday periods, including Christmas, February Half-Term week and Easter.
Price
Seven nights in the UCPA centre in Serre Chevalier during the Easter Holidays (7–9 April 2017) costs £460 per person including full board accommodation, ski passes for 6.5 days, ski or snowboard hire, ski or snowboard lessons and evening entertainment. Travel to the resort is not included, but return coach travel direct to the resort from the UK costs from £140 return per person.
Get the most of our your ski holiday by getting some practise in first, at one the UK's best indoor ski centres