How does Les Gets Bike Park rate on the scale of one to best off-piste fun ever in France this summer? We sent Family Traveller's Contributing Editor, Ben Smith, to put it to the test (and try out the sunny après-ski-season atmosphere). Here's what happened.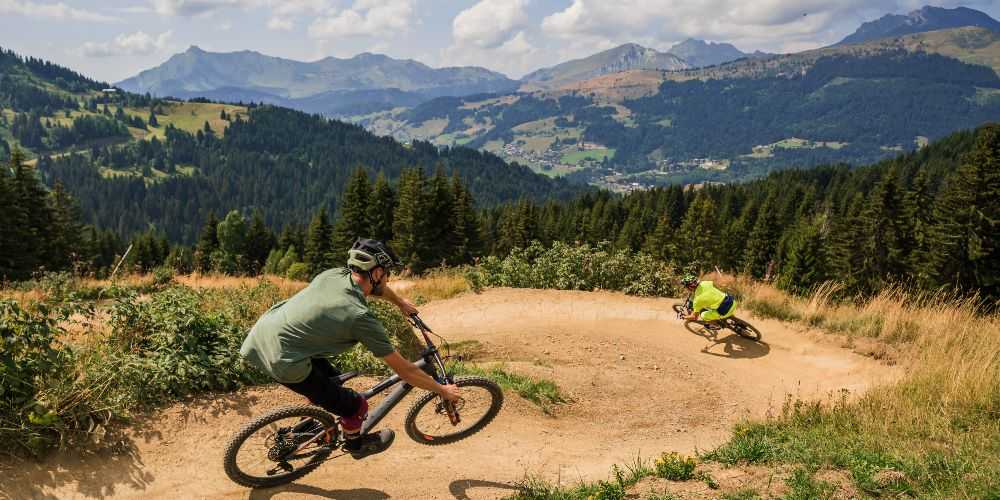 Step aside winter, summer in Les Gets is here
As the winter weather recedes and the birds begin to whistle for spring, the handsome French alpine town of Les Gets undergoes a transformation. Just a few weeks before, the chair lifts traversing the snowy slopes carried rosy-cheeked skiers; now, mud-splattered, they carry smiling mountain bikers up through a lush green landscape.
For under the white blanket of snow lies a biker's paradise: a network of mountain bike trails, e-bike escapades and exhilarating road biking routes are carved into the mountains and the town is alive with the buzz of all things two-wheeled. "How was Port du Soleil?" "Have you tried a blue run yet?" "Did you say it had electric gear change?"
"Les Gets is bike", shouts the resort's marketing slogan. It says it all.
When I arrive, my eyes and ears go into overdrive. Months of being cooped up staring at the same four walls in London has dulled my senses, which means that in Les Gets, everything seems richer: the grass greener, the air crisper, the chatter of French voices sweeter. It's almost surreal, like someone has turned up the exposure on a camera.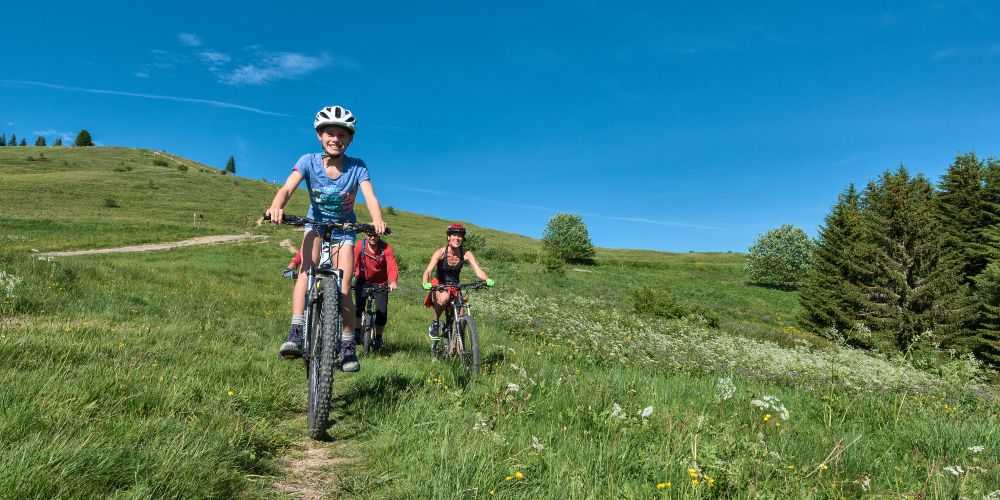 Summer in Les Gets is all about bikes and beautiful landscapes
After a quick tour of the town and a filling lunch of tartiflette, we go to get sized up for mountain biking the next day. At Les Get Bike Park, there are more than 125km of marked trails scattered across the slopes, all divided into green, blue, red and black. Like skiing, the colours indicate difficulty, with green the tamest and black the hairiest.
For beginners, green offers a perfect introduction to the land. Formed of gentle slopes, it gives families with young ones an opportunity to enjoy the stunning surroundings without the hairpin bends. The park has on-site instructors who can help you get to grips with the basics, including posture, turns, and braking. There's a dedicated coaching track too, so you don't have to worry about getting in the way of anyone else.
Mountain biking families with slightly more experience will find that the green and blue trails cover more than enough ground for a full week's adventure. Kids of all ages can usually be seen hurtling around the tracks, with mum and dad in tow. About midway down is a spacious café that overlooks a glistening lake. Stop here and refuel with a hearty lunch: their menu is brimming with a veritable selection of baguettes, salads, burgers and quiche.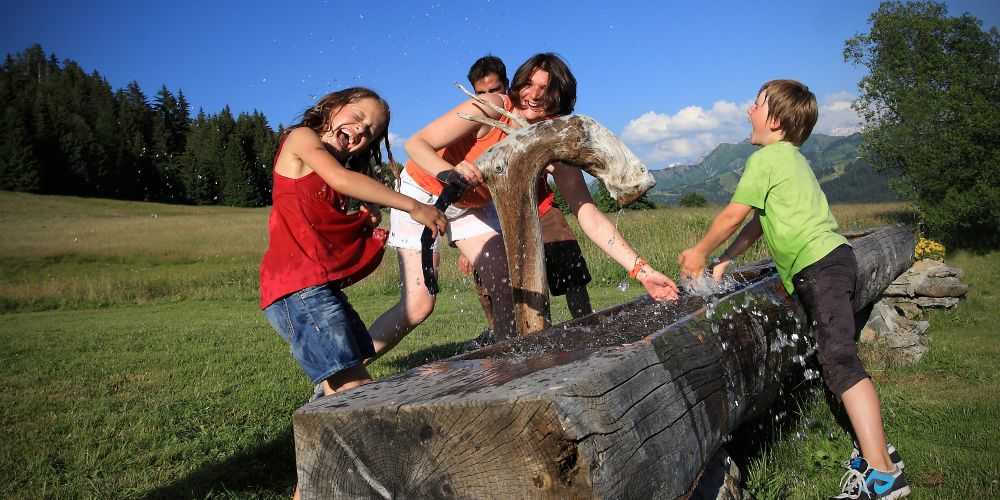 Swap snow for sunny mountain hikes and easy e-bike tours
After lunch, don't worry if the idea of sharp turns and hurtling down hills has lost its appeal. E-bike tours offer a relaxing alternative that allows families to explore the gorgeous alpine landscape without too much leg work. The electric bikes are easy to handle and the tracks are wide, making for a great family-friendly activity.
Away from bikes, there's a wide range of other activities to enjoy, from hiking and pottery to tennis and swimming. You can even fill up on culture over at the Musée de la Musique Mécanique, a splendid museum housing a collection of 800 instruments, some of which date as far back as the 17th century.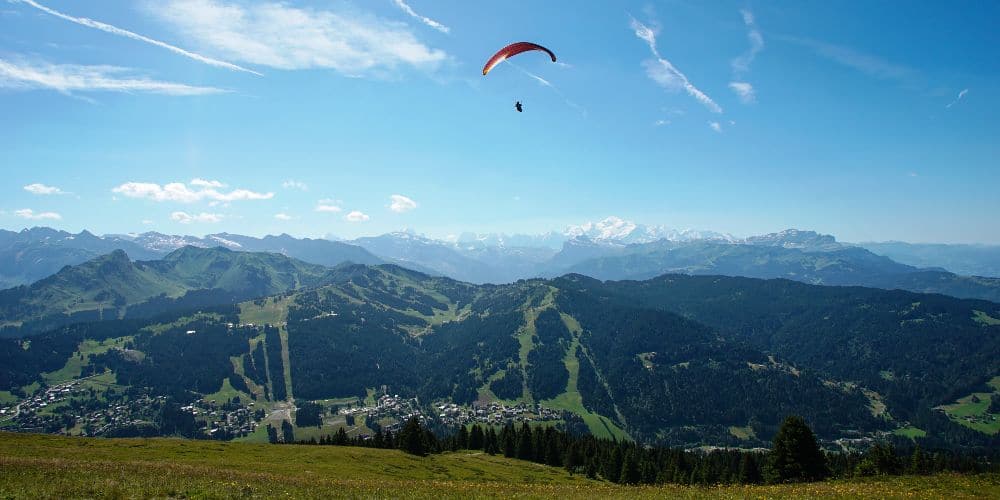 Les Gets adds a little extra enchantment to family activity holidays
Back in the town of Les Gets, the soft hum of cafés, bars and restaurants is music to our ears as I notice a rumbling stomach that had been suppressed by the hair-raising red runs. After dropping off our bikes and mountain bike gear (helmet, gloves and full body armour), we trundle back to the apartment for showers, exchanging lively conversation about our days on the way. Once we've freshened up, we head back out to fill our boots.
Dinner options in Les Gets are wide-ranging, from mountain dishes (raclette, fondue savoyarde, tartiflette) to classic continental (pizza, beef bourguignon, steak and fries). Service is invariably with a smile and doesn't feel contrived – people here are passionate about what they do and want visitors to feel the same.
This approach can be felt everywhere, whether sitting down for a meal or browsing the local Decathlon. I found that if you strike up a conversation with one of the locals, chances are they'll have a story to share about their experience competing for France in a winter sport.
After dinner, we head back into the mountains to enjoy Alta Lumina, an enchanting night-time trail that follows the story of a magical travelling music-maker and his hot air balloon. Composed of a combination of lights, music, and interactive features, Alta Lumina is perfect for unwinding after a long day on the bikes and great fun for all the family.
Yet despite all the magic, the French Alps don't need a light display to dazzle their visitors. From the moment I arrived in Les Gets, I was agog at how beautiful the vivid green landscape that sits quietly under the snow during winter and comes alive in summer could be.
Spending time as an onlooker in Les Gets in the summer is a truly captivating adventure in itself. But let's be honest – racing around it on a mountain bike is even better.
Good to know
How to get there
If you're travelling from the UK to France, driving is certainly an option – particularly if you're bringing your own bikes.
Otherwise, it's an hour's flight from Gatwick to Geneva and a short ride in a taxi over to Les Gets.
Where to stay
Hunter Chalets (Les Gets and Morzine). This gorgeous self-catering chalet with views towards the mountains is the perfect place to return after an action-packed day on the slopes. Spread over two floors, it can sleep up to 10, making it a great choice for families.
Summer prices are from £5,000 per week, which include exclusive use of the property and a welcome pack of champagne, beers, snacks, arrival breakfast items and cleaning products.
What to do
Group lessons at Les Gets Bike School range from beginner to expert and cost €39 for three hours and include a lift pass
(lift pass isn't included for expert level riders using multiple lift rides during the lesson).
Private lessons are €42 per hour (minimum duration 1.5 hours), €148 for a half day and €240 for a full day
(prices don't include lift passes or equipment hire).
Ticket prices for Alta Lumina are €53 for a family of four (two adults, two children)
Ready to change gear and get to know Haute-Savoie in summer? Take a closer look at Les Gets Bike Park for fun family activity holidays in France this year and next.