Holidays in the south of France are a great fit for Easter this year so now is the perfect time to join Tripbeat and save on fantastic French hotels in Provence and the Côte d'Azur. Plus, trains from London to the south of France mean you can make the journey another exciting part of your Easter holiday too.
The weather on the Côte d'Azur will be warm and sunny by April. Mediterranean beaches are a lot more peaceful than they are in the summer months. And of course the food is wonderful year round, but spring is the time for market stalls overflowing with fresh fruit and uncrowded restaurants for long, lazy lunches.
Save on Avignon holidays in the south of France
If you're looking for history, then visit the heart of Avignon. This UNESCO World Heritage Site is packed with incredibly grand architecture, starting with the imposing Palais des Papes. The largest gothic palace in Europe, this was the seat of Western Christianity in 14th century and even more impressive inside than out.
There really is a Pont d'Avignon, but don't think about dancing across. The legendary bridge, more formally known as Pont Saint-Bénézet, only stretches half way across the River Rhône now.
With all this drama in its historic centre, you won't be surprised to find that Avignon has some excellent guided tours. In fact, if you join Tripbeat today you can save on family-friendly tours of Avignon with local experts. Yet another instant benefit of Tripbeat membership!
Join Tripbeat for free today and save up to 29% on family rooms at 4-star hotels in the centre of Avignon.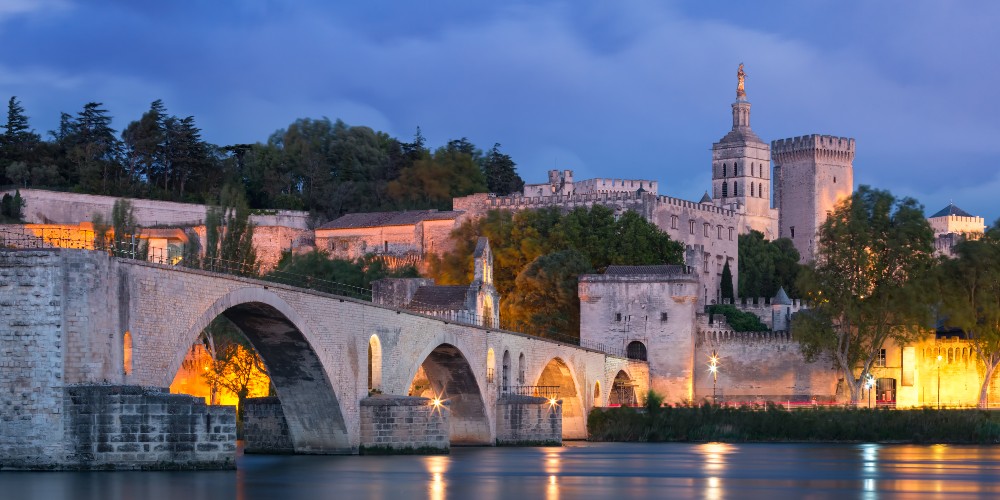 Tripbeat's choice of discounted 4-star hotels in Avignon make ideal bases for holidays in the south of France.
Only Tripbeat members benefit from these fantastic offers.
Nowhere is quite as nice as Nice in the spring sun
April is one of the best months to visit Nice. A fascinating city in its own right, Nice is another Côte d'Azur legend that makes a perfect base for holidays in the south of France. The Mediterranean beaches might not be the loveliest on the coast, but Nice more than makes up for that with the sheer charm of its old town.
Don't miss the flower market in Vieux Nice, or at least have lunch on the historic market square. You'll find Easter weather is warm and sunny but not too hot for walking around, so take advantage of that to stroll up to Musée Matisse. The views on the way are worth the legwork and the museum contains one of the world's largest Matisse collections.
You can't miss the city's dramatic backdrop of mountains, and that's where you'll find some of the prettiest hill towns in France. So if you're up for a drive – free Tripbeat membership gives you savings on car hire too – don't miss Gourdon. It's the ultimate Village Perché and an Instagram darling. St. Paul de Vence is also stunning and world famous for its artistic connections. Then there's Grasse, the perfume village, which is unbearably busy in summer, but a delight to visit in spring.
Don't miss out on savings in magnificent Marseille
Marseille might be the oldest city in France, but it has a very young, buzzy atmosphere and spring is a great time to go. You'll catch the weather just nicely warm, but not too stifling so even hiking up to majestic Notre-Dame de la Gard isn't too much effort, and the views at the top are astonishing.
Kids will love exploring the Old Port, not least of all for its famous fish market and cute ferry boats. This is also a great area for restaurants and, since it's spring, you're practically guaranteed a table at most of them. The city's famous bouillabaisse lives up to its reputation, though children might prefer a bowl of panisse: creamy yet crispy fried chickpea chips.
If you're feeling adventurous, spectacular Parc National des Calanques is a short drive from Marseille and home to some of the loveliest beaches in France. Or you could head a little further east to the city of Toulon and catch a ferry to enchanting l'île de Porquerolles: another iconic experience on holidays in the south of France.
Join Tripbeat free today and save up to 58% on family rooms at 4-star hotels in the centre of Marseille.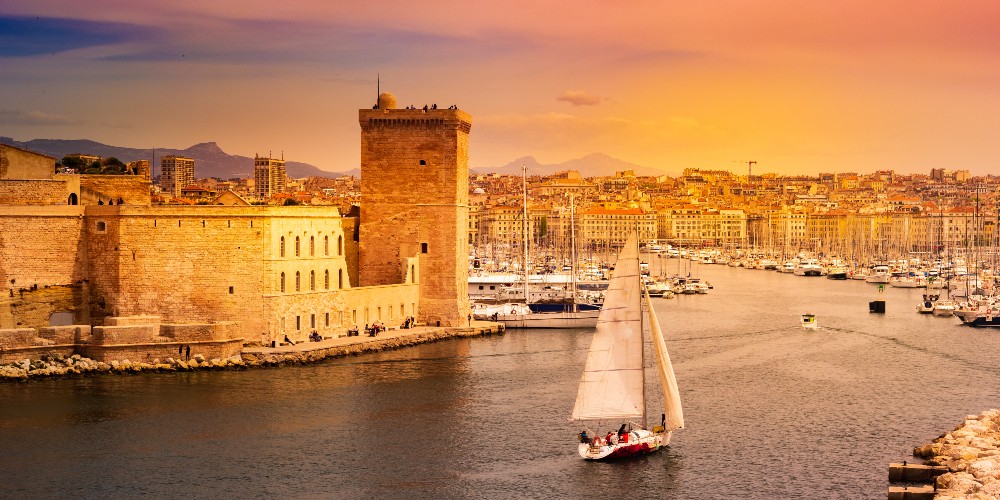 Tripbeat's range of chic, friendly and central hotels, are inspired choices for exploring Marseille easily with kids.
These amazing offers are only available to Tripbeat members.
Try Cannes for spring holidays in the south of France
Cannes is a classic choice for holidays in the south of France. Home to one of the world's most glamorous film festivals, the city is just as famous for its Mediterranean beaches and gorgeous restaurants.
We recommend the Plage du Midi for a warm spring day by the sea with kids. This is the ultimate city beach in Cannes and comes with everything you need from sun loungers and parasols to chic waterfront cafés.
Join Tripbeat for free today
HOTELS – Up to 60% off over 600,000 hotels worldwide
RESORT stays from £299 a week across the globe
TOURS – Up to 50% off over 50,000 private, group and tailor-made tours
ACTIVITIES – Discounts on over 345,000 experiences home and abroad
CAR-HIRE at member preferred rates
FLIGHTS – Access to discounted rates
CRUISES – Save up to £500 on cruises worldwide
PERKS – Save £400 a year on everyday savings
Join Tripbeat here. It's free and you can save instantly on holidays in the south of France. Or just have a look around for deep discounts on year round breaks. It's free to join, and there's no obligation to do anything except save on family travel 365 days a year.
*Prices correct at 18 February 2023