Family Traveller writer, Benedict Smith, makes it off the slopes of Alpe d'Huez relatively unscathed despite his beginner status thanks to the superb facilities and expert guidance provided at the year-round resort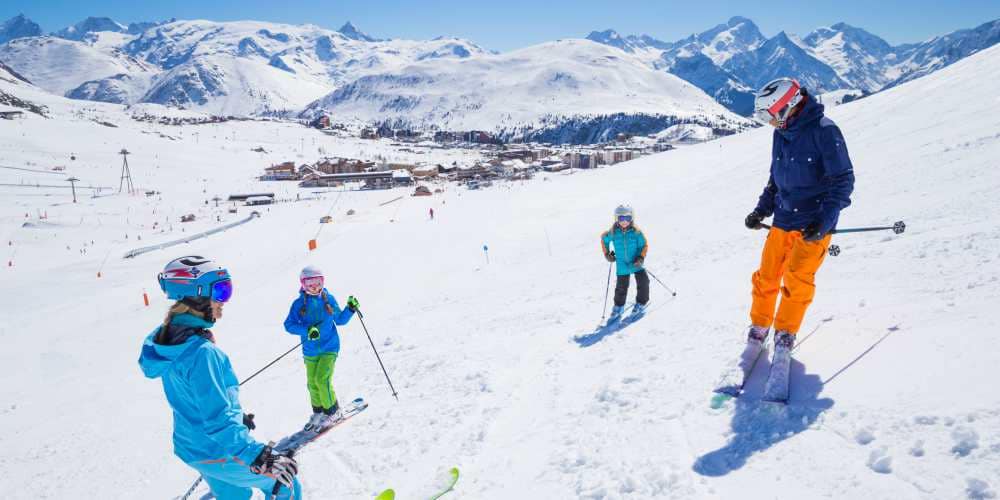 Teeth clenched, hands outstretched, knees wobbling, flattened snow rushing past beneath me. This time I manage to stay perpendicular to the slope rather than spreadeagled on it as I come to a halt at the bottom of a nursery run before hearing the distant, yet reassuring call from my instructor: "Well done, Ben! Tres bien!" 
It's not my first time skiing, but it might as well be. There are eight of us in the beginners' group – or groupe de débutants (somehow, I prefer that name, as it makes me feel as though I have just embarked on what will be a great skiing career, rather than just being a bit hopeless) – and we're all eyeing each other nervously, envious of those who seem to be excelling faster than the others.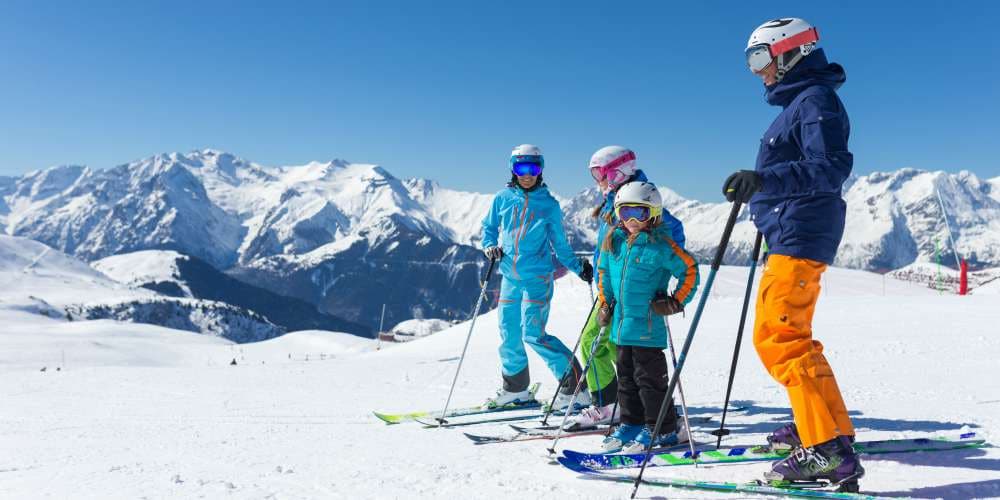 Thankfully, the ski school at Club Med Alpe d'Huez is so superb that by the end of my first day I'm confident enough to go down a busy blue run alone. The relaxed atmosphere helps too, even if there does seem to be a cavalcade of youngsters and their parents hurtling past me at every turn. 
Panoramic views from the slopes are enough to take your breath away, but I've been in a perpetual state of awe long before heading out for my first lesson. The serpentine journey from the airport in Lyon to the Club Med resort, climbing 1800m above sea level, is jaw-droppingly beautiful, as a white blanket of snow gradually envelopes us. We are then dropped directly in front of a dazzling lobby, our suitcases taken to our rooms and the highlights of the hotel shown off to us on a guided tour.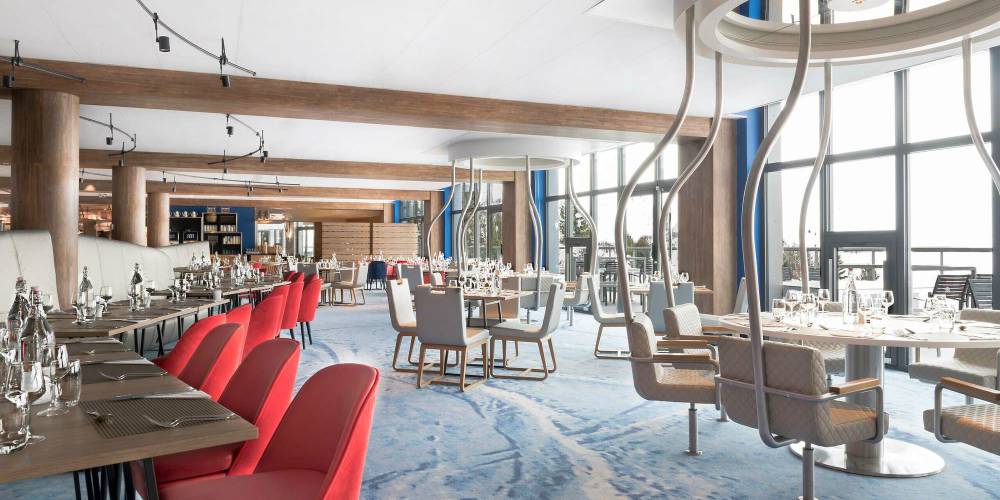 Club Med Alpe d'Huez has recently undergone a spectacular £100 million makeover, with upgrades to everything from the bar, lounge and restaurant areas to the expansive ski locker room and designated kids' area. 
Themed dining areas boast sweeping views over snow-capped alpine mountains, while outside on the decking, a mini family-oriented apres ski with live music and dancing, takes places each evening as the sun dips below the horizon. For breakfast, a generous buffet selection* includes flaky pastries, fresh fruit and boiled eggs with toast, accompanied by enough coffee, tea and juice to keep you hydrated till lunchtime.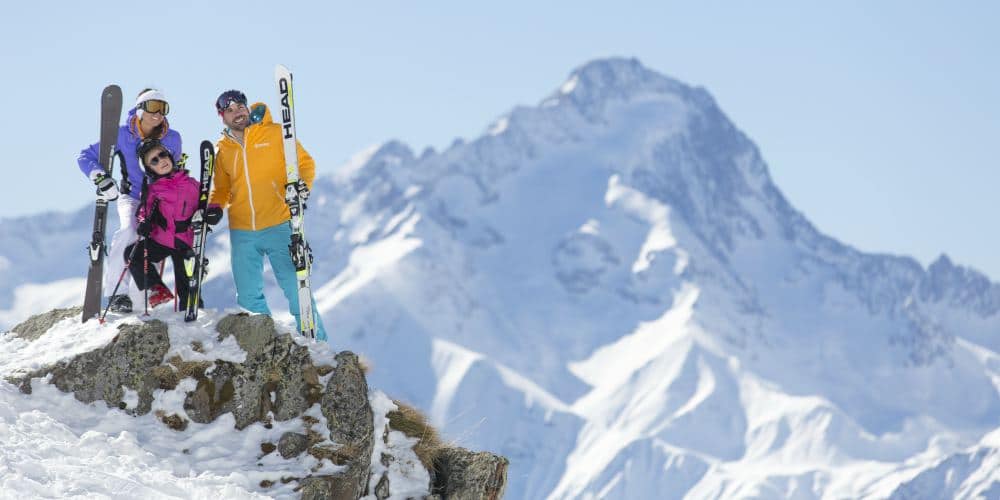 Once fully fuelled, it's just the slopes that await. As a novice, I have no idea what I'm doing when it comes to getting suited and booted, so I'm grateful when I'm given the once over by a patient, smiling instructor. Club Med has between 80 and 100 ski instructors who speak fluent English and are always on hand to answer questions, give directions and pick you back up after you've inevitably taken a tumble. 
Their partnership with ESF ski school means that both kids and adults have all the time and resources they need to reach a level of confidence that they are happy with before taking on the nitty-gritty. The ski-in ski-out set-up of the resort creates a seamless transition from lessons to skiing proper, while expert skiers can complete an entire 16km run without having to trudge through any slushy streets or throw themselves into the verge every time a snowplough approaches.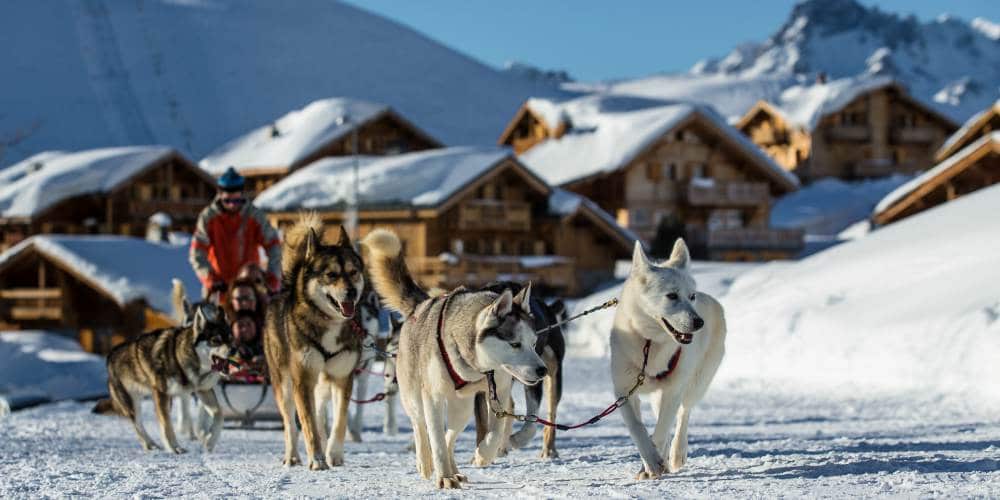 As the eight of us follow our instructors to a nursery slope for the first lesson of the morning, we watch children as young as four learn to weave around brightly coloured cones, come to an apparently effortless stop and chuck snowballs at their friends while no one is looking. It is ideal for parents, who can book their kids in for lessons (included in the all-inclusive price) while they explore the myriad slopes at their own – usually much faster – pace, before meeting up to enjoy a hearty lunch together. In total, there are 34 green slopes, 31 blue, 28 red and 18 black, meaning there are more than enough runs to keep a family of varying abilities occupied for a week-long stay. 
Away from skiing, there is a range of fun activities to enjoy together. Dog sledding, snowshoeing, ice cave tours, spa and gym, morning yoga sessions, evening performances – it's all there for the taking and means that the days where you can't get out on the skis are never wasted.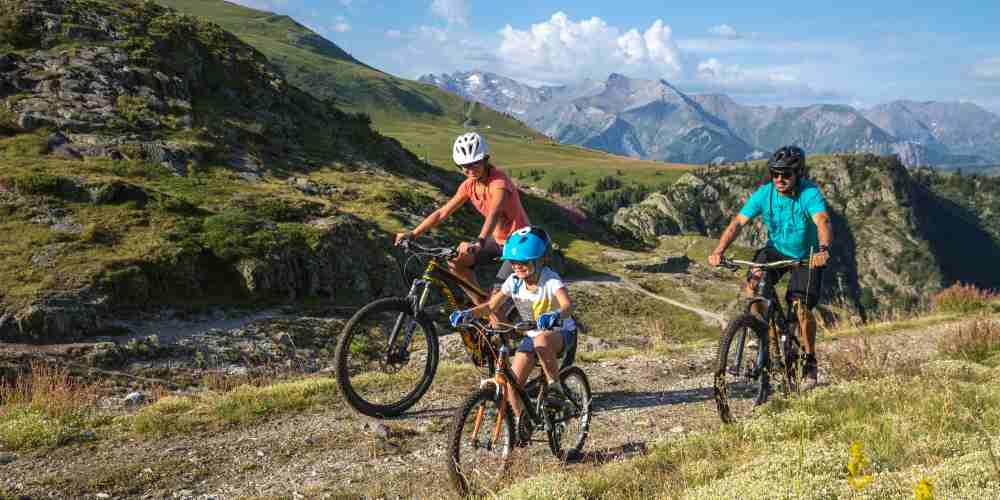 Covid permitting, an exciting spring and summer lie ahead for Alpe d'Huez, as it prepares to launch another springtime opening, offering families the chance to enjoy the stunning surroundings while hiking, mountain biking and ziplining across the dramatic alpine landscape. Skis, poles and salopettes are replaced by walking boots, bike pumps and helmets, as the resort undergoes a rapid transformation to cater to the summer clientele. Ski lifts full of keen skiers are replaced by a veritable army of mountain bike enthusiasts, as the snow melts to reveal luscious green mountainsides and hair-raising downward tracks.
As a complete débutant, I can confidently say that Alpe d'Huez is the perfect place to get to grips with skiing, whether aged four or twenty-four. And having spoken to my far more competent colleagues, I can confirm it's ideal for veterans on the slopes too. 
The lowdown
Getting there
Flights from London to Grenoble take 1h 35m. The drive from Grenoble to Club Med Alpe d'Huez takes approximately 1h 30m. You can also fly to Lyon-Saint Exupéry. Transfers from Lyon take 1h 50m.
Price
Prices for a seven-night stay at Club Med Alpe d'Huez start at £1,480 for a family of four. Kids under 4 stay free.
A seven-day ski pass for a family of four in Alpe d'Huez starts at £980.
To book
Like the sound of a family ski holiday in Alpe d'Huez? Book your perfect getaway this winter with France Montagnes