AMARA is the newest addition to the thriving hotel scene in the Cypriot coastal town of Limassol. Family Traveller's Amy Hopkins and her family visited the brand new beach-side hotel, which has a whole wing dedicated to families.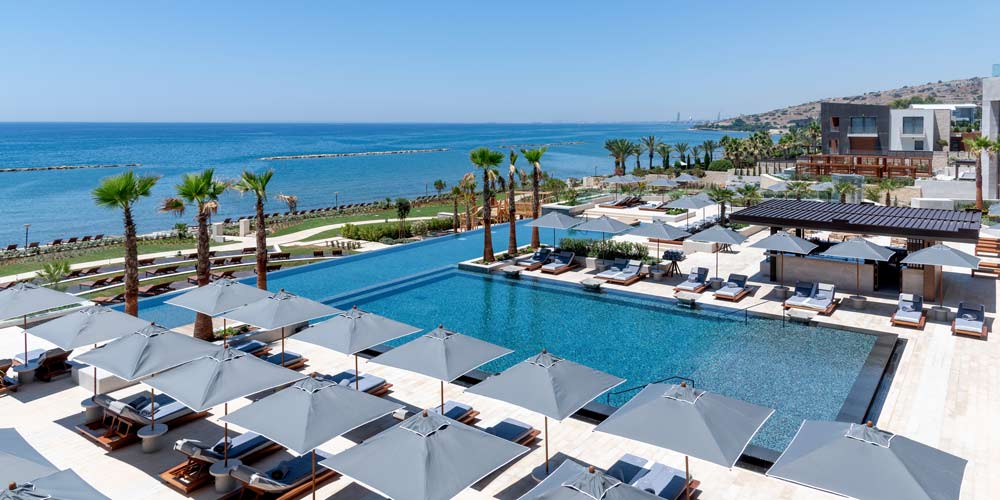 I arrived at AMARA with bits of banana in my hair and PlayDoh smeared across my trousers – the hallmarks of a five-hour flight with a fidgety toddler. Stepping into the new five-star hotel, I suddenly felt very scruffy.
AMARA's elegant lobby is decked out with cream chairs and glass ornaments atop marble tables, all of which caused me to involuntarily tighten my grip on my daughter Annie's hand. Glancing out one of the floor-to-ceiling windows, I spotted a flawless woman (a model, surely?) posing dramatically by the pool in a white bikini and billowing olive green kaftan, while another woman squatted to take pictures.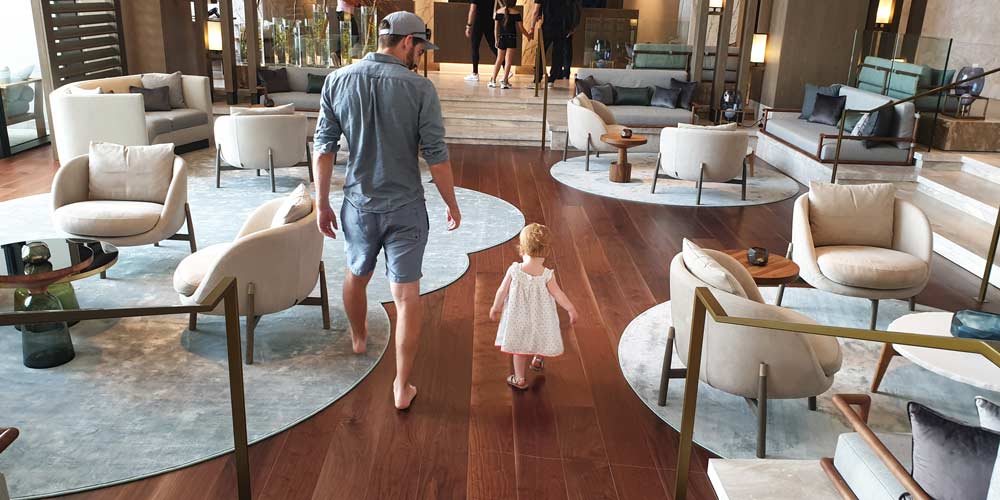 We would see plenty more beguiling women taking part in similar photoshoots during our stay – one even perched on a rock in the sea like the Little Mermaid. Perhaps this was something to do with the fact that we were here for the hotel's grand opening, but I got the feeling AMARA will always attract a glamorous crowd.
All this isn't to say that the hotel is not a place for families. Stademos Hotels, the hospitality group behind AMARA, is keen to establish their newest hotel as a family destination. In fact, AMARA has a whole wing dedicated to families, with its own pool, kids club, creche and a cluster of family bungalows. After checking in, my husband Nick and I were invited for drinks in the lobby bar where, to my relief, we found several other families with under-fives. Before long Annie was playing a cautious game of peekaboo with a little Israeli boy and I felt myself starting to relax.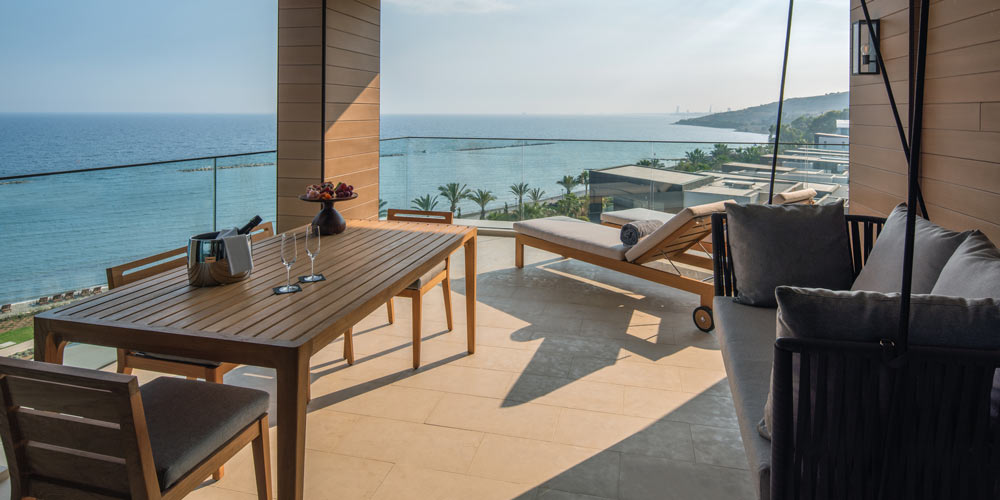 The lobby's palette of cream and dark timber extends to the hotel's 207 sea-facing bedrooms and suites. Nick and I enjoyed the luxury of having two bathrooms in our family suite and, had Annie been older, I'm sure she would've loved the he hi-tech nature of the rooms. Temperature, lights and blinds can all be controlled with a press of a button. On our balcony terrace were two heavy wooden loungers, a table and chairs and, Annie's favourite, a comfy swing seat.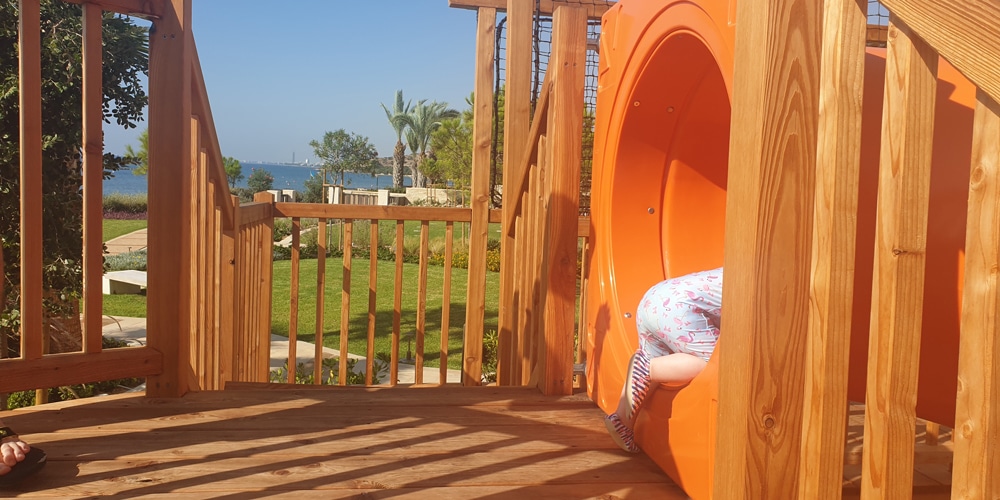 Outside, the cluster of infinity pools overlooking the sea has a sophisticated feel, but any illusion that this is an adult-only space is shattered by the wooden playground that sits right in the middle of it all, with a bright orange slide that curves to the ground like a huge smile. AMARA's kids club is welcoming and immaculate, with the sort of luxury toys you'd see in the window of Harrods at Christmas; elegant dolls houses and ride-on-sports cars. Everything looked brand new, because it is. 
Relishing in Cyprus's October sunshine, we spent a lot of time at the beach. It's a pebble's throw from AMARA, so close that even Annie could walk from the hotel, albeit very slowly, holding my hand. Sun loungers and umbrellas are provided on the dark sand beach and a manmade wall of rocks out to sea acts as a wave break, so the water is perfectly calm.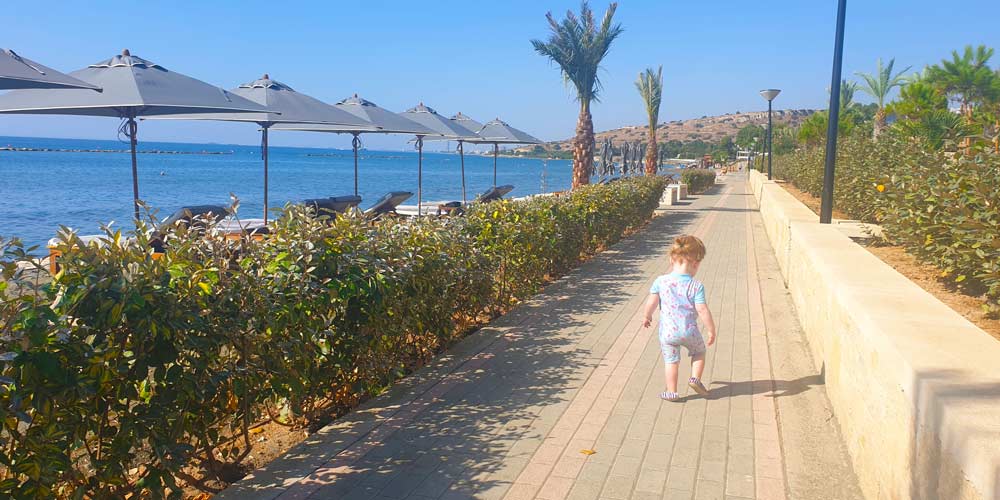 If you were in any doubt about AMARA's luxury credentials, a meal in any one of the hotel's four restaurants, two of which are headed by a Michelin-starred chef, will set you straight. Breakfast is served in a dedicated restaurant with a terrace overlooking the sea. It's a buffet or, more accurately, a banquet. Eggs and juices made to order, pastries, international dishes, gluten-free cereal, diabetic jam – AMARA's breakfast is a feast for all tastes and dietary requirements.
In Nobu Matsuhisa's restaurant, Matsuhisa Limassol, Nick and I tucked into a selection of sushi and sashimi, devouring in seconds the rock shrimp tempura that helped earn chef Nobu his Michelin star. Although we spotted children in the hotel's restaurants at all hours of the day, we felt a Nobu dining experience was too much of a treat to be rushed and booked a hotel babysitter, who kindly spent her shift knitting Annie a pair of booties while Annie slept.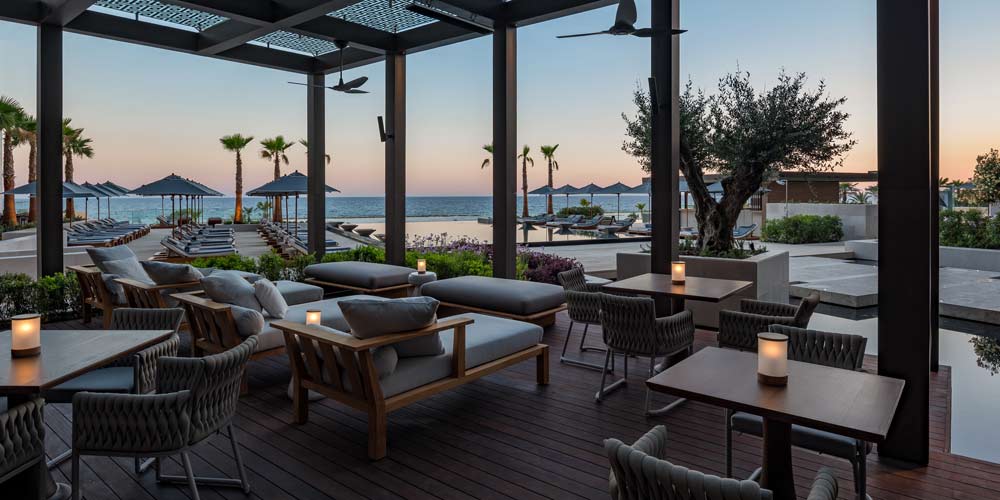 I enjoyed another slice of child-free relaxation at the hotel spa. Adding to AMARA's super-luxe credentials, the spa is huge and offers a full range of treatments, as well as an indoor pool, sauna, ice room, gym, hairdressers and nail bar. The whole spa has been built around a section of Limassol's ancient city wall, which was unearthed during the hotel's construction. The pale stone wall is softly lit with a row of curved stone loungers facing it. Taking a few precious child-free moments to lie back and silently gaze at the relic was almost as restorative as my Swedish massage.
Of course, being chic and being a parent aren't mutually exclusive – just look at the hoards of super stylish mums making a living as social media influencers. If you like the finer things in life, you'll love AMARA, but if your family's style is more flip-flops and PlayDoh than stilettos and Champagne, don't be put off. This smart new hotel is on a mission to welcome families and my distinctly un-glam little family certainly felt at home.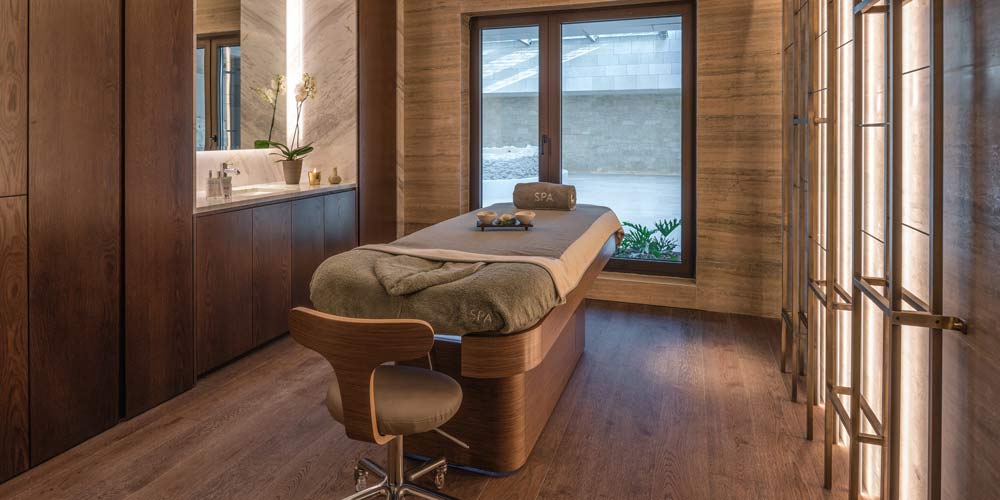 AMARA: The lowdown
Price: Rooms from £365 a night, including breakfast
Getting there: Flights from London to Cyprus take approx 4.5 hours. Amara is a 45 minute drive from Paphos airport and a 40 minute drive from Larnaca airport
Kids club: Amara's kids club is open 10am-7pm daily and is free for children over three years. For younger tots, parents are required to book a babysitter in advance, for £10 per hour for a minimum of three hours. 
Nearby: The Amara is minutes from Limassol's 1100BC archaeological site Amathus and Limassol old town and marina are a 10-minute taxi drive.