Do you know Istria? While you're thinking, here's the lowdown: it's Croatia's most northerly region, sits on the Istrian Peninsula and has over 200 Adriatic beaches which are tested for water purity every 15 days from May to October. The capital Pula is two hours direct flight from the UK. And, sun-drenched and remarkable as the coastline is, you can drive it from end to end in roughly an hour.
On the off chance you didn't want to spend every minute by the sea, the countryside's famously good for cycling, stuffed with spectacular natural phenomena, scattered with enigmatic history and given to extremes of adventuring.
Still not too sure? Possibly the only solution this summer is to simply go visit and work out for yourself why the lesser known Croatian region is the one most families like best when they get to know it better.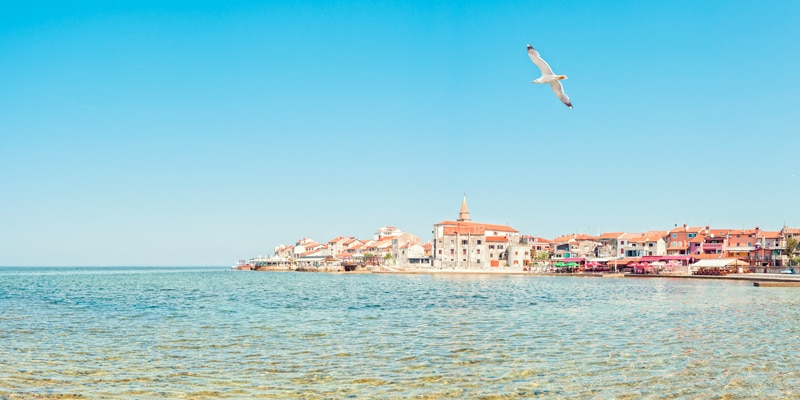 Take beautiful and beachy Umag as an example
The enchanting seaside town of Umag is as far north on Istria's coast as it gets and slightly more than an hour's drive from Pula Airport. The ancient Romans summered here and the town's charming old quarter hides historic Venetian mansion houses, Renaissance churches and fascinating museums. Put the past behind you and head towards the sea and you'll come across glossy marinas, pretty waterfront restaurants and more than a hint of the 50km long Umag Riviera: a major draw for the Romans and just as hard to resist today.
No one knows Umag like Istraturist
A clear passion for Umag has been Istraturist's signature for over 50 years. Although there isn't a hint of half-a-century in any one of their bright and beautifully designed hotels and resorts along the lovely Umag Riviera.
Instead, expect spas, family beaches, huge swimming pools and fun activities and you won't be disappointed. There are even Istraturist hotels dedicated to lux-ing up cycling holidays. Not sure if that's possible? Here are just four of their finest to convince you anything's possible this summer.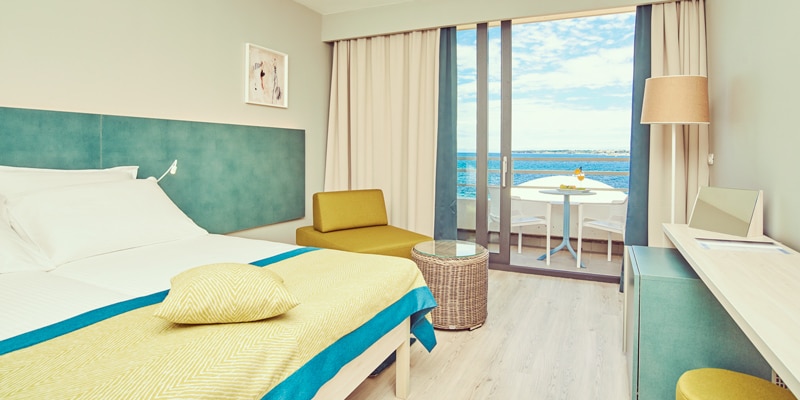 1/4

  Hotel Sol Sipar, beachfront on the Umag Riviera
If you like to be first in the know, Hotel Sol Sipar is a good choice this year. Completely refurbished from top to bottom, it re-opens in June 2017 and promises to be as fresh and appealing as the Adriatic on a sunny morning; the hotel's right on the beach so you can make a direct comparison.
Families definitely seem to have been front of mind in the recent redesign and the hotel doesn't miss a trick from fun swimming pools to creative kids clubs for five to 12 year olds, water sports on the beach and a summer long programme of activities. And, as Umag hosts the Croatia Tennis Open every year in July, it's probably no surprise to find outstanding new courts and coaching as part of the refurb too.
Apart from its beaches, flawlessly clean water and wonderful weather, the Umag Riviera's also a bit of a wellness legend. So when kids have Mini Club in their diary, you can indulge in outdoor yoga, aqua-aerobics, fitness classes or simply soothe away a few cares on a sun-lounger by the sea.
Good to know
Four star Sol Sipar overlooks the beach close to Umag town centre. You can choose from a range of family rooms with sea views. The hotel also has two restaurants, two bars and Mini-Club is free for all young guests age from five to 12 years.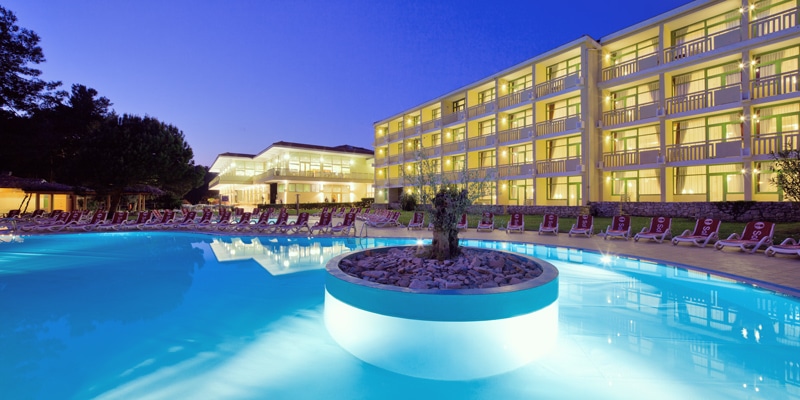 2/4

  Hotel Sol Aurora, Umag's only all-inclusive family hotel
Another Istraturist beachfront hotel, four-star Hotel Sol Aurora holds a Travelife Gold Award for eco-friendly practices and also happens to be the one and only all-inclusive hotel on the Umag Riviera. So for a clean-conscience, carefree summer holiday right by the sea, this is the one to choose.
Older kids and teens will like the water sports and nearby multi-sport and art centre. Under 12s have a Mini-Club here too and this one's packed with fun eco-activities as well as outdoor adventure and creative play. There's a shooting range and boules court for lively grown ups. And keeping up the fine Istrian cycling tradition, you can hire bikes for family days-out – or amble into Umag, it's only a kilometre away. But, at Sol Aurora, there is plenty of poolside space and room on the beach means that lounging is still covered for the deservedly lazy.
Good to know
All-inclusive at Sol Aurora includes a choice of family suites, all meals, unlimited soft-drinks and local wine and beer. Dozens of activities and sports are also part of the deal and kids can be Mini-Clubbers for free any time.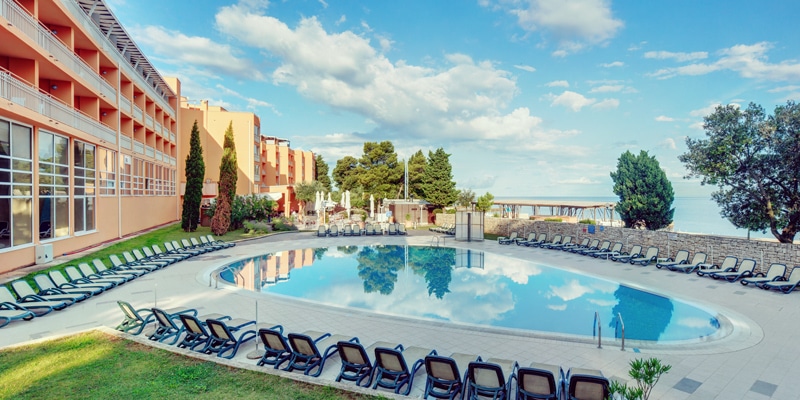 3/4

  Hotel Sol Umag, the Istraturist for cyclists
Four star Hotel Sol Umag isn't just keen to make cyclists comfortable, it's designed to look after them body, soul and bike with more than a little luxury in the equation.
But you don't need to be touring Istria on two wheels to stay here. The shoreline of canopied sunbeds, water sports, long cool drinks and lots of sunshine is perfect for beach babies and idle parents. There are indoor and outdoor pools, sailing, paragliding, windsurfing, banana boating or canoeing to keep teens happy. And when kids are off at Mini-Club or cavorting in the Adriatic, indulgent adults should head straight for the Istrian Village and discover exactly why the Umag Riveria rules Croatia when it comes to wellness.
Sol Umag is fantastic on the food front too. Local Istrian specialities are the focus of themed culinary evenings, restaurants range from romantic to kid-perfect and it's the first hotel in the region to be awarded a Halal Quality certificate.
Good to know
Hotel Sol Umag was recently refurbished and has a choice of bright, modern family suites and apartments with beach views and balconies for summer 2017.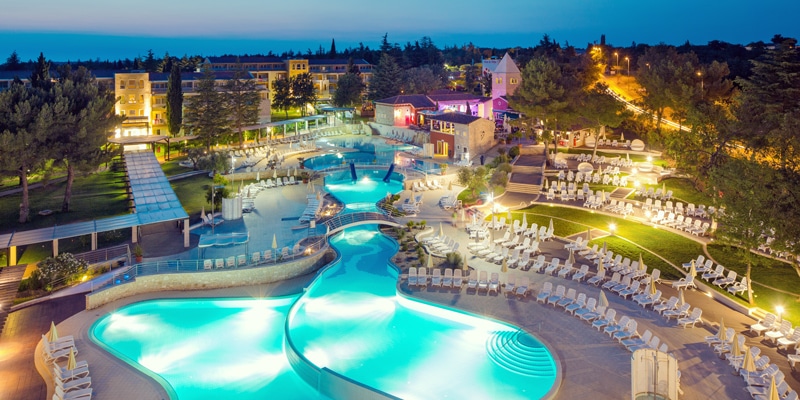 4/4

 Hotel Sol Garden Istra for active families 
Even in Istraturist's collection of original hotels, Sol Garden Istra stands out with its blend of cool contemporary design and charming heritage.
The local tradition of wellness is upheld beautifully at The Body Holiday: an entire spa park dedicated to soothing and pampering the most careworn of parents. While grown-ups are rebalancing, kids have the distraction of Mini-Club for under 12s and a whole beach worth of teen-shaped water sports or games. You can also enjoy family time together by taking advantage of everything from bike hire to horse riding, sailing, hiking or tennis – indoor and out.
Naturally, Sol Garden Istra does downtime too with a pick of pools for cooling off or swimming; indulgent sunbeds for lazing; and the big, blue Adriatic on the doorstep for just about any other fun you can imagine.
Good to know
Four star Hotel Sol Garden Istra's one and two bedroom holiday apartments are ideal for families. Choose to be close to The Body Holiday and you don't have far to drift after blissful spa treats.