Sandy beaches, UNESCO sites, kids' clubs and endless activities make Bulgaria the perfect all-round holiday destination for families in 2020.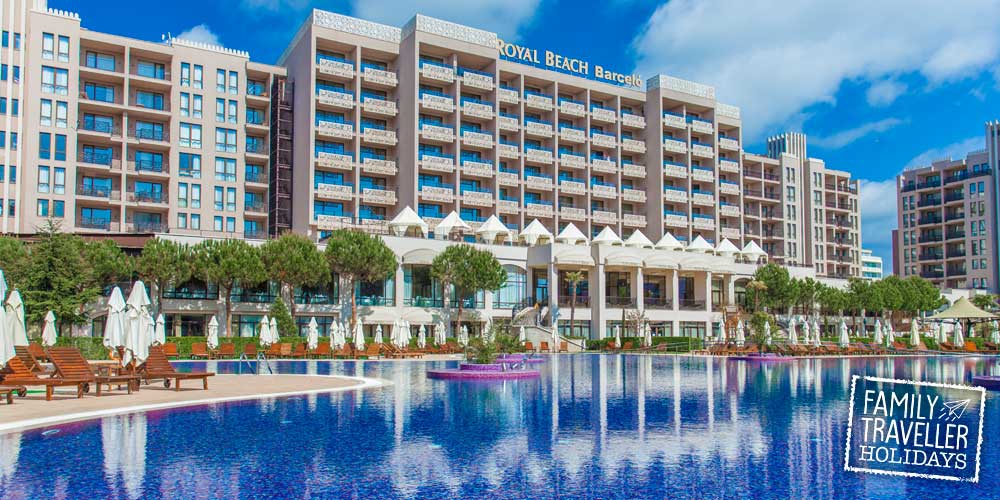 1/10

Barcelo Royal Beach

★★★★

★

Barcelo Royal Beach is a stylish five-star hotel offering views over the Black Sea on the buzzy Sunny Beach resort of Bulgaria. Set amongst gardens, the hotel consists of 304 rooms that are bright and airy with balconies or terraces, while guests can upgrade for ocean views and extra rooms. Amenities at Barcelo Royal Beach are fantastic, with three restaurants, including one serving typical Mediterranean dishes, a piano bar, poolside bar and lobby bar. There are also three huge outdoor pools to enjoy, plus a kids' pool, indoor pool, large spa and gym. Lying just minutes away is a golden stretch of sandy beach where families can make the most of sun loungers, hammocks and a range of water sports. 'Barcy Club' welcomes kids aged four and over with a number of upbeat activities and games.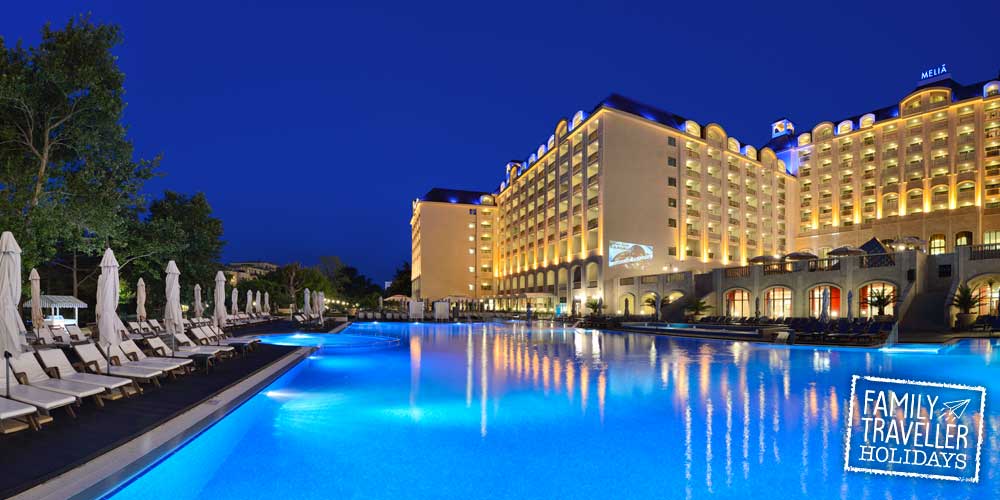 2/10

Hotel Melia Grand Hermitage

★★★★

★

Hotel Melia Grand Hermitage is a five-star lap of luxury tucked away in woods above the coastline of the Black Sea. This award-winning hotel offers guests a gorgeous stretch of sandy beach where they can kick back, as well as a number of water sports for those with a preference for more adrenaline-inducing activities. Kids are treated like royalty at Hotel Melia Grand Hermitage, receiving a unique hotel passport, a welcome drink and a snack on arrival. 'Kids&Co' provides supervised care and activities for little ones including face painting, arts and crafts, pool games and mini bowling. Children will also love the five pools, water slides and playground. A new rope park provides endless fun for little ones, while day and evening entertainment activities such as live music, yoga, dance school and water basketball will keep the whole family happy. Visitors have a choice of four restaurants when it comes to dining, including a German pub with a beer garden, tapas bar and an Italian. The buffet restaurant has a special kids' corner as does the hotel spa, where children can learn about health and beauty and get mini treatments.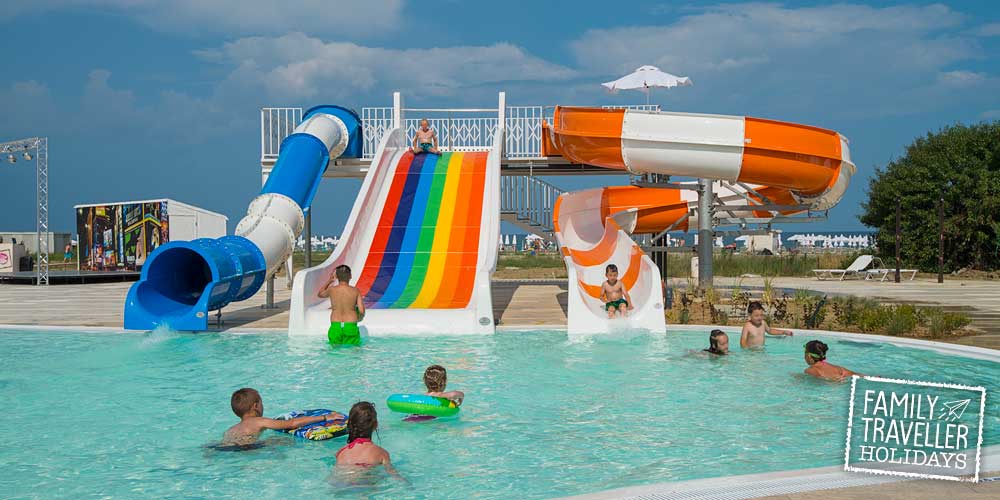 3/10

Hotel Sunrise All Suites Resort

★★★

★

Four-star Hotel Sunrise All Suites Resort is a high-rise hotel in Obzor Bay, right next Bulgaria's longest white sand beach. Obzor is a lively region with lots of shops, bars and restaurants to enjoy, as well as a pretty park and promenade for family strolls. There's plenty of day and night entertainment at the resort too, plus a wide variety of sports, such as volleyball, football, water polo, table tennis, archery and darts. This 175-roomed resort offers guests two restaurants to dine in, with one situated in the hotel gardens, while there is also a snack bar for nibbles. Families have a choice of three main freshwater swimming pools and one lagoon-style saltwater pool, in addition to a trio of smaller pools for kids. A hotel-run mini club provides children with supervised care, leaving parents time to enjoy a signature cocktail at the lounge bar.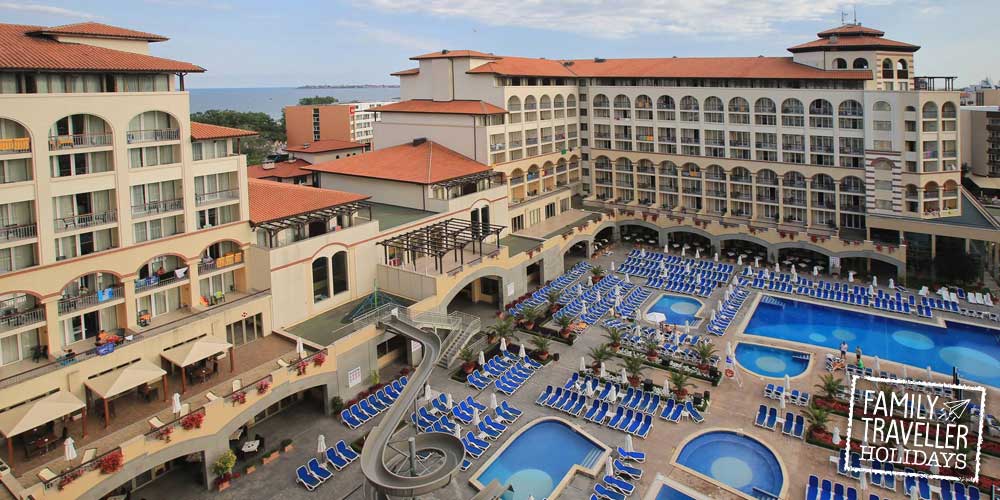 4/10

Iberostar Sunny Beach Resort

★★★★

Located on a long stretch of golden beach, four-star Iberostar Sunny Beach Resort is an action-packed high-rise resort offering plenty of organised entertainment for all the family, as well as peaceful nature areas for casual strolling. Iberostar Sunny Beach has seven pools, several suitable for younger kids, with colourful water slides and water fountains. The kids' camp is excellent, providing innovative classes that include Bulgarian cooking, hip hop dancing and rock climbing. The club is divided into three age groups – four to seven, eight to 12 and 13 to 17 years old. Kids can also try their hand at new activities, with archery, tennis and water polo favourites among guests. While youngsters are entertained, parents can head over to the luxury spa for a treatment or enjoy a cocktail at the bar. Dining includes themed restaurants with show cooking and kids have access to their own buffet menu. The hotel will organise excursions for families to explore the local region.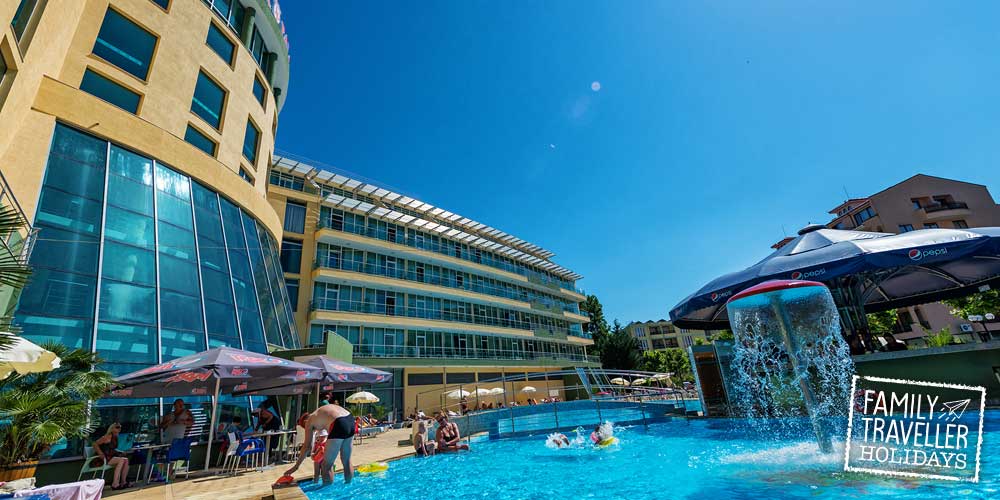 5/10

Hotel Ivana Palace

★★★★

Occupying a spot just 800m from Bulgaria's Black Sea beaches, four-star Hotel Ivana Palace is awash with an enviable selection of water sports and beach cafes, and is little over a mile away from the high-octane thrills of the Action Aquapark and Sunny Beach Amusement Park. For a day of culture and exploration, families can head to the ancient city of Nessebar, a UNESCO World Heritage Centre, located no more than a 10-minute drive away. This high-rise 224-room resort encompasses a laid-back restaurant with terrace and lobby bar featuring a selection of games, plus a small spa with sauna, hot tub and gym. Outside is an outdoor swimming pool with a section for children and a poolside bar. Kids will also have access to a playground with slides and swings.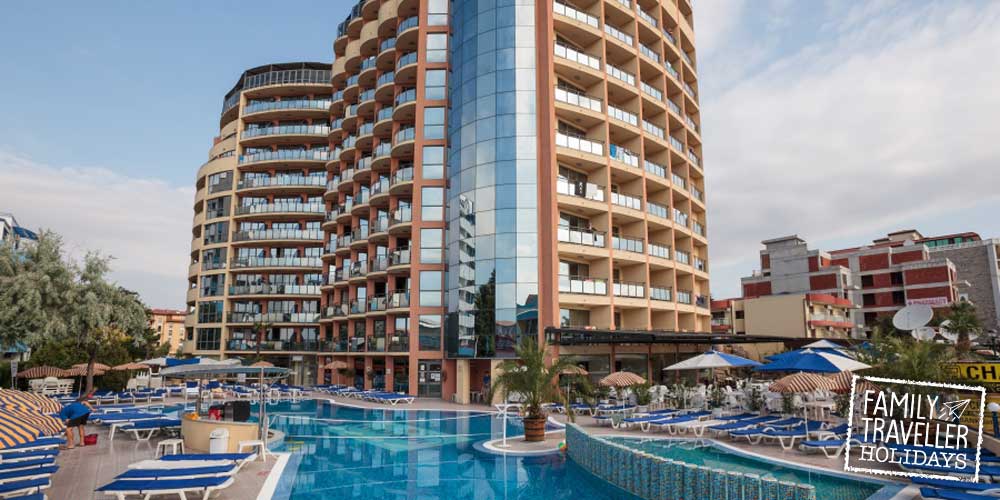 6/10

Smartline Meridian

★★★★

With Sunny Beach a mere five minutes' walk away, the four-star Smartline Meridian is a popular place for families who come to enjoy an endless array of water sports and action-packed days out at Action Aquapark. This high-rise hotel has 268 guest rooms, a rooftop restaurant with panoramic views over the ocean, Irish pub and pizzeria. The spa with sauna, solarium and Turkish bath offer guests plenty of options for kicking back and relaxing, while outside there is a swimming pool, flanked by sun loungers and a poolside bar. Kids have access to their own separate section where they can enjoy splashing about, in addition to a playground with swings and slides.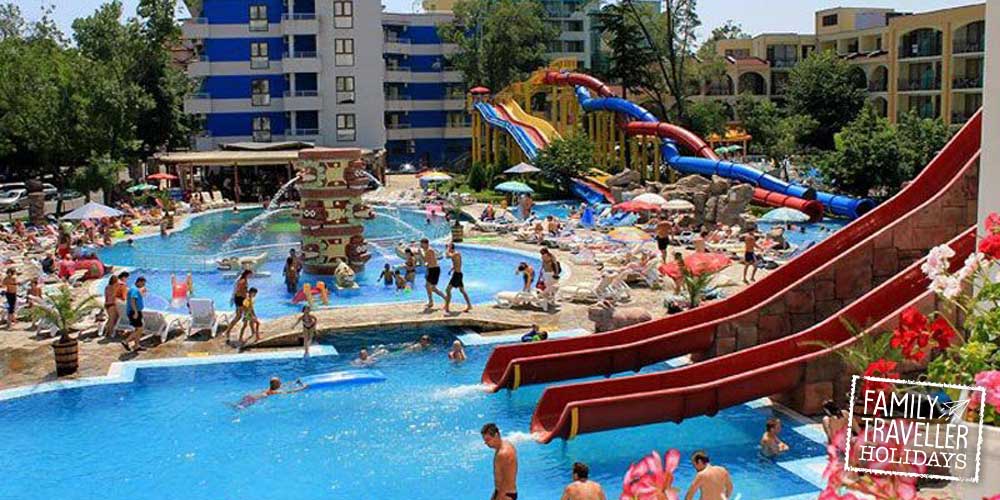 7/10

Kuban Resort & Aquapark

★★★★

Four-star Kuban Resort & Aquapark is an upbeat all-inclusive hotel on the lively Sunny Beach resort in Bulgaria, with its many bars, clubs, shops and restaurants. It has prime Blue Flag beachfront access, as well as an outdoor swimming pool with sun loungers and terrace. Both children and adults will love the on-site aquapark that comes with interconnected pools, large flumes, slides and fountains, plus a Mexican diner and poolside bar. Other amenities at the high-rise Kuban Resort include a spa with hot tub, sauna and Turkish bath, gym, restaurant and rooftop bar and casino lounge. Kids under 12 stay free of charge.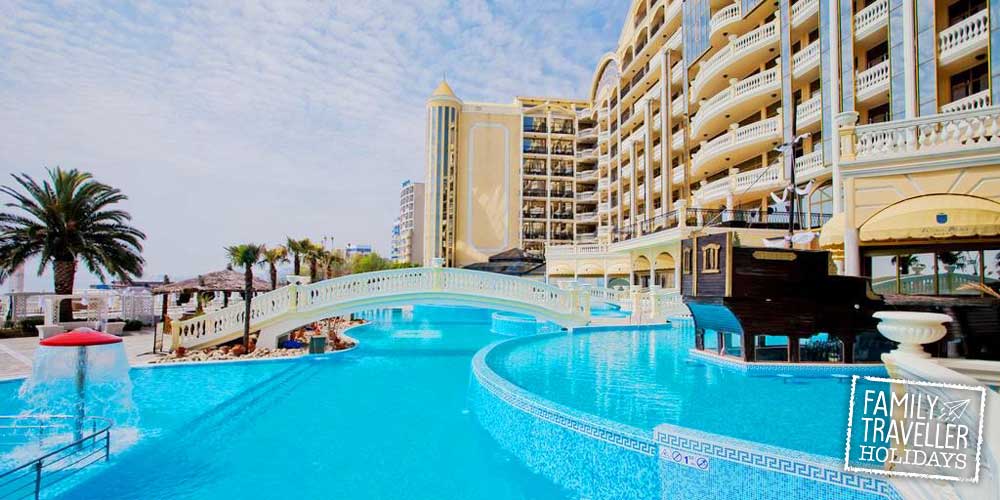 8/10

Hotel Victoria Palace

★★★★

★

Five-star Hotel Victoria Palace is a sprawling family-friendly resort with an unrivalled position on the beachfront of Bulgaria's lively Sunny Beach resort. Victoria Palace boasts an indoor and outdoor swimming pool. A children's pool forms part of the outdoor swimming pool, flanked by palm trees and sun loungers. Kids also have access to an outdoor playground, while a sauna, Jacuzzi and spa treatments are available for adults. A gym can be used for workouts plus the hotel offers a variety of sports to try. Families can unwind and dine in the à la carte restaurant and get snacks and drinks from the hotel bar, pool bar and pub.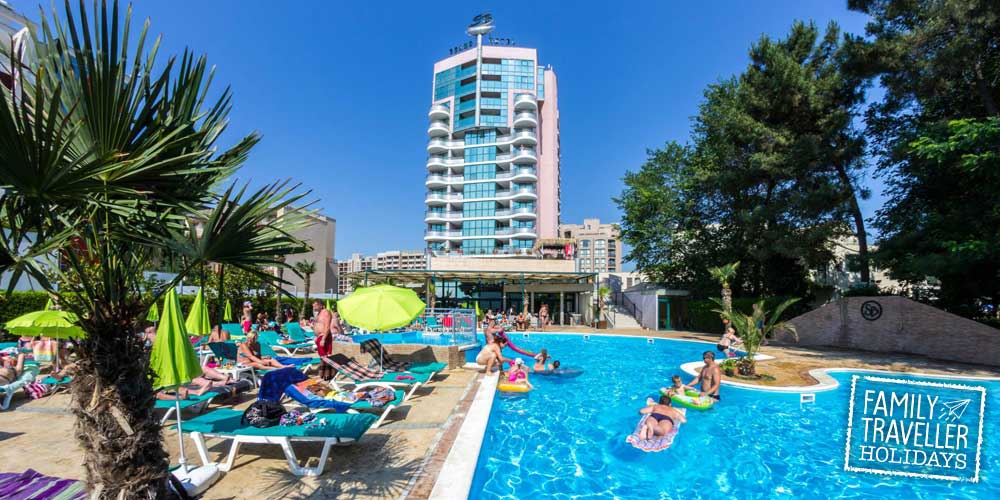 9/10

Grand Hotel Sunny Beach

★★★★

Four-star Grand Hotel Sunny Beach should suit beach lovers down to the ground. It sits on a vast stretch of sand on the lively Sunny Beach resort of Bulgaria. Should families tire of sea and sand, the hotel lagoon pool and kids' pool, both flanked by palm trees and sun loungers, will provide an interesting change of scene, while the Action AquaPark is less than a mile away. Food and drink is included during a stay at Grand Hotel Sunny Beach, with dining options including a buffet restaurant and daily barbecue, plus a poolside and lobby bar. The 200 rooms come with a balcony and sea views. Apartments add kitchenettes and living rooms. Kids eight and under stay for free.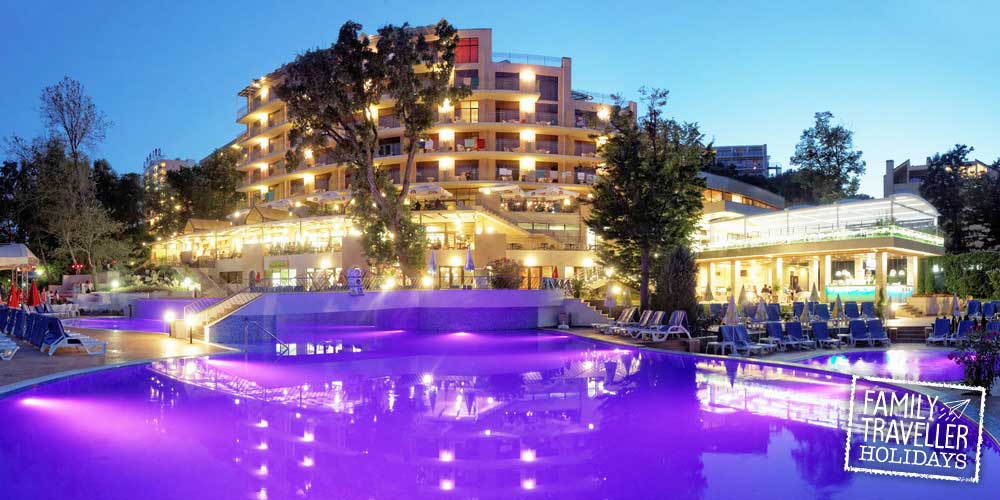 10/10

Hotel Kristal

★★★★

Overlooking Bulgaria's Black Sea on the quiet Golden Sands resort sits the all-inclusive Hotel Kristal, a four-star hotel surrounded by woods and close to the Golden Sands Natural Park. The nearest beach is a 10-minute stroll and Aquapolis Water Park is just over a mile away. Hotel Kristal has 296 rooms, including family rooms with bunk beds. On site, there are lagoon-style swimming pools, spa with indoor pool, steam room, Hammam and Jacuzzi, games room, gym, buffet restaurant, two bars and a bistro with à la carte dining. The variety of energetic activities on offer will excite sports fans, such as tennis, badminton, volleyball and football. Kids can let off steam at the playground or in the splash pool. The hotel staff will also provide hours of entertainment for youngsters with their high-energy programme of activities.