Sara Macefield boards the world's largest cruise ship with her teenage twins and is seduced by a whole world of activities and fun, and the main attraction: a stop-off on the company's stunning private island in the Bahamas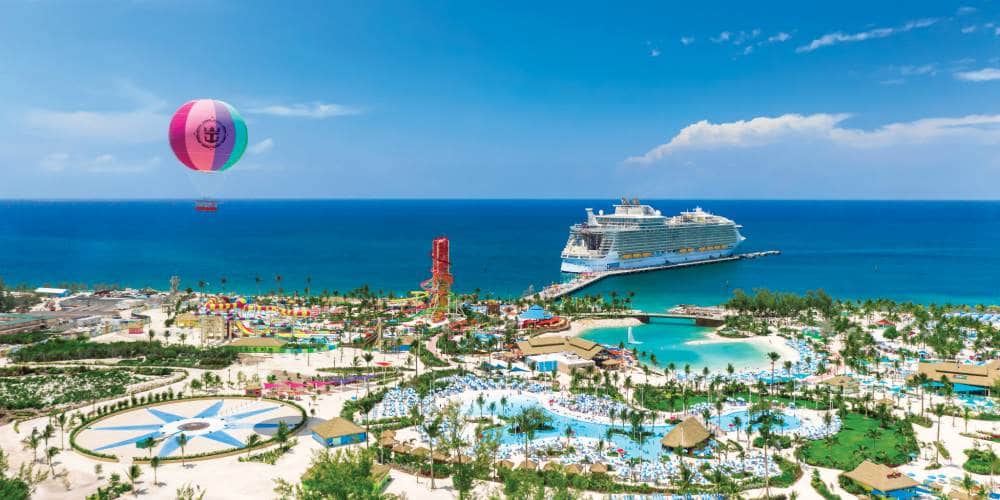 We can see our cruise ship before we get anywhere near it, towering over Miami's port terminals and dwarfing every other ship moored nearby in the Florida sunshine. Rising up 18 decks and able to hold nearly 6,700 passengers (plus more than 2,000 crew), Symphony of the Seas stands proud as the world's largest ship.
More floating resort than cruise ship, Symphony resembles a mini Las Vegas, with its own park, a fairground-inspired Boardwalk with a full-size carousel and the Royal Promenade, a shopping street that runs down the middle of the ship, lined with fancy boutiques, cafés and even an English pub.
With so many passengers, I'm dreading a mass of crowds as we try to embark this behemoth, but am pleasantly surprised when we arrive at our allocated embarkation time slot to find no queues and not even many other passengers.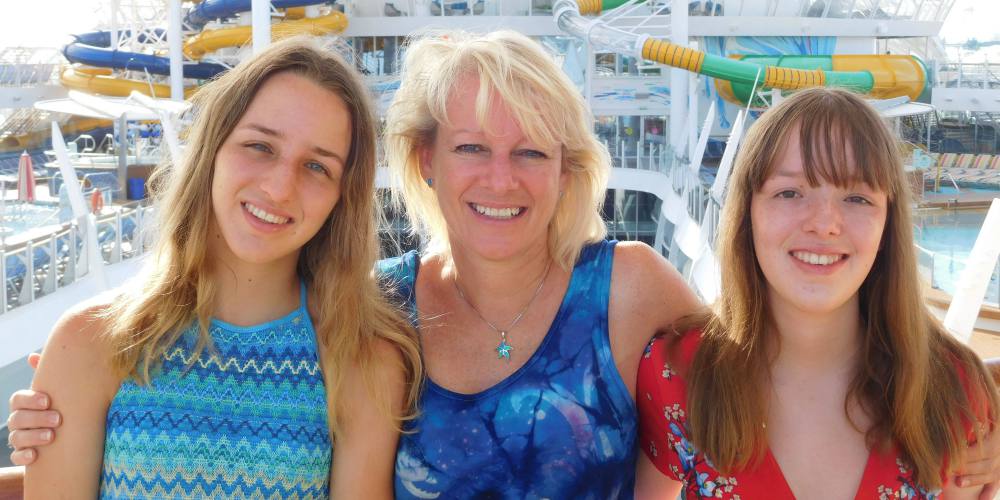 We're checked in by a roving official equipped with an iPad and within a few minutes we're on board and ready to explore.
Our wanderings take us past surf simulators; rock climbing walls; a short, but scary-looking zip line; a trio of brightly coloured water slides that writhe across the deck and the awesome Ultimate Abyss slide, where riders hurtle down 100 feet.
Any worries I have about my 16-year-old twin daughters getting bored promptly vanish, though the main attraction of this one-week Caribbean cruise for us is a day-long visit to Perfect Day island at Coco Cay – parent company Royal Caribbean International's private island in the Bahamas.
It reopened in the spring after the company splashed out US$250 million to transform it into a mega-resort of water slides, beach retreats and chill-out zones.
It's our final port call following stops in St Kitts – where we jump in a local taxi for an entertaining island tour with our driver Quincy, whose family live in Leeds – and St Thomas, where we stay on board to enjoy Symphony's facilities without the queues.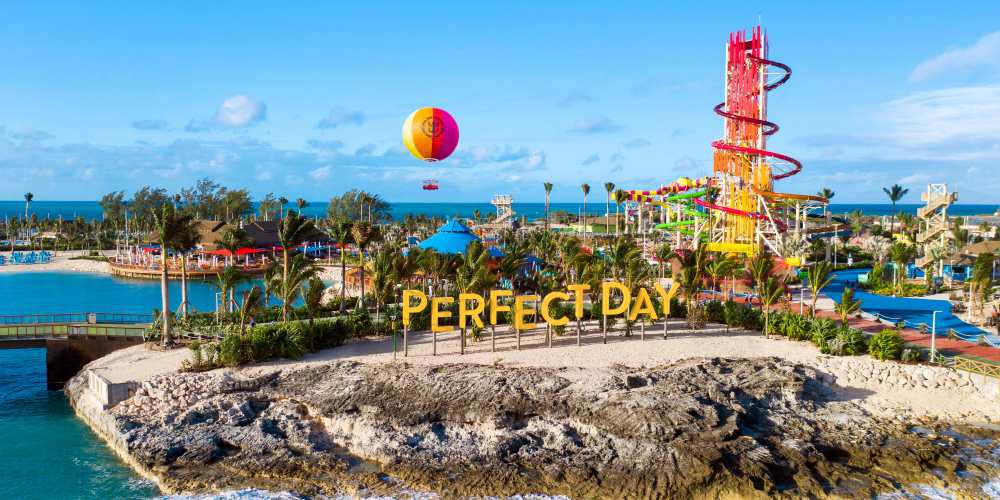 Perfect Day is our last blast and as we approach it in the morning sunshine, I spot the candy-coloured tower housing its headline attraction, Daredevil's Peak. At 135 feet, it's the tallest water slide in North America. It looks scarily stratospheric, but that doesn't deter my daughters, Dani and Holly, who race to beat the crowds. I give it a miss, preferring the Screeching Serpent, though that's pretty hair-raising, with a gut-wrenching 50-foot vertical drop.
With 13 slides in the island's Thrill Waterpark, it's easy to while away the hours and we spend nearly all day here, particularly as queues for the most popular slides can take an hour or more.
There are tamer alternatives, such as a massive wave pool that's the largest in the Caribbean. It's bundles of fun, but be warned, the waterpark comes with a price tag of £80 for the day.
Thankfully, other areas are free and you just have to pay for activities, though with basics such as snorkelling gear priced at £31 for adults, £19 for youngsters and even floating beach mats costing £15, charges can mount up.
There are three idyllic beach areas of dazzling white sand where active fans can race around on Jet Skis, paddle off on kayaking trips, float away on parasailing jaunts or simply swim out to the floating bar for a well-earned drink.
Daredevils can swoop over sunbathers on a zip line that extends across the island, ride in a helium balloon that rises 450 feet to offer the highest vantage point in the Bahamas or relax in a beach cabana. These take up to eight guests and offer the ultimate in hedonistic style, but come with a hefty price tag of up to £1,165 a day, though that doesn't deter guests on my visit, as they're all taken.
Complimentary dining spots are scattered across Perfect Day and there's a free tram service too, along with changing rooms and lockers.
Even though there are 6,000 of us ashore, there's room for everyone to spread out, though I wouldn't want to share it with any more. It's a similar story on Symphony, where on-board life is busy, especially on sea days, when the pools get packed.
However, it is easy to find empty sun beds on the upper decks and tucked-away spots. Queues for the main restaurant can be problematic, but the secret is to arrive before 7pm, when we can often walk straight in.
Symphony's real USP is the entertainment, which is easily the best at sea. Headline show Hairspray equals anything I've seen in the West End, though it is rivalled by breathtaking performances in the AquaTheater, with its deep diving pool that sets the scene for thrilling high dives that leave audiences gasping in disbelief.
The ice rink is the setting for inspiring skating displays, where special effects and drones add breathtaking wows to each performance, while a stunning stage show called Flight even involves a biplane flying over the audience.
With each day bringing another memorable highlight, Symphony of the Seas proves that big can be beautiful if you like your holidays action-packed, while Perfect Day injects that extra-special helping of full-on fun.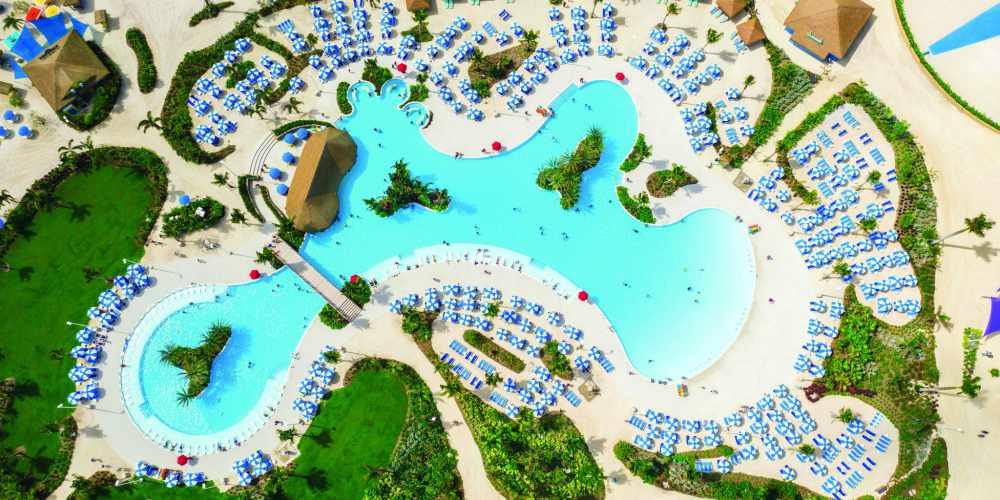 Green credentials
Symphony of the Seas may be the world's largest cruise ship, but Royal Caribbean wants to ensure it's one of the greenest, too.
The company claims new technology has made Symphony more efficient, with several initiatives designed to reduce its environmental footprint. As part of this, all wastewater and solid waste is treated, meaning that no raw waste is released into the ocean, while a special exhaust-gas cleaning system cuts sulphur emissions.
Royal Caribbean also aims to eradicate single-use plastics, so no plastic straws, stirrers or picks are used on board and its shipboard waste is recycled wherever possible.
The line says it is working with suppliers to cut packaging materials and is re-using materials. It's a similar scenario on Perfect Day island, which has its own environmental officer living there full-time and who works with the Bahamas environmental authorities.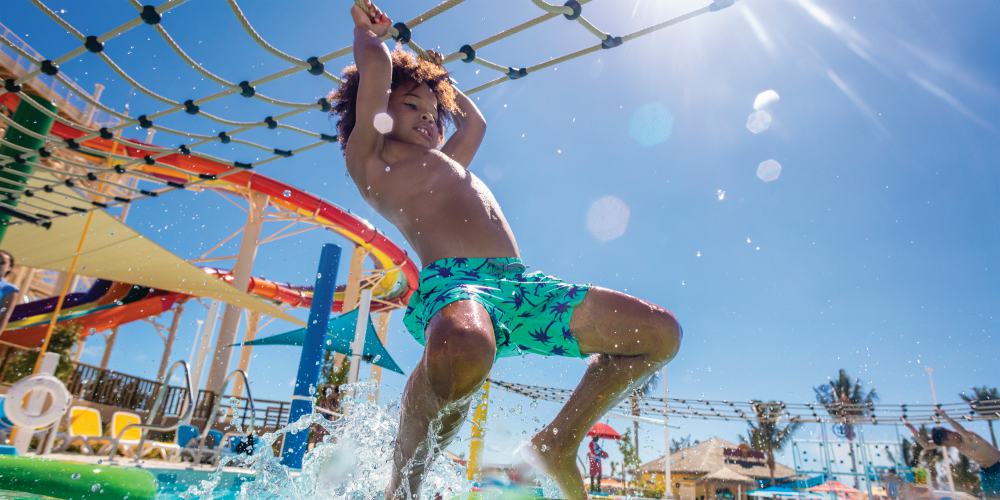 During the island's redevelopment, millions of dollars were spent on landscaping and a plant nursery was established to nurture native varieties. To aid Coco Cay's sustainability, there are state-of-the-art facilities that recycle as much as possible and this is aided by the island's bio-thermic digester – claimed to be the first of its kind – which processes organic waste.
The island's water – used for drinking, swimming pools, waterpark, showers and sinks – is produced via reverse osmosis, treated through an advanced water purification plant and reused for irrigation.
Food items are sustainably sourced, while the use of single-use plastics is being reduced where possible. Even the island's trams are electric, charged overnight and also powered by solar panels.
The lowdown
How to book
A seven-night round-trip sailing from Miami on Symphony of the Seas, calling at St Maarten, St Thomas and Perfect Day, costs from £4,252 for a family of four, departing on 15 August 2020. Flights extra.
Find out more about family cruises with Royal Caribbean