Whether you're celebrating a birthday or just fancy a special treat for tired little feet sightseeing in London, a family-friendly afternoon tea in the capital is just the ticket. Family Traveller Editor, Jane Anderson, recommends her favourites

1/11

Children's Afternoon Tea at The Dorchester

53 Park Lane, Mayfair, London W1K 1QA

On iconic Park Lane with views of Hyde Park, The Dorchester is a timeless venue to enjoy afternoon teas in the spirit of the Great British Bakeoff. From seasonal specialities to charming teas created with little ones in mind, each selection celebrates the best in British heritage.

The hotel's executive chefs have developed a selection of finger sandwiches, scones and sweet pastries, which are served fresh every day. Set in the heart of The Dorchester at The Promenade, families enjoy an opulent setting with elegant, welcoming service.

In celebration of the school summer holidays and Afternoon Tea Week (12-18 August 2019), the Dorchester will introduce a complimentary Hyde Park-inspired children's tea for kids up to the age of 12 throughout August 2019. The tea features a teddy bear cupcake, yellow duck, jigsaw puzzle sandwiches, with a side of crudité bites. A delicious chocolate milkshake is served alongside the playful meal as the perfect punctuation to a children's afternoon tea.
Price
From £65 per adult, free for children up to age 12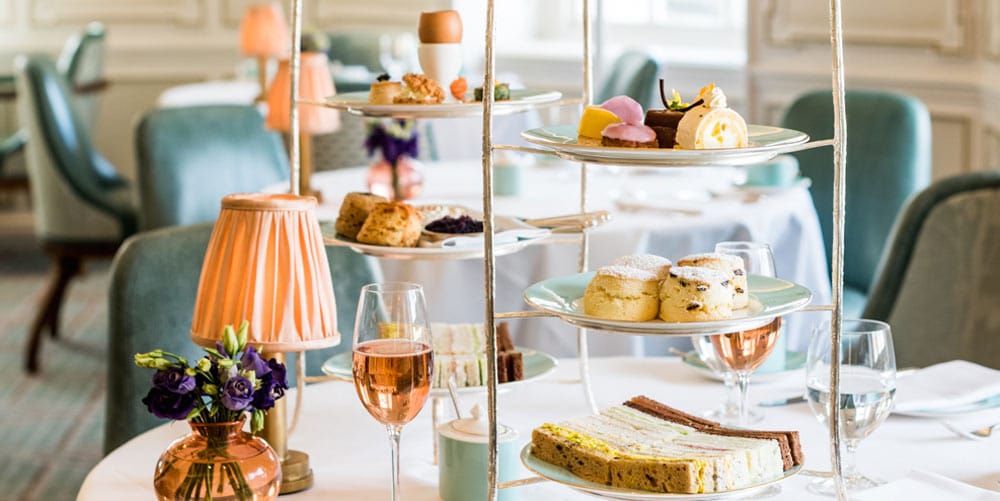 2/11

Diamond Jubilee Tea Salon Afternoon Tea at Fortnum & Mason

181 Piccadilly, London W1A 1ER

For the most English of afternoon teas, head to the elegant Diamond Jubilee Tea Salon, situated in the heart of Fortnum's Piccadilly. The Salon, was opened by HM The Queen in 2012 no less, and families can choose from a vast selection of tea blends, all expertly chosen to accompany finger sandwiches, buttery scones and exquisite patisserie and Afternoon Tea's crowning glory – a special carriage laden with cake, from which guests can enjoy a bottomless helping.

Visitors to the Diamond Jubilee Tea Salon can enjoy a tableside Tearista experience, during which the Salon's brewing experts will make a selection of teas based on the personal taste of each guest. For those without a sweet-tooth, Fortnum's executive chefs have also devised a savoury menu; Stilton Scones with Port Jelly, Savoury Choux with Smoked Salmon Tartare and Quail Egg and Pea Panna Cotta and Cheese Straws make up the delicious offering, while a High Tea including Eggs Royale, Benedict and Florentine; Lobster Omelette Victoria and Fortnum's famous Welsh Rarebit caters to those feeling extra peckish. Vegetarian and gluten-free options ensure every dietary requirement is met – and always in delicious fashion.
Price
from £55 per adult, £26 per child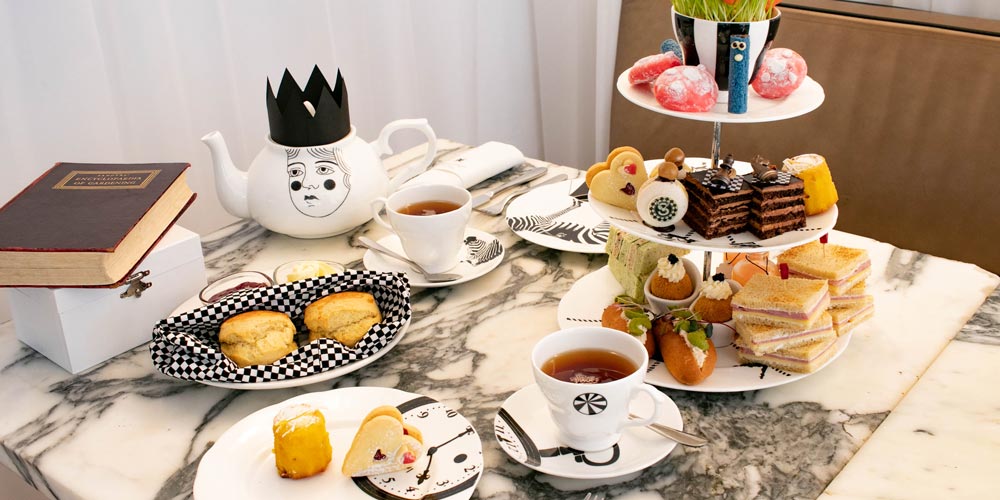 3/11

Mad Hatter's Afternoon Tea at Sanderson

50 Berners Street, London W1T 3NG

It's 150 years since Lewis Carroll wrote Alice in Wonderland, yet it remains one of the best-loved tales ever. Fans will love Sanderson's whimsical Mad Hatter's Afternoon Tea with mocha chessboard gateau, chocolate and pistachio blue caterpillar, Alice's cinnamon and apple and peach 'Drink Me' potion.

Served within the hotel's restaurant and courtyard garden, families will discover menus hidden inside vintage books, teapots adorned with kings and queens and sandwich plates decorated with zebras, birdcages and ticking clocks; upon which rest delectable delights such as a stack of King of Hearts parmesan croquet-monsieur, mouth-watering scones and decadent smoked salmon Scotch quails eggs with caviar and cream cheese.

A range of tailor-made-teas inspired by the characters of the beloved story accompanies the sweet and savoury treats, including an "Alice" China black tea, infused with hints of blackcurrant, vanilla, caramel, citrus, bergamot, blue cornflowers and blue mallow flowers.
Price
£48 per adult, £35 per child aged 4 to 11 years.
On bank holidays the price rises to £58 per person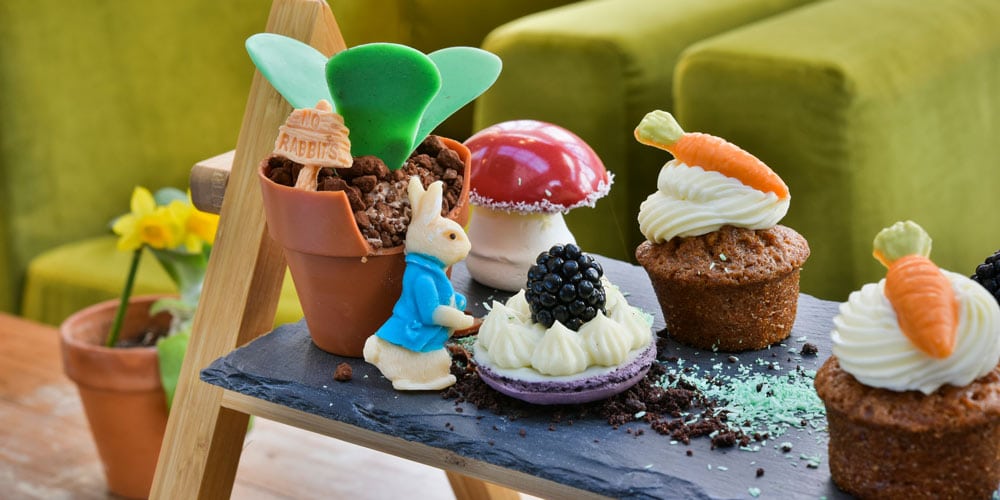 4/11

 Peter Rabbit Afternoon Tea at Le Meridien Piccadilly

21 Piccadilly, London W1J 0BH

Kids will adore the new Peter Rabbit themed afternoon tea inspired by Beatrix Potter's classic tales. Treats include a chamomile mousse hidden inside an edible chocolate pot, the Magnificent Mushroom, or a strawberry ganache with a crunchy meringue stem, and the quintessential rabbit treat, carrot cake. Complementing the tea are fresh scones, jams, and clotted cream. This nostalgic afternoon tea brings you and your child's favourite bedtime story to life.
Price
£35 per adult, £25 per child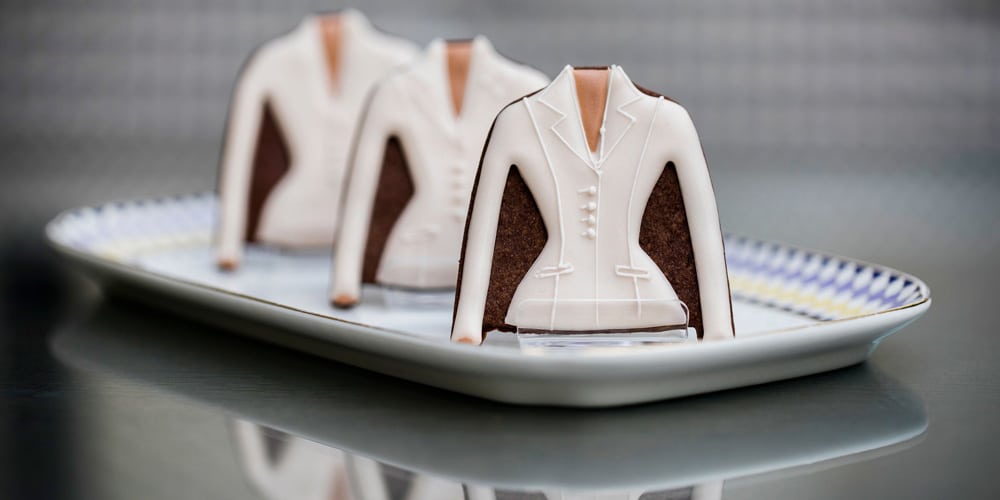 5/11

 Prêt-á-Portea Collection Afternoon Tea at The Berkeley

Wilton Place, Belgravia, London SW1X 7RL

Fashion mad girls and boys, not to mention mums and dads will adore this Pret-A-Portea afternoon tea celebrating the latest catwalk trends. Biscuits, fancies and mousses are all set for the annual couture makeover in the style of the world's top fashion designers such as Charlotte Olympia, Gucci and Balenciaga.

Think Gucci's pink candyfloss summer berry sable Breton jumper with rhubarb mousse accentuated with a golden sugar box. Or a Ralph & Russo Pain de Gene dress cake with velvet lavender cremeux and Beriolette jelly romantically topped with showstopper sugar frill! Best of all is the brilliantly British chocolate and vanilla Battenburg cake inspired by Stella McCartney's checkered summer pumps!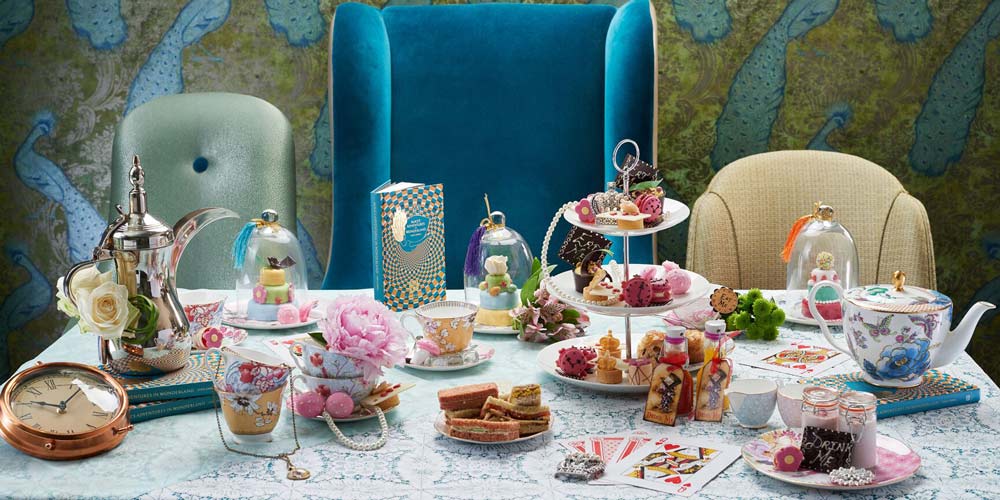 6/11 

Alice in Wonderland Afternoon Tea at St. James' Court, A Taj Hotel

54 Buckingham Gate, Westminster, London SW1E

There's something delightful about darting off London's Buckingham Gate in through the black wrought iron gates, past the clandestine courtyard at St. James' Court, A Taj Hotel, to find its impressive Kona restaurant. As part of Taj's series of English Classics Reinvented campaign, their Alice in Wonderland afternoon tea is sure to lead you down the rabbit hole. It's a sure hit for a day out, or a special occasion, especially if your kids are fans of the Disney or Tim Burton movies. Or heavens above, they might even have read Lewis Carrol's book!

The eclectic food is inspired by the eclectic range of characters – each dessert plays on a character's quirk, like the 'Queen of Hearts' Mango Tarts' or 'Caterpillar Mushroom's Raspberry Marshmallows'. Desserts are accompanied by equally adventurous finger sandwiches like Alice English Cucumber and Cream Cheese on Beetroot Bread and Fish Footman Tuna Mayonnaise on White Bread and Lory Cornish Yarg. Enjoy a fantastical afternoon with your kids at St. James' Court's afternoon tea.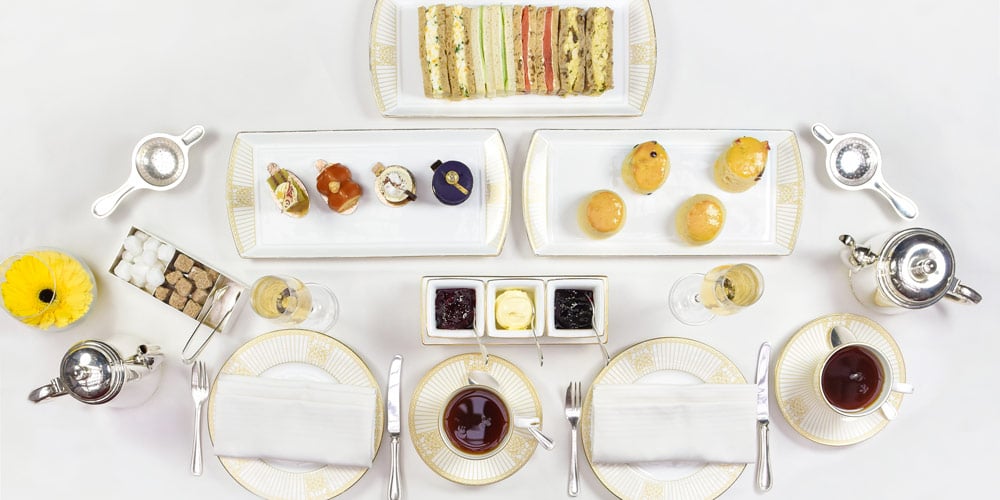 7/11

 Afternoon Tea at The Landmark

22 Marylebone Road, Marylebone, London NW1 6JQ

This grand dame hotel from the romantic era of train travel remains a true Landmark in London's coveted Marylebone neighbourhood. And who could resist Chocolate Afternoon Tea in the Winter Garden? After a selection of yummy sandwiches, families can get down to business with warm freshly baked chocolate chip and fruit peel scones with Cornish clotted cream, followed by a host of chocolate delights including coconut and chocolate macaroon, banana, pecan nut and milk chocolate cake, blood orange and white chocolate mousse and pistachio and chocolate opera gateau.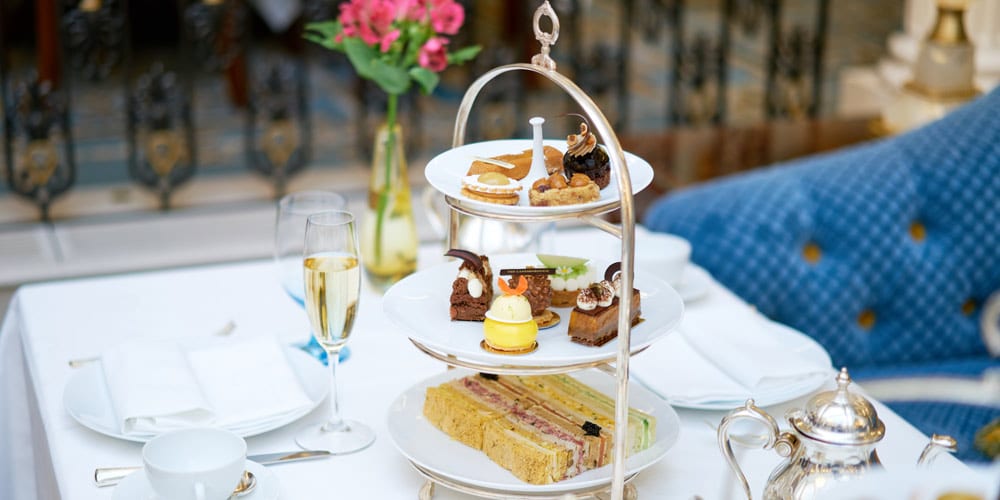 8/11

Classic Afternoon Tea at The Lanesborough

Hyde Park Corner, Belgravia, London SW1X 7TA

The stunning Lanesborough hotel is the perfect place to head with the kids for afternoon tea after you've tired them out in Hyde Park! This hotel sets itself apart by offering a special kids afternoon tea on Saturdays and Sundays which will have little ones in raptures.

After a selection of finger sandwiches, they can move onto a waffle with a choice of Nutella, sugar, strawberry jam or Chantilly, vanilla, strawberry or chocolate ice cream, accompanied by fresh fruit juice or hot chocolate with marshmallows.

Adults are treated to a classic selection of finger sandwiches, French pastries, homemade scones and a wide choice of tea.
Price
£49 per adult, £18 per child
9/11

Afternoon Tea at The Ritz

150 Piccadilly, St. James's, London W1J 9BR

Families coming for Afternoon Tea at The Ritz London will experience a quintessentially British tradition in the iconic surroundings of The Palm Court. Think finely cut sandwiches, freshly baked scones with Cornish clotted cream and strawberry preserve and a mouth-watering range of exquisitely presented pastries and teacakes. They can choose their tea from our 18 different types of loose-leaf tea, sourced from all around the world by our certified Tea Master.
Price
£58 per adult, £35 per child
10/11

Tea-Tox Afternoon Tea at Brown's Hotel

Albermarle Street, Mayfair, London W1S 4BP

If afternoon teas are just too sugar and carb loaded for your liking, hotfoot it to Browns where nutritional health coach, yoga teacher and best selling author of 'Get the Glow' Madeleine Shaw has created the Tea-Tox, a fabulous adaptation of a classic afternoon tea.

Browns dates back to 1837 and its beautiful English Tea Room is a gorgeous setting for these savoury and sweet guilt-free creations to go alongside a choice of teas including Spinach Bread with Miso Glazed Salmon and Radish, Beetroot Crepe with Hummus and Rocket and Avocado followed by raw White Chocolate and Raspberry Cheesecakes and gluten-free raspberry and pistachio brownies.

If your kids turn their noses up at the healthy option, there's always the traditional afternoon tea to hand or plain sandwiches can be created with little notice. For children, Browns offers the same tea but at half the price, and are always able to create plain sandwiches for kids with little notice.
Price
£55 per adult, £26 per child under 11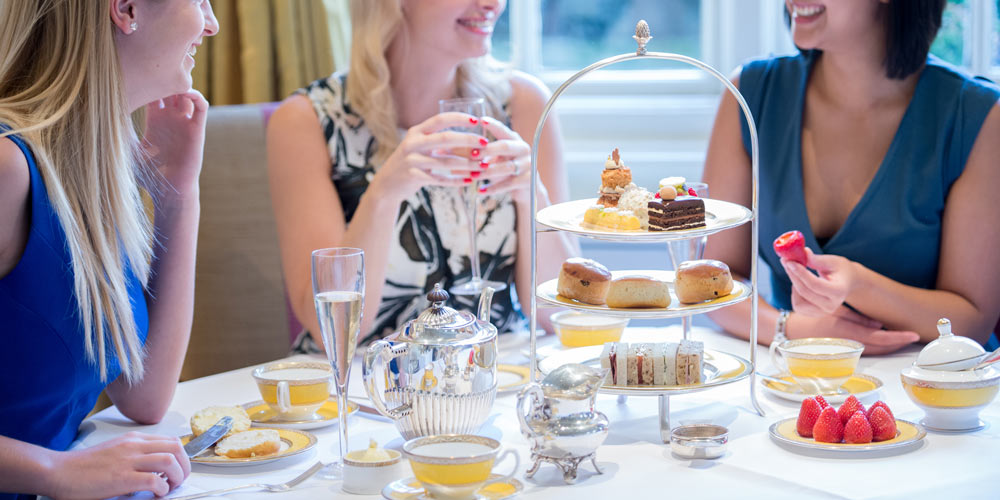 11/11

Classic English Afternoon Tea at The Goring

15 Beeston Place, Westminster, London SW1W 0JW

The Goring is quintessentially English, tucked discreetly away between Victoria Station and Buckingham Palace. It was the place Kate chose to get ready before her wedding to Prince William and has a secret garden perfect for summer alfresco afternoon teas. Or in winter you can head indoors and sit in front of a roaring open fire. Named winner of The Top London Afternoon Tea Award by the Tea Guild, it has been offering this traditional treat since 1910. Teas are tasted weekly by The Goring's very own Tea Master, Jeremy Goring himself!