Costa Rica family vacations gives you the choice of Caribbean and South Pacific coast beaches, only a 45 minute flight apart. So you can easily fit several different types of beach into one vacation. Here are 10 we like best and think you probably will too.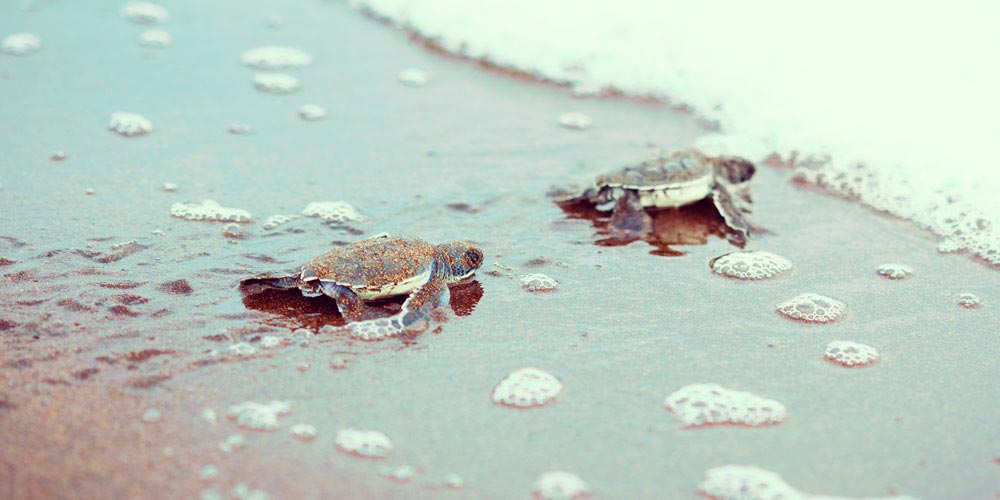 1/10

  Playa Tortuguero
Stretching along the Caribbean on Costa Rica's north east coast, Playa Tortuguero is less famous for its looks, than for sea turtles. Green, leatherhead and hawksbill nest here throughout the year, and visitors travel from around the world to witness the miraculous cycle from egg-laying to the final, hectic ocean-ward dash of hatchlings.
As part of Tortuguero National Park, the beach is heavily protected, and reachable only by boat or by plane. Green turtles tend to nest from June to October; hawksbills' peak season is round about mid-August, and leatherbacks arrive between December and March.
Where: Tortuguero National Park, northern Caribbean coast
How to get there: Flights from San José to Tortuguero take 45 minutes. Several lodges, and registered tour companies, run boat trips year-round, and offer guided turtle-watching tours during nesting season.
2/10 

Playa Blanca
It's a common misconception that Costa Rica's Caribbean beaches are all black sand. Head south of Limón into Cahuita National Park, and aptly named Playa Blanca dispels that myth instantly. It's a pure white, tropical paradise in just about every sense, and a heavenly reward, after a few hours touring jungle-y Cahuita: the park for sloth and monkey sightings, and glimpses of traditional Caribbean life in colorful local communities.
Where: Cahuita National Park, southern Caribbean coast
How to get there: Playa Blanca sits on the east coast of Cahuita, about an hour's drive south of Limón.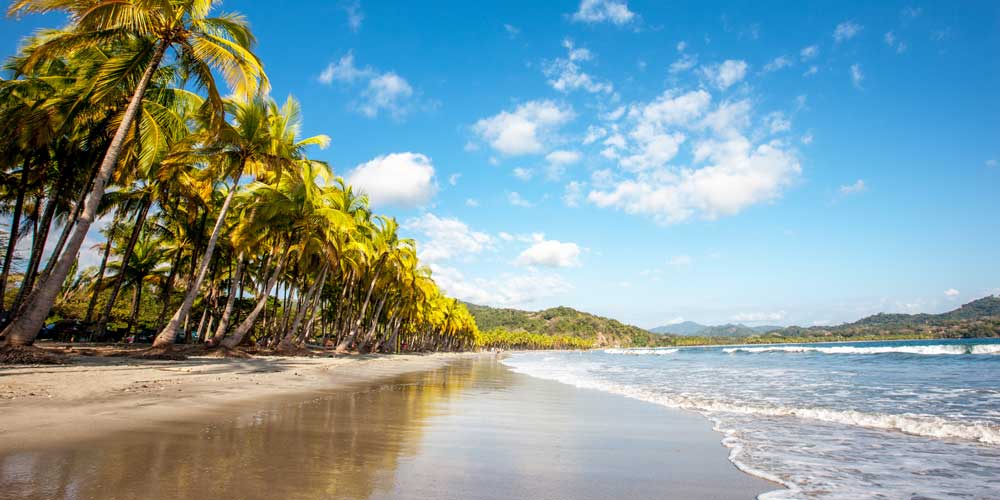 3/10 

Playa Flamingo
Playa Flamingo is one of the most family-friendly beaches on Costa Rica's Guanacaste coast. The South Pacific is particularly well behaved here, waves are gentle; soft sands slope rather than shelf, and sunsets never fail to take your breath away.  Flamingo is better known for luxury spa resorts and holiday villas than traditional character. But if you want local, and fresh, find a table for lunch in one of the waterfront seafood restaurants or stay on for dinner after watching the sun sink below the horizon. And don't let the lack of surf put you off this lovely beach, you can always catch waves at Tamarindo, less than 40 minutes' drive south.
Where: Guanacaste, north-west Pacific coast
How to get there: Playa Flamingo sits far north on the Nicoya Peninsula, four hours' drive west of San José.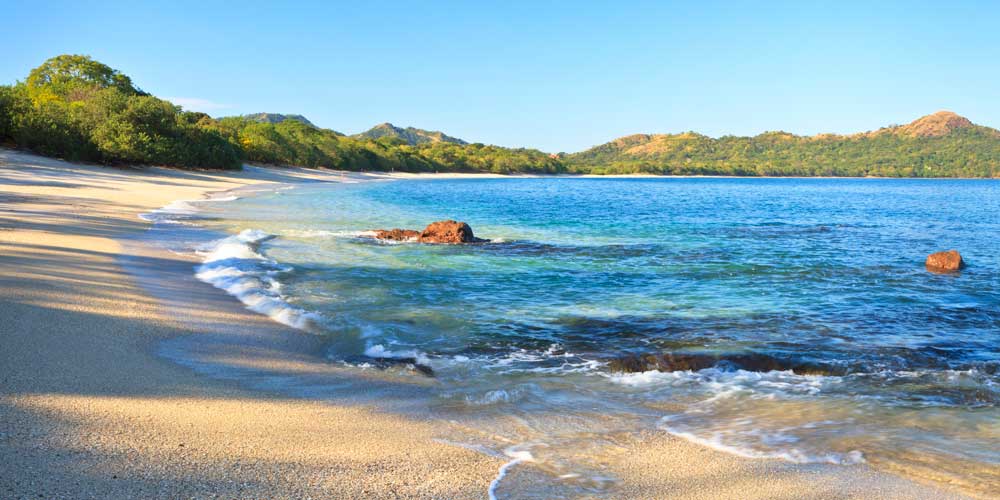 4/10 

Playa Conchal
Silvery white, Playa Conchal is another Guanacaste beauty known for snorkel-perfect seas, safe swimming waters, a pretty tree-trimmed shoreline, and absolute peace. Tucked round a brilliantly blue bay, it's nicely sheltered for younger kids and a great spot for lazy-day picnics. Though you might be tempted off the sands for lunch at one of the lively restaurants overlooking slightly busier Playa Brasilito, a few minutes north.
Where: Guanacaste, north-west Pacific coast
How to get there: Playa Conchal is under an hour north of Tamarindo, and 20 minutes south of Playa Flamingo.
5/10 

Playa Tamarindo
Older kids love Tamarindo for its mix of easy going atmosphere, long sands, great surf, and Tamarindo town itself – one of the liveliest holiday resorts in Guanacaste.
This is a great beach for first-time surfers, and the local schools are excellent. If riding waves isn't a runner, there are plenty of other watersports to try here too. And more soulful types can always go turtle-watching on tranquil Playa Grande – world-famous for nesting leatherbacks, and just 20 minutes away in Las Baulas National Marine Park.
Where: Guanacaste, north-west Pacific coast
How to get there: Playa Tamarindo sits on the Nicoya Peninsula, four hours' drive west of San José.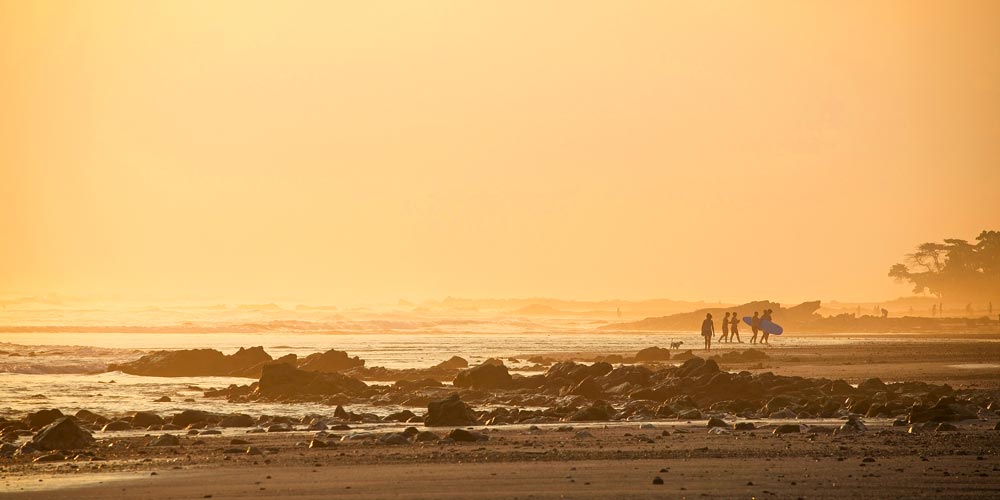 6/10 

Playa Santa Teresa
Another beach to win the heart of young surfers, Playa Santa Teresa is on the South Pacific coast and a pro-surfing favourite, known for big breaks just offshore. The seaside is stunning and so are the sunsets, but what's really appealing about this particular stretch of sand is the little town attached to it. A mix of surf vibe and eco-chic, it's the place to find almost as many yoga retreats as restaurants, along with pretty boutique hotels, cute cafés, and great juice bars. As a bonus, Cabo Blanco, Costa Rica's first ever nature reserve, is only a short drive south, on the very tip of the Nicoya Peninsula.
Where: Nicoya Peninsula, northern Pacific coast
How to get there: Santa Teresa is far south on the Nicoya Peninsula, six hours' drive west of San José.
7/10 

Playa Manuel Antonio
Manuel Antonio, on the central Pacific coast, is Costa Rica's smallest national park and also one of the best loved and easiest to explore. From sociable monkeys to high-hanging sloths, it's a top spot for wildlife-spotting: rare squirrel monkeys are even glimpsed here. There are spectacular hiking trails, waterways to kayak round and also two of the loveliest beaches on the Pacific coast.  Just half-an-hour's walk from the park's main entrance, Playa Manuel Antonio is seldom deserted and snorkelers find the clear seas irresistible. If you don't want to share the beach, head north to Playa Espadilla – a little further off the beaten track, usually quieter, but no less beautiful.
Where: Puntarenas, central Pacific coast.
How to get there: Manuel Antonio is an hour's drive south of Jacó and Playa Hermosa.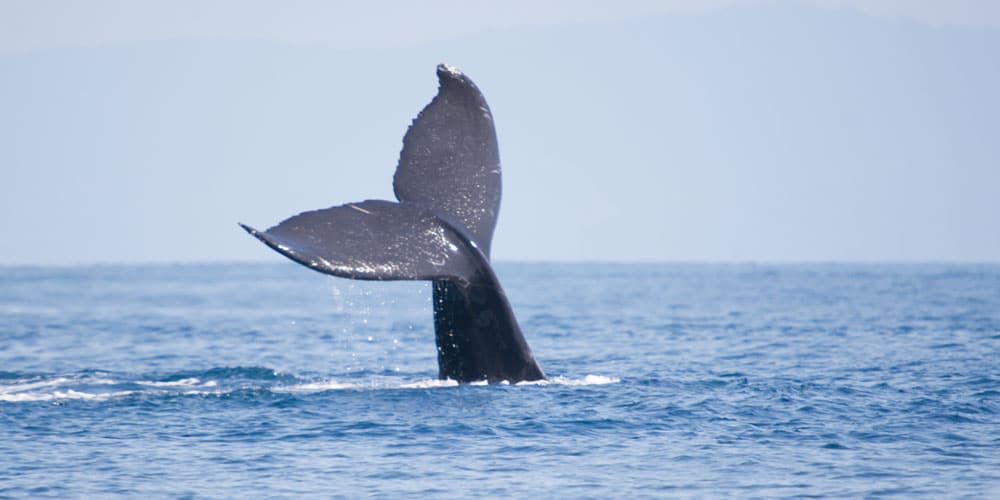 8/10

  Playa Platanares
Golfo Dulce is one of just three tropical fjords in the world, and the only place on earth where northern and southern Humpback Whales swim together in the same waters. It's impossible to find a beach here that isn't beautiful, but Playa Platanares is almost made for families. The long sands are always peaceful to the point of deserted, the sea is calm, and its sheltered position on the east of the Osa Peninsula makes for prime picnic territory.
Where: Osa Peninsula, southern Pacific coast.
How to get there: Playa Platanares sits on Golfo Dulce, 20 minutes' drive south of Puerto Jiménez.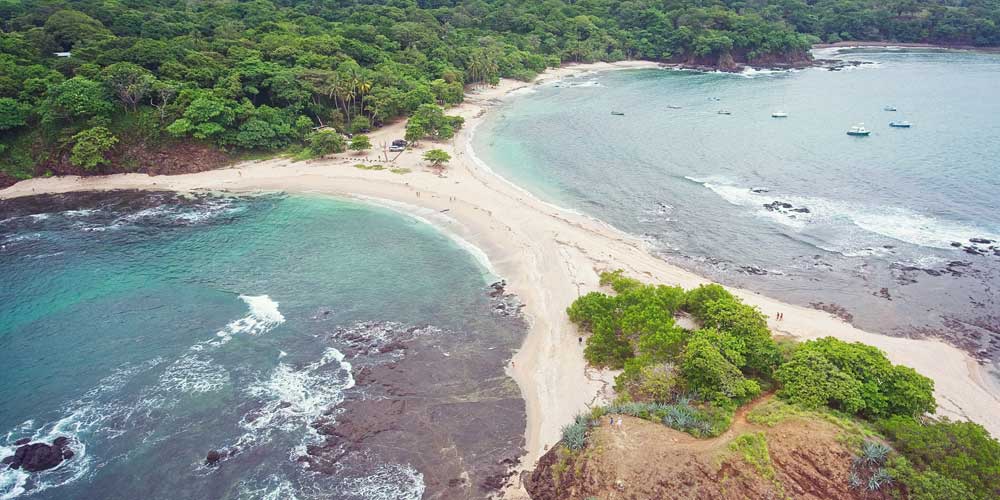 9/10

  
Playa San Juanillo
Playa San Juanillo is one of those Guanacaste beaches where authenticity combines effortlessly with hammock-lazing afternoons, great surf breaks and stunning views –  Mirador Playa San Juanillo is an iconic lookout, if you can tear yourself away from the sand for a bit. This is a great all-day beach for families, as a gentle stroll from the ocean brings you into the heart of the little village of San Juanillo. Not the place to find many tourists, only good local restaurants and more than a hint of traditional Tico culture.
Where: San Juanillo, Guanacaste Province, northern Pacific coast.
How to get there: Playa San Juanillo is five minutes walk from San Juanillo village, and just over an hour's drive north of Tamarindo.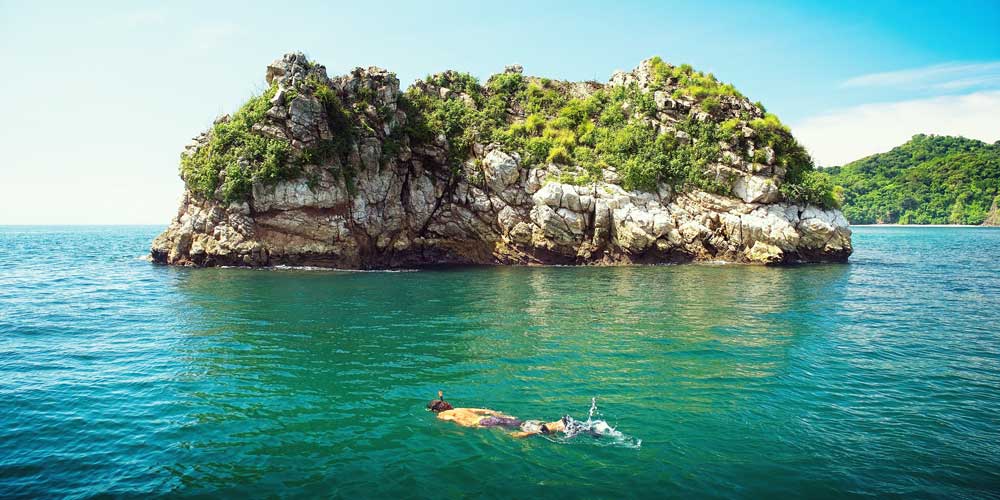 10/10  

Isla Tortuga
Isla Tortuga isn't just one of the prettiest Costa Rican islands, it's also just off the south east coast of the Nicoya Peninsula, and the relatively short voyage from the mainland is almost as enchanting as arriving – the seas here are good for dolphin spotting.  You could fill hours exploring Tortuga or just set your sights on its white sand beach and let nature work the magic. Snorkeling, swimming, kayaking, and beach games will keep kids perfectly happy. Leaving you to embrace the tranquil island atmosphere from a well-appointed sun lounger.
Where: Isla Tortuga, off the Nicoya Peninsula, south east Costa Rica.
How to get there: Several local companies offer day cruises to Isla Tortuga from the Nicoya Peninsula.
Get the latest on travel to Costa Rica for US families and follow Family Traveller on Instagram and Facebook for more vacation news and inspiration.