Family Traveller CEO, Andrew Dent, makes the most of the 'new normal' by taking his laptop to the Marriott Hotel Hacienda Belen in Costa Rica for a spot of remote working
Over the last two decades, Costa Rica has become increasingly popular amongst international tourists. It has reinvented itself to become a bucket list destination for families and, when you look at everything it has to offer, this shouldn't come as too much of a surprise. The natural beauty, wildlife, beaches, surfing, adventure activities and volcanoes provide all the necessary ingredients for an awesome family vacation. 
It's also garnered a reputation for eco-conscious holidays, with all manner of opportunities to gain knowledge about the local environment and sustainability efforts, from marine conservation to the future of the rain forests. With a new generation of eco-conscious kids influencing their family's choice of holiday destinations, I have no doubt that Costa Rica will enter into these conversations. 
Nearly every vacation to Costa Rica begins from Juan Santamaría International Airport in San José, which means the Marriott Hacienda Belen's location just ten minutes from the airport is ideal. The hotel provides a relaxing environment to sleep off the flight and get over the jet lag if you've been on a long haul flight. Yet despite being that close to the main airport you don't feel it at all; this place is an oasis of calm with stunning gardens and pools. There is even a golf driving range to check your swing is still smooth.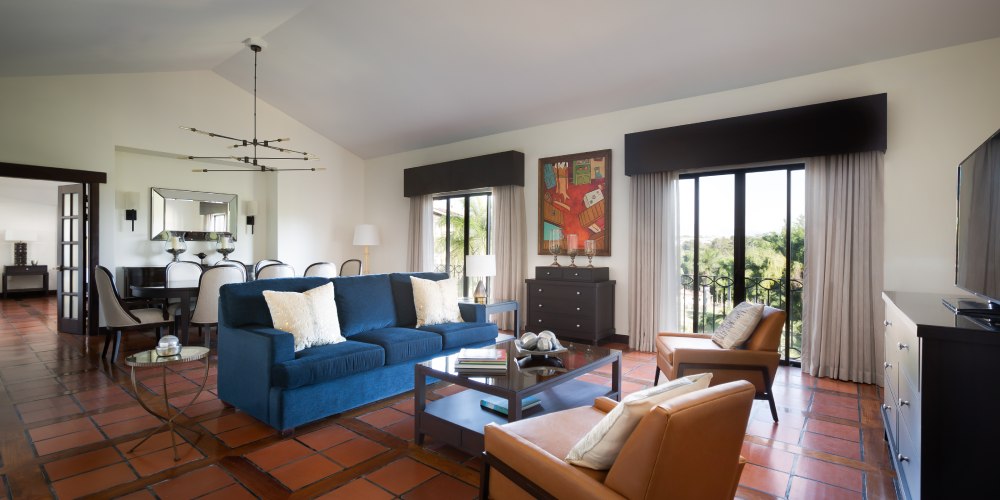 The property is a beautiful recreation of an 18th-century hacienda. The term hacienda is a reference to 'economic growth', which in these parts means wealth generated around the export of coffee in the mid-1800s. That period was about unlocking the world, building bridges and enriching the hearts and minds. This provides a beautiful link to the present day and the fact that the Marriott Hotel Hacienda Belen in San José is the perfect place to begin your family trip around the wider country. A jumping-off point for great adventures, if you like.
Whilst this property is only 25 years old, it feels as though it's been there for centuries. Scattered around the main courtyard area are historic pieces of furniture and art sourced from Peru and Guatemala, some of them dating back to the Pre-Columbian era. It feels solid, settled, and grand – but don't worry, all the modern-day amenities are in there. The rooms are large with everything you would expect from a Marriott hotel. There is also a comprehensive gym, spa and tennis courts.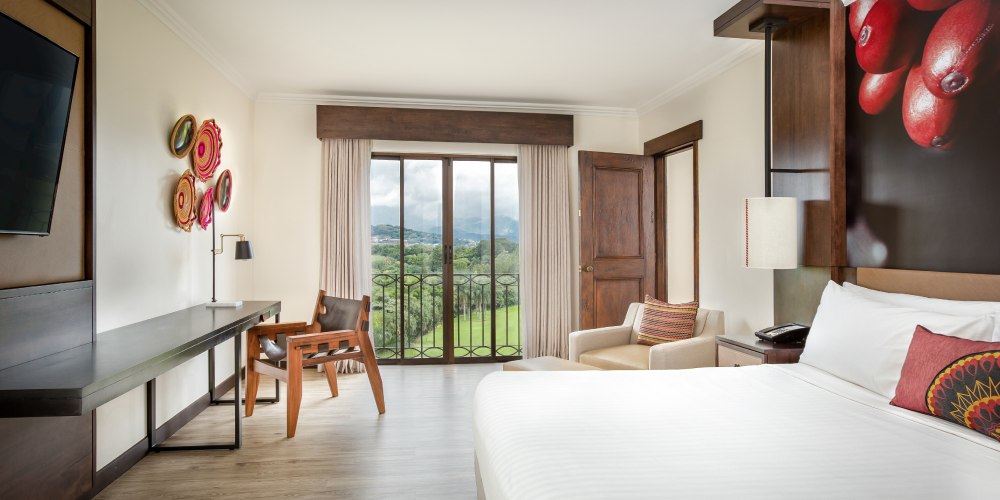 Like many other travellers in these strange times, I was combining a vacation with work. Hence, I was excited to experience the Marriott 'Work from Hotel' program. The idea is based on the fact that families are increasingly blending work with travel. This new 'workcation' trend is catching on as mom and dad realize they can take those all-important Zoom calls from Costa Rica as well as they can from home. 
The work I had to do involved an important video call, one I didn't want to miss a beat on. There is always some stress ahead of one of these, particularly around the technology holding out. This is only exaggerated when it's all due to take place in an unfamiliar environment. For travel and work to be successful, hotels need to reassure guests that it will be seamless.
In this case, the hotel was excellent in every respect. Firstly, they provided a large suite (which is easier for them theses days as occupancy levels are well down). There were all the necessary cables, water and coffee delivered to the room, and even a pair of ergonomic chairs, which quite frankly were fancier than I had in my old office. Most importantly, the Wi-Fi was robust. No one ever had an inkling I was anywhere but my home office – although I did tell them exactly where I was for the bragging rights!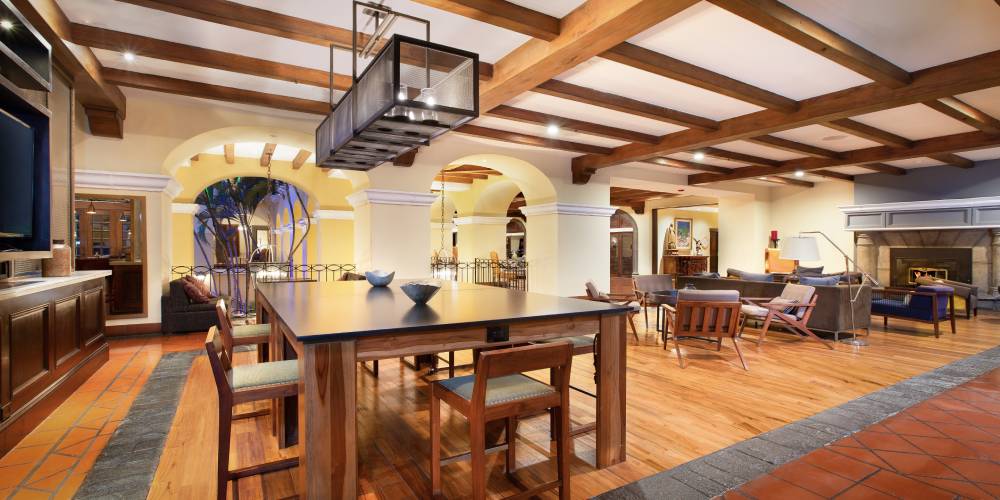 Of course, any working day, or travelling day, requires a hearty breakfast. The offering at Marriott Hotel Hacienda Belen is immense and comes with a range of local and international options.
The signature restaurants were not open during my stay, so I can't comment to them – but my guess is they would be spectacular having given the menus the once over. 
It's worth noting that Costa Rica is a 'fully-priced' destination. None of the food or beverage prices here would look out of place in New York or London. Then again, you don't have the peaceful, tropical setting that makes this place so special in either of those sleepless cities. 
In summary, the Marriott Hotel Hacienda Belen delivered on all the fronts I was after. A good, reliable place to stay after a long flight; relaxing grounds that eased me into the Costa Rica vibe; and a solid, remote-working environment. I suggest you book it up for the jumping-off point for your next Costa Rica adventure – or hang it – just come down for a week or so of working from the hotel. You won't regret it. You might even see me by the pool, laptop in hand.